Shadow Wolf Mysteries: Cursed Wedding
Stop a vengeful werewolf in Shadow Wolf Mysteries: Cursed Wedding! After being called to Paris to help your friend Veronica, you find yourself in the middle of a shocking mystery. The ancient werewolf Mephistus has appeared in town seeking revenge on Veronica and her fianc just days before their wedding. Explore the gorgeous streets of Paris as you uncover the truth behind the ancient werewolf curse in this thrilling Hidden Object game!
Game System Requirements:
OS:

Windows XP/Windows Vista/Windows 7/8

CPU:

1.4 GHz

RAM:

1024 MB

DirectX:

9.0

Hard Drive:

355 MB
Game Manager System Requirements:
Browser:

Internet Explorer 7 or later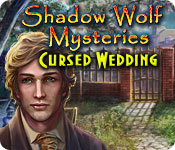 NEW299
The Big Fish Guarantee:
Quality tested and virus free.
No ads, no adware, no spyware.

Reviews at a Glance

Shadow Wolf Mysteries: Cursed Wedding
0
out of
5 (
0
Reviews
Review
)
Customer Reviews
Shadow Wolf Mysteries: Cursed Wedding
35
35
Lovely romantic game
Help Veronica to get rid of the werewolf, the bad Mephistus, (something strange of her past?) that haunts her, so she can marry Mr. Smith! Paris - beautiful cutscenes, gorgeous graphics and scenarios, typical French sound (accordion), great VO, really interesting characters, very well done, as the bride and groom, the jeweler, the cute cat, etc. Delightful tour in an ancient parisian atmosphere, with a touch of terror!! Three levels of difficult, it has a journal (notes). Good amount of interactive HOS and mini games. Game is not really challenging, but very entertaining! Many many things to do, take, use, seek. A highly interactive game that does not let you "walking" without knowing what to do. Watch the cutscenes - are worthwhile!
November 16, 2012
MEPHISTUS THE WEREWOLF
Werewolf Mephistus is seeking revenge on Veronica and her family a few days before her wedding. You?re called in to save the day. Well developed and thought-out storyline and characters. Catches your attention from the beginning. The spooky cutscenes and haunting music send a chill up your spine. Good balance of detailed HOS and variety of puzzles with varying difficulty. Some backtracking. You?ll be seeking out people for an object, only to be told you needed to do an errand for them before they?ll give you the object. 3 modes of play: casual, advanced and hard. Gorgeously crisp and clear graphics. Very polished gameplay flows smoothly and easily ? usually what needs to be done is intuitive. A lot of fun to play.
November 16, 2012
another lovely offering from ERS
if you've played another Shadow Wolf Mysteries game, you've played this one. as a matter of fact, if you've played any other ERS game you've played this one. it's their standard, formulaic game, but somehow I end up liking them anyway. there are three levels of difficulty. the graphics are up to ERS standards, the voiceovers are average, the puzzles are nothing we haven't seen before. the hidden object scenes aren't too cluttered and are not too easy nor too hard. gameplay flows well, I've got a slew of inventory items and several active spots to figure out. all in all, even though it's not anything new it's still an ERS game and I've not yet been disappointed by anything they've put out. though a note to the developers - you can quit using that same old sign post in every single one of your games. go for a different look next time.
November 16, 2012
Shadow Wolf Mysteries: Cursed Wedding
This is my first review. I have only played part of the hour but this game is great. The scenes are light and you are able to see everything very well. The HOS are also well done and things are big enough to see. This is one of the few games I have tried where the scenes are not so dark and you do not need a magnifying glass to find anything. The voices are very good and the music is good too. I am buying the game even before I finish the hour.
November 16, 2012
Shadow wolf mysteries Cursed Wedding
I can tell you that this is a brilliant game good hos, good graphics, nice music, I have not yet purchased the game , but I did a beta survey on this game so played for approx 1hr, I was so disappointed when the survey ended, and am on my way to buying it, so enjoy it is very worthwhile .
November 16, 2012
Shadow Wolf Mysteries: Cursed Wedding
After playing the CE of this game I was waiting for the SE. It's a terrific game, the puzzles might be a little to easy. BUT, the game was really too short. I was very disappointed. I would recommend this game, it was short but, sweet
November 16, 2012
Shadow Wolf Mysteries
Was a very exciting game and really enjoyed the effects and video of the game and very exciting and challenging.
November 16, 2012
Only OK - A Guy's Review
*review based on completing the full game in expert mode* This is the third installment in the Shadow Wolf Mysteries, and I am sad to see that there is very limited improvement compared to its predecessors. Flaws, nonsense and inconsistency seems to plague this series, which to me is very surprising when one thinks about the amount of experience this developer has. I wish that they in the future will put more effort into their games and maybe even put some thought into the stories they put into their games as well. One can only hope. The game also felt rather short. This time we get to go chasing a werewolf in Paris.Though, one doesn't really realize one's in Paris until one sees the Eiffel Tower in the background in one location. Well, maybe except for the music playing which is clearly based on French tunes. Only one character a way into the game speaks with a French accent, and even though you meet up with several store owners in the side streets of the French Capital they are all apparently Americans. Inconsistencies like that ruin the experience a bit for me. As the previous two games in the series the story is thin and fails to engage. It tries to be surprising but is very obvious from early on. Again the ending is nonsensical and dissatisfying. The music is actually quite beautiful. It does however get monotonous after a while, but is proper to the location of the game. It actually makes you think of France listening to it, even to the time period. Nice job on that. Every character is voiced, and the quality is varied. Non of them are flat out bad, but there is a clear lack of passion and sense of urgency that matches the actions happening around them. As mentioned, only one is doing a French accent. I feel that several characters here would benefit from having that. Sound effects seems to be a big improvement from the previous games. Graphics feel rustic and dated, but they are not bad in any way. The locations are quite beautiful and actually quite bright compared to the previous two games, and actually most similar games these days. Character animations too are quite OK, and lip-syncing is good. Cut-scene animations however are amazingly blurry. That should be non-existent in 2012. There is little improvement here compared to its predecessor. I can live with dated graphics and bad story lines, and even flaws and inconsistencies if the game play makes up for it. It really doesn't. I appreciate the main focus of this game being put to the adventure elements, and the game plays more like an adventure than a HO game. But it is short, easy and unimpressive. They do offer some new elements to the adventuring that I quite appreciated, even though as per usual in this series some things that needs to be done makes no sense. There is also a lack of explanation at times to what or why (something) needs to be done. The nonsense appears way to often and becomes annoying. I have a ton of examples, but I fear that writing them here would spoil some of the game for whoever reads this. But, trust me, you will recognize them in the game. There are a handful of puzzles in this game, but they are so easy that they offer next to nothing of a challenge. I guess this is a good thing for beginners and the most casual players, but if you are looking for something to trigger some braincells you will be disappointed. I did notice that they tried to come up with something new, and several did seem original to me. Unfortunate then that they offered so little. The biggest shock might be the lack of HO scenes. There is less than a handful that you have to visit twice. Ranging from extremely bright to semi-dark, they will not be to hard on anyone's eyes. They are of course clutter scenes where a couple is overly cluttered. I say a couple, but there is basically just a couple altogether. They do have some mild interactive elements and again some nonsensical ones. I did not encounter any translation issues this time around, so that is at least one improvement. HO fans will probably be hugely disappointed with this game though. Especially if that is your main motivation to play these games. You have three levels of difficulty to choose from: Regular: -Quick recharge of hint/skip -Sparkles on active zones and objects Expert: -Slow recharge of hint/skip -No sparkles except for HO scenes Hard: -Very slow recharge of hint/skip -No sparkles except for HO scenes -Black bar tips disabled I would say that even a beginner and/or newcomer would breeze through this game in expert mode. My tip is to stay away from regular mode at all costs unless you want no challenge at all. As before the game mechanics feels a bit clunky at times. It was especially apparent in the "planet puzzle" where the controls were horrible. There is no map, which I find a bit weird, though it isn't really necessary with one. There is some movement back and forth, but never for long distances, as everything is sectioned. I don't know if the journal was buggy or what, but after midways through the game it didn't seem to update anymore. Not that I ever felt like it was necessary to have it in the first place. I can only recommend this game to beginners, newcomers and if you are looking for something very easy or just needs something to fill some time. If you are a seasoned player this offers little to nothing of interest. At least wait for a discount price. The game suits adventure fans more than HO fans. Either way, beware that the game is quite short. For the guys: I did not notice any gender bias when it came to the character you are playing, though the story is a bit romantic and "cute". Not so much so that it should scary anyone away though. TJ
December 5, 2012
surprised by short game
This was an "ok" game. We played the hardest level very quickly. Very short on HOGs and what few there are repeat. Very short on puzzles. Just not up to snuff if you are an experienced adventure game/hog player.
November 21, 2012
Surpisingly Disappointing
I have played many hidden object games, several from ERS,and this is the first time I have been compelled to write a review. The story was never developed, the game was way too short, and the challenge was minimal, even on the highest level. The best part of the game was during the demo. I am so disappointed that I wasted a credit on this game.
November 25, 2012
The Apple logo is a trademark of Apple Computer, Inc.