Lost Secrets™: November 1963
Something mysterious is brewing in Texas. What could Dallas, the assassination of President Kennedy, and a pink teddy bear have in common? Lainey Wells has been having dreams centered around Dallas, the assassination of President Kennedy, and a pink teddy bear. Yearning to cure her condition, she travels to Dealey Plaza to discover what ties her to the President's untimely death. It becomes clear that someone is steering her towards a specific goal, but who or what guides her hand?
Uncover the Truth about JFK
Dozens of puzzles
Visit the Oval Office
Intricate Hidden Object Scenes
Game System Requirements:
OS:

10.8/10.7/10.6/10.5

CPU:

800 Mhz (INTEL ONLY)

RAM:

512 MB

Hard Drive:

352 MB
Game Manager System Requirements:
Browser:

Safari 4.0 or later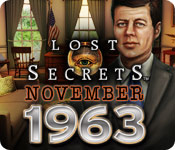 NEW299
The Big Fish Guarantee:
Quality tested and virus free.
No ads, no adware, no spyware.

Reviews at a Glance

Lost Secrets™: November 1963
0
out of
5 (
0
Reviews
Review
)
Customer Reviews
Lost Secrets?: November 1963
31
31
PASSABLE ONLY
Nothing new in this game. Familiar cutscene of Kennedy?s assassination day, but after that people look like they?re made of plastic. Graphics are passable and animation is rather shaky (ex: plane shaking from turbulence looks obviously made up ? not in the least trying to be realistic). Could have put more effort into developing game. Compared with what?s out there today, game resembles those put out 2-3 years ago. STORY: You?re going to Dallas to follow-up on your mother?s visions. In flight, you suddenly have your mother?s teddy bear (not very cuddly) and you dream for an instant of a strange guy, whom you later see on the ground in Dallas and who claims the teddy bear is his. BASICS: Casual and expert modes of play. You have a journal and an interactive map. Good blend of HOS and puzzles. HOS scenes are not too crowded and objects are readily identifiable. Puzzles vary and are easy to moderately challenging. Hints are helpful, but the recharge time is rather lengthy. I don?t know that I would buy this game even if it was a DD. Or maybe I just think Kennedy?s assassination deserves more respect and thought.
November 19, 2012
No thanks!
Yes, I too can remember that day quite well. For some reason, using this particular incident in history just seems a bit disrespectful (for lack of a better word)...I think because they use Kennedy as a ghost! Would have been better if they used an "unknown" for that particular part. Just my personal opinion. That aside, the graphics were okay (a bit old school), sound good, but no music to keep you interested. Hint used even if it just tells you what direction to go to. Game play a little choppy. This game did not keep my attention, nor did it make me want to run out and get it to see what happens. Personally, I don't think this is even worth the SE price, so not a buy for me. I gave this one a 2.5 actually..wish we had half stars. As always, try it for yourself and see if it is a game for you. We all have different tastes in games and you may find it quite enjoyable. Thanks for the reviews.
November 19, 2012
It's in bad taste
I'm not sure what the devs were thinking, but this is completely cheesy. Using the assassination of President Kenndy for a game?...wow, yeah, that was sure a fun time! Even if the concept was not ill conceived, the overall quality of everything else would still kill this game. The graphics are simplistic, the HOs are boring and non-interactive...and WHY does every object you pick up have to pulsate four times?? That is really annoying. The story line is fuzzy...is she in 1963 when the HO scenes are being played? If so, the anachronisms bug me...maybe she is in present time though..who knows? I think they need to go back to the drawing board...start over with something fictional!
November 19, 2012
Flop!!!
I can only advise you to try for yourselves. Because my personal opinion is that this game is totally obnoxious. A very very sad attempt of drawing peoples' attention by naming a historical figure that actually has nothing to do with the theme except for the place and date. Depressing colours. Cluttered Hos. Puzzles with poor and/or confusing instructions. All in all, I couldn't force myself to play it beyond 15 minutes and deleted it straight away.
November 19, 2012
History as an excuse for another super natural themed HOG
I am of the generation who remembers exactly were they where when they heard of Kennedy's assassination. So when I saw this I was curious as to what it was all about. Turns out, it's about a woman who is having visions about that incident and a pink teddy bear that belongd to her mother. Games that center around supernatural or occult themes do not interest me in the least. Others may find this a good game, but as soon as I saw where it was leading I uninstalled. .
November 19, 2012
Worst Game on Big Fish Ever
The fact that the main theme is related to an actual assassination of an American president should make this "game" a non-starter. But, out of curiosity over what other reviewers have said, I went ahead and played the demo to its end. The game had no logic. If the person is having visions, why are real items appearing out of them? Running back and forth trying to find the items you need to progress was frustrating. The puzzles were awful. I think I skipped 3 of them because, again, there was no logic in them. Some dude kept popping up out of thin air, and I never did get a clue who he was or why he was part of this story. It made no sense. The graphics were amateurish and the items were really not hidden. There was no interaction in the HOS. Most of the items I collected would probably have been explained further into the game, but at the point where the demo ends, you have no clue what you would possibly do with them. The dialog by other characters had no energy and amounted to not much more than one-liners. The biggest puzzle of all is why the developers created this "game", and I use the word loosely. A game is supposed to be fun and when you think of what happened on that day in 1963, it makes me sad and a bit angry that anyone would think this "game" would be fun. Very tasteless is the kindest thing I can say about it.
November 19, 2012
I Am Perplexed About This Game
I am rather conflicted about this game and I suppose it starts of with the subject matter. Althought the Kennedy assasiation has always been an intriguing mystery that still remains unsolved, I find it rather macabre that it should be part of a game. However we have played games that deal with deaths of famous people, however I do find seeing Kennedy being portrayed here as a ghost quite unsettling. But that is just me being over sensitive. The game itself is not bad, although the graphics looked outdated and the silence was bothersome. The game looked old and rather tired looking. There are no voice-overs (hence the silence) and you have two game modes to choose from. Game features a journal along with a map that allows you to jump and does indicate where there are tasks that need to be done. Actually the map was a great deal of help as I found that there are many areas to investigate. Game mechanics are your standard HOPA where you need to investigate and pick up inventory items to use. There are junk-piled HO scenes that have no interaction and a series of mini-games which we have seen before but suprisingly there was a level of difficulty in some of them which made the game slightly more challenging. There is an interesting storyline that still I haven't figured out even after an hour of game-play. Is our Heroine in a constant dream-state? or is she truly able to jump through time portals and who is that mysterious hooded man that is following her? and what clues does the pink teddy bear hold?. But the most important question I do have is what do they all have to do with Kennedy's murder? It seems I will have to continue playing if I want answers and thank God I do have some game credits on hand to spare. There is a strong nastolgic feeling about the game and it really looks like it has come to us via a time machine. Gameplay does become a bit tedious after a while, however ike I said, I find that I personally am intrigued at the story and will recommend it for those who enjoy history and mystery thrown into an average HOPA game. However, it seems that we will continue to remain in the dark regarding who shot Kennedy.
November 19, 2012
Old-School HOS/Ghost game
The memory is as fresh as if it happened yesterday, instead of the day before my 16th birthday, 49 years ago. I was a freshman in high school, happily day-dreaming about my birthday party, when the school superintendent announced President Kennedy's death over the loudspeaker. Most of us girls were crying, and the boys just sat there, stunned. The news that "Jack" Kennedy, as he was known then, had been assassinated was a huge blow. I wasn't sure if I wanted to play this game, but decided to try it out. What a let-down. This game has the look and feel of one that was made a few years ago. A lot of easy HOS. Easy puzzles. Some animation, no voice-overs. The graphics are beautiful. Music is soft and suspenseful. There is a map, but it doesn't let you teleport. There is a journal, as well. I almost never say "Don't recommend" but this game is awful.
November 19, 2012
I'm On The Fence!
This game is one of those average ones. It's one of those that are likely to have people on both sides (recommend, non recommend# and I don't know which side to pick! Good Parts: The HOS were great, hardly needed to use the hint button. Great graphics. The daydreams or flashbacks, whatever they called them, were great. A good, unique addition to this game, allowed me to travel between 1963 #to points before and after JFK was assasinated) and the present day. OK Parts: The storyline. It's a unique idea and has potential, but no voice-overs and a little boring. In my opinion, there weren't enough HOS. Bad Parts: Hint and skip took a little too long to recharge. A lot of going back and forth. Sometimes, I had no idea what to do next. The demo ends quite abruptly. Nothing after playing really made me want to continue. Well, I think I'll have to recommend the trial... See what you make of it.
November 23, 2012
A Rather Good Game
I have to admit that I nearly didn't get this game after reading a few poor reviews from others. But I decided to give it a try, the demo hooked me quite quickly and I wanted to find out what happens next. The trips in to the past are really well done, as are and the trips back to the present with the information to be easily used on both sides of this game. If you know the some facts of the assassination of President Kennedy that helps a little bit, but it's not that simple. 4.5 out of 5 would be my prefered vote
November 22, 2012
The Apple logo is a trademark of Apple Computer, Inc.
The Windows logo is a trademark of Microsoft, Inc.