Lost Secrets™: November 1963
Something mysterious is brewing in Texas. What could Dallas, the assassination of President Kennedy, and a pink teddy bear have in common? Lainey Wells has been having dreams centered around Dallas, the assassination of President Kennedy, and a pink teddy bear. Yearning to cure her condition, she travels to Dealey Plaza to discover what ties her to the President's untimely death. It becomes clear that someone is steering her towards a specific goal, but who or what guides her hand?
Uncover the Truth about JFK
Dozens of puzzles
Visit the Oval Office
Intricate Hidden Object Scenes
Game System Requirements:
OS:

Windows XP/Windows Vista/Windows 7/8

CPU:

800 Mhz

RAM:

512 MB

DirectX:

9.0

Hard Drive:

388 MB
Game Manager System Requirements:
Browser:

Internet Explorer 7 or later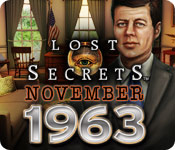 NEW299
The Big Fish Guarantee:
Quality tested and virus free.
No ads, no adware, no spyware.

Reviews at a Glance

Lost Secrets™: November 1963
0
out of
5 (
0
Reviews
Review
)
Customer Reviews
Lost Secrets?: November 1963
34
34
If your a history buff you'll love this.
So I first read some of the reviews before I played the game and thought oh well this is going to be another straight HO with just a little bit of adventure, but I actually liked it a lot!. I loved the history in this game and how they presented it, even though you had to go to the past it kept me intrigued the whole demo. I liked how the hints showed you exactly what need it to be done at the time, like when you clicked on it it will even make you back track if it was in another scene what you had to do. This is one of those games that if you like the story more than the game itself you should buy it.
December 2, 2012
Not too bad, if not taken too seriously. [SPOILER]
I remind myself: ITS JUST A GAME. It's not like we're taking cyber-guns and making popshots at JFK! i see that most folks here are apalled that someone would design such a game. I'm a fanatic when it comes to researching historical data so when I saw this HO game listed I just HAD to check it out. The storyline isn't about JFK perse, but the woman crusading the mystery of her mother when she was a child surrounding the events of Kennedy's assassination. The assassination itself is more of a backdrop for the character in the story. All and all this game, not #1 on my list, but fairly entertaining as I oppose some storylines about the 16th & 17th centuries and prefer more modern HO/TM games. I wish people wouldn't get so hung up on thinking this game is poking fun at one of our nation's most beloved presidents. This game is a much better concept than the latest movie that's out which is about Abraham Lincoln returning as a vampire! I'd say give this game another chance. Good day!
December 3, 2012
a short but enjoyable game
i took a star for length. it was short and i would have liked it to be longer. the hint/skip charged about what you would expect. there is a journal, and a map. the hints hand-hold you. i didn't even realize until i started playing that this will be the 30th anniversary of john f. kennedy's death. there are some scenes that are the original news footage of that day and other days. it was really interesting. i completely enjoyed it and just wished it could have longer.
June 7, 2013
I Liked this Game
i thought the game was nice and different despite what i read in the other reviews...found it charming and the dreaming was very cool part of the game. as to taste of the subject that is a matter of opinion....like that jfk stated that u were not supposed to stop what was clearly meant to be... i was only 3 when the incident took place ( ik i just dated myself lol! anywho i am just saying give this is worth at least trying out :)
May 6, 2013
REVIEW OF COMPLETED GAME
Good little game, if you do not mind it being only 3 hrs long. I did not as it is only a SE and I enjoyed it. The graphics are really good - precise and sharp. The HOS are quite plentiful, but also sharp and very clear and do not take long. The puzzles are mostly ones I have not seen before, and rather fun. Your mother witnessed the assassination of JFK and was plagued by visions all her life. When she died, the visions passed to you. You fade in and out of reality and keep getting taken back to 1963. There is someone with the same ability, but they are bent on doing something they shouldn't ought to and you have to stop them. I went to the Book Depository, the Grassy Knoll, Parklands Hospital, Jack Ruby's Club, the Oval Office, Condor Island and Lee Harvey Oswald's house, among other places, where I also encountered his wife and child. I met JFK and Oswald, There is live footage of that tragic day, which is sad and brought a lump to my throat. So long ago, yet when you view it again, you are again struck by the enormity and horror of that day. People in shock and disbelief, wandering around, trying to comfort each other, unable to comprehend what just happened. Although it is a different dev., it is very much along the lines of Gracelands, but on a much smaller scale, as that game was much bigger and grander. The voice overs and music were good and the text ran at a reasonable speed. There is a very good jump map, which I always appreciate. The hint/skip button were not as fast as I would have liked, but they were not too bad. Navigation is good enough not to rankle, if not instant. The hint button, outside the HOS, actually leads you straight to where you have to go, which I felt was a bit superfluous, given the jump map, but some people have a problem with jump maps, so might appreciate this feature. It was done well enough to keep me interested.. I enjoyed it and am glad I bought it. A little longer next time, devs., people are put off by short games. 4 hrs would be more acceptable and earn you more sales.
November 19, 2012
i like game
the game is good to play about how did the jfk die and you can be the one to fine out how did it .
November 20, 2012
well made HO game!
This game was rather different then any I've played in awhile. The graphics are excellent but I didn't like the music.The voice-overs were good as were the HO scenes. The hint button told you where to go next but it was rather slow in recharging. All in all, a rather enjoyable game.
November 19, 2012
Very Interesting!
I enjoyed this little game. I was very intrigued right from the get go, being a baby boomer myself. It kept my attention the whole way through, but with a bit of sadness. I enjoyed the puzzles, hidden objects were fairly easy, just whipped through those. Seeing the places and reading the placards I liked a lot, though like I said, with a tinge of sadness. All in all, it was a great 2 hours. Thanks BF! and developers!
November 19, 2012
No thanks!
Yes, I too can remember that day quite well. For some reason, using this particular incident in history just seems a bit disrespectful (for lack of a better word)...I think because they use Kennedy as a ghost! Would have been better if they used an "unknown" for that particular part. Just my personal opinion. That aside, the graphics were okay (a bit old school), sound good, but no music to keep you interested. Hint used even if it just tells you what direction to go to. Game play a little choppy. This game did not keep my attention, nor did it make me want to run out and get it to see what happens. Personally, I don't think this is even worth the SE price, so not a buy for me. I gave this one a 2.5 actually..wish we had half stars. As always, try it for yourself and see if it is a game for you. We all have different tastes in games and you may find it quite enjoyable. Thanks for the reviews.
November 19, 2012
I Am Perplexed About This Game
I am rather conflicted about this game and I suppose it starts of with the subject matter. Althought the Kennedy assasiation has always been an intriguing mystery that still remains unsolved, I find it rather macabre that it should be part of a game. However we have played games that deal with deaths of famous people, however I do find seeing Kennedy being portrayed here as a ghost quite unsettling. But that is just me being over sensitive. The game itself is not bad, although the graphics looked outdated and the silence was bothersome. The game looked old and rather tired looking. There are no voice-overs (hence the silence) and you have two game modes to choose from. Game features a journal along with a map that allows you to jump and does indicate where there are tasks that need to be done. Actually the map was a great deal of help as I found that there are many areas to investigate. Game mechanics are your standard HOPA where you need to investigate and pick up inventory items to use. There are junk-piled HO scenes that have no interaction and a series of mini-games which we have seen before but suprisingly there was a level of difficulty in some of them which made the game slightly more challenging. There is an interesting storyline that still I haven't figured out even after an hour of game-play. Is our Heroine in a constant dream-state? or is she truly able to jump through time portals and who is that mysterious hooded man that is following her? and what clues does the pink teddy bear hold?. But the most important question I do have is what do they all have to do with Kennedy's murder? It seems I will have to continue playing if I want answers and thank God I do have some game credits on hand to spare. There is a strong nastolgic feeling about the game and it really looks like it has come to us via a time machine. Gameplay does become a bit tedious after a while, however ike I said, I find that I personally am intrigued at the story and will recommend it for those who enjoy history and mystery thrown into an average HOPA game. However, it seems that we will continue to remain in the dark regarding who shot Kennedy.
November 19, 2012
The Apple logo is a trademark of Apple Computer, Inc.