Return to Mysterious Island
1st Runner-Up Best Adventure Game of 2007
Return to Mysterious Island follows Mina, a strong young woman stranded on the shores of a wild and apparently uninhabited island. As she explores her new surroundings, she uncovers artifacts, living spaces and technologies left behind by the people who came before her to this uncharted island. She soon becomes aware of a figure in the shadows who, seemingly aware of her troubles, offers her assistance for a price.
Lush tropical island setting.
Many items to collect.
Built-in hint system.
Game System Requirements:
OS:

Windows 2000/XP/Vista/7/8

CPU:

600 Mhz

RAM:

128 MB

DirectX:

6.0

Hard Drive:

1054 MB
Game Manager System Requirements:
Browser:

Internet Explorer 7 or later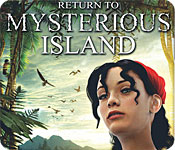 NEW299
The Big Fish Guarantee:
Quality tested and virus free.
No ads, no adware, no spyware.

Reviews at a Glance

Return to Mysterious Island
0
out of
5 (
0
Reviews
Review
)
Customer Reviews
Return to Mysterious Island
29
29
Oh Please Big Fish Can You Get More Like This!?
SO FUN! So NOT a HOG! Would someone please tell me why Big Fish insists on 'recommending' HOGs to me when THESE are the games I buy?! This is a great example of a quality large-file-adventure-NOT-hidden-object game. Like Nancy Drew, Nostradamus, Secrets of DaVinci, Syberia, etc. I DO NOT want to find 20 kites, I want to figure out how to make one out of cloth, tendons, and reeds, lol! But seriously, I was about to cancel my big fish subscription because I thought I had exhausted all the cool large file games and then I happened to try this one. It has the beautiful Myst-type setting, and the game is relaxing and fun. For those who can't figure out how to combine the right items and are stuck - combine EVERYTHING - One of the options has to work! I loved the scenery, the monkeys, and the items board. You can even take things apart to re-use items. It cracks me up how these characters supposedly lug a carcass, dynamite, a dive suit, and 20 other items around! I recommend this game and I really wish these games had a separate catagory from HOGs!
August 23, 2012
Great game
My kind of game. Being 68 years old I need games like this to prove (to myself) that I am still able to solve all the puzzles and problems that the heroine in the game( Mina) had to face. Well worth the money, great fun, beautiful graphics and mind teasing puzzles and situations. Loved it.
May 14, 2012
Great Adventure full of Fun and Excitement
Perfect game for all, who love adventure games. The character you're about to play is stranded on mysterious island and has to solve her own situation as well as some secrets on the island to be rescued. Some riddles are easy to solve, others are quite tricky. Superb graphics, full of details. You will be caught by the setting and once you play you feel like beeing stranded on the island yourself. The game has a sequel in the game "Retourn to mysterious island: Minas Fate".
April 2, 2012
Great game for those who are new to the genre
This game has a great story, graphics and sound. It's a good one to start on if you're new to adventure games (what bf calls Large File) because the puzzles are intuitive.
February 8, 2012
Jules Verne Gets A Big Boost From Kheops!
Jules Verne, the great French Novelist, got a very big boost from Kheops Productions as that great company enhanced and added to Verne's original novel written in 1874, entitled: "L'Ile Mysterieuse." In the novel, five men were stranded, whereas, in the Kheops game, only a brave girl named Mina was stranded. The men managed to tame an orangatan that they named Jup, and Mina tamed and tended to a wounded monkey that she called Jep. The men learned to fend for themselves, as did Mina, who did exactly what the men did. She managed to make fire, pottery, bricks, nitroglycerin, iron, and even produced electricity. She was stranded in the South Pacific on an island whose locale remained a mystery. It was Lincoln Island, the same designation as in the book, and she and Jep lived in a cliff cave named "Granite House." This game became more and more gripping as the player progressed, and great battles and struggles ensued in a very sci-fi way. The game is of medium difficulty and is non-linear. The graphics are excellent, and both visual and sound surprises abound. This is one of the best games I have ever played, and I am now beginning to play the sequel: "Return to Mysterious Island 2: Mina's Fate." This is a "MUST BUY!" This was
September 10, 2012
Challenging and Visually Pleasing!
I love long games, as I get very addicted and want to find more clues and pieces to the story. This was a great game that I really enjoyed. The graphics are fantastic and allow you in each setting to view a full 360 degrees of your surrounding. This is not your standard HOG game, not only do you find objects you also have to mix objects together to make things and use items on the island to help you do that. The game is challenging at times as some items are well hidden and you will not be able to move on until you find the right objects to use together and they may be anywhere on the island, which I enjoyed. It presents great strategy, storyline, visuals and fun all wrapped up in one game. I would strongly recommend to everyone.
August 18, 2012
Great game
- A lot of challenges - Things to learn such as how to make tools with different current components It is a very good story and takes time to play. I enjoyed and recommend.
April 13, 2012
Excellent. It's one of my favorites
Both "Return to Mysterious Island" games where superb!!! Large file but keep you entertained for long time.
November 15, 2011
my perfect game .
i loved everything about ths game,it was fun combining things,mina is kate walker from syberia,thats my all time fave game .so it was like listening to a long lost friend.must play it again soon.
October 31, 2012
Fantastic Fun
I really like this Game. I have always been a fan of adventure role playing games. The 360 view was a bit difficult to get used to, and once you turn the camera speed down in the option menu it becomes easier to get used to. While the game is not linear there are some things that will disappear if you don't complete them. In one session of game play i found the Black Pearl and it stayed in my inventory but in another i found it later and then it disappeared. When you complete other tasks differently the results are different. One you figure out how to get across the bridge... how you deal with the angry monkey makes a difference in what happens later... very complex games and interesting story line GREAT GAME! Definitely in my top 10!
September 28, 2012