Return to Mysterious Island
1st Runner-Up Best Adventure Game of 2007
Return to Mysterious Island follows Mina, a strong young woman stranded on the shores of a wild and apparently uninhabited island. As she explores her new surroundings, she uncovers artifacts, living spaces and technologies left behind by the people who came before her to this uncharted island. She soon becomes aware of a figure in the shadows who, seemingly aware of her troubles, offers her assistance for a price.
Lush tropical island setting.
Many items to collect.
Built-in hint system.
Game System Requirements:
OS:

Windows 2000/XP/Vista/7/8

CPU:

600 Mhz

RAM:

128 MB

DirectX:

6.0

Hard Drive:

1054 MB
Game Manager System Requirements:
Browser:

Internet Explorer 7 or later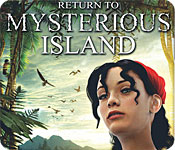 NEW299
The Big Fish Guarantee:
Quality tested and virus free.
No ads, no adware, no spyware.

Reviews at a Glance

Return to Mysterious Island
0
out of
5 (
0
Reviews
Review
)
Customer Reviews
Return to Mysterious Island
29
29
Challenging and enjoyable
I loved it!! The story was great and loved that there was more than 1 way to solve puzzles which meant if you did something it was never wrong...hate those games where if you do something too early it stuffs up the game and you have to restart....the characters were enjoyable and likeable and i am now off to play the second one :)
January 5, 2014
Challenging and intelligent
I loved the Jules Verne novel this game is based around so that was a big draw. I also enjoy games that rely on real knowledge and can teach me something while I play. As a fan of Syberia, the game mechanics were familiar and I think a bit easier to figure out. One thing I really like is that there is often more than one way to achieve your objective. Trying to figure out a use or alternate use for the things you find may give you bonus points and adds to the replay value. There is also a sense of humor in the story, along with unexpected consequences! More games like this one please!
June 23, 2013
AWESOME game
This is a real favourite of mine, I could play it all day. And I could indeed if I wanted to, this game takes a while to complete. The book on which this game is based used to be one of my favourites as well, yet this game managed to go into a very innovative direction but with enough nods towards the book for those that know it. Mina is a very sympathetic figure, I quite liked her, she has character. There are so many things to tinker with in this game, so many ways to reach a goal, it's real fun trying to find them all. Learned some chemistry on the way too. Good mix of puzzles and actions and even some fighting. The artwork scenes, instead of video scenes really worked for me and added a lot of charm to this game. That's maybe the best way for me to describe it; it's a lovely and charming game.
January 17, 2013
Magnificent!
Seldomly have I played a game this excellent. It lasted for weeks the first time around and since then I have played it at least half a dozen times. The storyline is captivating, the riddles are hard but manegable and you actually learn a thing or two along the way.
December 22, 2012
Fun and charming island survival game
Kheops studios is one of my favourite adventure game developers and this game is a large part of the reason for that. It is fun and charming with challenging enough puzzles that fit the island survival theme perfectly. Parts of the story are loosely based on Jules Verne's Twenty Thousand Leagues Under the Sea but more importantly the game is about surviving on an uninhabited island. While there are no other humans on the island, you are not alone and much of the games charm comes from interacting with a non-human companion. Much of the gameplay is inspired by the survival theme of the story but there are also sci-fi elements to the game, inspired by Jules Verne's book. The graphics depicting the game environments are very good. However, there are no animated cutscenes. Instead story progression is presented using black and white drawings. While a bit lifeless, this format is entirely adequate for this kind of game. The puzzles are mostly inspired by the survival theme of the story and many of them are crafting puzzles that require you to create useful items by combining items that you find on the island. Puzzles always feel well integrated with the story and offer an adequate level of challenge. Most importantly they are a lot of fun to solve. All in all, this is a very enjoyable game with a pleasant story with a lot of charm and fun crafting puzzles. I would recommend it to anyone who likes adventure games, and in particular if you have been looking for a game with somwhat MacGyver like gameplay.
October 13, 2012
A love, hate relationship with this one!
This one is so different than any other adv game I have played. Have to admit, at first I hated it.....at times I just had to walk away, only to find myself running back because I just had to figure it out. It would frustrate me to no end!!! I loved it, I hated it......Clearly BRILLIANT. Not a game that you could rush through, be ready to put on your thinking cap and spend some time. Cant wait to start 2:-)
October 10, 2012
Top 5!
This is in my top 5 games to play! It's a MUST purchase!
May 19, 2012
Great game
I really enjoyed this game. Good puzzles, great graphics, fun gameplay
April 30, 2012
Would you care for some Jules Verne?
I love "The Mysterious Island". It was my favourite book for years from when I was about 9. I wanted to do all of that survivalist stuff. And now finally finally I got to! There are loads of beautiful scenes and environments to explore and while there are very few conventional puzzles, your grey cells are well excercised as you try to figure out how to make something from almost nothing and combine the items in your inventory the right way. Another wonderful thing is that for every problem there are at least two different solutions. For example, making fire. And getting gunpowder. And getting rid of the monkeys or the huge fish in the water etc etc. Like real life, and not linear either, like many other Adventure games. What was slightly unbelievable was the monkey and his incredible talents. But oh well, it's a game. :) What I loved the most was that it was the actual "Mysterious Island" and we got to explore all the famous places, like Granite House (I was slightly disappointed, but then again it had been derelict for about 150 years...) and the windmill and even Nautilus itself. The fact that the island was supposed to have been blown up in a massive volcanic eruption, was nicely explained away, as was the weird effect I thought was bad graphics in the beginning. And you can see real illustrations from the book, and even the map of Lincoln Island! Eeeee! Controls are quite easy if you have played any Kheops games before, I have - Destination: Treasure Island and Echo: Secret of the Lost Cavern. Basically you can play the whole game with just your mouse. This one isn't a long game, but there is plenty to do and it's fun. And there is a sequel! This game also has a point system, which I have only seen in Nostradamus: The Last Prophecy before, and it was quite fun. Every time you collect 100 points, you get some concept art to look at in the gallery.. I managed to get 295 points by the end. I have heard rumours that max. is 395... I must have missed loads of stuff even with the occasional help of a walkthrough! The only problem I have is that I don't really like the 360. It makes my head ache. I usually put it on slow level, where possible, but in this game, even slow was too fast and blurry. Apart from that, definitely one to get if you like Large File and Adventure games.
March 4, 2013
strategy
very fun, lots of diffrents skills
December 17, 2014