Risk
Draft! Attack! Fortify! Play the original game of strategy and world domination — now for your computer. Enjoy the classic look and fun of RISK™ in an exciting new interactive experience. Play two ways as you strategize over the map and set out to conquer the world. Test your power against computer enemies, or compete with friends in Hotseat multiplayer. Use strategic thinking and tactical gambles and earn a host of achievements as you take territory after territory. Can you lead your army to victory?
Customizable gameplay
Up to 5 AI opponents
Earn medals and awards!
Game System Requirements:
OS:

10.8/10.7

CPU:

1.4 GHz (INTEL ONLY)

RAM:

2048 MB

Hard Drive:

30 MB
Game Manager System Requirements:
Browser:

Safari 4.0 or later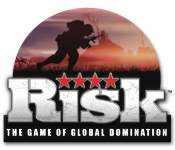 NEW299
The Big Fish Guarantee:
Quality tested and virus free.
No ads, no adware, no spyware.

Reviews at a Glance

Risk
0
out of
5 (
0
Reviews
Review
)
Customer Reviews
Never Played RISK before
Based on Demo I have never played RISK before, not even the board game. I started off on easy and won. So, I started a new game on medium... I think I was losing when my hour ended. So, being totally new to this game I felt it was very challenging. And, that this is a strategy game that will be a little bit different every time you play it. The hour flew by and this game is very addicting. I think it would of been a little bit more exciting if it had more bells and whistles. I actually give this game a 4.5 stars. Probably will wait awhile before I buy it. I recommend people to try it. I first ignored the game when BF picked it up. Looked boring to me... I was surprised by it. I was earning cards and had no idea what to do with them.. eventually I found out because I had too many cards and the game made me get rid of some. I am like ahhh! now I understand. You can earn more men to fight when you have the right set of cards.
November 25, 2012
A Great Buy
I've been a long-time fan of Risk, and this game didn't disappoint. Despite the fact that the graphics or music aren't top-notch, on expert level the game is a challenge. Manually selecting territories (vs. auto-select) allows you to target the continent of your choice. Auto-select forces you to play a starting position you might not be comfortable with, which can be a nice change of pace, and is more difficult. You can play solo vs. 2, 3, 4 or 5 computer opponents. The only "glitch" to this game, is the computer seems to have a couple unfair advantages. I've noticed in the middle of attacks, the computer army occasionally seems to generate more armies (not due to turning in cards, it's almost as if he's redeploying troops while attacking), and also, he seems to be able to conduct a partial attack, whereas when you attack another country, you're commited to a full attack to the death. I've learned to live with these oddities, and figure my brain-power will (and usually does) offset that handicap. :-) If you're a RISK fan, get this game. For the relatively cheap price, it's a steal. I play this game almost daily, with my morning coffee.
January 21, 2013
What a suberb game
I'm not a great lover of board and card games but "Risk" is great. The graphics could not be called spectacular, but then a map of the world doesn't call for it to be spectacular! The sound quality is good and the story line got an "OK" but there isn't really a story here. It's a strategy game. I played against the computer. In the easy level I conquered the world very quickly, but in medium level I had to fight every inch of the way. Didn't try any other levels as I ran out of time in demo mode. I shall be buying it.
November 14, 2012
sweet war rocks
graphics are good would be nice if there were more maps
March 26, 2014
Risk
Like the original board or computer game, but somewhat modernized. I played it on the medium difficulty setting and found it to be somewhat simple. Completed the conquer of the world in 30 minutes. Will try again on the difficult setting. I do not plan on purchasing since I do have the computer game and it is challenging. If you do not have this game, I think you will like it. It is fun and entertaining if you like to do battle.
November 14, 2012
Valiant Effort....
Nice try, but JUST misses the mark Gameplaqy a bit Stiff.. & Needs Instructions Little storyline.. so-so music .. Decent artwork I've enjoyed Risk since High School & especially in College on paper board, then on to Platforms & then Puters... I was SO hopeful when I saw it on BFG, but the Devs only offered a SUPER- Lite version. AND they seemed to drop the ball in this attempt. :( Overall, it MIGHT be a fair intro to the Game of Risk, but I cannot recommend further Gameplay beyond Demo
November 14, 2012
Rebel dog
Always played it every Friday night but now I found it
October 6, 2014
A Distant Second Place Effort
A few years ago a gamer could purchase a copy of Risk II ? an incredible PC game with excellent full screen graphics, optional voice narration, multiple statistical graphic tables breaking down how your army fared at games end and superb classical music. Unfortunately, there isn?t a version of this game for Windows 7. Recently, my older PC running Windows XP crashed and died. Obviously, I can no longer enjoy the Risk II computer game. When a new version of Risk became available on BFG, I hoped it would be a worthy successor to Risk II. Sadly, this is a basic, small screen version without the sophistication I was expecting. Since I am an avid fan of Risk, I feel that something is better than nothing. Yes, I made this purchase and embraced compromise. I give the game two stars only ? three deductions for poor graphics, small screen and basic sound. To reiterate, I?m a Risk junky so I needed my ?fix?. Please play this version and make your own decision. Peace.
November 18, 2012
Should be/Could be good, but is ultimately - disappointing.
I was hoping for some kind of campaign mode here, but no, once you've played one game (which will only take you about 10-15 mins), that's it... game over. It's not that it's a bad game in itself, it's just over far too quickly and there's no incentive to keep playing it once you've finished. There's no leader board either, but then one would be pointless here, as without a campaign mode, there is no way to track progression. Besides, you can't even enter your name anyway. Ultimately, this version of Risk fails to live up to anything that's come before it. Anyone who has even played a version of Risk knows it's a great game, so this should be, and could be, good. Which, for me, is what makes it all the more disappointing.
November 17, 2012
Risk
I found this more of a complicated strategy game than a game under this category
January 15, 2014
The Apple logo is a trademark of Apple Computer, Inc.
The Windows logo is a trademark of Microsoft, Inc.