Murder, She Wrote 2: Return to Cabot Cove
Exclusive
Take on the role of beloved murder-mystery writer Jessica Fletcher and return to lovely (but lethal) Cabot Cove! In Case 1, a prominent gallery owner is found stabbed in the back, and Jessica must distinguish friend from foe. Intrigue abounds in Case 2 when the philanthropic president of the local charity is electrocuted to death. It's up to Jessica to discover whether the motive was love, money or power. Jessica decides that she needs a vacation after all the mayhem and murder in her hometown, but Case 3 finds her embroiled in a mystery involving James Joyce!
Gorgeous Locations!
Three all-new cases!
Over 20 Puzzles!
Game System Requirements:
OS:

Windows XP/Windows Vista/Windows 7/Windows 8/8

CPU:

1.8 GHz

RAM:

1024 MB

DirectX:

9.0

Hard Drive:

372 MB
Game Manager System Requirements:
Browser:

Internet Explorer 7 or later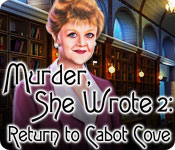 NEW299
The Big Fish Guarantee:
Quality tested and virus free.
No ads, no adware, no spyware.

Reviews at a Glance

Murder, She Wrote 2: Return to Cabot Cove
0
out of
5 (
0
Reviews
Review
)
Customer Reviews
Murder, She Wrote 2: Return to Cabot Cove
99
99
A great way to relax and play!
I liked this game because it is for casual players and it is 'lighter' than other HOG's. I can imagine for serious players this would be a bit boring and too easy. I played this game to help me get over jet lag and it helped to keep my mind busy during odd hours of being awake.
January 6, 2015
Solve 3 Cases with Jessica!
Well, imagine MY surprise when I played this demo for the 2nd time. Apparently, I was so unimpressed the 1st time I quit after barely 10 minutes. This time ..... just a little bit different. .... I REALLY LIKED IT!!!! There are 3 cases to solve in this newer version of "Murder". The first begins with the apparent murder of a well-loved art dealer in Cabot Cove. AND, a very special painting was stolen - CUT from the very frame it sat in. Oh dear. Who could be responsible? Well, during the demo, there's the daughter of the famous painter who painted the stolen painting. Does that paint splatter match the one found in the art gallery? The friendly female artist who locked herself out of her studio? What is that paint card doing there? Hmmm, always look at those closest to the victim - at least that's what they do on t.v. - so could it be the ....... brother? Guess we won't find out until we play the game. And, by "we", I mean ME TOO! LOL. This is definitely on my wish list. Not as wordy conversation-wise as the first murder case in Cabot Cove so maybe why this one held my interest more. HOGs (hidden object games) could be a bit better. You still have to find the missing vowels off Jessica's typewriter but the itemized list of words is really, really tiny and difficult to see - often having to resort to point and click to get any luck in finding objects. Hope I see you all in Cabot Cove so we can solve these 3 mysteries together! Happy Gaming!
September 12, 2014
Interactive but not TOO interactive
I don't normally like interactive HOG - they require too much thought when I just want to veg and relax. This one though was great. There were only a handful of different places to interact with, the clues were great to get you where you needed to go and when you found an object it was used very quickly. It was also still full of regular HO scenes. This made it easy to not think too hard and easy to stop and pick up your game later. Suggestions on others like this???
August 18, 2014
Great for a relaxing evening of fun!
I've enjoyed both Murder, She Wrote games! This one had more challenging puzzles and the HO scenes were less obvious. Characters are a little out dated, but fun to make fun of, sorry! lol
June 24, 2013
Great weekend game
The only thing is, it didn't last long enough.
March 12, 2013
Good light hearted game!
I've started to dislike all the dark games coming out! When I sit down to play I like a challenge that isn't on the "dark side." I will be waiting for more games like this one in the future.
February 19, 2013
Love MSW2 but...
I love this type of game (without the vampires, ghosts, etc.) and bought it immediately without the trial. It has the same type of scenes as in the first MSW (hints from typewriter keys) and is well worth playing. It could use more HO scenes and a map to traverse the areas faster. The biggest down side: worst mini-games I've ever played. Regardless, I'd buy the next one without hesitation.
December 15, 2012
Boring Sequel
BASED ON COMPLETED GAME FIRST IMPRESSIONS Three years after the original Murder, She Wrote, this sequel was released. A lot had changed in that time, including the drop in popularity suffered by strictly HO games. Still, I wish this one had stuck to the formula. As a HOPA, it doesn?t have anything like the same appeal. SIGHTS & SOUNDS At first I thought it was the graphics that were not up to the standard of the original game, but they are alright. Not great, but okay. It is the artwork that has reduced in quality. There is less detail and a distorted version of Jessica, from the one we knew in the first game. Clearly, a different artist is at work, and I don?t see the same amount of talent. The game opens in widescreen, which further stretches things out of shape, but toggling aspect ratio improved the graphics. Again the voiceovers are extremely professional, and although the music from the show is still there in the opening, during gameplay, the music is subtle and soothing. WHAT?S HAPPENING? The game gives you 3 individual cases to solve this time. In two we are in Cabot Cove, Maine, but the last case occurs while we are away in Ireland. As always, Jessica Fletcher has the uncanny knack of finding a dead body just by walking down the street in her quiet home town. GAMEPLAY This is no longer a strictly Hidden Object Game. There is an easy adventure component with a lot of hand holding that nevertheless managed to frustrate me at times. The inventory items you find are used soon after you get them, and you almost always will know where you need them. But the movement does not seem very logical and there is a lot of backward and forward. There are many characters to talk to, including the police chief, and again much of the time is taken up with dialogue. As with the first game, the HOPs are interactive word lists, where the words do not have any vowels. To get them you must find the typewriter keys in the HOP scene. Typewriter ribbons give you extra hints. The objects are easy to see and generally not hard to find but some are quite small. Because there are less HOPs, there is less opportunity to collect hints from the scenes. So it is important to carefully ration them. The puzzles in this game more closely resemble the standards we?ve come to expect. But you are still expected to deduce from the evidence. There is a notebook that holds clues in it. No map. There are two options for difficulty. COMBINED IMPACT This is an okay sort of game. If you loved the series, or whodunits of the Agatha Christie style, you?ll love this. Many fans of the first game, though, will not like this at all. It is just too far away from the original gameplay. Personally, I found it mostly irritating.
February 7, 2014
Jessica does it again!
I've always been a Murder, She Wrote fan, and enjoyed the first game very much. This game is much the same. You have three cases to solve and you're helped by some familiar faces from Cabot Cove. Once again, you find missing typewriter keys in each hidden object scene to get more hints, and the scenes themselves are not as junky as some, but some items are difficult to find, but that's why it's called a hidden object game, not a "hey - it's right here - big as life!" game. The hint button works within the hidden object scenes and and is helpful outside of the scenes as well. Voice-overs are adequate and the music is appropriate. It's not Mystery Case Files, but it's not Sesame Street, either. It's a pleasant game with lots of hidden object scenes, decent puzzles, fun little mysteries...of course, everywhere Jessica goes, there is bound to be a dead person nearby..lol. My only negative is the way one of the characters was portrayed. Michael Flaherty, the fellow who works for MI6 and always got Jessica into all kinds of trouble, is a middle-aged man in the original program, a bit stocky, but, in the game, his character appears to be about 21 years old! He is MUCH too young, but the voice-over sounds right. Seth Hazlett doesn't look like Seth, Mort the Sheriff doesn't look much like Mort..but all of the voice-overs are good enough, including Jessica's. If you're looking for a game to pass an evening or two and you enjoyed the first Murder, She Wrote game, try this one.
November 23, 2012
Not impressed
I played without hints until it came to the art store. There was no skip or help with posing the manequin on the box except for the drawing and no matter what I did, I couldn't get it just right. I ended up just quitting the game.
November 27, 2012
The Apple logo is a trademark of Apple Computer, Inc.