Alexander the Great: Secrets of Power
Long ago, a renowned warrior and ruler, Alexander the Great, endued his crown, dagger and ring with magical powers. The power once bestowed on each artifact is strong, and capable of causing irreparable harm, should they fall into the hands of the evil. Now it's up to you, a descendant of the ancient emperor, to collect all the artifacts and save the world. Dive into the whirlpool of dramatic events and thrilling mysteries to unlock the secrets of ancient power!
Unique Locations
Over 45 mini-games
Fascinating storyline
Game System Requirements:
OS:

Windows XP/Windows Vista/Windows 7

CPU:

2.0 GHz

RAM:

1024 MB

DirectX:

9.0

Hard Drive:

493 MB
Game Manager System Requirements:
Browser:

Internet Explorer 7 or later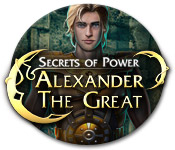 NEW299
The Big Fish Guarantee:
Quality tested and virus free.
No ads, no adware, no spyware.

Reviews at a Glance

Alexander the Great: Secrets of Power
0
out of
5 (
0
Reviews
Review
)
Customer Reviews
Alexander the Great: Secrets of Power
26
26
Excellent game and a bargain too
You are a modern-day heir of Alexander the Great, and have just come into a very unusual inheritance. Unfortunately, you're not the only one with a claim to the treasure... This game has some original features. In the opening scene, you will be offered the option to rotate 90 degrees in a scene to see what's to the left or right, or to simply cut to the new view (which is typical HOG navigation). I like the rotate feature. The hidden object scenes are realistic in that you are often searching for items by sliding other objects out of the way. The story is fast-paced (so far) and interesting. The art is photo-real and there are back-in-time sequences. I love the game mechanics. The only limiting factor so far is the soundtrack. The music (was there any?) is not noticeable, and the voice-overs are pretty bad. (Hence the lower "sound quality" rating.) However, the voice text also appears on the bottom of the screen, so you can read-and-skip. The "console", essentially your cellphone, allows for tracking evidence in your search for the treasure, and includes an instructions button (upper right of the console). There is also a map. These are both items you pick up in the first scene. There are only two difficulty levels, regular and hard. However, in regular mode, hints recharge very quickly and there is no penalty for multiple HOS clicks, so overall the regular mode is pretty easy. There are no sparkles (and they're not necessary). The puzzles are great -- hard enough to offer a challenge without being ridiculously hard. I'm only part-way into the game, but so far it seems very interesting. The opening scene has you picking up "your favorite game" in a search, which happens to be Mystery of Mortlake Manor, so I'm assuming this is another game from the same team. Overall, I'd recommend this game even if you don't have a free game credit. Definitely worth the non-CE price.
November 21, 2012
Thank goodness for pure games
Recently, games such as the new Mystery Case Files use real actors in their games instead of graphic actors. The result is a splice of movie and game. For myself, I seldom watch a movie more than once. A great graphic game is one we want to play again when we finish it. This game, Alexander the Great, IS such a game. Those "movie/graphic" games are tiring, especially when a game player HAS TO include the story each time. This game allows the player to speed past the story to the puzzles and beautiful graphics. I would buy this game again.
November 26, 2012
Missed this kind of games
I wish the HO games that are released more often were like this one. I love the fact that it gives you to read bits of history throughout the game. And the fact that the graphics of this game are really good I love it. I agree that some of the objects on the HO scenes were a little blurred and that they need to fix that, but overall a really nice game for people that like a little bit of Adventure with some historical background on a game.
December 2, 2012
Amazing Game
I almost didn't download this game due to its low star status, but I'm glad I did! The game was extremely fun to play, with just the right level of challenge. There were A LOT of HO scenes, but they made the effort to make the areas actually look like the scene before you clicked on it. Big plus for me - I'm tired of clicking on an area and the HO scene that pops up shows all of this stuff where it wasn't before. The largest downside to the game was the lag between scenes. Visually, the game was beautiful and the graphics were great, but it got really annoying to sit through the lag every time you wanted to move to another location. The story line and game play outweighed this con for me, though.
May 8, 2013
MORE LIKE THIS PLEEEEEASE!
Won't repeat what others have said about storyline except this is a beautifully done game!Loved the historical settings and info about ATG! I would love to see more like this for a change from the usual macabre story lines.The ending left an opening for a sequel; wish game developers would do one! Perfect non repetitive music to set the mood/ scenes! Fantastic graphics! Lots of HOS- I didnt mind so many of them as they could be quite challenging. Different types of puzzles! Well done voice overs tho the main character often stated the all too obvious.Found that a bit annoying.But not enuff to turn off the sound cos I loved the music! Overall I highly recomend this game. MORE HISTORICAL BASED STORY LINES LIKE THIS DEVO"S PLEEEEEASE! 2 THUMBS UP!
December 25, 2013
Stylishly Done Game!
Lush haunting graphics,takes you back in history,again and again. A marvelous fun game that is not to hot, not too cold but just right! The music is inventive and blends perfectly with the locations. I was blown away by this big, intricate game and all its enchanting puzzles. Too many Hogs for my taste but still a keeper!
March 10, 2013
A Good Historical-Themed HO
I played 45 min. of the hour demo and feel I have a good idea of what's to come. There are difficulty choices but I played on Easy (which isn't all that easy!# and listened to enought of the music to silence it as it's jouncy repeated tune was a distraction for me, tho others may enjoy it's semi-Middle East/jazz flavor. Your character in the game is male, tho that's not indicated at sign-in so you're not given a name gender choice. The story, while the premise is interesting feels rather lame and contrived. Graphics are bright, colorful but HO's, not interactive, have somewhat blurred and very small objects. Often well hidden many don't seem to much resemble their type #cloak is a trenchcoat, etc.). A plus is that you can rotate around an area by nudging the edge of the screen or choose to change scenes in the normal way. There are other oddities, i. e. taking pictures of places and being able to send them to your friends, etc. but it's generally an interesting game. I suggest giving it a try but be ready for a no frills HO that has good potential.
November 21, 2012
A little gem
I am guessing this was made by the same people who did mortlake manor I enjoyed that and so far I am enjoying this You discover you are related to Alexander the great and your job is to discover artifacts before anyone else can get hold of them ,because they hold the power of the world . It is a mix of mythology and history you are the young man who recieves tickets to Greece and a ring which strangly enough you have just dreamt about .Once in Greece you are left to find an underground temple and then perform a ritual on your ring without having a clue what to do . before someone else can get hold of it . I have to say time just flew by maybe not to everyones taste the graphics are more old style But the voice overs are good and plenty of ho's to keep the die hards happy!
November 21, 2012
Down with Cliffhangers!
I thought the story of this game was interesting enough to buy it and find out how it ended--and then there was a 'to be continued!' As far as it went it was very good--the hidden object play was not the dreary 'find the crowbar to open the door to find the screwdriver to open the other door etc etc' that you get in some games. HO scenes made me squint a bit sometimes! Minigames...well, people who are good at minigames won't be stumped by them. People like me will be glad the skip button fills quickly. I liked the use of the phone camera for journal entries and contacting other characters. #Just in answer to some other reviewers: Alexander the Great was not from the Middle East, but from Macedonia, and he has traditionally always been shown with flowing golden locks. As for the complaint that Hercules was a myth, and not historical--Alexander himself believed he had been fathered by Zeus. You may not believe in Hercules, but the Greeks did! In any case, this IS a fantasy game...:# )
November 25, 2012
REVIEW OF COMPLETED GAME
There is quite a large amount of historical data included in this game, on Alexander, and you get to read it in-flight, which is how you travel to the different countries. But, if you are not interested in that, it can be instantly switched off. The graphics are not the greatest, but they are not terrible either. The main character is a really sweet and very young sounding guy, very enthusiastic, a little naive and rather too trusting, but his unabashed delight and pleasure at all the things he discovers is very endearing and I really became very fond of him. There are a huge amount of HOS and this is my main peeve with this game - they are dark, junkpiles and extremely blurry, so finding the items is a real headache. Fortunately, the hint button is super quick, or I would not have enjoyed the game half as much. Probably would not have bought it. There is a map, but I found it irrelevant, as there are only a handful of areas in each location. I always knew which one to go to when I found something and actually forgot about the map altogether. You get to travel back in time and see how everything looked then and I really enjoyed that. The music was not irritating and the conversations with the guy who employs you are short and clickable. There are no glitches and navigation not too bad, but could have been faster. It took me 6 hrs and was interesting and informative and I think they did a pretty fair job of it. There will be a sequel and I would just like to say to them, please, for the next one, lighten up the HOS, do not make the items so impossible to see and make the navigation faster. These 2 factors will get you much more favourable reviews and more sales.
November 25, 2012
The Apple logo is a trademark of Apple Computer, Inc.