Alexander the Great: Secrets of Power
Long ago, a renowned warrior and ruler, Alexander the Great, endued his crown, dagger and ring with magical powers. The power once bestowed on each artifact is strong, and capable of causing irreparable harm, should they fall into the hands of the evil. Now it's up to you, a descendant of the ancient emperor, to collect all the artifacts and save the world. Dive into the whirlpool of dramatic events and thrilling mysteries to unlock the secrets of ancient power!
Game System Requirements:
OS:

Windows XP/Windows Vista/Windows 7

CPU:

2.0 GHz

RAM:

1024 MB

DirectX:

9.0

Hard Drive:

493 MB
Game Manager System Requirements:
Browser:

Internet Explorer 7 or later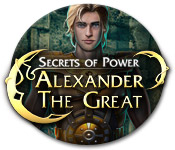 NEW299
The Big Fish Guarantee:
Quality tested and virus free.
No ads, no adware, no spyware.

Reviews at a Glance

Alexander the Great: Secrets of Power
0
out of
5 (
0
Reviews
Review
)
Customer Reviews
Alexander the Great: Secrets of Power
18
18
Alexander the Okay
Your basic HOG. The 1st HO game was way to easy as your cursor changed to a hand when over an object to find. I thought to myself if this is how the game is then it was made for a very young child. Not sure why they did this but rest assured the next HO scene did not have the hand cursor. The HO scenes are not interactive or the ones I did where not. The colors are very plain and boring. Was not impressed at all by this game. I will not be buying this game and I love HOG. HOG are my fav. games to play and I usually buy all of them but this one is a no for me. I do say try it for your self and see if you like it. Have fun gaming. Off to play the new Murder she wrote game.
November 21, 2012
Good HOG adventure
This game about Alexander the Great or, more precise, about three artifacts he owned, according to the story, is fun to play. The graphics are crystal clear, the HOG scenes too and the objects fit the historical locations. The minigames are OK, not too challenging in Normal mode, can't tell about the Hard mode. Speaking of which, it's nice being able to choose between modes. So overall, this is a good game, worth to spend money on.
December 3, 2012
ooops ......
Devs, better get back to R&D Dept! Herc & AtG????? Not only that, as in the "precis" to this game, HUGE grammar mistake in the lead-in sentence. Would "EMBUED the crown..." make sense????? Having read prior reviews (immediately upon reading "precis") was expecting a "Z Grade" game - in that I was not disappointed ... definite Z :'( (sigh) ... back to the "drawing boards" peeps :((
November 21, 2012
an ok game for beginners
Had this game been issued 4 yrs. ago I probably would have bought it without any hesitation. However what with all the good games with superior production values that are out today, Alexander just doesn't cut it. I noticed something at the onset of the game when Alexander himself is introduced. The man is from the Middle East part of the planet yet the devs have him blond and blue eyed. Just this alone is a sign that the devs are not practicing due diligence.. The HOG scenes are a bit better than average with some items cleverly hidden in plain sight. The mini games and puzzles are ( at least in the demo ) way to easy. The story line mixes a supposed reality with fantasy. One of the items that A the G owned and which our detective must find is a crown owned by none other than Hercules. While A the G was a real man, Herc has always been a myth. Another sign the devs are not doing their homework and this dev has issued some fine games . The best part of A the G is the use of stunning graphics. There are some long winded voice overs and the talkers lips move in a bogus fashion. As my review title indicates, this might be an ok game for players fairly new to the genre. For most HOGgers with experience, this game falls short of the mark. Judge for yourself.
November 21, 2012
It's "OK"
My favorite games are the HO ones. This one has some good graphics until you get to a HOS, then it's blurry and the items are small and difficult to find. The character acting is not very good at all. The story has a lot of potential but fell flat. I played for about 45 minutes and decided that I would not be buying it.
November 21, 2012
Amazing Game
I almost didn't download this game due to its low star status, but I'm glad I did! The game was extremely fun to play, with just the right level of challenge. There were A LOT of HO scenes, but they made the effort to make the areas actually look like the scene before you clicked on it. Big plus for me - I'm tired of clicking on an area and the HO scene that pops up shows all of this stuff where it wasn't before. The largest downside to the game was the lag between scenes. Visually, the game was beautiful and the graphics were great, but it got really annoying to sit through the lag every time you wanted to move to another location. The story line and game play outweighed this con for me, though.
May 8, 2013
Stylishly Done Game!
Lush haunting graphics,takes you back in history,again and again. A marvelous fun game that is not to hot, not too cold but just right! The music is inventive and blends perfectly with the locations. I was blown away by this big, intricate game and all its enchanting puzzles. Too many Hogs for my taste but still a keeper!
March 10, 2013
Good Game with Some Annoyances
This is an interesting game with some enjoyable parts and some annoyances. You receive a box with a mysterious message claiming you are a scion of Alexander the Great. You go on a hunt for missing relics. You fly to various locations, read about them on your smart phone, search for the missing pieces of the relics, take pictures with your smart phone, etc. There are several other characters, both good and bad, that you meet along the way. You also get to travel back in time at some locations, which was fun. The graphics are acceptable, not stellar. The characters you meet are live actors, which is ok, but IMHO not the best. The voice overs were acceptable, but didn't match the actors talking. There are a lot of HOS, which I love. These were typical junk piles but most items are findable if you take your time. Some items were mis-named, which is really frustrating. The hint button comes in handy for these items. The mini-games were not very difficult and most were fun. The hint and skip buttons re-filled quickly. You won't need them very often. There is a map that allows you to jump between locations and tells you if there are items to do at a location. You won't need the map until fairly late in the game. Unfortunately it doesn't always let you jump to another location. Sometimes you have to exit and restart the game to get the map to function. There is no built-in SG or walk through available. If you get stuck, you have to check the BF forums or troll the internet. Towards the end of the game is when you're most likely to get stuck. It was really frustrating to have no help from the hint button and very few resources. I almost gave up at one point. The game ends in a cliff hanger, which I really dislike. I always feel cheated when a game ends in a cliff hanger. The game is long, which is nice, but the annoyances almost make it not worth it. I really enjoyed the history, but you can click through it quickly if it's not to your liking. Overall I enjoyed this game. I walk through would have made it much more enjoyable.
January 25, 2013