Alexander the Great: Secrets of Power
Long ago, a renowned warrior and ruler, Alexander the Great, endued his crown, dagger and ring with magical powers. The power once bestowed on each artifact is strong, and capable of causing irreparable harm, should they fall into the hands of the evil. Now it's up to you, a descendant of the ancient emperor, to collect all the artifacts and save the world. Dive into the whirlpool of dramatic events and thrilling mysteries to unlock the secrets of ancient power!
Unique Locations
Over 45 mini-games
Fascinating storyline
Game System Requirements:
OS:

Windows XP/Windows Vista/Windows 7

CPU:

2.0 GHz

RAM:

1024 MB

DirectX:

9.0

Hard Drive:

493 MB
Game Manager System Requirements:
Browser:

Internet Explorer 7 or later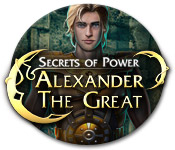 NEW299
The Big Fish Guarantee:
Quality tested and virus free.
No ads, no adware, no spyware.

Reviews at a Glance

Alexander the Great: Secrets of Power
0
out of
5 (
0
Reviews
Review
)
Customer Reviews
Alexander the Great: Secrets of Power
26
26
Try it for yourself!
I read several rather negative reviews, but decided to try the game for myself, and I'm glad I did. It's not as bad as many of the less positive reviews had me believe. In the story, you're a scion of Alexander the Great and you have to find some artifacts to save the world, so to speak. You do this with the assistance of a fella named Oscar, who seems to know where you're supposed to go to look for stuff, but is no help in any other way. You travel the world looking for the artifacts and you encounter lots of hidden object scenes in the process. The scenes, for the most part, are not interactive, and some items are rather small..and many are very cleverly hidden, but that's the way a hidden object game is supposed to be..you look for things that are hidden..and this one fills the bill in that regard. I used the hint button a few times in the hidden object scenes, and be advised...be quick on the thing. It shoots out a very fast beam of light that targets the object, but don't look away from the screen after you push the button, or you'll miss it. Outside of the hidden object scenes, the hint button helps some as well. It will give the dreaded "nothing to do here" statement, but, if there is something to do, it will show it and, if an inventory item is to be used, it will tell you that, too. You'll encounter several different types of mini-games...none too taxing, but they are fun to do, and you're given the chance to skip any puzzle, and the skip option is ready pretty quickly. The hint button loads quickly on the casual setting, as well. You play as a guy, and his voice-over is very well done..a wee bit dramatic at times, but I really enjoyed the character. All of the voice-overs are well done. You'll run across a bad guy or two (and a bad gal) and travel the world, on your way to saving us all. The ending definitely leaves room for a sequel...and I know I'll try it, if it's ever offered. All in all - it was fun..neat smartphone gadget, interactive map, neat locations, good historical info here and there, and I urge you to try the game for yourself.
November 25, 2012
Ancient Tale In Modern Times
BASED ON DEMO FIRST IMPRESSIONS What sets this game apart is the finesse with which it tells us an ancient myth in a modern day setting. From the game?s interface to the mode of travel to the smart phone where we keep our notes, everything about this game is very high tech and present day. Yet the story is of Alexander The Great and his (modern day) scions, and a race for the powerful artifacts that gave Alexander his prominent place in history. SIGHTS & SOUNDS Although the graphics are not widescreen, there is an acceptable wallpaper on the infamous ?black bars? on the side, and it all actually looks a part of the interface. The cut scenes are excellent, the graphics quality is good, but the developers have deliberately set some scenes in environments that involve a lot of grainy images. For instance, HOP scenes in among brushwood and stone. Some scenes can be viewed as 180 degree panoramas, but the choice is yours. Some are deliberately monochromatic, when showing a gloomy interior, for example. Usually these scenes are of modern day ruins, and so you will also see the scene in full colour when you travel back in time (I leave you to find out why and how). An interesting feature of this game is being able to take screenshots with your smart phone, for use outside as well as inside the game. The sound effects are often very, very true to the ancient Greek era, but the music did not make an impression on me. The voiceovers were absolutely excellent, unfortunately overused. Loved Alexander in the intro, but I really got fed up with my character?s inane comments which were available on subtitles anyway. WHAT?S HAPPENING You receive a package from an aid organisation claiming that they have found very valuable artifacts that belong to you, because you are the scion of Alexander The Great! Pretty heady stuff, but you?re game, and so starts an adventure that will take you across the world and through time. Seems you are not the only descendant of Alexander still alive and the others are on the same quest to get the items of power. MAKING PROGRESS This is mostly a HOG. There is very little adventure, although you do collect a few inventory items from time to time, and there are some puzzles (easy). You must click hint if you want the instructions for the mini-games. The HOPs are standard word lists, or silhouettes. Your smart phone keeps track of your tasks, clues, and information on the legends associated with Alexander The Great ? I am pretty sure that is all make-believe though. There is a map, that gives the general location, which the game controls, and then the 3 or 4 locations within it that you can jump between. If you are in the past, however, you are on your own. FINAL VERDICT For a standalone SE, this is a very impressive game. Not at all fanciful in the way it looks, it is nevertheless an adventure in the world of myth that would charm any fantasy lover.
December 28, 2013
Based on demo
Liked the story line about Alexander the Great. Didn't like that you could not click on dialogue to make faster. The switching between times was pretty good too. Some of the graphics are very well done while others are just blah (the alexander ones are great the apartment was blah). Puzzles were not hard and used very little to no hints. Overall I will buy this!
November 21, 2012
Alexander The Great
A mysterious package arrives explaining that you are a descendant to Alexander The Great. You are asked to fly (all expenses paid of course) to Greece to help with ancient artifacts belonging to the Emperor. I have to admit, when this game was first released, I played it for 3 minutes before quitting because it was so boring. I decided to give it a second chance and once we left the building and arrived in Greece things were much better. You can choose two different types of gameplay, a continuing 360 degree scan of the area or a click the directional arrow to move to that location. I must admit the hidden object games are quite nicely done with some of the items very hard to find. The mini games are pretty much self explanatory such as moving gold marbles along several diamond shaped tracks in order to allow room for the red marbles to be moved to the center diamond. You need to give this game a little time, and other than the main character constantly saying the text out loud, it's not too bad, enjoy!
February 22, 2014
Good Game with Some Annoyances
This is an interesting game with some enjoyable parts and some annoyances. You receive a box with a mysterious message claiming you are a scion of Alexander the Great. You go on a hunt for missing relics. You fly to various locations, read about them on your smart phone, search for the missing pieces of the relics, take pictures with your smart phone, etc. There are several other characters, both good and bad, that you meet along the way. You also get to travel back in time at some locations, which was fun. The graphics are acceptable, not stellar. The characters you meet are live actors, which is ok, but IMHO not the best. The voice overs were acceptable, but didn't match the actors talking. There are a lot of HOS, which I love. These were typical junk piles but most items are findable if you take your time. Some items were mis-named, which is really frustrating. The hint button comes in handy for these items. The mini-games were not very difficult and most were fun. The hint and skip buttons re-filled quickly. You won't need them very often. There is a map that allows you to jump between locations and tells you if there are items to do at a location. You won't need the map until fairly late in the game. Unfortunately it doesn't always let you jump to another location. Sometimes you have to exit and restart the game to get the map to function. There is no built-in SG or walk through available. If you get stuck, you have to check the BF forums or troll the internet. Towards the end of the game is when you're most likely to get stuck. It was really frustrating to have no help from the hint button and very few resources. I almost gave up at one point. The game ends in a cliff hanger, which I really dislike. I always feel cheated when a game ends in a cliff hanger. The game is long, which is nice, but the annoyances almost make it not worth it. I really enjoyed the history, but you can click through it quickly if it's not to your liking. Overall I enjoyed this game. I walk through would have made it much more enjoyable.
January 25, 2013
Good HOG adventure
This game about Alexander the Great or, more precise, about three artifacts he owned, according to the story, is fun to play. The graphics are crystal clear, the HOG scenes too and the objects fit the historical locations. The minigames are OK, not too challenging in Normal mode, can't tell about the Hard mode. Speaking of which, it's nice being able to choose between modes. So overall, this is a good game, worth to spend money on.
December 3, 2012
NICE HISTORICAL GAME
THIS GAME IS A NICE HISTORICAL GAME WITH LOTS OF DIALOGUE. IN THIS GAME YOU MUST DISCOVER HIDDEN ARTIFACTS. THE GRAPHICS WERE OK BUT A LITTLE DARK, AND I GAVE THE STORY LINE 5 STARS BECAUSE OF ALL THE INTERESTING HISTORICAL DATA. THIS IS A BUY FOR ME:)
December 9, 2013
Wanted to love it, Enjoyment Short lived
BASED ON GAME PLAY in HARD MODE (2nd of 2) I was excited to play this game as there were so many things to like about it - Graphics gorgeous, HOS were not junk pile but were very well done, Mini-Games varied in difficulty, and who wouldn't like to dig around in the times of Alexander the Great? I was disappointed for a few reasons, likes/dislikes below: Things I liked: MAP - Allows jumping to locations, shows active areas, area complete. SMART PHONE - Allowed pictures to be taken at any time and ability to travel to pictured location. Filing system. Also had all game info - diary, information, etc. GRAPHICS/ARTWORK - Really beautiful & detailed. HOS- No bells & whistles of an interactive HOS, but very well done. The scenes were lovely and objects well concealed in plain site. MINI-GAMEs- The ones in which it was clear what to do or that had good instructions were straightforward, nothing we haven't seen before. Things I didn't like - Sparse Instructions- Not much there; While in mini-game the compass gave terse explanations instead of game hints. It is not always obvious what to do so I am a person who needs good game instructions. No Walk Through or Strategy Guide: It didn't help that there is no Strategy Guide to purchase or a Walk through. This combined with poor instructions made things frustrating. Smart Phone- Great idea and very fancy in its execution but retrieval of pictures could be difficult. Constant Flow of Hints- These were not the classic black bar hints, but each time our hero would do anything a blue bar would pop up saying what needed to happen next. Sigh. Glints, Twinks, Winks- In hard mode at first it seemed that there wouldn't be any of that. However, in scenes items not seen right away would have a little glint or two showing. -------------------- Still I just can't condemn it --- It is beautiful game with an intriguing storyline and lots of promise. Folks, unlike me, who can figure out mini-game instructions on their own and who don't mind occasional glints with a constant stream of unasked for hints, will like this game.
February 7, 2013
I Really, Really Wanted to Like it
I love Greek history and mythology and really, really wanted to like this game. The scenery was nice and I did like that, but my gosh this thing moves SO slow. I am old and slow, and was so bored after two hours that I just couldn't go forward.
November 23, 2013
Alexander the Okay
Your basic HOG. The 1st HO game was way to easy as your cursor changed to a hand when over an object to find. I thought to myself if this is how the game is then it was made for a very young child. Not sure why they did this but rest assured the next HO scene did not have the hand cursor. The HO scenes are not interactive or the ones I did where not. The colors are very plain and boring. Was not impressed at all by this game. I will not be buying this game and I love HOG. HOG are my fav. games to play and I usually buy all of them but this one is a no for me. I do say try it for your self and see if you like it. Have fun gaming. Off to play the new Murder she wrote game.
November 21, 2012
The Apple logo is a trademark of Apple Computer, Inc.