Botanica: Into the Unknown
Exclusive
You are Dr. Ellie Wright, a botanist stranded on a strange planet called Botanica. Full of curious creatures and exotic landscapes, Botanica is like nothing you've ever seen! Test your wits as you navigate through lush forests, steampunk villages, and more. But danger lurks at every corner; make both friends and enemies as you try to outsmart the cunning Queen Kassandra. Can you survive Botanica and find your way back home?
Rich story with unique characters
For a more in depth experience, check out the Collector's Edition
Game System Requirements:
OS:

Windows XP/Windows Vista/Windows 7/Windows 8

CPU:

800 Mhz

RAM:

512 MB

DirectX:

8.1

Hard Drive:

604 MB
Game Manager System Requirements:
Browser:

Internet Explorer 7 or later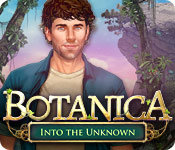 NEW299
The Big Fish Guarantee:
Quality tested and virus free.
No ads, no adware, no spyware.

Reviews at a Glance

Botanica: Into the Unknown
0
out of
5 (
0
Reviews
Review
)
Customer Reviews
Botanica: Into the Unknown
40
40
Excellent game
One of the most beautiful games I played - graphics are absolutely amazing, magically drown world with breathtaking locations - music in the background is calming and gives a beautiful touch to the atmosphere - storyline is good, you found a portal to another world and now, as you arrived to the planet Botanica you must find your way back, but in the mean while you have a lot interesting things to do.. -3 modes in the game: easy, normal and hard - optional tutorial - you have a journal with all the information you need: map, to do list, encyclopedia Botanica, and of course journal contains all the clues you?ve collected - also, one interesting thing is your botanist?s kit- for all your experiments that you do along the way( I had so much fun doing them) - puzzles are very good, I enjoyed them a lot. Most of them are challenging and If you get stuck you can always skip them - hidden object scenes are mostly interactive, so that makes them more interesting to play. Visibility of objects is more than good, and you can also move them around . There are not too many of them Anyhow, I LOVED IT. If you are in the mood for one adventure in the beautiful nature surrounded by adorable creatures, give this game a try!
December 19, 2012
A Breathtakingly Beautiful Game
I bought and played the CE version so I cannot comment too much on the SE. I say this though, Botanica has made my top 10 favorite game for 2012. Visually the game is stunning, the graphics and sounds are brilliant and I loved the storyline. Our young heroine enters a portal to an alternate universe and finds herself on a planet called Botanica. With the help of some friends, she tries to find her way back home. SOmething like Wizard of OZ meets up with Narnia. Game features and game mechanics included collectables and achievements with unique HO scenes and great adventure and mini-games to solve. I congradulate the developers for having developed a game that has that WOW factor that we all expect. Great length and there is replay value which makes buying the CE edition worth every penny. In Botanica, you need to take your time to stop and smell the roses and take in the scenery. Seeing it here today has now made me want to go back and play it again, well done BFG.
November 24, 2012
Whimisical different setting, quality all the way - good length
I can?t say the plot is 100% tied up in this SE and the bonus in the CE wasn?t vital to the story. Although the bonus plot didn?t follow any main characters from the main story and followed a minor character there was a vital part of the background of the plot, actually the lynchpin of the whole story that happened in the bonus. But when you finish the SE you aren?t left hanging and that part is tied up ready for the next game in the sequel/series which is why I am recommending it. So they may incorporate the very short part of the bonus plot into the opening scene of the next game or they may just keep this part of the plot for bonus play, either way if they do that SE players won?t feel like they are missing anything. I?m only going into so much detail as I hope the next game they either leave it completely out or tell you what happened. Boomzap just gets better, this it seems will be their next series. I have never really been a fan of hand drawn graphics although boomzap does it very well. Here I?m glad to see that they have sharpened their pencils and brought some colour to the graphics. This makes a huge difference in HOS as they are sharp and easily recognisable what an item should and nothing is faded or washed out looking like some other DEVs do. I loved the story a botanist your father finds portals to other worlds and you go and try and find him. It gives the plot originality as it does concentrate on plants and the HOS as well as puzzles are actually part of the game! Let?s get the two negative things for me out of the way, there is no transporter map and they do what they?ve done in the past and made this game a sequel, there is no finish. I don?t like sequels. Again boomzap makes all new chapters and you don?t ever go backwards and revisit old areas. I lOVE when that happens and it also cuts down on the time of backtracking so it?s not bad at all! Don?t select ?hard? which is the hardest of 3 choices of gameplay unless you are very confident as you can?t change once you start (and I do wish you could). You don?t get skip or hint buttons and you don?t get info button on puzzles but you do get some black bar tips on them. There is a journal with a to do list, a non interactive map and some fun ?encyclopaedia? on other world plants. You also get a botanical kit (when "i" appears you can do a puzzle in it) If you love puzzles, not so much the HOS or just want HOS variety boomzap is your DEV. 16 HOS ? Hidden object scenes (to see what I count as a HOS see below) I never say this but where do I start in saying why I loved them? No junkpile and only one very cluttered scene. This not only makes them lovely to look at but also I always find non junkpile way harder. Graphics, really clear and sharp, no tiny items. Even though there was no random click penalty on hard (thanks!) I didn?t use it as I wanted to take my time on them, that?s a first! They also never repeated them ? so rare but again shows they are not lazy. All but one list HOS were the highest interaction you can have. 9 list Find items from a narrative 2 (love this) 2 pictures of item you have to find in scene Reverse (put item back in scene) Find x amount Coloured pics at bottom and you find and colour it in the drawing Numbers may be out by a couple but I do try my best 41 PUZZLES (due to not having skip button it was hard to count ? roughly) If you do back out of them they will reset (did this once). Thankfully boomzap has listened and actually made more hard puzzles as so many games they give us so many puzzles but are so very easy. Overall it was a great variety mostly about medium. I felt the objectives in all of them were clearer than in the last awakening game. It was the perfect hardness for me ? hard enough as to not be bored by them but easy enough to be relaxing although a lot of them took me a while (perfect). A lot of them were standard fare but I liked how they were done, a couple were unique. Graphics were lovely and sharp and clear. I did find this game way easier than the last awakening, as it was clearer where to go thus the 4/5 out of hardness rating. Official in game time ? Main game 5hrs 30 min (hard mode, no skipping, no hints)
November 24, 2012
Love, love, love this game!
My review is based on the trial. This game is an adventure hog and has mini games. The story is there was a scientist that believed there was alien plant life living on earth. That scientist passed away and his daughter (a botanist) ends up being sucked through a plant portal and trapped in a world called Botanica. Over time there have been several other people who ended up stranded in Botanica as well. You play the Botanist who has to figure out how to get back to earth with the help of another stranded scientist named Ian. The world they end up trapped in is absolutely beautiful. While exploring, you get to ride giant lizards and dragonflies. All while trying to avoid an evil Queen and her soldiers who are looking to capture you.This game reminds me a lot of the old 80's movie Neverending Story. During the hidden object scenes finding many of the objects requires you to do multiple tasks for each object. ex: youre told to find a burning leaf. there is a hammer in the room in 2 pieces, you have to put the hammer back together, break a glass beaker, then place a piece of the broken glass in front of a hole in the wall so that the sun catches the leaf on fire. During the adventure scenes there is a lot of back and forth to different areas. You really have to remember where you saw certain items before because youre most likely going to have to come back to them at some point. I know a lot of people dont like all of the back and forth, I do though. There is also quite a bit of dialogue in the game, but you do have the option to skip all of the dialogue or just that particular conversation. There are 3 different levels of play: easy mode: direct hints, guided help, & quick hint recharge. Normal mode: vague hints, guided help. Difficult mode: no hints, no mini game skip button, no guided help. Using the hint button in easy mode recharges quickly and tells you exactly where to look for things or what to do. During the adventure scenes you have to pan the screen with your mouse and look for your cursor to turn into a magnifying glass (to search that area) or a hand (to pick up objects). Overall, this game was very well made, and the storyline is so different from the games we've been seeing on BFG lately, its a very welcomed change for me. Definitely a game worth purchasing.
November 24, 2012
Beautiful Indeed
GAME COMPLETED TWICE Story: You are Dr. Ellie Wright, too curious for your own good. You accidentally create a portal and step through it into a beautiful but unknown planet. Luckily you are not the first from Earth to stumble into this world, so you are not entirely alone. On the down side, the locals around here are not all helpful, gorgeous and amazing creatures of the jungle. Queen Kassandra has ordered all outlanders caught and locked up. Developer: Boomzap Release Date: Nov 2012 Extras: Botanical Kit, PC Tablet *Phew* I am finally finished. I feel I?ve gone a round with a Heavy Weight Puzzle Champion. We?re talking hard puzzles and loads of them, instructions sometimes sketchy, with a minimum of HOs. There are even puzzles here that don?t have a skip option. *gasp* ! Why is it that so many of the truly beautiful games are puzzle adventures, and not HO games at all? If you?re one of the 1000s of HO fans who like their games to be adventure but are not wild about puzzles, then this is a game that seems designed specifically to drive you mad. But I had to own it. A thing of such beauty, there can be no doubting it. The alien flora and fauna are enough to make me want to emigrate, and if the technical quality was a bit shoddy in parts... Why am I nitpicking? Enjoy...
March 10, 2013
Could have been 5 stars but what a shame! That horrible extremely fussy mouse!!!
Could have been a 5 star: great story, true wide screen, good graphic and resolution, beautiful scenes and very very very creative. However, the biggest pain is the extremely fussy mouse !!! In many situations throughout the game, it's almost like the precision is down to the pixel for it to work. The worst part is you can't skip and have to keep trying till you hit the precise pixel. It's frustration to the power of frustration!!! I never thought I could actually finish this game for this reason. Also, many of the mini games are without adequate info, leaving you clueless as to what you're supposed to do. Sometimes stupid hidden orders are applied where there is no apparent reason for it and as a result if you don't do it in the hidden order, it won't work. There is no map and the hint doesn't lead you to the right location, just gives you a description, so you have to remember what is called where. Also, some mini games are a pain to play, they are those at random re-arrangement of patterns, simply too many of them!
January 7, 2013
Botanica Review
This game is not that good. The visuals are fantastic but the HO games are few, there are a lot of puzzles but they are not much fun to play. I really don't like this game, if there was more thought put into the HO and puzzles it might be worth another try but I can't see myself buying this game as is.
March 28, 2013
Don't waste your money
This game was designed like the awakening series, if you've played those, you will see what I mean. It starts out ok,(demo) then when I purchased it to finish, it went downhill from there. It lost its beauty of game play, storyline. Boring, (yawn) Don't forget to post your fav. game, after you write your review, so others can check it out, like I do... game on gamers.....
May 12, 2013
more of a kids game to me
I got tired in just 15 min. Graphics are voice over are good. Puzzles are not bad. I just got bored and think it is more for kids to me.
February 19, 2013
Good with some hassles
I really wanted to give this game 3 1/2 stars - not quite 4-star material, in my view. On the plus side, the environment and graphics were delightful, the game design was good, with a variety of puzzle types, and I liked the way the story progressed. On the whole, I enjoyed playing this game and will keep an eye out for a possible sequel. BUT . . . on the minus side, the game controls and interactions with objects in the game were inconsistent and temperamental, though that may have been partly the fault of my Mac. I found the lack of instructions very irritating for some of the games and had to resort to the walkthrough just to find out what I was supposed to be doing. Even more irritating was that the hint button very often told me to do something I'd already done and was therefore useless - but not all the time, oddly enough. I'm left with a feeling of having been somewhere lovely but also some dissatisfaction because of the inconsistencies. As always, the moral of the tale is to try the game for yourself. If you prefer bright games with clear and colourful graphics, you'll be off to a good start.
December 9, 2012
The Apple logo is a trademark of Apple Computer, Inc.