Botanica: Into the Unknown
You are Dr. Ellie Wright, a botanist stranded on a strange planet called Botanica. Full of curious creatures and exotic landscapes, Botanica is like nothing you've ever seen! Test your wits as you navigate through lush forests, steampunk villages, and more. But danger lurks at every corner; make both friends and enemies as you try to outsmart the cunning Queen Kassandra. Can you survive Botanica and find your way back home?
Rich story with unique characters
For a more in depth experience, check out the Collector's Edition
Game System Requirements:
OS:

10.8/10.7/10.6/10.5

CPU:

800 Mhz (INTEL ONLY)

RAM:

512 MB

Hard Drive:

592 MB
Game Manager System Requirements:
Browser:

Safari 4.0 or later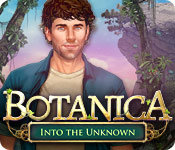 NEW299
The Big Fish Guarantee:
Quality tested and virus free.
No ads, no adware, no spyware.

Reviews at a Glance

Botanica: Into the Unknown
0
out of
5 (
0
Reviews
Review
)
Customer Reviews
Botanica: Into the Unknown
49
49
Good game with nice graphics!
It's an interesting game with nice graphics; I like all the colours! There are 3 game modes. The HOS are clear. The puzzles are sometimes challenging. There is a map, but you can't jump to a location. The gamelength is also good. It took me about 3 1/2 hours to finish.
December 7, 2012
Good - but could have been much better
I played the trial of the CE version of this game. I thought the storyline was pretty cool and liked the way the story was going, so I bought the SE when it came out. Much of it was very good - the visuals were beautiful and the basic idea at the core of the plot is truly interesting. You play a botanist who is the daughter of a botanist - and, you guessed it - father disappeared in mysterious circumstances. While sleuthing in the area where he disappeared, you get thrown into another world. Along with the usual journal and hint guide, you have a botanist's tool kit when you will supposedly conduct experiments on the plant life you encounter. So, positives: the alternate world is beautifully drawn, the lighting is gorgeous, and the different areas within the world all have a special appeal. The puzzles are challenging but not overwhelming (I think I checked the walkthrough 1 or 2 times.) Negatives: the first I would have to say was that botanist's tool kit. For such an unusual feature, I think they used it maybe 3 times? It should have been a much bigger part of the puzzles; it was woefully underused. Also, this is obviously going to be part of a series, and I can appreciate that, but the game ended with me thinking, "Wuh?" Way too soon and way too abruptly. So, mixed feelings about this one - I'm recommending it for it's beautiful art work and somewhat unique storyline.
December 5, 2012
more of a kids game to me
I got tired in just 15 min. Graphics are voice over are good. Puzzles are not bad. I just got bored and think it is more for kids to me.
February 19, 2013
Good with some hassles
I really wanted to give this game 3 1/2 stars - not quite 4-star material, in my view. On the plus side, the environment and graphics were delightful, the game design was good, with a variety of puzzle types, and I liked the way the story progressed. On the whole, I enjoyed playing this game and will keep an eye out for a possible sequel. BUT . . . on the minus side, the game controls and interactions with objects in the game were inconsistent and temperamental, though that may have been partly the fault of my Mac. I found the lack of instructions very irritating for some of the games and had to resort to the walkthrough just to find out what I was supposed to be doing. Even more irritating was that the hint button very often told me to do something I'd already done and was therefore useless - but not all the time, oddly enough. I'm left with a feeling of having been somewhere lovely but also some dissatisfaction because of the inconsistencies. As always, the moral of the tale is to try the game for yourself. If you prefer bright games with clear and colourful graphics, you'll be off to a good start.
December 9, 2012
Beautiful Indeed
GAME COMPLETED TWICE Story: You are Dr. Ellie Wright, too curious for your own good. You accidentally create a portal and step through it into a beautiful but unknown planet. Luckily you are not the first from Earth to stumble into this world, so you are not entirely alone. On the down side, the locals around here are not all helpful, gorgeous and amazing creatures of the jungle. Queen Kassandra has ordered all outlanders caught and locked up. Developer: Boomzap Release Date: Nov 2012 Extras: Botanical Kit, PC Tablet *Phew* I am finally finished. I feel I?ve gone a round with a Heavy Weight Puzzle Champion. We?re talking hard puzzles and loads of them, instructions sometimes sketchy, with a minimum of HOs. There are even puzzles here that don?t have a skip option. *gasp* ! Why is it that so many of the truly beautiful games are puzzle adventures, and not HO games at all? If you?re one of the 1000s of HO fans who like their games to be adventure but are not wild about puzzles, then this is a game that seems designed specifically to drive you mad. But I had to own it. A thing of such beauty, there can be no doubting it. The alien flora and fauna are enough to make me want to emigrate, and if the technical quality was a bit shoddy in parts... Why am I nitpicking? Enjoy...
March 10, 2013
What do I expect from a free coupon?
The voiceovers in this game are patronizing and rather condescending in tone. Maybe it is a game for younger people but I found it boring. The HO's were too easy and the puzzles varied from simplistic to illogical and stupefying. I'm glad it's over. I regret that I purchased the newest Botanica Earthbound CE because of a discount coupon. Hopefully, it is not more of the same.
December 18, 2013
not what it started out to be
When I played the demo I loved this game, but after buying it I found that the games weren't always explained properly, in playing the hogs the stuff you clicked on didn't always work and the more I played, the more mini games there were and it just got way too scientific for me (not confusing, just annoying). I have to say the scenery with all the wonderful colors was really enchanting and I wish they would have kept it like the beginning. The animals were really neat too. If you like a lot of games and just mindless then stuff, then buy the game.
January 18, 2013
Low quality graphics, good story line
Based on the graphics, I thought there would be a second game out by now. It kept me entertained though.
December 23, 2012
Short game leaves you wanting more.
Botanica is a good game. It has excellent visuals and good story. I finished gameplay in 5 hours - spaced out over a week. There are limited HOSs and a few challenging puzzles. Some puzzle are easy. Some rely on point and shoot. Some puzzles are jigsaws. Others are spatial logic and observation. Some were too difficult. There are no specific instructions for difficult puzzles. Its gameplay is too short for me. Especially the finale. SPOILER>>>The game's ending: (is set up for a sequel) I was disappointed at the end. I didn't want the game to be over. I enjoyed the flora and fauna and player's role on a jewel colored planet. The interface/ journal was quite good compared to other games. It's a good game for players who are bored with spooky themes. Understand though, its a short game leaving you wanting more.
December 5, 2012
childlike yet visually beautiful HOG
"Botanica" is a hidden object game that gives the hidden object scenes a twist: most of the objects you have to search are not just in a junk pile and out in plain sight, but you need to manipulate other things in the scene in order to find them. This makes the HOG scenes fun and more challenging than usual. The best thing about "Botanica" are the visuals: They are very beautiful, and it looks like you entered a very green fantasy planet. However, the story line didn't convince me - the usual trapped in other world, search and help friends, ... As an adult player, I also had the feeling that the story line and visuals were rather aimed at teenage players #or even younger#, since you often mount an animal to proceed to the next scene, and it seemed childish and fairy-tale-like. The mini games were very easy and didn't need skipping, even in the harder mode. Personally, it was not my style, but who likes fairies and fantasy will like this game. Also, I liked the twist on the HOG scenes, so I would recommend it.
November 26, 2012