The Beast of Lycan Isle Collector's Edition
Luna has been summoned by Tara, her best friend, to an ancient village on a remote island. Tara needs Luna's expertise on a newly unearthed artifact that might prove the existence of the legendary cult of the Madra Alta or Wolf Man. But when she arrives the locals are acting very strangely, her friend has disappeared, and terrible clues reveal a situation beyond her worst nightmare. She must rely on her fearless wit and trusted allies to find her friend. She must dig deep into the instincts and courage of her own inner animal to defeat the Wolf King himself.

This is a special Collector's Edition release full of exclusive extras you won't find in the standard version. As a bonus, Collector's Edition purchases count toward three stamps on your Monthly Game Club Punch Card!

The Collector's Edition includes:
Integrated strategy guide
Bonus game-play
Uncover deleted Scenes and concept art
Game System Requirements:
OS:

Windows XP/Windows Vista/Windows 7/Windows 8

CPU:

1.0 GHz

RAM:

512 MB

DirectX:

9.0

Hard Drive:

982 MB
Game Manager System Requirements:
Browser:

Internet Explorer 7 or later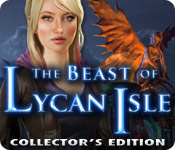 The Big Fish Guarantee:
Quality tested and virus free.
No ads, no adware, no spyware.

Reviews at a Glance

The Beast of Lycan Isle Collector's Edition
0
out of
5 (
0
Reviews
Review
)
Customer Reviews
The Beast of Lycan Isle Collector's Edition
83
83
Adventurous, No HOS, but big disappointment in the end!
I loved the graphics, story line was great, games were fun, some too easy, but what the heck happened to the end. Did I miss a chapter. Cause CE are supposed to let you replay games, and I never got to rescue the girl.???? What is going on here. It ends with "Explore the Island". Are you kidding me, and do what. You can't revisit the games, I never found the girl, I did get to kill the werewolf which was no biggy. Bonus content was ridiculous just had you running all over the place. I found it very hard even with a map to find out which way to go. Very disappointed that I did not get to revisit the games like mostly all CE give you at the end. And I never actually got a message saying I completed it. So am I missing something because it doesn't end it just keeps saying for explore the island, but you can't do anything on the island so what is the sense of exploring it for. I just don't get it. I was so excited and thought I finally found a great game with no HOS in it. And after completing it I find myself highly disappointed. What a waste of time. I did however, love the graphics and art work. I do not recommend this game. Sorry folks.
November 26, 2012
That's an hour I'll never get back...
First of all, this review is based on the 1-hr trial, only, played in Casual mode (I like to cover as much as the hour & game will allow during a trial)... I was really looking forward to playing this game, as I'm a big sci-fi/fantasy fan, so the theme of werewolves sounded exciting, since there aren't a TON of those out there - yet. On the positive side, I liked the storyline so far: you're in a town to meet up with a girlfriend, only to be told that the Inn she was to meet you at says they've never heard of her and that you're their only guest. Later you find out she did sign in, but someone erased her name... You go on a search for her, see creepy wolf-like figures lurking about in the distance on occasion, and there are a couple of fun up-close "scares" where they're concerned. There are very easy puzzles to solve to get items to use in future puzzles, etc. etc. This game seems light on the HOS, so if you're not a fan, take heart. BUT, there are way more negatives than positives IMHO. The puzzles AND HOS are way too easy. The graphics are clear, good color, but many locations could be SO much more detailed it's almost laughable. Also, there doesn't seem to be enough tasks per location - at least during this first hour. Each room at the Inn I played, there were ONLY approx. 2-3 very simple things to do, highlighted with a big magnifying glass as soon as I moved in that direction. In hindsight, I should have started in the harder of the 2 modes of play -- unfortunately, changing level of difficulty mid-game was NOT an option -- believe me, I tried. What I really didn't like, well, as I mentioned already, the graphics overall were really simplistic. In some scenes, such as the Inn's rooms, they were almost cartoonish; in the too-few-of others, they were *almost*-detailed once up-close i.e. when viewing a small pool of water with lilypads - so the developers showed they could have done so much better in the majority of scenes -- just so frustrating! C'mon guys & gals, we SO appreciate the effort when it's made throughout the game!! I found overall the game to be too simple, too predictable, and much TOO much back-and-forth between those same, boring locations -- there is a map, but you cannot use it to "teleport;" too sad. Personally, I wouldn't think of purchasing this game unless I knew it was re-vamped AND more detailed. Especially since at this point the only "option" is the CE version -- Definitely NOT worth the $$!! Just a footnote: If this were an old-fashioned board game, I would have looked on the box to see if I'd accidentally picked up a game that was for "Ages 8 - 80!" LOL
November 29, 2012
Nice...ish
To be quite frank it didn't grab me and I am not sure why: graphics are fine, progression is a bit slow but logical, puzzles are average, it is ok....it is just I had the impression of eating processed food rather than having a culinary discovery, I have had more thrills cooking an omelet! For me there is nothing to write home about and I cannot say it is awful, just disappointing. Would suit new players from beginners level to intermediate.
November 25, 2012
ok but not great
it was ok, but I wouldn't buy it, especially not the collectors edition
November 26, 2012
Really good, but....
I enjoyed the gameplay. I found some bits challenging, some bits easy, and lots in between. The storyline had some humour, and I enjoyed that. An interactive map would have been great. I often have a long time-gap between trying and purchasing, and playing the rest of the game. So I forget where things are. Just showing everything on a map doesn't always help. The big gripe with this one, which I otherwise liked, was the cursor. No indication of direction, items to acquire, places of interest... I usually play on 'hard' but if you have to click three times just to get to the next scene, and there IS a click-penalty, it is very annoying. It was also out of keeping with the game to have the standard cursor arrow - I wondered if the game had loaded properly. A small thing, but very disconcerting. If they fixed that it would be an excellent game. As it is, you need to get the Collector's Edition just to find out where you need to go. Disappointing. So, with those caveats....
December 13, 2012
captivating scenes
there are a lot of unique qualities in this game i found and like, halfway thru trial. but i'm having display issues, cutting off edges of scenes, affecting navigation and flow that i'm not able to adjust. not sure what's going on because i don't typically have many and if so, i just make screen or display change. but love the imagery, quality of graphics and the direction you're going in...would like to see more exploring like this but without the tech issues so i can continue. going to see how far i can get without getting too hung up in expert mode with the display issues because i'm intrigued with story, graphics and unique ho tactics.
December 1, 2012
Not up to par with a Collectors Edition
I did not like the game simply because of these reasons: The inventory items way to small, there was no real exciting mystery about the game, we were instructed so much on what to do, it was boring in so many places, puzzles were much to easy, the map should have had short cuts, at least I could not get them to work if it did. It is a short game and therefore I feel it is not worth the price of the Collectors Edition. I feel the game could have been put together much better then it was. This is a game I will not be buying even if it was not a Collectors edition. As far as the graphics and sounds, they were fine.
November 25, 2012
Collector's edition this is NOT!
I was not going to write a review as I believe everyone should try the demo before buying. But this game is just bad. I agree with Nilosh. The game graphics are like a washed out painting and poorly done at that. The story could have been good. Game play is so easy it is ridiculous. I guess if you are a first time game player and you don't mind the graphics well go for it. This game is not even worth the 2.99 special daily deals.
November 25, 2012
nice story with nice pics but a bit to slow for me
I had to listen to all the dialogues. is there no skip button for all that chitterchat! beautiful graphs though... It's a pity that there is so few to do in every scene. some scenes you just walk through.
November 25, 2012
I've played much better
just an odd game. Adventure games are my favorite and this one had me deleting the download after just 8 minutes of game play. Too much talk and odd game advancement/strategy info. Basically, just didn't care for it.
November 25, 2012
The Apple logo is a trademark of Apple Computer, Inc.