Nancy Drew: The Captive Curse
Escape the clutches of a legendary monster in Nancy Drew: The Captive Curse. A terrifying myth comes alive in Germany! Many years ago a monster stalked the German forest surrounding Castle Finster. According to locals and storytellers, the monster disappeared when it claimed a victim. Now everyone is frightened by the sights and sounds of something large stumbling through the darkness. Can you solve the mystery before the monster adds another chapter to this legend?
Play as Nancy Drew and explore a German castle
Uncover hidden rooms and secret passages
Discover captivating facts and local lore
Game System Requirements:
OS:

Windows XP/Windows Vista/Windows 7/Windows 8

CPU:

1.6 GHz

RAM:

512 MB

DirectX:

9.0

Hard Drive:

1843 MB
Game Manager System Requirements:
Browser:

Internet Explorer 7 or later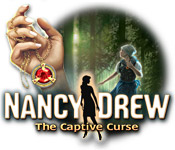 NEW299
The Big Fish Guarantee:
Quality tested and virus free.
No ads, no adware, no spyware.

Reviews at a Glance

Nancy Drew: The Captive Curse
0
out of
5 (
0
Reviews
Review
)
Customer Reviews
Nancy Drew: The Captive Curse
30
30
Very interactive and challenging game.
You are Nancy Drew and will investigate the reappearance of a mysterious monster that terrorized a town in Germany years ago. Two play modes: junior and senior detective. I played Junior, because ND is not familiar to me, that was the first I played. Game not linear, which means that you choose where you want to go. Explore the castle courtyard, castle foyer, gift shop, Nancy's room, Karl's office, etc and talk to the characters you find along the way. The conversations are long, but in some cases, you can choose to finish faster. There is a cell phone, a bag (inventory), a journal, a task list and... no hint button! Sometimes I got lost! You have to collect coins throughout the game, and will need them! Some are well hidden ... Tip: load the bucket into the well again and again ... you'll see why! Several mini games, as secret messages to decode, secret passages, slide puzzles, etc. Great graphics, excellent VO. If you've played ND, will like, if not, worth a try!
August 28, 2012
Different and fabulous
I've only played the demo, but this is a definite purchase for me. A true adventure game with you as the famous detective. This game has great (computer generated) graphics, superb voiceovers and a wonderful sense of humor. I've never played this type of game before. You don't have too much help (especially if you play as Senior Detective), so it's more work than your average HOG. You can't fast forward through the dialogue, there are no hints, and puzzles can not be skipped. There's no map, so I'll be taking notes, but I just want to keep playing. There are puzzles to solve (easy and hard), games to play, a castle to explore and a mystery to solve. So glad BFG is finally getting the Mac version of this series.
August 28, 2012
Great expections - great follow through
I've always been a Nancy Drew fan and when this game was released, I was a little wary- the last few had been a bit of a let down and my hopes weren't especially high that this wouldn't be more of the same. However, as I got into it, I was pleased to find that I had been wrong. This game, as well as the next in the series were a refreshing change from the couple games before them. The visuals are great, as is the sound and interface. Granted, every Nancy Drew game gets tedious at a certain point as you start putting things together and the checklist begins to dwindle, but they usually pick up again as you get to the "game changer" event in each game. I found The Captive Curse to be thoroughly enjoyable and would definitely recommend it, if this type of game is your fare.
September 16, 2012
Nancy Drew The Captive Curse ( Detective )
Excellent game! Yeah! Nancy Drew for Mac Games excellent choice big fish! I am a fan of Nancy Drew games and I am so happy to see it for my mac computer. Nancy Drew games are a detective game you choose what level you want to play. You help her find and solve mysteries and find the person behind these mysteries.
August 28, 2012
Sleuthing with Nancy
First off, yes... there is a lot of dialogue. However, that dialogue really does yield some important information that will ultimately help you to finish the game. You are also allowed to make bad decisions and potentially die in-game...so save! I loved the characters, and really felt like I got to know them through the dialogue and interactions. There are two ongoing mini (board) games that are thoroughly enjoyable. I still log into the game just to play them almost a year after first playing the game. The floor plan did take me a little bit to figure out as it is sometimes awkward to move, but once you learn the layout it is much easier. This game really sucked me in, and remains one of my favorites. I'm definitely a fan!
November 27, 2012
One of my favorite Nancy Drew Games...
I have played the entire series of Nancy Drew games and this is of one my favorites! Yes, there is lots of dialogue but that is part of the fun, you have to listen to catch the clues. I really loved the setting of this game, the castle was really cool. I think these were some of the best characters they have created. I played on the Junior level and the difficulty was just right, really fun puzzles. And the extra games in this one, Raid and Monster, are all my time favorites. I extended my play time because I wanted to keep playing them. To me, the Nancy Drew series is alive and well.
December 5, 2012
Are you sitting comfortably?
Well I thoroughly enjoyed this game, although before I played it, I was a little concerned after reading reviews saying that it has too much dialogue, personally I didn't find this to be the case. The characters are well rounded, with distinctive personalities, and you have to take clues from the dialogue to solve the case. I guess if you view this as an interactive story, and are happy to enjoy the ride, it probably won't be a problem for you. I understand this might not be for everyone, but it really does make the game play a richer experience story wise. People have already talked about the game contents and story, so I'll just add a few of my own comments. OK, so it's not really a new story, but it did keep me engaged, and I always felt as if I was doing things for a reason, and progressing in my detective duties. The two ongoing board games are fun, and I really enjoyed the Raid game, and went back many times. The puzzles were good Nancy Drew standard, and a couple had me scratching my head for a bit, but perseverance paid off (and taking a break now and then!). I even managed to find an 'Easter egg', totally unaided, which was a lovely surprise. It didn't take me long to get my bearings in the castle, but the forest and the maze can be a bit of a pig. There are maps to be found in game, but I have to admit to sourcing my own before came across them. I also let out a massive groan when I discovered, right near the end of the game, that I didn't need to dial my own phone numbers, you can just click which one you want from the list, doh! I thought the music was lovely, and the atmosphere just right. I'm not up on German accents, but I did enjoy talking to Lucas, and thought the way he told his 'secrets' was very cute. If you enjoy Nancy Drew, I don't think you'll be disappointed, and even if you haven't played one before, give it a go (I'd recommend junior detective mode). On to the next one now I think.
March 23, 2013
dialogue dilemma
This game was great! I loved the overall feeling, and the character's accents were very fun to listen to. However, the HOURS AND HOURS AND HOURS ( or what seemed like hours) of dialogue just bored me to death! The talking was unnecessary, and I wish they'd spent more time giving me puzzles or challenges than coming up with so much dialogue!
November 3, 2012
Captivated by Captive Curse
This is a great game, one of my favorite ND titles! The story is a bit darker than usual, and that helps the scariness factor. Humor in this one is great, and some new types of puzzles! A win(ner).
December 8, 2012
One of my Favs
Nancy Drew is so much fun! The monster gives you a nice scare. Lots of mini games that can keep you entertained for hours. Good graphics. Just a lot fun!
November 27, 2012
The Apple logo is a trademark of Apple Computer, Inc.