Nancy Drew: The Captive Curse
Escape the clutches of a legendary monster in Nancy Drew: The Captive Curse. A terrifying myth comes alive in Germany! Many years ago a monster stalked the German forest surrounding Castle Finster. According to locals and storytellers, the monster disappeared when it claimed a victim. Now everyone is frightened by the sights and sounds of something large stumbling through the darkness. Can you solve the mystery before the monster adds another chapter to this legend?
Play as Nancy Drew and explore a German castle
Uncover hidden rooms and secret passages
Discover captivating facts and local lore
Game System Requirements:
OS:

Windows XP/Windows Vista/Windows 7/Windows 8

CPU:

1.6 GHz

RAM:

512 MB

DirectX:

9.0

Hard Drive:

1843 MB
Game Manager System Requirements:
Browser:

Internet Explorer 7 or later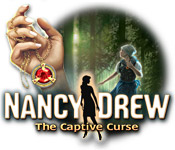 NEW299
The Big Fish Guarantee:
Quality tested and virus free.
No ads, no adware, no spyware.

Reviews at a Glance

Nancy Drew: The Captive Curse
0
out of
5 (
0
Reviews
Review
)
Customer Reviews
Nancy Drew: The Captive Curse
41
41
Loved it. Hated it.
My dislikes of this game had nothing to do with the length of, or inability to skip, dialog. In fact, I found the voice talent to be really good, fun and refreshing and really hamming up their roles. This game plays like curling up to watch your favourite mystery movie or read a novel. Put on the popcorn, sit back and take over the investigation as you wander a castle, exploring the rooms and grounds and meeting people and finding clues. What else?! I decided to play Junior Detective, as I've played other ND games and knew I'd probably get frustrated at some point - don't have to use the clues, but nice to have in case. The game gave you a journal, a task list, and a phone with a hint feature. This was a game I couldn't wait to get back to playing at the end of the day. OMG I had so much fun playing this game! At first. Then at some point, just as the game was rolling along it just stalled. I got to a part when I wasn't sure what to do next and I tried to get a hint, and there wasn't anything. I had exhausted every conversation, played every game, re-explored every area, phoned every person. I looked everywhere in my tools (inventory, journal entries, phone numbers, tasks, suspects, notes, etc.) for some sort of clue of what my next objective was, and what I needed to move in that direction. But there were no hints and only vague objectives (Look For Something Dealing with The Frieherr's Daughter). ?? I expected that if I clicked on a super vague task like that, perhaps it would open up more and more specific hints, but there was nothing. And unfortunately the phone Hint feature was mostly blank(!) and only has hints available for certain puzzles in the game. The dossier, journal, task list, suspects, observations were all kind of lame and also became static about mid-game. There was a point in the game where every single task in the game was checked off, and no hints available. So after running down every hunch what do you do next? And Ned! You have some sort of stupid fight with him for some reason, then you make up, really quick in the beginning of the game. He offers you lots of hints (optional dialogs) when you call him. At first. I chose not to use them at the beginning of the game. Then later, when I called Ned desperate for a hint, he had nada, and basically petered out on all conversation after that. So I was stuck so bad, frustrated and annoyed, I had to step out of the game and find a walkthrough, which ruined the enjoyment of the game for me. The logical detection I was successfully engaged in in the first half of the game, just dissolved. The smallest of hints would have probably sufficed. The things I got stalled on (as I discovered by the walkthrough) were so obscure that I wondered how in the world I was supposed to figure that out? Especially without little hints to propel me at least in the right direction, or a hint that I can deduce the answer from. I don't want to be told the answer, I just want another clue. Another thing that was strange about the game was it seems to take place all in one dark and dreary evening, so it is perpetually dark out. Later you see a static image of the courtyard in daylight and it's beautiful! I would have loved to explore it in the daytime. Anyway, because a graduated hint system was not part of this game (as I think other ND games offer?), nor was the Hint Feature of any reliable help, this great game kind of let me down. However I did guess the Whodunit correct in the end. And the voice actors were pretty awesome. All in all I'd have to recommend, because it was so much fun to play (at first) and if you are smarter than a Junior Detective you won't have the issues I had!
July 9, 2013
Typical Nancy Drew!
I love all things ND, so I'm a little biased! I thought the storyline and puzzles were superb! The tasks were right in line with the plot, so Nancy wasn't sent on some useless errands that had nothing to do with the game. It is captivating and extremely entertaining. It is a bit time consuming, so if you don't like to immerse yourself in gameplay, then this one's not for you. This isn't some quick, third grade spelling test, easy as breathing game. It takes a lot of time and work. But once you get the hang of it, you'll be hooked.
November 27, 2012
dialogue dilemma
This game was great! I loved the overall feeling, and the character's accents were very fun to listen to. However, the HOURS AND HOURS AND HOURS ( or what seemed like hours) of dialogue just bored me to death! The talking was unnecessary, and I wish they'd spent more time giving me puzzles or challenges than coming up with so much dialogue!
November 3, 2012
ND - Gotta Love It
This game was nicer than the previous ones. It does take you from room to room and sometimes you feel like, hey I didnt see that early. But if you are a true ND fan you will enjoy it. I know I did greatly. You always experience a new board game of type, this one is no exception. I wasnt really sure how it was to work but it was interesting.
November 27, 2012
A pleasure to play
I usually only find hidden object games listed under "Adventure" on this site, but I was very happy to have found this one, where you can really explore and interact with developing characters. I thought the graphics were great and I loved how you could discover things in a way that was not so obviously linear. The mini-games were also different and entertaining, and the sense of humor of this game was great. If Big Fish Games included more games like this, I would be back much more often. Worth the download!
April 24, 2013
Lacking
I enjoy the Nancy Drew games. I was happy to see one available from Big Fish Games for my Mac. My major issue with this one was the character/dialogue. I can read it faster than they are speaking. I would prefer to be able to click to the next option instead of waiting it out. I found the game challenging and I am not ashamed to say I needed help multiple times from online walkthrough blogs. Personally, I would like more games to be like this (minus the dialogue.)
March 16, 2013
Always consistent
I really like these Nancy Drew series of games. I just wish BF had more in MAC format. Same formula as before. Two levels, Junior and Senior. I chose to play the senior level, and knew I was on my own for keeping up with what I am supposed to do next. But they do not leave you completely on your own. If you call Nancy's friends and discuss the case, they will get you back on track with ideas on what to do next. The puzzles can be challenging and really require you to pay attention to the story line, or use the common sense you were born with to solve them. The game footprint is usually not that large, but you encounter something new as you work your way around it. I spent several days on the game as I was in no rush to solve it. I was entertained and challenged. All I ever ask from a game...
January 19, 2013
Not Bad
I really liked this game and I have tried all the Nancy Drew Games so far, ohh except the Twister one, anyways, this was a great game, the puzzles were a little challenging, but not bad, the only thing I hated was the Forest Maze and the Well Maze, grrrrrrrrr those two drove me batty!! If it was not for a walk though with a map I would have quit.
December 30, 2012
Too much dialogue
Love the series but the developers really need to find a way to speed up the dialogue in these games. Most of it isn't necessary to the plot and not entertaining. I lost patience by the end. Ruined the game for me.
January 14, 2013
Captive? Curse? I Must Have Dozed Off?
After just finishing Blackmoor Manor I played Captive Curse. At first I thought I was being prejudice and just comparing the two and it would get better. Hum hum hum-mm NOPE! It dragged on and on.. Way to much dialog (sort of like my review) before you really get to do anything and you don?t really do much worthwhile. The plot could have been good considering the Castle and location in Germany but fell flat and is lacking any iota of suspense. The castle is far to big for a game with the minimal locations you visit so plan on getting lost inside and out! I had to look at the walkthrough to get out of the forest, So I thought.. The L-R-F etc. apparently are misprints because some Fwds are not possible you have to turn left or right so you?re on your own out there and end up back where you came from A LOT! Even ?The Master? of youtube walkthroughs got lost! You are not put under time constraints or clock setting which I did like.. You usually learn new things in ND games but Monsters, Really? For me It was long and dull. I read the reviews and most people loved it? It's all a matter of taste I guess! If I list some positives for me it would be Lukas, I did enjoy the conversations with him but he became a negative too! Catch 22.. The graphics are so phenomenal in this game (huge kudos to whomever did them# you feel like you?re talking to a real boy with no friends, as opposed to a computer generated one. I couldn't help but stop and play a game with him a few times when I accidentally passed his location. Yes, I know Lukas isn't real.. '-) The Devs did a great job inserting emotion into some of the characters and pulling out the Mommy will play with you in me. LOL The security booth was a fun gadgetry location to be in but it?s such a small part of the game. There is the secret passageway ways?? But minimal again and no, you won?t get lost.. However the forest is a whole different story!! Most of the game is dialog with the characters at the castle or via phone calls with some sleuthing and puzzles thrown in that even I could do? And a lot of getting lost. If you?re looking for someone to talk to #or listen to# then I do recommend this game and the character Renate whom if I remember since I?m already forgetting this game.. is a traveling story teller. You could spend hours chatting with her! She does have ?SOME? interesting things to say if you loved history, you might enjoy it! She is the "Insert learning into game" part! Again the Devs made you feel bad for her at times! She looked weary so I did make her sleep with a slice of cake more times than I needed to. Yes, I also know Renate is not real.. '-) Well, that?s enough about my time at Castle Finster! As far as recommending this game, I won't say yes or no just because it was a no for me.
April 20, 2013