Nancy Drew: The Captive Curse
Escape the clutches of a legendary monster in Nancy Drew: The Captive Curse. A terrifying myth comes alive in Germany! Many years ago a monster stalked the German forest surrounding Castle Finster. According to locals and storytellers, the monster disappeared when it claimed a victim. Now everyone is frightened by the sights and sounds of something large stumbling through the darkness. Can you solve the mystery before the monster adds another chapter to this legend?
Play as Nancy Drew and explore a German castle
Uncover hidden rooms and secret passages
Discover captivating facts and local lore
Game System Requirements:
OS:

Windows XP/Windows Vista/Windows 7/Windows 8

CPU:

1.6 GHz

RAM:

512 MB

DirectX:

9.0

Hard Drive:

1843 MB
Game Manager System Requirements:
Browser:

Internet Explorer 7 or later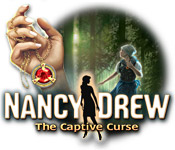 NEW299
The Big Fish Guarantee:
Quality tested and virus free.
No ads, no adware, no spyware.

Reviews at a Glance

Nancy Drew: The Captive Curse
0
out of
5 (
0
Reviews
Review
)
Customer Reviews
Nancy Drew: The Captive Curse
43
43
Too much dialogue
Love the series but the developers really need to find a way to speed up the dialogue in these games. Most of it isn't necessary to the plot and not entertaining. I lost patience by the end. Ruined the game for me.
January 14, 2013
Captive? Curse? I Must Have Dozed Off?
After just finishing Blackmoor Manor I played Captive Curse. At first I thought I was being prejudice and just comparing the two and it would get better. Hum hum hum-mm NOPE! It dragged on and on.. Way to much dialog (sort of like my review) before you really get to do anything and you don?t really do much worthwhile. The plot could have been good considering the Castle and location in Germany but fell flat and is lacking any iota of suspense. The castle is far to big for a game with the minimal locations you visit so plan on getting lost inside and out! I had to look at the walkthrough to get out of the forest, So I thought.. The L-R-F etc. apparently are misprints because some Fwds are not possible you have to turn left or right so you?re on your own out there and end up back where you came from A LOT! Even ?The Master? of youtube walkthroughs got lost! You are not put under time constraints or clock setting which I did like.. You usually learn new things in ND games but Monsters, Really? For me It was long and dull. I read the reviews and most people loved it? It's all a matter of taste I guess! If I list some positives for me it would be Lukas, I did enjoy the conversations with him but he became a negative too! Catch 22.. The graphics are so phenomenal in this game (huge kudos to whomever did them# you feel like you?re talking to a real boy with no friends, as opposed to a computer generated one. I couldn't help but stop and play a game with him a few times when I accidentally passed his location. Yes, I know Lukas isn't real.. '-) The Devs did a great job inserting emotion into some of the characters and pulling out the Mommy will play with you in me. LOL The security booth was a fun gadgetry location to be in but it?s such a small part of the game. There is the secret passageway ways?? But minimal again and no, you won?t get lost.. However the forest is a whole different story!! Most of the game is dialog with the characters at the castle or via phone calls with some sleuthing and puzzles thrown in that even I could do? And a lot of getting lost. If you?re looking for someone to talk to #or listen to# then I do recommend this game and the character Renate whom if I remember since I?m already forgetting this game.. is a traveling story teller. You could spend hours chatting with her! She does have ?SOME? interesting things to say if you loved history, you might enjoy it! She is the "Insert learning into game" part! Again the Devs made you feel bad for her at times! She looked weary so I did make her sleep with a slice of cake more times than I needed to. Yes, I also know Renate is not real.. '-) Well, that?s enough about my time at Castle Finster! As far as recommending this game, I won't say yes or no just because it was a no for me.
April 20, 2013
Not a favorite
I bought this game because I love ND game series but this game is certainly not to my expectation. The preview of this game from the previous game, Shadows at the Water's Edge is so convincing but in reality it doesn't deliver. Like what monster? The game is set in Germany, but the game takes place at nighttime and never goes to another morning although ND has her own room. She can only go to a few rooms in the castle and the woods. The passageways are a bit creepy but nothing scary to make me jump from my seat. The length of the game is fine but maybe because it has so many conversations with the characters which are super long and tedious, and they are not likeable either and too bad the conversations cannot be skipped. I hate having topics of relationship problems in this game. ND should act professional and the conversation about boyfriend problems just weren't necessary. I think the devs just want to make the game look realistic in real life, but to me it just looks amateurish. The difference with real life conversations like the one in Syberia just wasn't delivered nicely here. Fortunately the puzzles are few here and some are the most creative I have ever seen. The last part where usually ND explains in her final letter doesn't fully explain like why there's a monster in long time ago, what happened? And final confrontation with the culprit is so hu-hum.. not interesting and no rush feeling either. I have high hopes with this game but left disappointed.
May 19, 2013
great if you like Nancy Drew but......
This is a very typical Nancy Drew game. Lots of walking around and in and out of rooms. Far too much conversation for me though to wade through and you have to click on each person's next line of conversation. I found I was losing interest before the demo hour was up, in fact that first hour was pretty much back fill conversation with the inhabitants of the castle that Nancy's latest case was based on. I am sure it will get better but I am not going to buy it to find out. I don't like games that are slow to play and it is overly descriptive of the characters. Great if you like taking days and days to play a game, which is not my style. No problems play the game though, these are well developed and styled games, although I did find the screen a tad dark for my Mac pro (on brightest setting). Sorry but not enough excitement for me... a bit too Miss Marple for my liking.
August 28, 2012
The Captive Curse
Good, but its a little bit off. All the characters don't really fit into the environment and there is too much dialog. The plot is a little disjointed. The setting is nice though, and the graphics are good.
October 15, 2013
Interesting mystery but it drags
I thought the mystery itself was intriguing and the puzzles were sufficiently challenging, but the never-ending dialogue bogs the game play down and there doesn't seem to be any way to skip to the next line to speed things up. I enjoyed the voice actors, the characters were interesting. I particularly liked Lukas and Renata. But I found the navigation to be clunky and awkward and sometimes confusing. I would appreciate some shortcuts so I don't have to cover the same ground over and over and over and over and over again. For much of the game the Hint Hotline was useless. And I really don't care about Nancy and Ned's relationship so that just made for annoying interruptions to the flow of the game. The phone conversations with Frank Hardy were also quite pointless.
January 27, 2013
Not worth it
Ive been playing all the ND games in order of release and I really must say that at this point the navigation issues just leave me perplexed. How is it that so many of them have horrific navigation? The interior of the castle of was more like some demented puzzle box which only made the navigation more cumbersome. Fun Factor: not much. The nav system killed any fun to be had. I did enjoy the board game tho and that was about it. There was too much dialogue and often times the game would get hung up on waiting for you to trigger something. So essentially, you spend a lot of time running around like a chicken with your head cut off with very little reward for your efforts. Visual / Sound: the graphics were actually well done for the most part, but the voice-overs were awful. The only one I like was Markus. Level of Challenge: Her Interactive needs to learn that terrible nav systems aren't the type of challenge game players want. The board game was fun but there wasn't really much in the way puzzles and such in this game. Storyline: Very Shallow with no satisfying closure at the end. Sorry, I really cannot recommend this game and I seriously do not understand why it received so many rave reviews. If you are a big ND fan, wait for a 2 for 1 sale or something.
February 15, 2014
Clueless
Unfortunately, I don't have anything really good to say about this game. The drive to find clues is not there, since there is not much logic in the tests and findings. Constantly you find things you carry around for the whole game, that you never have any use for. Most of the time you are just clicking endlessly around in the castle with no idea of what to do. It's boring and it takes forever. Also there is some errors in the game. I designed my playingcard as female, brown, hero. I got a female bearlike monster. Thats not cool. I like the boardgame that the caracter Karl invented, but it takes to long to play, cause you have to play against two others. The visual is nice - but Nancy's voice is way to pitchi - also there is to many stupid things like the things she has to say on the phone with Ned. Overall, I played it cause I bought it. If there had been a free trial, I wouldn't have bothered.
April 2, 2013
UGH!
I downloaded this game on a whim... boy! do I regret that whim! It reminded me of the games played on computers in the 1990s (yes, there were computers AND games available to play on those computers in the 1990s). I didn't last 1 minute into the game. I quit and deleted it from my computer. UGH!
September 15, 2012
Letdown supreme
I really disliked this game. After enjoying Nancy drew at Waverly. I thought I'd give a few others ago and picked this on. Well I'll think I'll finish there now. It was more of an interactive story than an actual game. There was very little actual game play. And most of the time was spent trying to work out the maze of a set. Honestly I spent hours on this one and most of the time was just trying to get from point A to B. I stuck with it though, as the story line was good. Just would have preferred reading it than trying to fumble around pretending to play a pc game. When your not Trying to find your way around, you are just going back and forth from person to person, unraveling the story. It's bit of Agatha Christie short story that way.
December 4, 2013
The Apple logo is a trademark of Apple Computer, Inc.