Unfinished Tales: Illicit Love
Thumbelina had the perfect happy ending, until the Raven Queen crashed her wedding, kidnapping her prince. To make matters worse, the Raven Queen locked her up in a dungeon! Will she be able to escape and rescue her prince before he becomes the Raven King? When you're only a few inches tall, you need all the allies you can get, but beware! Anyone you meet could be a spy working for the Queen! Join Thumbelina as she journeys across the fantastic Kingdom of the Floral Elves in Unfinished Tales: Illicit Love, a charming hidden-object puzzle adventure game!
Game System Requirements:
OS:

Windows XP/Windows Vista/Windows 7/Windows 8

CPU:

2.5 GHz

RAM:

1024 MB

DirectX:

9.0

Hard Drive:

739 MB
Game Manager System Requirements:
Browser:

Internet Explorer 7 or later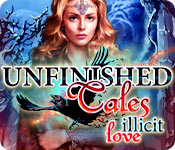 NEW299
The Big Fish Guarantee:
Quality tested and virus free.
No ads, no adware, no spyware.

Reviews at a Glance

Unfinished Tales: Illicit Love
0
out of
5 (
0
Reviews
Review
)
Customer Reviews
Unfinished Tales: Illicit Love
46
46
Beautiful HOS of Hans Christian Andersen Fairy Tale
Elephant has put together a beautiful game with lots to do. Different kinds of puzzles, lots of HOS, a map that lets you transport, good vocals, beautiful music. There are tasks, such as gathering flowers from different seasons for a vase, which you then use in a puzzle. There is a lot of running around, back and forth, so being able to teleport is a huge plus. In casual mode, the puzzles and HOS are easy to moderately challenging. Since the voices were easy to listen to, I didn't mute them. Thumbelina also says funny things when you click on the wrong object, or she says "Now why did I think that would work?" There is no raven queen in Hans Christian Andersen's original story, but I think he would have liked the queen, and Elephant has made it work, almost 200 years later. Great game.
November 28, 2012
terrific for kids of all ages !!
Review based on demo which took me 33 minutes to finish. I didn't think I would like the game and was I ever wrong. UT:IL is a gem. The first place that grabbed me was the Hall of Seasons. The concept of morphing into another season is a great one from the dev. The dialogue, especially from our sassy bad girl, is clever. The evil one compares Thumbelina's name to a body part in berating her and asks if she has a sister called Fingerina. Love that. The HOG scened are not hard and the puzzles so far are easily doable. The biggest appeal to me is the fact that I can play it with my 6 yr. old grandson. He likes the fantasy based games such as the Awakening series. I like the fact that it forces him to think outside the box and use some deductive reasoning. He is not too keen on the finding hidden objects but is charmed by all other aspects of games. I will purchase this game for my little guy. Players with youngsters and grandkids should jump at UT:IL and those of you outside of that group ought to at least do the demo. This is not the best Elephant game but it grades out at a solid B+.
November 29, 2012
Unfinished Tale Seems Unfinished
BASED ON COMPLETED GAME FIRST IMPRESSIONS Lively and light hearted intro to this game. The graphics are excellent, colourful and beautiful to look at. The voiceover is, well, overwrought I?d guess. She is Thumbelina, (yes, the little girl only a few inches from the fairy tale) and her monologues are a very amusing use of the language and exaggeratedly expressive. The music is simple and pleasant. Optimum word here from the start seems to be ?fun?. As well as four sliders for sound, there is also one for gamma levels, and a toggle for special effects. As far as I could tell, they consist of increasing the brightness on the various sources of light throughout the game. One really special location comes up early in the game, and it is just wonderful. The Hall of Seasons is actually changeable to the different seasons, and the different visuals for each look sensational. WHAT?S HAPPENING It is our wedding day, and this should be the beginning of our ?happily ever after? tale, but we are attacked by a witch who claims she is betrothed to our groom. He is kidnapped, we are thrown in the dungeon, and things look bleak. The witch intends to marry your prince, take over the kingdom and rule with an iron fist. MAKING PROGRESS Progress is HO interactive lists, and puzzles. I found both harder than usual, and I don?t know whether I?m just having bad day, or the puzzles are especially tricky. I had to skip several, and I couldn?t understand the instructions for one of them. Likewise I found myself using the hint button more often than usual, in the main part of the game. Hint actually tells you what to do next, and there is an interactive jump map to guide you too. FAMOUS LAST WORDS Having finished the game twice I still don?t know whether the witch?s accusations are true, and that seriously detracts from my satisfaction with this game. Further, the ending is very abrupt, and the game itself is not long. So at the end of the game, there is an unfinished feeling ? perhaps that?s the reason for the name ?Unfinished Tales?! ;)
August 18, 2013
Review of Completed Game...
I love elephant games and although I enjoyed this one, I don't think its one of their best games. Its more of a filler game, not as long as their previous offerings and kind of a lackluster story in my opinion. It has 3 modes casual, advanced, hardcore. I played on advanced. It has the usual things I love about elephant. Beautiful graphics, hidden object scenes you only play once, mini games that are medium difficulty. Some are easier than others but you can usually figure them out and they aren't tedious. Where this game fell apart for me was the storyline because it was oh so corny. You are Thumbelina and she's small, the size of a thumb so in some areas you can't reach things and need to grow magic spells to get to higher elevations like growing mushrooms however sometimes it doesn't seem like you are small when you can pick up rakes that are huge and shovels in waterfalls you would drown in being so small. Kind of like an Alice in Wonderland type feel. There are a lot of different kinds of creatures and people you associate with including pirates, wizards, talking animals. There are voiceovers but its just a person standing there with a voice bubble, no actual lips moving. I thought this game was fun but the corniness of the plot and the fact halfway through it got a little illogical and I had to press the hint button a lot which I never do, made it not as fun as some others. I give this a 3.5 but rounded to a 4. I do recommend this game and there IS an ENDING in the SE.
April 14, 2013
An unexpected delight - 4.5 stars
I was prepared to be skeptical about this game, as I'm not a big fan of twee fairy stories. But I love Elephant's games, so gave this one a shot. Was I surprised! I read a review of one of their games in which the reviewer stated she thought the devs should call themselves Elegant Games. I completely agree. The art direction is superb. The way that they envisioned a world in which Thumbelina lives, and the mixture of tiny objects on a large scale and what we would consider "normal" size right next to it -- pretty much perfect. The details, the complexity of the environment, the small touches (the magician's makeup, for example), all made for a lovely, immersive gaming experience. I loved it. I also loved the fact that nature was an integral part of this world. Twee was nowhere to be found. Instead there are animals, and birds, and seasons, and forests, and things of the real world all gorgeously rendered, and cleverly integrated. The game's difficulty, I thought, was in figuring out how to use the inventory items. Some were less than logical (which is fair), and a couple of them were way less than logical and required a hint. The minigames/puzzles were Elephant's usual standards - good variety, and good creativity. The HOS were fun, given the scale issue. (Looking for a sunflower seed, for example, that ends up the size of a cart :) ). The dialogue was well done, and sometimes funny, and the VO acting was excellent. Thumbelina as heroine -- clever idea. My only gripe was that I'm of the age to remember the song about Thumbelina from the Hans Christian Anderson movie, with Danny Kaye. And that song, once it's in your head, is hard to remove ;). Accompany the song to images from Captain Kangaroo animating it and it definitely never leaves your brain.
January 14, 2013
Thoroughly Enjoyed This Game!
I thoroughly enjoyed this game. It had beautiful scenery, great hidden objects to find (some even hard), and a great storyline to follow. I'm glad it had a map to follow. You could click on a spot and be transported to that area without having to back track. Overall, great game.
December 5, 2012
Oh the Prince is in trouble now!
A fairytale with Thumbilina, a Prince, a scorned witch (of course) beautiful graphics with crispness and bright colors, puppies, kittens and strange creatures! What more could you want? There aren't enought HO's for my taste but they are well done and the puzzles do take a little time to work out but they aren't impossible. I did like the map feature that allowed you to travel to any of the explored area's quickly, but the hint system is vague. This game has a good story and an apparent sense of humor as Thumbilina comments on her adventure.
January 29, 2013
Well done game
This was a fun game. It flowed really well as regards tasks to complete and what to do next. Really enjoyed this.
December 1, 2012
another great elephant game
I enjoyed the SE version of this game. did not need the CE. only reason I gave it four stars not five is that while the map is great and the hint button very helpful I still had trouble finding places. I think because the map did not clearly state what needs to be done and the same name of a site as the hint. otherwise, it is fun, and challenging. I skipped a lot of puzzels that were just harder than I like but over all loved saving the day and enjoyed the scenerey, morfing at the beginning to different times of the year (winter, sprint etc.) I don't use sound but otherwise I recommend this game.
May 19, 2013
I wish I had bought the CE!
I used a free credit on this game and bought the SE. I really wish I had the CE. The graphics are simple but clear and there aren't too many HO's. The games could be frustrating because you know they shouldn't be taking you so long to figure out. I buy a lot of adventure games, and this one seems like a softer version of games like "Weird Park." Big Fish! Gift me this CE!
October 31, 2013
The Apple logo is a trademark of Apple Computer, Inc.