Unfinished Tales: Illicit Love
Exclusive
Thumbelina had the perfect happy ending, until the Raven Queen crashed her wedding, kidnapping her prince. To make matters worse, the Raven Queen locked her up in a dungeon! Will she be able to escape and rescue her prince before he becomes the Raven King? When you're only a few inches tall, you need all the allies you can get, but beware! Anyone you meet could be a spy working for the Queen! Join Thumbelina as she journeys across the fantastic Kingdom of the Floral Elves in Unfinished Tales: Illicit Love, a charming hidden-object puzzle adventure game!
Game System Requirements:
OS:

10.8/10.7/10.6/10.5

CPU:

2.5 GHz (INTEL ONLY)

RAM:

1024 MB

Hard Drive:

709 MB
Game Manager System Requirements:
Browser:

Safari 4.0 or later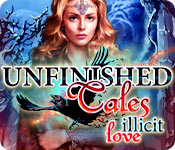 NEW299
The Big Fish Guarantee:
Quality tested and virus free.
No ads, no adware, no spyware.

Reviews at a Glance

Unfinished Tales: Illicit Love
0
out of
5 (
0
Reviews
Review
)
Customer Reviews
Unfinished Tales: Illicit Love
33
33
Different again a fairytale from elephant - 4.5 stars
The SE main plot is 100% tied up in the main game as usual with elephant (despite the humour from the narrator the two people in the final scene aren?t in the bonus.) As elephant is just continually giving us great games, I?m going to be harder on this SE in relation to their other games. I gave the CE 5 stars due to all the extras, and length of bonus ? longest bonus I?ve played from them and I actually much preferred the plot of the bonus to the main game. It was unusual and it took a part of a plot that I didn?t even think was unfinished or think about and explored that. So while I recommend the SE game, I actually recommend the CE more and that?s a first from me, giving a CE 5 stars but a SE 4 stars. If you liked royal detectives you should try this and it has the same length in the main game than royal detectives. It's not one of their mega long games, which is partly due to not many HOS. I loved this game and yet it?s so different from the live actors and a lot of games that elephants have done which I love and are my favourite. I?m glad they decide to keep being different and this game is different, a fairy tale and you are Thumbelina fighting against the witch who has put a spell on your prince. The graphics are different also but thankfully they have kept it super sharp and in the HOS and are gorgeous. Changing the seasons was pure fun. WARNING - phobia alert - there is a scene of a HUGE realistic snake in it which I had to close my eyes for but you do get a heads up beforehand. I do wish they would do a pure adventure game (not instead of their HOPAs but on top of) and here with only 10 HOS in the whole game and not that many puzzles (compared with boomzap games) adventure lovers will love this as it is very much adventure driven and feels like an adventure game, not even an adventure/puzzle game. As usual, you have a transporter map (and map tips if you play casual) there are three settings which you can change during the game. There is black bar tips on hardest. My only nitpicking note was that near the end of the game you had to go back to old areas, even though it was somewhat changed, I would love it if it was like surface and it?s all new areas. Despite that I did feel throughout there were a lot of new areas to explore like a good adventure game should have. But that?s where it slightly fell apart for me, at the end where you have to backtrack to old areas felt a little like they were padding the game out and I was ready for it to end. This could also be due to the plot and the old style cutscenes so it depends on your taste, but unusual for them I did find the demo and beginning to be better than the end. While this is a normal length HOPA this is the second recent new game (royal detectives) that was under 5 hrs for me and this is in comparison with surface and grim tales which are longer. Also the puzzles are quite easy, the same as royal detectives and elephant used to be known for slightly harder puzzles than other developers and I?m a bit worried that they will be going down that route. Do not take my rating to mean I don?t really recommend it, or that I didn?t love it but elephant is just giving us one great game after another so am going back to being mean with my ratings. If it was 30 mins longer I would have but that combined with near the end gameplay slides to 4.5. (The length of the bonus in the CE made it all round a good length.) 10 HOS Usual ? never repeat their HOS, and there is no random click penalty on them. They are mostly very cluttered scenes or junk piles and I would love it if they could do non junk pile. In a couple of their recent games their HOS have not been that clear but thankfully it?s back to their normal standard of super crisp lines, really crystal clear items and no tiny items. Even though a lot are quite big, I found it hard to find some so it?s not easy. All list type and they were mostly medium interactive only a couple mild. 17 or 18 PUZZLES (I went back to triple check nos and got another one) I do wish some were harder but most were medium and some very easy although I enjoyed them. The old school puzzles seemed to be at the beginning (simon says, move one lot of ?buttons? to the other side) but even some of the old ones were done well like the dummy. I love the change arrows and icons so when you hit play ?x? goes through a path to the end. To see the differences between the CE and the SE this is what was in the CE that IS NOT in the SE: CE EXTRAS Achievements Collectables ? butterflies (at least 50) 4 music 8 wallpaper 8 concept art SG Bonus chapter (1hr 30mins) TIME ? 4hrs 45mins (or same as royal detectives but they had more HOS so this is longer in adventure) And if you can't afford a CE then don't worry you are still getting a very good game. And for reading this long review you get a prize - go give yourself a treat some chocolate is called for.
November 28, 2012
Thumbalina Out to Save The Day
An enchanting game that was well worth the original CE Price. Thumbalina's wedding is rudely interrupted when her groom to be is kidnapped by the an extremely embittered Raven Queen. Thumbalina embarks on an adventure to save her prince charming with Stunning graphics, voice-overs, a map that will allow you to jump and great HOPA game play. The CE had many achievements and 50 butterflies to collect throughout the game (alhough I am not sure if this is available in the SE version). I recommend that the CE version be considered if you want to full closure during the bonus game. Without giving anything away, the bonus does offer you a continuation of the story. These developers have always managed to produce entertaining games and this one is no exception.
November 28, 2012
Great HOPA game with wonderful graphics
This game is more a HOPA than a HOG. There are 3 game modes, and no sparkles in the Advanced mode. - The graphics are really beautiful, with lots of colors! - The HOS are clear and not cluttered. - The puzzles are on the easy side, but interesting. - There is no journal, but an interactive map. The problem though, is that there are many locations, a lot of to and fro, and I often had forgotten where an object was. On the other hand the hint system is very good since it tells you what to do next. - The characters are interesting and the dialogs not too long. I needed about 3 1/2 hours without skipping, but as I said before using the hint system quite a number of times... I still recommend this great "Elephant" game!
November 28, 2012
Beautiful HOS of Hans Christian Andersen Fairy Tale
Elephant has put together a beautiful game with lots to do. Different kinds of puzzles, lots of HOS, a map that lets you transport, good vocals, beautiful music. There are tasks, such as gathering flowers from different seasons for a vase, which you then use in a puzzle. There is a lot of running around, back and forth, so being able to teleport is a huge plus. In casual mode, the puzzles and HOS are easy to moderately challenging. Since the voices were easy to listen to, I didn't mute them. Thumbelina also says funny things when you click on the wrong object, or she says "Now why did I think that would work?" There is no raven queen in Hans Christian Andersen's original story, but I think he would have liked the queen, and Elephant has made it work, almost 200 years later. Great game.
November 28, 2012
Wonderful, long, challenging game!
There really is no other option but to review this game full 5* Graphics are beautiful and for me this game is the first one which I played with sounds on due to thoughtfully included sounds all around the game. Some bonus points are added also from the cute aspects in the game, like animals and beautiful nature, as this proves that a good game does not have to be dark skary and black. As the game itself had excellent challenge level in Expert mode, large enough play area to investigate, a lot of puzzles and hidden object games, interactive map for moving between the locations I really cannot ask for more - expect but more games like this! I would categorize this game more on the adventure than hidden object due to number of puzzles and problem solving cases compared to pure hidden object scenes. All games regardless of their type were beautifully designed, imaginative and sometimes so challenging that you had to stop and plan moves ahead. Great! This game had so many details to look at that for me I easily spent over 10 hours just trying to figure out all potential moves in the game - and I never used any walkthrough. No hints at all in Expert mode is sure very welcome mode!
December 8, 2012
Loved it!
Beautiful scenes, good interactive HOS and good puzzles. Good map and journal although i didn't use either much. Just a pleasure to play!
November 29, 2012
Good game and not that hard
I happen to like more adventure than HOS. Lots going on in the game. The HOS are not hard and the puzzles are fine. Good music and graphics. Has voice over. Hind button works very good and the skip button is fast. Has a map that will move you from one area to another. Lots to do in this game.
December 13, 2012
family fun
an excellent game for all the family. good graphic content . nice long story line.
November 29, 2012
terrific for kids of all ages !!
Review based on demo which took me 33 minutes to finish. I didn't think I would like the game and was I ever wrong. UT:IL is a gem. The first place that grabbed me was the Hall of Seasons. The concept of morphing into another season is a great one from the dev. The dialogue, especially from our sassy bad girl, is clever. The evil one compares Thumbelina's name to a body part in berating her and asks if she has a sister called Fingerina. Love that. The HOG scened are not hard and the puzzles so far are easily doable. The biggest appeal to me is the fact that I can play it with my 6 yr. old grandson. He likes the fantasy based games such as the Awakening series. I like the fact that it forces him to think outside the box and use some deductive reasoning. He is not too keen on the finding hidden objects but is charmed by all other aspects of games. I will purchase this game for my little guy. Players with youngsters and grandkids should jump at UT:IL and those of you outside of that group ought to at least do the demo. This is not the best Elephant game but it grades out at a solid B+.
November 29, 2012
Well done game
This was a fun game. It flowed really well as regards tasks to complete and what to do next. Really enjoyed this.
December 1, 2012
The Apple logo is a trademark of Apple Computer, Inc.
The Windows logo is a trademark of Microsoft, Inc.