Mystery of the Ancients: Curse of the Black Water
You travel to the remote island town of Black Water, investigating the mysterious disappearance of two archaeologists when you encounter a mythical monster straight from the ancient myths of Poseidon! What cursed secrets have these archaeologists unearthed beneath the town? Now it's up to you to save the world from falling into a curse of eternal darkness! Play Mystery of the Ancients: The Curse of Black Water to uncover the truth lurking deep below the island's darkening waters.
Game System Requirements:
OS:

10.8/10.7/10.6

CPU:

1.6 GHz (INTEL ONLY)

RAM:

1024 MB

Hard Drive:

726 MB
Game Manager System Requirements:
Browser:

Safari 4.0 or later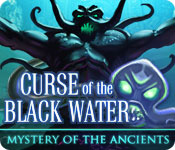 NEW299
The Big Fish Guarantee:
Quality tested and virus free.
No ads, no adware, no spyware.

Reviews at a Glance

Mystery of the Ancients: Curse of the Black Water
0
out of
5 (
0
Reviews
Review
)
Customer Reviews
Mystery of the Ancients: Curse of the Black Water
76
76
I absolutely love this game
I own over 80 games and just recently bought this. I just couldnt drag myself away from it. The graphics are stunning. I just wanted to stay there and watch the ocean it was so realistic. The map is a transporter and I really didnt need the hints because of the map. There is a LOT to do, a lot of "Now where did I need that?", The puzzles were all very do-able..no hair pulling here. I dont usually leave comments but this one just begged for it. I absolutely recommend this game.I will be buying the next one, probably without even looking at the trial.
January 5, 2013
Top notch!
This is exactly what I look for in games of this nature. Lots of puzzles to solve and just enough of the hidden objects scenes to be enjoyable and not repetitive like some games. Love the fact that you need to remember little bits of info because you will be returning to areas long past to gather items what you will need to finish this game. Outstanding graphics for this kind of game was an unexpected and very welcome surprise. I can easily and highly recommend Mystery Of The Ancients: Curse of the Black Water.
December 20, 2012
Great Game
I really enjoyed playing this game however I did find that there were very few actual hidden object elements in this game. The game was clever with great graphics. The use of the crystal was a nice new twist without taking away from the rest of the game. The only real issue I had was with a few of the many games. In full disclosure I'm not a fan of the many games anyway but some of these were extremely weird to figure out. I enjoyed though that this one had the map that let you go to the direct rail where there was an objective.
December 16, 2012
Very good mostly adventure HOPA. (21 puzzles and only 11 HOS)
I finished the CE which was worth it (see that review for bonus info etc). I gave the first mystery of the ancients 2 stars as it was a bit below average, here it's very different and is a vast improvement. This is a very good HOPA. It?s more adventure with some puzzles (22 puzzles and only 11 HOS) which is my type of game. The plot was good but a bit abrupt at the end. I wished it was fleshed out a bit more throughout the game, but after playing bonus, none of the main characters were in the bonus so that aspect doesn?t change. I just thought it was a good plot so would have liked more of it. It isn?t in the demo but there is dark ?spirit? in this game, so it has dark elements to it but not as dark as the first game in this series. I'd have preferred it if it didn't have that as thought the other side of the the plot - the professors was more interesting and would have loved that side of it explored more. The graphics are good (although that kind isn?t my personal favourite). This game has a lot of variety of areas which is great and it also has a very good transporter map with hints in it. There are three modes of play which is explained but note hardcore has no skip or hint button, so if you just don?t want sparkles you can choose ?advanced? the middle option as you can?t change your option once you start. 22 PUZZLES (roughly I think I?m out by a couple, I class a puzzle if it has a skip button) Thank you devs! A wide variety of hardness but mostly in the medium and medium/hard for a HOPA. LOVED the puzzles. There is also a wide variety of types of puzzles, from logical to arcade and even one hard (for me) timed puzzle. I loved the puzzles, it made the game for me. There were some old ones but it was mixed in with some types that aren?t that common. I thought it was a perfect hardness, easy enough not to be frustrated but not so easy as to become boring. I played advanced for a change instead of hardcore (as I like the option of the skip or hint button even if I rarely use it in any games) and with that timed puzzle was glad I did but did manage to do it. 11 HOS Another reason why I enjoyed this game so much ? no repeating of any scenes! YES ? thank you! Due to the type of game graphics I thought they were clear enough and not that many junk pile, mostly cluttered. Interactive, all list type. TIME 4HRS 45MINS (no hints except map hints and no skipping. I was on one puzzle for AGES.)
January 9, 2013
I really enjoyed this game!
this game had me at the first puzzle. A lot of the puzzles and mini games were quite unique. the HOs were top notch. the map was great but to be honest I didn't really need to use it till towards the end of the game, I didn't really consider it a lot of backtracking,just enough. but the map was great at reminding you of where something was. big plus the game had COLOR! [very tired of games that are all gray ] . only had 1 problem in chapter 3 I lost the indicator arrow for the rest of the chapter- very wicked game playing lol ,so unfortunately I had to skip 2 games cuz u had to click on things specifically and quickly and I could'nt blindly find them that quick. I will definitely try again may have to reinstall. point is I liked the game so much that even that didn't deter me! now I'm wondering if I might've missed a good CE I marked 4stars but meaning 4.5 adding morphing objects would've rated 5stars
December 2, 2012
Irresponsible Archaeological Dig Threatens World Again
BASED ON COMPLETED GAME Story: You travel to the remote island town of Black Water, to investigate the mysterious disappearance of two archaeologists. There you encounter a terrifying monster straight from the ancient myths of Poseidon. What cursed secrets have these archaeologists unearthed beneath the town? Developer: Mariaglorum Release Date: Dec 2012 Extras: Interactive Jump Map, Game Timer This is a much more sophisticated sequel to Lockwood Manor ? it feels more lively and active. The story started off familiar, then took a couple of interesting turns. It was paced very well and there was plenty of background on the myths if you wanted it. The graphics are well done, particularly the cutscenes. The monsters really are monstrous. There is fun animation and colour in the interactive HOs, making them more appealing. The puzzles are more difficult than the first game, making it a bit more challenging for those who like that. Me, I skipped a lot. I?m hopeless at puzzles. Hint and skip are very quick. Hint is useless outside of HOs, just the usual ?There?s nothing to do here?. The interactive jump map was excellent, acting as a good substitute for the hint button. And the game timer is a great addition. This is a solid game.
February 22, 2013
Review of Completed Game...
First off, I do not own the first one in this series so I cannot compare games. The first one did not interest me as it felt like same old, same old in terms of gameplay and plot. This game however, gives the player a familiar feeling but also a new perspective. I quite liked the mythology behind it and the gods helping you out somewhat. Meddling when they aren't supposed to. I LOVED the puzzles in this game. They were all very doable but just challenging enough where you had to use some brain cells. The hidden object scenes were interactive and nicely done and I don't recall seeing any of them more than once...They did not repeat and there were far more puzzles than hidden object scenes which is fine by me. I played this game on advance and had skips and hints but they took longer to fill and no sparkles anywhere. Thank you devs as some developers *coughERScough* tend to throw the sparkles in anyways. However, I have some criticism concerning this game. It is way short and Im not sure if its the game itself or if its the jump map because its sooo helpful. Instead of wandering around aimlessly because there are a lot of locations in this game, you are given a marvelous jump map which tells you even in hard mode where you need to go next. I usually don't use maps but for this one it was nice to not have to wear out my shoes. Because I used the map, it literally cut hours of the playing time and there was no fillers because there weren't many hidden object scenes so in total, I might have played this game 3 hours or less. I recommend this game because its fun and if you don't use the map, it will take considerably longer. Another issue of mine is the disjointed plot. It starts off about the water turning black and how underneath the ground there might be this evil lurking blah blah but then the story goes elsewhere and the black water issue is never really addressed and you get a crystal that stores energy in it that essentially helps defeat Dagon, the bad energy guy. I felt like there wasn't enough information on Dagon and what would happen if his power was released. I kind of felt like the plot made no sense after awhile and its lucky the gameplay was good because when I lose interest in the plot, its usually over for me. So to summarize: Its a good game but also disjointed. The gameplay is fun but its still a short game if you use the map. The description of this game makes me think the town is named "Black Water" which would make more sense than the water turning to black but since you actually see the water turn black, I guess its not the name of the town. The graphics are lovely and the crystal energy element adds a flair to this game but don't overthink the plot like I did. Just roll with it. There is an ending in the SE but it doesn't really go into detail what the people you save were actually doing there or how they figured out it had eternal life if it was so evil. It just really confused me. Sometimes these cult, evil, spirit of the ancient games don't mesh well with me but for a relaxing afternoon, this game will do the trick.
May 7, 2013
Good game, poor ending.
I've just finished playing this, so I thought I'd post a review. Things I liked: 1) The plot was good, it left you wondering "Ok, what's going on here and why?" and revealed itself nicely. 2) The puzzles were reasonably challenging, several required a moderate level of thought and planning without being excessively complicated. 3) I also liked the HOGs, especially because there were things to do in them, you had to use one item on something else in the scene in order to complete it which is much better than just "keep clicking until you've finished it" (although there seemed to be no penalty for just random clicking on Advanced Level). Things I didn't like: 1) I know they've got to keep you playing and doing stuff, but *why* is an item you need to solve a puzzle stuck in a locked box in a different location which needs a key from somewhere else in order to open it? There's no rhyme nor reason in game for this sort of thing which strikes me as bad design, especially when it keeps happening throughout the game. 2) The ending. After all the build up and hints from murals in the game, this was another game where it's a case of "boom, that's it". I mean seriously?! Couldn't they be bothered to make it just a *bit* more spectacular? It's a shame after all that effort, it left me feeling let down which is a pity because the rest of the game was good and was worth the time and money.
January 27, 2013
Good Game!
It was a pretty good game, I just bought the SE, I considered it worth it. The graphics were beautiful. Interesting story line. The puzzles were way too easy, though.
December 1, 2012
this is based on a 30 minute demo
i quit the demo to buy i liked this game so much. i didn't give "5"s yet as i haven't played the whole thing and will return to give it a final review, but based on the 30 minutes of demo i completed...it was longer, but i stopped, i think this is going to be one of my favorite games. i really got into the game and really didn't want to end it, but i like to start them over when i open them after buying them and i won't get to it for awhile. i try to play the games i buy in order that i have bought them. i think if you like HO games you will pleasantly surprised at this one. it grabbed me right away. this is the first time i have reviewed a game after playing the demo only, that i can remember.
December 2, 2012
The Apple logo is a trademark of Apple Computer, Inc.
The Windows logo is a trademark of Microsoft, Inc.