Island Tribe 4
After a series of misfortunes, the islanders are finally happy. Following the return to their home island, they save the Chief's stolen bride and celebrate the wedding, and even make friends with the evil shaman! It turns out, though, that the shaman is in fact a pirate who was cursed after finding a shaman's mask. The desperate pirate tells the story of his miseries and asks the islanders for help. Of course they cant let their new friend down, so they set out on a mission to save him. Now its up to you to travel through time with the brave islanders, help the residents of Ancient Egypt, Scandinavia and China, and find the altar that can help the pirate get rid of the curse! Follow the islanders in this fascinating journey through time and make new friends along the way!
New installment in the hit game series Island Tribe
Resource management gameplay
44 levels full of new adventures
Time travel!
Game System Requirements:
OS:

Windows XP/Windows Vista/Windows 7/Windows 8

CPU:

1.2 GHz

RAM:

512 MB

DirectX:

9.0

Hard Drive:

303 MB
Game Manager System Requirements:
Browser:

Internet Explorer 7 or later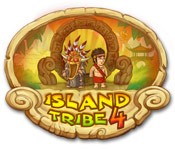 NEW299
The Big Fish Guarantee:
Quality tested and virus free.
No ads, no adware, no spyware.

Reviews at a Glance

Island Tribe 4
0
out of
5 (
0
Reviews
Review
)
Customer Reviews
The best one so far!
Great game! The graphics are even better than in Island Tribe 3! Lots of fun animations and three new locations (Egypt, Vikings, Chinese) outside the island itself. Only the first location is on the island. More than 40 levels. Four play modes including an untimed one. Maybe it's my imagination but I actually think the little guys and girls run a bit faster this time...:) For those of you who haven't played the earlier games in the series you'll probably get hooked if you start with this one. No previous knowing is required since the game starts with a summing up of what has happened to the islanders before.
December 3, 2012
Great TM/Strategy/Resource Management Game- Pure Fun
Anyone not familiar with this series you?re in for a treat and those that know this series will not be disappointed. These game developers are great and know how to make a fun game. As with previous series there are four modes of play, the relaxed mode with no time limit will be of interest to players who don?t like to feel rushed or pressured. I, myself played in normal mode and found it to be a good level of challenge but will try out hard mode once I master normal. I enjoy TM/strategy/Resource management games but am not really an advanced player, but unlike other games you have a chance of getting the best time and for that another big thanks to these developers who listen to their customers and give us a choice of mode to play. Loads of achievements are available and there is an achievement page where you can keep track of all of them. As before you can gain extra points collecting gems that are strewn around the game area. It is optional but another added fun for those who are interested. Graphics are a delight. Bright and breezy with lots to look at and you never feel bored. As in other series there is humour throughout the game which I appreciate. There are a couple of fun moments with new characters that had me smiling. I just want to say how much I love TM/Strategy/Builder/Resource management game(I enjoy other types of games too) and appreciate these developers still making these fun games. Anyone who enjoys these kinds of games hope you will support them too as many developers seem to be making less of these games or are abandoning the PC/Mac platforms. I bought the game and look forward to many hours of fun and wholly recommend this game. I can only add that it put me in a good mood on a cold and grey Monday. Love it.
December 3, 2012
I love it !
This is my first review since the format change, but I just HAD to share my feelings on this game. After playing this game for a couple of levels not only did I buy it, but I bought Island Tribe 1,2 & 3 also ! I really enjoy this style of game and own all the Roads of Rome, Northern Tale, World of Zellions, to name a few. What stands out about this game in my opinion, is you don't feel your doing the same thing over & over. You can move around enough and keep different things going all at once that you feel more freedom then many building type games allow.I think HOG lovers may enjoy this game also. There is puzzles & hidden objects that make it fun for lots of different game lovers. This is a game that you can play over and over without getting bored. I did finish it and never got bored at all. Then I started on the Island Tribe 1. Sorry, I'm not too good on reviews, I just wanted to share a few of my feelings on this game. Have fun ! heavenlypoodles
December 4, 2012
Loving this game
I bought this game within 45 minutes of playing demo. It is fun, can be challenging and I love that you can play it on various modes (easy, normal, hard, untimed) and que up your player's next move. I've played all the Island Tribe games (as well as most other time management games) and I like the fact that not only do you have to get your time for a perfect score, but also diamonds and artifacts. It makes it that much more challenging. I would highly recommend this game.
December 3, 2012
Best Yet
I absolutely loved all the Island Tribe games, and thought they just got better with each one. This one certainly proves that point. The graphics are so much better. Game play is similar to all the others, and you have varied options of levels, including an untimed level, which is always a plus with me. Also loved that they have some of the little guys who aren't working relaxing and having fun. Variety of scenarios outside the island is a fun plus. I bought this one without trial, and I was not disappointed. Highly recommend this game.
December 3, 2012
Best of the Island Tribe games yet!! Loved it!
I thought this was the best yet of all the Island Tribe games! If you enjoyed Royal Envoy and My Kingdom for the Princess, then you will love this one! In this episode, all of our Favorite Little People are back. They meet up with a Pirate that has a cursed ring. In trying to help him, part of the tribe disappears. We follow them thru 4 different era's as they try to find their way back home. A great sequel to a super game! Highly recommended!
December 3, 2012
You Have to Do it Their Way and Not Your Own
I really liked previous versions of this game but in this version you have to do things in the order the game maker wants you to and you don't get to do it your own way. For example, in previous versions, most of the time as you pick up things from the roadway, the fog lifts and you eventually can see what you have left to do. In this version you have to do certain things first before the fog lifts such as light all your totems before you can see what is what. I don't like that at all. I also didn't like that you didn't need any wood to light fires and once lit they stayed lit without any help from you. The previous game was more fun because you had to keep the fires lit and make sure you had enough wood to do this. Unfortunately the fact that the game maker decided for me what order I could do things, that just sort of ruined the game for me. Where's the strategy in that??? I would have given it 5 stars otherwise.
December 6, 2012
Finally!!!
Finally another very good TMG. They are little and few between especially when there is mostly HOG coming out. If you did not know already...you get to gather resources, upgrade buildings, even plant palm trees instead of cutting them down. You look for small artifacts at the same time that you try to finish the objective. It would not really be that different from other games like this, except there is so much going on on that screen. Crocodiles, people floating, waterfalls,birds flying etc. It is just really cute.The quests are not that hard to accomplish and yes, it seems they run a bit fatser without having upgrades to improve how fast they run or build-clear the road etc. They took the time making this one another success and I am truly happy because I am getting really tired of all the HOG, no matter how good they are.
December 3, 2012
WOW
Each Island Tribe is getting better than the previous one! Love it! Awesome!
December 4, 2012
The best Island Tribe!!
Love, love, LOVE this game! I have really enjoyed the first three Island Tribe games, but this one tops them all! Great new challanges, incredible new locations, awesome music. Loved all the new characters scattered throughout the levels. My favorite new change: you don't have to keep re-lighting the fires in the caves! Hooray! :-) I got through all of the levels on the "Normal" mode with a gold very easily. However, the "Expert" mode is very, very challenging! It also has a level for newbies and a casual play without a timer. I didn't even trial this before I bought it, and I don't regret it a bit. GREAT GAME!!
December 12, 2012