Island Tribe 4
After a series of misfortunes, the islanders are finally happy. Following the return to their home island, they save the Chief's stolen bride and celebrate the wedding, and even make friends with the evil shaman! It turns out, though, that the shaman is in fact a pirate who was cursed after finding a shaman's mask. The desperate pirate tells the story of his miseries and asks the islanders for help. Of course they can't let their new friend down, so they set out on a mission to save him. Now it's up to you to travel through time with the brave islanders, help the residents of Ancient Egypt, Scandinavia and China, and find the altar that can help the pirate get rid of the curse! Follow the islanders in this fascinating journey through time and make new friends along the way!
New installment in the hit game series Island Tribe
Resource management gameplay
44 levels full of new adventures
Time travel!
Game System Requirements:
OS:

Windows XP/Windows Vista/Windows 7/Windows 8

CPU:

1.2 GHz

RAM:

512 MB

DirectX:

9.0

Hard Drive:

303 MB
Game Manager System Requirements:
Browser:

Internet Explorer 7 or later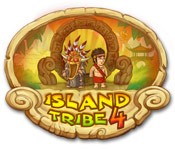 NEW299
The Big Fish Guarantee:
Quality tested and virus free.
No ads, no adware, no spyware.

Reviews at a Glance

Island Tribe 4
0
out of
5 (
0
Reviews
Review
)
Customer Reviews
FUN!!!
A Wonderful Time management Game...I have all 4 series...
December 6, 2012
Mists of time covering the gameplay
This game is the standard 'clear the path' to achieve the goal type of game (think Royal Envoy, Ballard of Solar, Viking Brothers etc). The difference with this game is that the there is a 'mist' covering the gameplay level at the start of the each stage and in order to uncover more of the level, you had to complete different 'mini' activities, I like this and (having briefly trialled the previous instalment), I believe this feature is peculiar to this series. Other differences between this and other 'clear the path' TM's is that you could collect diamonds, which added to your game-score (unsure whether they did anything else), and also a character comes in on the right-hand side of the screen with an item to collect within a (very) short time-period, (again not really sure what this 'added' to the game-play), but it give the game a 'slight' added depth. The storyline is the usual 'need to complete the tasks in order to restore peace' type of games (to be honest I don't really read the storyline (though I noted for this game there seemed to be quite an in-depth storyline (maybe I will read it when I buy it). The music etc was good, and there were very occasional VO, soundbytes. Over all it was sufficiently different enough for me to add it to my ever growing collection. With regards to IT3, I will keep to my usual 'mantra' with regards to additions to the series (i.e. where there is more than one in a TM series (doesn't quite work for a HO game as the story is usually a continuation (i.e. and extra chapter) of the series)), as the graphics seemed to be not quite as polished as IT4, so will stick to and purchase this game. Overall good, if you are new to the series I would certainly purchase the game as as I say it is sufficiently different to other TM's out there if you have others in the series then I am unsure as to what 'extras' it will bring to the series. Overall though I do recommend this game.
April 29, 2013
Just 4 stars for me, but still good game :D
Island is great series , I love play the other series, but this one is little bored. the story is about pirate wearing a cursed mask so we have to help him. the gameplay was all the same - nothing new. i like the first level,but until in level egypt, it all bored!!! I thought there will something new in gameplay but nothing and there only new creature like cobra,mummy and etc... sound is same.. visual and graphics is beautiful and nice done :D there four mode - relax,timed,easy,hard...(U can change anytime) U have to collect diamonds as ur high score!!! great :) P/S - You should try it first wether U like it or not :D Pros- graphics,game mode Cons-story,gameplay,music
December 3, 2012
This Gets a B
I had tried to leave a review yesterday and to be honest, I apparently hadn't played long enough, because my feelings toward Island Tribe 4 changed quite a bit. I still do enjoy it & I would play again - maybe in a year or so, but there is one thing that really really grates my nerves: FIRES. Constant, never ending flames. Buildings catch afire & need to be de-flamed .... its good for adding on a little something something, but every 60 seconds? That's a bit much. Also in the too-much department are the sheer # of "things" on the screen. There's quite a bit of clutter & just general mess. However, the game is still good & I'm glad to have an actual TM game.
March 5, 2014
Better than the previous Island Tribe!
I had a lot of fun with this one! The graphics are great and done with great care. The game was a bit too easy for me and I got the expert grade too easily in my opinion, but other than that the game is great. I found myself playing for two hours straight into the night, so beware it is very addictive :)
February 22, 2013
Cute game
My only complaints with this game are (1) if you don't find ALL of the hidden objects you don't get an expert rating no matter how quickly you finish the game, and, (2) On a lot of the levels you have to do multiple tasks in order to achieve the final challenge - but you don't know about the multiple tasks until you get there. Sometimes, there's only one, sometimes two and sometimes 3 or 4. Otherwise, it is a really cute game that I have enjoyed (once I went back and found all the hidden objects so I could get an expert rating on each level).
December 21, 2012
Great game - always a chanllenge
I love the Island Tribe games and this one doesn't disappoint. I like the new items available this game. I was able to score gold in all levels on the normal mode but the hard mode is really testing my skills!
December 14, 2012
Same as 1, 2, 3
This game is virtually a continuation of the first three. Nothing really new or challenging. Unlike other similar games the strategy is the same on each level and really being stuck on a path leads you directly on how to complete the level. If you played one level you have played them all.
December 24, 2012
NOT MY FAVORITE
THE THIRD GAME IS THE BEST IN MY OPINION
July 13, 2013
Prequels were better
I loved the first game of this series, but its really time to stop making sequels because they are all basically the same.
December 20, 2012
The Apple logo is a trademark of Apple Computer, Inc.