World Mosaics 6
The hourglass of time has been stolen by the infamous cat burglar La Forge! Solve pictographic puzzles as you travel across the globe and through time itself. Journey through critical points in history from the Napoleonic wars to the birth of the United States. It's up to you solve the puzzles and stop La Forge in World Mosaics 6!
Hours of relaxing gameplay
Over 100 story mode puzzles
150 additional bonus puzzles
Game System Requirements:
OS:

Windows XP/Windows Vista/Windows 7/Windows 8

CPU:

1.0 GHz

RAM:

1024 MB

DirectX:

9.0

Hard Drive:

71 MB
Game Manager System Requirements:
Browser:

Internet Explorer 7 or later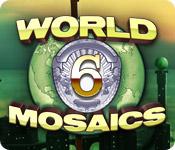 NEW299
The Big Fish Guarantee:
Quality tested and virus free.
No ads, no adware, no spyware.

Reviews at a Glance

World Mosaics 6
0
out of
5 (
0
Reviews
Review
)
Customer Reviews
Bought it in 20 mins.
My husband & I have been waiting for the new WM. I bought it 20 mins after it came up as "Tomorrow's Game Today". Couldn't wait. This is a game that you either like or you don't. Try any of the demos before you buy, but I always recommend trying ANY game before you buy. Looks easy enough, but it makes you double check your counting skills from time to time. World Mosaics may look boring, but give it try first.
December 4, 2012
Calling all World Mosaics game lovers...#6 has arrived!!!
World Mosaics 6 Also known as nanogram, picross, griddlers, paint by number, and any other name that refers to logical number games. Similar games available here at BFG are World Mosaics 1-5, Gemsweeper, World Riddles: Animals, & Arizona Rose & the Pirates Riddles. In past WM versions you restored the Atlantis World Museum,then went on as an apprentice and had schooling in chronology. Traveling through time seems to be a trait of each edition. This version you are gathering evidence against a cat burglar named LaForge who has stolen the hour glass from the Atlantean Museum, LaForge taunts you by leaving these puzzles behind as clues to where he is traveling next. Requires 1024 RAM and 72MB hard drive. On the main page along the bottom of the screen are the following: Options, Credits, Bonus, Tips, & Quit, the Play button is in the center of the screen. Options, allows you to set a slider for your music & sounds. Then there are boxes to check or un check for Disable Hints, Custom Cursor, Right Click swap, Show selection of Numbers, Full Screen and Stretch screen which allows you to customize the game to your own preferences. Bonus content is 150 bonus puzzles in addition to the 100 puzzles in the main game. Upon completion of each puzzle your time used, hints used, mistakes made are listed so you can replay to improve your performance. A few sounds are reused from the past versions, but the majority of the music is new, to me it sounds like Jazz detective music, I liked it, but for those who don't, the slider can easily turn it off for you. The first location was in one of the old Soviet countries and involved ***[color=#ffffff]guards, barbed wire and nuclear weapons being launched.[/color]**** There were 10 boards in that section & all were 10X10, the picture in the background was dreary, to say the least. Each completed board earns you a puzzle piece but the game puts them together, not you, which was a lost opportunity in my opinion. The second area had 10 boards also, & was a past Dutch Olympic location. Two of the sample boards on the BFG game page show 15X15 boards so they will get bigger but I had almost finished the second group of 10 when my demo time ran out, and had only solved 10X10 boards so far. Hopefully there will be larger boards and SOON. Up to now the boards have been rather easy. I will be purchasing with a pcc.
December 4, 2012
Better than WM 5!
I've been a great fan of World Mosaics since the beginning of the series, and am delighted to say that this one is my favorite so far. There's a touch of humor, the puzzles are fun, and an enjoyable storyline in Version 6. If you enjoyed the previous versions, you'll love this one. I highly, highly recommend!
December 4, 2012
FINALLY!!!!
I bought this game without previewing it because I LOVE these games! I don't care about the storyline or if the picture is good/clear or whatever...I just love the game. I played two levels last night (yes it came out at 3am!) and was NOT disappointed! Unlike other games of this type, it did not start with a 5X5 but 10X10...and was NOT overly easy! I enjoy a challenge especially as I've mastered the other games of this type. Can't wait to continue!
December 4, 2012
Lost the charm of the WM games
WM is unfortunately becoming nothing like the original 2 games that made it enjoyable and relaxing. Yes its still the same way to play it and there is a storyline this time, however I used to play WM for relaxation and de-stressing, now it's more about the storyline and less about the puzzles. Ticked me off as well with the 3 golden star ratings for the levels, one hint used and one star gone, one accidental click or your mouse misclicked and another star gone. Original is still best.
December 6, 2012
More Fun!
A big part of game playing, for me, is the music. This game was like listening to Fugazo's Greatest Hits as I recognized many of the songs from previous World Mosaics and that made it an instant buy. This game is more challenging and I appreciated that. i learned how to do these puzzles from this developer and although I enjoy more difficult ones now, this was relaxing without being boring. The games are now scored differently so I didn't use the hint button as much as the previous ones since I was playing against myself. Guys, in future games you've got to lose the big red X though...it makes me feel like I've been stupid in school! Fortunately I haven't made that many errors (yet). Anyway, try it if you like a mixture of music: it's mostly melancholy but I'm Romani and love the violins and the story line seems fine. Looking forward to number 7!
December 4, 2012
Fun Pic Cross Game
I like these kinds of games- a little break from usual. This game was fun, and I'll probably buy it. My one complaint is the pictures were hard to make out. Not all of them. Some were better seen at a distance. And I didn't really care for the story.
December 4, 2012
Nothing New. Even the Same Music as World Mosaics 5
Gotta say, I am totally disappointed with this new cookie cutter edition of World Mosaics. It's the same old premise as WM5. Even the music is exactly the same. I mean, come on! The developers couldn't spring for some new music and sound effects?? There appeared to be one new aspect of the game so for one brief moment I thought there was hope. After you complete ten boards, you're awarded ten jigsaw puzzle pieces. However, the puzzle is automatically put together for you -- you don't even get to solve it! How stupid is that?? And while the storyline is different from the other five versions, it is dull and simple, as if written by a child. The developers need to abandon ship on this series and come up with something new and fresh.
December 4, 2012
Love WM!!!!!!!
I have been waiting for this to be finally released... as always the WM 6 my overall rating is five stars. Just wished they would come out more often instead of once a yr a new game. If u guys can do it will hidden objects why not do it with WM!!!
December 5, 2012
Same old, same old
This was the 2nd time I purchased without a trial -- trusting because I have all of the other World Mosaics, play them often and thoroughly enjoy them. The ONLY thing I liked about WM6 was that you start out with more difficulty. The music is the same as WM5 -- and that's getting pretty boring. There's no hint as to what pixelated picture you are trying to complete - and even when completed, some are too obscure to make much sense. The storyline is just OK -- not nearly as educational as the previous versions. But my biggest complaint is that, as a VERY experienced WM player, I seem to be making a whole lot of boneheaded mistakes -- moving too fast switching right&left mouse button. So I went back and played a couple of the earlier versions, and had no problems making mistakes from too fast switching. So IMO there's something about WM6 switching that's glitchy. I highly recommend WM1-5, but not this one. Seems like the devs were in a hurry to release and didn't put in their usual good time and efforts.
December 15, 2012
The Apple logo is a trademark of Apple Computer, Inc.