Golden Trails 3: The Guardian's Creed
When Jacques regains consciousness in a tavern, he finds a strange seal on his shoulder. Where does it come from? Who did it? Why? Join Jacques in his daring and dangerous adventure as he tries to solve the mysteries of the seal. Scour numerous locations, travel Europe from Paris to the Vatican, explore ancient writings of the monks, and solve tricky puzzles in search of the truth. Get ready to find out the secrets of the Templar Order in Golden Trails 3: The Guardian's Creed.
Travel around Europe
Over 30 locations to explore
Engaging mini-games
Game System Requirements:
OS:

Windows XP/Windows Vista/Windows 7/Windows 8

CPU:

1.0 GHz

RAM:

1024 MB

DirectX:

9.0

Hard Drive:

405 MB
Game Manager System Requirements:
Browser:

Internet Explorer 7 or later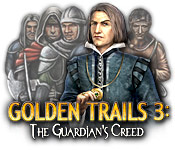 NEW299
The Big Fish Guarantee:
Quality tested and virus free.
No ads, no adware, no spyware.

Reviews at a Glance

Golden Trails 3: The Guardian's Creed
0
out of
5 (
0
Reviews
Review
)
Customer Reviews
Golden Trails 3: The Guardian's Creed
62
62
Golden Trails 3 The Guardians Creed
Fun Game with an Excellent Story having you run around Old Europe.
December 5, 2012
It was ok
I just completed the demo. I didn't get very far in the 60 minutes. The items you need to find in HOS are small and it is dark so they are hard to find. Had problems with "this area is dark" until I figured out I had the light I needed in my inventory and had to scroll right or left to find it. If you want an HOG that challenges you to find the items, this is for you. I am glad there was a map, very helpful. I did skip the cut scenes and didn't do the tutorial which would have helped me find the fluer de lis that I was supposed to collect. Accidently figured it out, should have read the information at the beginning, my fault. I won't buy this game as it was too dark to find items but overall it is challenging.
December 5, 2012
Fun or frustrating game!
This game, as with the other two, has the same features, i.e., going to different locations and using objects you've found in other areas. Again, you have the criminal who keeps appearing and if you shoot him, you get a hint. You can collect fleur de lis (50, I believe), to get extras. I found the game to be fun. However, I believe this game can either be fun or aggravating, depending on a person's personality. Objects are somewhat hard to find, so the hints are helpful. Characters are cartoon-like, with conversation bubbles. They are well-drawn.
December 5, 2012
If you really like Interactive Hidden Object Scenes...
...THIS is the game for you! Review based on demo only. I do, in fact, really enjoy interactive hidden object scenes. Back at the beginning of the H.O. genre it was enough to just find stuff. As time wore on though it seemed like having to sift through a bunch of incongruous junk to find the one object needed to move on became more of a chore than fun. The Golden Trails series turns this on it's ear by making the whole game pretty much an interactive hidden object scene - beside just finding objects you are locating usable objects to apply to areas, either in this scene or another, to get items that are used in puzzles or in mini-games or are clues to the over-all mystery. I find this refurbishing of an old game mechanic refreshing and fun. And boy! DO they know how to hide stuff! Normally adjusting objects in scale or opacity to hide them I consider a cheat, but since these are so thoughtfully hidden, not just thrown in a pile, it doesn't seem to bother me here. I can feel my brain getting a workout thinking how images could be adjusted to fit into the scene. Since you must earn Hints by shooting bad guys as they pop up (this becomes really pretty easy) I find myself jealously guarding them and trying harder to find things on my own. I don't really care about points or achievements but find myself playing along when they are present. These are pretty unobtrusive. The graphics are terrific, if a bit dark (gama adjustment was needed on my system) and the sound is good, storyline interesting. I like solving a mystery. :) I plan on buying but thought I'd pop in w/ my 2 cents on the way to do so.
December 7, 2012
Good game to relax
In this game, the locations are the HOS. The objects are quite easy to find. Sometimes you have to go to another location before being able to complete the first one. The mini-games are on the easy side, but interesting. There are fleur-de-lis to collect in the various locations, as well as other objects. There are many trophies to earn. The hint system is ok. The game is rather short, for me a bit more than 2 hours. I would recommend it with a punch credit or as a DD.
September 21, 2013
Fun.
Good storyline, good graphics. Puzzles are sometimes too easy to solve. Lots of locations.
September 8, 2013
A Nice Enjoyable Game ...
Easy Going Graphics & Sound Without Any Frills ... The Game Style Is A Very Simple Adventure/HOG Combination That Seems To Work Very Well ... The Style Of Game Is Purely Functional With Puzzles That A Small Child Could Easily Cope With ... Plenty To Do And Collect ... Good Value When You Are Hanging Out For The Next Big Game To Be Released ...
August 31, 2013
Pretty Good Third in Series
I really love this series since it is a cross-between HoG and arcade-style game where you often have to shoot bandits and rack up a high score. I like their emphasis on HoGs rather than adventure. This episode is not unlike the first two, but I found it less compelling than the others. The story for one was not as good. To be a bit more specific, it started out great. It was a templar-style story with much intrigue and mystery. But I found the ending abrupt, in fact unlike in the other games, it only comes to its head in the bonus chapter. I don't really understand why it is a bonus chapter and does that mean that if you don't get into it (if that is possible), you won't see the end of the story? The second reason why I found this one not as good is that the puzzles were not as fun as they usually are. I don't really like button-pressing puzzles and there were two, but also lots of swap puzzle pieces around which I also do not like. They were in the previous two games too, but they seemed to be less annoying than in this one for some reason. And a pet peeve of mine, there were a lot of anachronisms in this game: items that should not have been in and were, costumes that were improbable for the time period of the game, etc. This is still a highly playable game and I still overall enjoyed it even if less so than the first two.
December 11, 2012
Interesting...
Not bad but... HOS are a mixture of lists and objects, not too crowded, but dark which makes some of the objects are a bit too hard to see. Artwork looks promising at the beginning, then changes to cartoony cut scene, then back to not bad, but dark, scenes. Aerial map, which is quite helpful. I found the voiceover and music a bit annoying so I turned the volume off, but that is personal taste. Hint button charges fairly slowly. Pop out figures give you a chance to earn extra hints. The story was interesting enough to keep me playing the demo but I don't think I will be buying it.
December 5, 2012
If you normally play on Easy/Casual it *might* challenge you.
First of all, I purchased this during the sale, and for that alone I can say it was value-for-money, otherwise I'd feel cheated. I did actually enjoy playing this, despite its many flaws. I had fun with this game, but it didn't challenge me, other than one or two hidden objects that I couldn't find. The puzzles were so easy as to not even be puzzling, a very obvious track on a rotate the rings puzzle for example that you "solve" 4 times in one minigame. I had the sound almost off because the voice over annoyed me. My biggest annoyance however was the anachronisms! Every scene is a HOS, and every single one contains objects that are not in keeping with the 18thC Paris/England/Vatican settings. From bags of dollars to modern rifles and clothing to African "Tribal" art, the whole feel of the game failed to mesh. After that, allowing you into areas that shouldn't be unlocked because you haven't solved the puzzle that gives you the clue to go to that area, or the fact it never actually tells you there are things to collect, or that a very small patch of coastline is immediately recognized by a French peasant as "England" seem minor. I'm going to tentatively recommend this - there was almost nothing to bother those who hate the spookier games, and although it was not challenging to me, I primarily play a mix of Hardcore and Advance. If you need an extra game punch at the end of the month and/or you have a code or its the Deal of the Day, it might be worth a try.
December 6, 2012