Phantasmat: Crucible Peak Collector's Edition
Exclusive
A disastrous avalanche... an evacuation... and mysterious residents who turn cold right before your eyes... literally! In this sequel to the classic hidden-object puzzle adventure game, you'll find secrets buried under an avalanche of snow in Phantasmat: Crucible Peak.

You planned for years to ski the Alps, but your dream vacation turns into a nightmare when you stumble upon a resort town, lost five years ago in an avalanche. Uncover the mystery of what happened here. Did anyone ever really survive?

This is a special Collector's Edition release full of exclusive extras you won't find in the standard version. As a bonus, Collector's Edition purchases count toward three stamps on your Monthly Game Club Punch Card!

The Collector's Edition includes:
More secrets in the bonus game to uncover
Re-playable mini-games and cut scenes
Downloadable soundtrack
Wallpapers, screensavers and concept art
Integrated Strategy Guide
Game System Requirements:
OS:

10.8/10.7/10.6/10.5

CPU:

1.4 GHz (INTEL ONLY)

RAM:

1024 MB

Hard Drive:

931 MB
Game Manager System Requirements:
Browser:

Safari 4.0 or later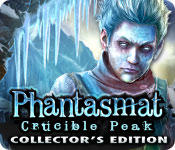 The Big Fish Guarantee:
Quality tested and virus free.
No ads, no adware, no spyware.

Reviews at a Glance

Phantasmat: Crucible Peak Collector's Edition
0
out of
5 (
0
Reviews
Review
)
Customer Reviews
Phantasmat: Crucible Peak Collector's Edition
105
105
not as good as the first Phantasmat
I'm really underwhelmed by this game. It's the typical generic rushed product I've come to expect from this developer. It's a bunch of ideas thrown together (some that truly conflict) and not fully developed. Don't expect creepy or macabre, the only thing this developer can draw well is crying children (thankfully there are few of those in this one). It's like Haunted Legends the Undertaker: corpses/zombies look too good, too alive. Borrrrrrring. Note to developers: a maze isn't challenging or fun if you give me the route. Let ME figure it out! You can't in this game, you can't even travel the mazes until you find the solutions,and if you take the wrong route, it immediately brings you back to the beginning. The HOS and minigames are the usual. Hope you like reconstructing broken items, there are several of those in this game. Hard mode is not hard, but blessedly free of most of the black box comments/hints that ruin so many games. Don't think it's worth the CE price, with another bonus game that promises one thing and delivers another. And oh boy, I get to replay the HOS and minigames for my CE price. It's also pretty short for a CE. If you buy it, wait for the SE, you aren't missing anything. And if you haven't played the first, skip this and play that one.
December 7, 2012
Fair to middling - give it a try
Based on the demo, 'cause i'm not sure about buying this CE yet - Like a lot of other folks, I've got the 1st Phantasmat on my list of all time favorites, but wanted to give this a try even tho' it's not done by the same developer - big bummer. So you're skiing in the Alps, are a victim of an avalanche & on your trek out of the danger zone you begin meeting some odd characters, & something is amiss... but what, exactly? With a lot of back & forth & no map or journal, you'll figure it out eventually - but no clues from me :) This HOPA has a great intro cutscene, pretty decent voiceovers, & HOscenes that allow you to opt for match3 over digging thru the junkpiles to acquire your found object. The hint button gives BIG hints, & where your journal would be is a button that shows what your current tasks are. The music, for me, isn't enhancing the atmoshere. & i've not noted much in the way of sound fx so far. There are 3 levels of play to choose from, so the challenge can be bumped up some. Within demo time, it's not been a particularly challenging game. I do think this game's got some of the best graphics we've seen from ERS in quite a while - very nice, & a plus imo. The big thing for me is waiting for that delicious creep factor that Phantasmat 1 hit on right off the bat & carried through to the end, but so far i'm not feeling it at all. The storyline seems a bit weak. & in turn. gameplay is feeling less than exciting for me. I want to be rocked by a CE, especially one with the Phantasmat name. And some extra cool perks like morphing objects or achievements wouldn't hurt this game - but there aren't any. Since i haven't yet felt the "Phantasmat creeps", i'm not too anxious to spring for the CE at this point. It seems like an okay game, but CE worthy? I'm not sure. It's definitely good enough to give it a demo, & whether you go for this or the SE, enjoy your gaming, folks!
December 6, 2012
why change??
I don't usually write reviews on demos alone so this is a first for me,. I almost bought this game just on the fact that I loved the first one but common sense prevailed and I tried the demo. I was surprised to see it was ERS rather than the origonal developer. And they had their signature piece of music looping through all the HO scenes. Why they like this music. I don't know.. I for one can't stand it. And the HO scenes are again all purple and as one other reviewer qiuite accurately refered to it.."puke green". Why can they not use color in the HO scenes? is it a short cut to save time.. I don't know. Well needless to say I didn't buy. Please give it back to the people who did such a fine job on the first game. Just my opinion but this one not for me.
December 6, 2012
Same old same old
I don't usually post reviews on just a demo, but I only got to 40 minutes and I was pretty bored, but I still want to say a few things. I used to love ERS, but it would seem that as I have progressed as a game player, ERS are standing still. The artwork is the same old stuff, and not even their best in my opinion. The puzzles are very easy and offer no challenge, and the H0 scenes could be from any of their games. Other developers seem to continue to improve the more games they make, and it's such a shame that these don't appear to be doing the same. If you love ERS, you'll probably enjoy this, or if you're still only discovering these games. I was hoping to see something even a little new, but there was just no spark to this for me. The only good thing for me was a fresh opening storyline, but even this didn't hold my attention for long. Sorry ERS, must try harder.
December 8, 2012
My expectations were too high
It plays like a great classic novel that does not translate well on the big screen.... Crucible Peak in comparison to the first Phantasmat. I had looked forward to this game release for what felt like forever and bought it straight away without any trial. I was so excited I just wanted to get on with it. Now that it's all over I just don't know how I feel about it. I really don't want to think it was so bad. This game is very hard to rate fairly. It really depends on whether or not you've played the first Phantasmat and whether or not you cared for it and so on. So I've decided that my rating reflects my situation... A huge fan of the first Phantasmat and have played it multiple times. From this point of view Crucible Peak fails on many levels if not all. First off: The story. Exactly the same as the first except for fact that this lacked the mystery the first carried throughout the entire game along with the second and third time you play it. Crucible Peak just does not have that mysterious element that made the first one so great. Then when you factor in characters without any depth, scenery that bores, and a conclusion to the game you could see coming from a mile away.... this game just isn't all that great, or even good. I hate to say it, I wish it wasn't so, but it is. The HOS were run of the mill, mini-games average to a little better than average, game length, seemed long enough, graphics are good, it's just the story's setting that isn't good. Voice overs were good, interesting accents. Everything is just good/okay. The bonus chapter was weird. Once again, no creativity. Here's the thing. If you're a fan of Phantasmat you'll most likely find this game not so great. Three stars when you inevitably compare the two. If you are new to Phantasmat then I would guess that you'd most likely enjoy this game very much. May even be a five star game for you. So yeah, I recommend the game. Just don't get too excited if you're a Phantasmat fan.
December 8, 2012
Not as good as the first...
The first Phantasmat was absolutely amazing. Besides the story line of the first game, which was a little eerie and definitely engaging, the actual style of the game was what impressed me. I loved the kind of cartoonish quality of the characters (as in not aiming to look like absolutely realistic humans), I loved the scroll-panning scenes, and I loved the general atmosphere of the game. This game, while keeping up with the general theme of the first Phantasmat, lacks all of the things that made its predecessor so special. No more panning landscapes, no eerie soundtrack, and characters that look like they came out of any throwaway HO game. Even the little things, like being able to turn a lamp on in the hotel room in the first game for no reason at all, seemed like the details that made Phantasmat I so special. These aspects are missing here. The first Phantasmat was unique in that it was stylized so well; it looked and felt like no other HO game I've ever played before. Phantasmat: Crucible Peak is disappointing because it strives to be more like those other games that are so lackluster and boring. The story lines are extremely similar, almost parallel, so that isn't the issue. It just lacks the pizazz (lame word, but it's the best I can do!) of the previous Phantasmat. I recommend that you try the previous Phantasmat first for a unique HO game experience, but once you do, you won't be impressed with this game.
December 9, 2012
Let it snow, let it snow, let it snow!!
If you like games by E.R.S and enjoy the Alpine scenes, snow blizzards and ice sculptures, then you'll probably love this game. The bunny -eared developer bought the Phantasmat licence from the previous game studio and stamped their own, by now well known to most of us, format all over it. Once you have played a number of E.R.S games you'll know what to expect next time. The ending of the main game gave a good clue that there will be a sequel to this one. Unless they seriously begin stepping up their efforts to include a teleport map, achievements, collectibles and the like I'd say don't bother. The game isn't bad. I enjoyed parts of it, but the puzzles are so easy that I didn't feel challenged and found myself thinking: "It surely can't be that simple!" It was. The music is the same old, same old on a loop, the H0S become more of a junkpile as time goes on and the very odd accents are beginning to irritate in these games. Whilst the game has no permanently available map, there are 2 or 3 location maps pinned to walls in different scenes. The Task/Objective button is a nice touch, as is being able to see the percentage of game completed. I counted 17 H0S and 16 Puzzles in the main game and 6 H0S and 5 Puzzles in the bonus. If you love the bunny developer, then I'd still say you'll enjoy it.
December 8, 2012
GOOD BASIC HOG
What I liked: Great looking graphics. Ability to magnify scenes. Sound level of voice overs could be selected. Task list. Can play mini-games and HOS after completing the game. Change between casual, advanced and hard modes during play. What Could be Better: Story is basically good but could have been more cohesive - why would a resort not let you stay after an avalanche and instead send you on your way into the treacherous mountains. Wouldn't they would be snowed in? Gameplay could have flowed a little better - not always sure what direction to take.
December 6, 2012
DISAPPOINTED
After playing the Demo I was actually disappointed..as I thought this game compared to the first one (which I bought) did'nt stand up to be a CE...and I will not buy this one...the visuals were good and the vo's were on the spot but thats where it ended for me..I do'nt see ER trying to compete with other games like Elephant does to keep up with what the pple want in their games..although parts of the game were good..most were not..I did not enjoy this one..I do not recommend this game
December 8, 2012
Following a Tough Act`
Out of context, this game is probably worth 4 stars, but it has the misfortune to be following up one of the finest acts in this genre of gaming. The original Phantasmat is one of the top 5 games of any sort I've played, just stellar in all facets. This one has its moments but can't touch the magic of the original.
December 21, 2012
The Apple logo is a trademark of Apple Computer, Inc.
The Windows logo is a trademark of Microsoft, Inc.