Wonderland Mahjong
Rescue the queen from the clutches of the evil sorcerer in Wonderland Mahjong! You won't be alone. Four of King Argon's most trusted and heroic friends will join you, each with a special power. 60 wondrous mahjong levels will transport you clear across a lovingly depicted fantasy land. Variety-packed mini games will also open up new options and new ways to play. Recapture your sense of wonder and reclaim Argon's queen and kingdom. Wonderland needs a hero. Is it you?
Helpful mini games
Beautiful Graphics
Cartoon story for all ages
Game System Requirements:
OS:

Windows XP/Windows Vista/Windows 7

CPU:

1.0 GHz

RAM:

512 MB

DirectX:

9.0

Hard Drive:

30 MB
Game Manager System Requirements:
Browser:

Internet Explorer 7 or later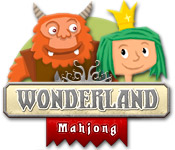 NEW299
The Big Fish Guarantee:
Quality tested and virus free.
No ads, no adware, no spyware.

Reviews at a Glance

Wonderland Mahjong
0
out of
5 (
0
Reviews
Review
)
Customer Reviews
Fun Majhong
This is a sweet little game. The tiles are unique - a mix of spooky medieval one time and card suites the next. The power-ups are cartoon characters that do various things to tiles when you get stuck. You also have a match3 board that pops up when you have no tiles moves. The game moves very quickly. It was easy to stay entertained. This was almost as much fun as Unwell Mel (my fav).
December 9, 2012
TIMED, NO Casual & keep your cursor off the M3 board
Wonderland Mahjong 512 MB RAM, 30MB hard drive TIMED mahjong, NO casual setting. Timer starts beeping last 10 seconds. 60 levels of bright, colorful, simplistic graphics, characters are cartoon in form. I played the demo on both a pc and a notebook, it did not change the game play in any way. I thought that maybe this was aimed more for children because the graphics were simplistic and basic but the timing is much too short for a child to accomplish the boards. All 7 levels I played each had 4 minutes to complete the board. The timer DOES stop while you move to a M 3 board to earn a shuffle, and automatically turns back on, the second you make the final M3 that earns the shuffle. The shuffle does not always produce a match either, so often you may end up playing 5 or 6 M 3 boards to finish that 1- 4 minute mahjong board. I probably would have made it to level 8 or 9 if the computer had not frozen, twice while playing the Match 3 portion. ****The key to preventing the freezing is to click the tile you want to move and then move your cursor off the board until all matches are finished moving and clearing.**** There are 6 areas with 10 levels in each area they were Wonder Woods, Wonder Mountain, Wonder River, Wonder Beach, Wonder Palace and Imperium Rasmos. All levels can be replayed to improve your score or your time. Options includes sliders for music & sounds quiet to loud, often it was bird chirping and other sounds of nature. When the music was playing I wanted it turned low. The nature sounds were OK though. check/un check boxes for full screen, mouse cursor, OK to return to main screen. lower right along the bottom of the screen you have buttons for Player, Credits & Exit. Player allows you to add or delete up to 7 players Names, level finished and number of points earned are recorded for each. As a person becomes the highest scorer on this computer the information is listed under Champions, just under the start button. I am not even certain what all the images even are on the tiles, plus some look very similar to others, so great attention to detail is required in this game. Rasmos an evil sorcerer from the darkest depths of Kandor has evil plans for the Wonderland Kingdom. While Queen Arowine is calmly strolling through the kingdom, Rasmos sets a trap and kidnaps her away. That very day he send a message to King Argon demanding for him to step down as king, humble himself and crown Rasmos as the new King within one week or else Queen Arowine would be no more! 4 of the Kings most trusted heroic friends join you in your journey to rescue the Queen. Brave Brunos, removes troublesome tiles, Titanic Lancelus shuffles the tiles creating new possibilities. Lucky Lancelus removes 2 pairs of tiles of your choosing, and the forth is Excalibaro, he destroys up to 6 tiles. The help button helped to understand what each friends special power is, but it would have been more helpful, if when you clicked on one of them if it told you their skill. As you set out to start looking for Queen Arowine a trail of stones is found. Queen Arowine had thought quickly of how to help her husband to be able to find her and help to return her once more to her beloved kingdom and Argon. If you like timed and have no need for the casual level of play, then this is a game you may enjoy. If you HATE the timer and not having the option to play at your own rate, stay away from this one!
December 7, 2012
No Tmer Please!
I haven't purchased a mahjong game in a while and thought this might be a buy until I realized there was a timer and no way that I could find to opt out. This was a deal breaker for me as I play slowly and like to relax. I kept playing the same first game over and over without advancement. Too frustrating!! For those who like beating the clock, no problem.
December 7, 2012
freez
keep your money..safe your money for a better game...The mahjong part is oki, but the 3 match have trouble.. first play, the 3 match freeze and I had to close the game with windows job-list. After a restart, I played the mahjong part, and again, the game freeze, this time, I had to close down my computer and restart the system. If you guess, I delete the game, you win ..... a BIG smile:-)
December 6, 2012
Timed game
I only played this for about 4 minutes. I liked the bright cheerful artwork and the tile images were fun. However when I noticed the timer, I immediately checked options to see if it could be played without the timer. That option was not availabe, so it was game over.
December 6, 2012
A VERY SHORT SIMPLE GAME...
This was a very short and a very simple game. Only 60 levels, I finished the game in 2 1/2 hours. This game would've been a lot better if the game had much better 'tile' graphics, better story, more levels and more of a challenge, it was way too simple. There was not much of a challenge for me. And then the M3 games kept on freezing up on me. I took the advice of another member, I moved the cursor completely away from the M3 board and waited until there were no more M3 moves. This was very aggrevating!! If you are starting out with Mahjong games, I would definitely recommend a different game, there wasn't much of a challenge, not even for beginners, this was way too simple. I enjoy playing Mahjong games, and I was not impressed with this one.
August 26, 2013
A Whole Lot of WONDER in this Land.
And the wonder is ..................... I wonder how to pass a level when you only have 4 minutes and are not that familiar with the tiles. Answer - you can't. The King is off looking for his wife in the forest and has taken his 4 trusty friends with him. Each friend has a different talent (bonus to help you in the game). Unfortunately, you need to memorize what they do because you can't just run your cursor over each on and find out what he does. Also, the timer is set at 4 minutes. I love mahjong but I love a relaxed game. This is a stressful game and not relaxing at all. There is no way to play on a "relaxed" mode. I played several rounds, always on Level 1, and could never beat that stupid 4 minute timer. This is definitely a no purchase for me. I like a nice stress-free, relaxing game that I can play at my own pace. THIS is NOT it. I won't even recommend anyone waste their time on this game. Our hours are precious as there are too few in the day, don't waste yours playing this ridiculous game. There are WAY too many better ones on the BF site.
July 24, 2014
Flawed
Played 1/2 hour of demo...I like Mahjong games...not this one. Timers don't bother me but this timer doesn't give you enough time and there is no way of earning more time somehow. You can't 'mouse over' the power up guys to find out what they do-you have to go to the help section or else remember them. I saved my power ups all the way to the end for emergency...I had a pair and one lone tile out there ...when I matched my pair then went to use a power up to smash the spare tile and win the game it disappeared leaving me to sit there for the remainder of the game (12 seconds) and then buzz me out to tell me I lost. Graphics are not great either. Not exciting not fun not fair....Flawed
December 6, 2012
time out
well played about 10minutes of this awful game. First there is no relaxed mode. Second the graphics are foggy. Thirdly theres a lot of tiles even on the first level which you have to complete in 4 minutes, which i found hard to do. And last if you dont do it in the time allocated you have to start all over again, one big no,no from me. Dont waste your money on this, there are better ones out there.
December 6, 2012