Death Upon an Austrian Sonata: A Dana Knightstone Novel
Return to Europe in a brand new adventure as Dana Knightstone, the best-selling novelist who can see ghosts. When your cousin, famed musician Sebastian Knightstone, starts hearing eerie violin music in his Austrian manor, he asks for your help to investigate. But you're not the only one digging up the ghost's secrets -- and you find yourself falling headlong into danger! Solve challenging puzzles as you trek through snowy Austrian landscapes in search of missing clues. Can you follow the ghost's trail before time runs out?
Game System Requirements:
OS:

10.8/10.7/10.6/10.5

CPU:

1.0 GHz (INTEL ONLY)

RAM:

1024 MB

Hard Drive:

400 MB
Game Manager System Requirements:
Browser:

Safari 4.0 or later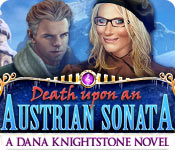 NEW299
The Big Fish Guarantee:
Quality tested and virus free.
No ads, no adware, no spyware.

Reviews at a Glance

Death Upon an Austrian Sonata: A Dana Knightstone Novel
0
out of
5 (
0
Reviews
Review
)
Customer Reviews
Death Upon an Austrian Sonata: A Dana Knightstone Novel
36
36
Not as good as the previous ones, but still worthwhile
It is a good story, and the visuals are good too. (If too cold for me, gave me the shivers). Still, I do not find it up to the standards of the previous ones. The settings are pretty enough, but not stunningly beautiful, not so much a delightful travelogue. The story relies more on frantic action than on a leisurely pace. I loved the previous two installments, and it makes me sad to see the games go the way of generic adventure games, losing much of their initial charm. Still, it is a good game, still it is a good story, and the HOS have clever vairations, and are quite crisp and clean. The minigames were OK. It is a good game, still.
January 21, 2014
I liked this mystery format
(played the CE in advanced mode) I liked this game. This "mystery novel" format was new to me, and it was interesting to see that genre translated to a game. Still, things seemed just a little odd, until the pub scene. What was on the TV made me laugh, and finally "get" it. I loved the music. The mini-games were really fun; most were not terribly difficult to solve, but they were really creative, and there were several types I'd never seen before. For me, there was just the right number of HOS - too many and I get a little squirmy. What I really liked were the hints -- they were very explicit, spelling out exactly what to look for, in a specific location. Since I try to use hints only as a last resort, I really value this. Because I like to wander around in the , think about what's going on, and use hints only as a last resorted, this game lasted 10 hours for me, and I thoroughly enjoyed it. However,it didn't give me that "this game is so totally amazingly cool," with accompanying little adrenalin rush, that for me is the difference between four and five stars. However, I really did thoroughly enjoy this game.
January 13, 2013
For some of this game I would give it a 3
I was looking forward to playing this game, and after reading the CE reviews, I really wish I would have bought the CE. There aren't any fun things to look for which it sounds like the CE had. BUT my biggest complaint of this game is when I made a decision not to play on the "casual" mode and went for LONGER times to wait to skip a game...some of the games to play were frustrating and I just wanted to skip and couldn't...and with other games I have purchased, if I had made the decision to change the mode of play...I could have...THis game will not allow you to do so. Very frustrating, because I have better things to do than sit and wait for the skip to fill in.....BUT even with all of that said.....I do like this game. I like the conversations, although short, that the character has with people. The HO's have some different kinds in this game and I really enjoyed that. SO, overall I am liking this game. I am on Chapter 5 and I believe someone wrote there are only 6 chapters...Hope that is wrong because that means I am almost done and I only began this today....And I haven't been playing ALL day either...So that will be another disappointment to have with this game...too short. I will wait and see.
February 5, 2013
A pleasant, relaxing game for a winter's eve
This is another lovely Dana Knightstone game with nice graphics, beautiful music, good voiceovers, interactive HOscenes, easy puzzles/minis. The storyline is decent & gameplay is easy. I like the DK Novel games, including this one because they're easy on the eyes artistically, and fill the bill when i'm looking for a game to play for relaxation. There's nothing here that's going to make you jump or cringe, no occult influence, no heart pumping action. You'll occasionally see a benign ghost, of course. You won't need the map you don't have anyway, & the hint button gives clear instruction, eliminating need for a guide or walkthru if you get stuck. This is just a nice easy game that you can play when the brain's on the charger in the evening. It relaxed me when i needed it, so 4 stars for the favor :) Altogether, quite pleasant. Enjoy your gaming, folks.
December 11, 2012
Fun!
I like this game, but then I like all BoomZap games. I give it 4.5 stars. Map isn't needed because yr not clikin' a thousand times back & forth.. it' not innundated with HOS's #which I like# but when they do appear they're interactive. There was one little thing which nauseated me... the voice-over for the little girl on the train was BAD. She sounded like an adult transvestite with a nasal problem. I do recommend this game. esp. if you like the Awakening series, as its similar.
December 8, 2012
Logic is used a little more this time.
As a lot of us know, real world logic doesn't always apply to these type of games. It kind of does with this one which made it more enjoyable. There was a time or two in which the game got stuck and I had to close it out and come back for it to register my clicks. I don't know if that is related to my computer or what. I remember another issue that frustrated me was in a hidden object scene- one was suppose to find "mascara". The object that it was referring to was "eyeliner".
March 22, 2013
Fun game, cool story!
Enjoyed this game. Took me and my husband 3.5 hours to play it together. Not super challenging, but the story keeps it going and it's interesting.
January 1, 2013
A Mix of Optical Journeys in Fantastic Locations and Great Gameplay
As with the other two games of this series this game combined a great storyline, which although it had many superficial characteristic (more than the other two games) which I normally don't like was intriguing, with a great game play experience based on mind and skill games. It included great aspects of object finding games but was much more than that with certain aspects coming close to a film. What I really liked was that because of this cinematic sense it gave you the ability to really involve in the story and the game.
December 26, 2012
A Good Way to pass a few hours
These games are simplistic and easy to do. But they are a good way to pass a couple of hours. There is little effort or thought involved when playing these and for me, that can be a good thing. I always have a couple of games on the go and if one is especially taxing, then I like to have a game like this to play. I don't want to put the reader off. The storyline is lovely and the graphics are great but it is predictable. You always instinctively know what to do next but as I said earlier, not necessarily a bad thing. I would recommend this game but not if you want to stretch your mind.
December 23, 2012
So so game
3rd in the Dana Knightstone series. Dana is a novelist/detective who can see ghosts. Storyline is her cousin who is dying needs her help to find some missing music sheets lost by a dead violinist (Elise) who has been haunting him. HOPA (Hidden Object Puzzle Adventure) although more HOS (Hidden Object Scenes) than Puzzles Developers are Boomzap (one of my favourite) Game opens in wide screen (always a bonus) Graphics are clear and sharp Audio clear 3 modes of play (find what is offered for each in settings) You can't change mode of play once started (a little extra some of the Devs have been offering of late] Custom or Systems Cursor, both work smoothly Journal which keeps info for further gameplay, so check regularly Hint and skip button take about 70-80 seconds to fill in Normal mode (too long for this impatient player] Hint tells you exactly what you have to do - don't like this in games, after all you're requesting a hint not a solution. There are voiceovers (which I find strange when the character's mouth doesn't move and they're staring at you, especially the butler, he's really weird] I found the HOS quite fun and varied if a little strange. The first one you had to find so many of certain items, which I liked. HOS are interactive [find this to cut or fix this) I found this quite a strange game....Unlocked a door and there is the butler tied to a chair staring at me, requesting I untie him but do I untie him immediately....no! I have to do a HOS first while the butler is giving me evil eye....weird! Loved the snowy scenes and the cute little animals, just not too sure about the rest. I do recommend this game but with reservations
December 7, 2012
The Apple logo is a trademark of Apple Computer, Inc.
The Windows logo is a trademark of Microsoft, Inc.