Death Upon an Austrian Sonata: A Dana Knightstone Novel
Return to Europe in a brand new adventure as Dana Knightstone, the best-selling novelist who can see ghosts. When your cousin, famed musician Sebastian Knightstone, starts hearing eerie violin music in his Austrian manor, he asks for your help to investigate. But you're not the only one digging up the ghost's secrets -- and you find yourself falling headlong into danger! Solve challenging puzzles as you trek through snowy Austrian landscapes in search of missing clues. Can you follow the ghost's trail before time runs out?
Game System Requirements:
OS:

Windows XP/Windows Vista/Windows 7/Windows 8

CPU:

1.0 GHz

RAM:

1024 MB

DirectX:

8.1

Hard Drive:

409 MB
Game Manager System Requirements:
Browser:

Internet Explorer 7 or later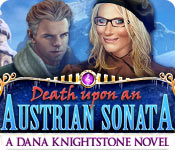 NEW299
The Big Fish Guarantee:
Quality tested and virus free.
No ads, no adware, no spyware.

Reviews at a Glance

Death Upon an Austrian Sonata: A Dana Knightstone Novel
0
out of
5 (
0
Reviews
Review
)
Customer Reviews
Death Upon an Austrian Sonata: A Dana Knightstone Novel
34
34
Review of Completed Game...
I really like this series as I do most Boomzap games. They are very talented developers and always outweigh my expectations for a great game. They just keep getting better and better. This game has more puzzles than hidden object scenes which I like however they were all very, very easy. None of them took me more than 5 minutes to solve and I was playing on the hardest mode. I would have liked more of a challenge like the other games in this series which is why I gave it 2 stars in that department but overall I did enjoy it playing it. Hidden object scenes are done quite well and are all interactive. The voiceovers are great just like usual with this developer. The inventory box locked. thank you! such a little thing but it makes a big difference! There was no map but since each chapter is a new location, it doesn't require one. I did really like this aspect but had it been a collectors edition and you were collecting things, it would have been a drag not to be able to go back. The story line was kind of weird in this one. I felt like it got rushed near the end. However, it did end satisfactory for me and I did not feel as though I missed crucial parts without a bonus chapter. Overall, this is a very enjoyable game but shorter than previous ones in this series. I clocked in at about 3 hours. Also, the level of challenge is lacking therefore I am taking off 1 star. Very good game though and I think I will probably replay it someday! Kudos!
November 8, 2013
Lots of fun, lovely story, has something for everyone
BASED ON COMPLETED GAME ON EXPERT LEVEL I really loved playing this game. It has everything I like; a ghost, mystery and adventure. The music is beautiful to listen to as you go. Playing this game is a lot like watching an hour mystery drama. It flows seamlessly from beginning to end with gorgeous graphics, interesting puzzles and creative solutions to situations. I liked how I (the main character) was often getting into harm's way and having to recover from or think my way out of them. The character voice overs are well done and help to make for immersion into their world while the story logically and sequentially traps you into the tragedy. The HOS were unpredictable and fun, but not too hard. All of the games were easily doable which kept the story moving. I didn't need any hints or a map, so I don't know if there were any (oops, sorry.) My only tiny complaint is the comic book character feel to the drawings. I would like them to look more realistic. A HUGE plus with this game is that, with the exception of ONE item (and nope not telling you which it is ;) there is virtually NO backtracking. All of the objects are found in close proximity to where they are used. Kudos to the devs for that!!! I also like the way the game is divided into chapters with titles. I thought that was cool. The only reason I'm not giving this a 5 is because it's a bit too easy. Other than that, it's really wonderful. Bottom line; loads of fun, lovely story, logical progression, doable games and HOS, enjoyable story line which wraps up nicely. Enjoy!
August 15, 2013
Logic is used a little more this time.
As a lot of us know, real world logic doesn't always apply to these type of games. It kind of does with this one which made it more enjoyable. There was a time or two in which the game got stuck and I had to close it out and come back for it to register my clicks. I don't know if that is related to my computer or what. I remember another issue that frustrated me was in a hidden object scene- one was suppose to find "mascara". The object that it was referring to was "eyeliner".
March 22, 2013
I liked this mystery format
(played the CE in advanced mode) I liked this game. This "mystery novel" format was new to me, and it was interesting to see that genre translated to a game. Still, things seemed just a little odd, until the pub scene. What was on the TV made me laugh, and finally "get" it. I loved the music. The mini-games were really fun; most were not terribly difficult to solve, but they were really creative, and there were several types I'd never seen before. For me, there was just the right number of HOS - too many and I get a little squirmy. What I really liked were the hints -- they were very explicit, spelling out exactly what to look for, in a specific location. Since I try to use hints only as a last resort, I really value this. Because I like to wander around in the , think about what's going on, and use hints only as a last resorted, this game lasted 10 hours for me, and I thoroughly enjoyed it. However,it didn't give me that "this game is so totally amazingly cool," with accompanying little adrenalin rush, that for me is the difference between four and five stars. However, I really did thoroughly enjoy this game.
January 13, 2013
Fun game, cool story!
Enjoyed this game. Took me and my husband 3.5 hours to play it together. Not super challenging, but the story keeps it going and it's interesting.
January 1, 2013
A Mix of Optical Journeys in Fantastic Locations and Great Gameplay
As with the other two games of this series this game combined a great storyline, which although it had many superficial characteristic (more than the other two games) which I normally don't like was intriguing, with a great game play experience based on mind and skill games. It included great aspects of object finding games but was much more than that with certain aspects coming close to a film. What I really liked was that because of this cinematic sense it gave you the ability to really involve in the story and the game.
December 26, 2012
A Good Way to pass a few hours
These games are simplistic and easy to do. But they are a good way to pass a couple of hours. There is little effort or thought involved when playing these and for me, that can be a good thing. I always have a couple of games on the go and if one is especially taxing, then I like to have a game like this to play. I don't want to put the reader off. The storyline is lovely and the graphics are great but it is predictable. You always instinctively know what to do next but as I said earlier, not necessarily a bad thing. I would recommend this game but not if you want to stretch your mind.
December 23, 2012
So so game
3rd in the Dana Knightstone series. Dana is a novelist/detective who can see ghosts. Storyline is her cousin who is dying needs her help to find some missing music sheets lost by a dead violinist (Elise) who has been haunting him. HOPA (Hidden Object Puzzle Adventure) although more HOS (Hidden Object Scenes) than Puzzles Developers are Boomzap (one of my favourite) Game opens in wide screen (always a bonus) Graphics are clear and sharp Audio clear 3 modes of play (find what is offered for each in settings) You can't change mode of play once started (a little extra some of the Devs have been offering of late] Custom or Systems Cursor, both work smoothly Journal which keeps info for further gameplay, so check regularly Hint and skip button take about 70-80 seconds to fill in Normal mode (too long for this impatient player] Hint tells you exactly what you have to do - don't like this in games, after all you're requesting a hint not a solution. There are voiceovers (which I find strange when the character's mouth doesn't move and they're staring at you, especially the butler, he's really weird] I found the HOS quite fun and varied if a little strange. The first one you had to find so many of certain items, which I liked. HOS are interactive [find this to cut or fix this) I found this quite a strange game....Unlocked a door and there is the butler tied to a chair staring at me, requesting I untie him but do I untie him immediately....no! I have to do a HOS first while the butler is giving me evil eye....weird! Loved the snowy scenes and the cute little animals, just not too sure about the rest. I do recommend this game but with reservations
December 7, 2012
Disappointed in BoomZap...too easy
VERSION Standard Edition full game DEVELOPER BoomZap GENRE Hidden Object Puzzle Adventure Mystery (Supernatural) STORYLINE You return in your role as Dana Knightstone, a novelist who can see ghosts. This time, you travel to Austria to help your ill cousin Sebastian, who can also see ghosts. Sebastian has been experiencing visitations of a ghost named Elise, a violinist like him. Elise asks him to solve her murder and find the original music she wrote, along with her priceless violin. Since he is ill, he asks for your help. The only problem is?someone else is after the violin as well. GAMEPLAY Move from area to area, picking up objects you'll need, solving puzzles, and completing HO scenes which provide you with additional necessary items. Being a huge BoomZap fan, I'm sorry to have to say that the puzzles range from ridiculously easy (match up the halves according to the clues right in front of you) to tedious (untangle the cables). The HO scenes, while beautifully rendered, are child's play. INTERFACE There's no map, but the travel is linear with minimal backtracking since you move from chapter to chapter. Your journal holds the story as it unfolds, as well as clues you'll need to progress. Hints recharge quickly. TECHNICAL No issues. GRAPHICS Instantly recognizable as BoomZap, developer of the Awakening quartet and the new Botanica series. Well-rendered in proportion and perspective, and beautiful use of color. CUTSCENES Appropriate to the story, but neither long nor annoying. MUSIC Quite beautiful, which is apropos given the theme of the game. Haunting violins. SOUND Game and ambient sounds appropriate and tolerable. VOICEOVER The voice of Dana Knightstone, as usual, is quite well done, brimming with personality and determination. Sebastian came off somewhat naive. His butler's voice was a dead ringer for Ahnuld?"I'll be back." SUMMARY If you're a Dana Knightstone fan, I would recommend this game to you, if only to complete your collection. Otherwise, I found it far too easy. Frankly, I'm glad I used a "free game" coupon. It's a shame, really, because the story line was terrific.
December 17, 2012
Wow was I disappointed in this one!
I own the other Dana Knightstone games and thoroughly enjoyed them. This story did not grab me I guess. The story was not as well done as the other games. The game was way to easy, the puzzles ridiculously easy and so I found this game boring. Never had to use a hint once. It took me only 2 and half hours to finish the game and was not worth the money. I would wait for a sale on this one.
January 12, 2013
The Apple logo is a trademark of Apple Computer, Inc.