Surface: The Soaring City Collector's Edition
Search for your brother, Jeremy, in a beautiful world where the sky is as wide as your imagination in the Hidden Object Puzzle Adventure game, Surface: The Soaring City! Jeremy was a great inventor who discovered a magnificent land soaring in the sky. He created wings for the people, making them free. The new citizens were happy...until one day Jeremy was kidnapped and blamed for conducting inhumane experiments. It's up to you to save your brother from imprisonment and redeem his good name.

This is a special Collector's Edition release full of exclusive extras you won't find in the standard version. As a bonus, Collector's Edition purchases count toward three stamps on your Monthly Game Club Punch Card!

The Collector's Edition includes:
A whole new adventure in the bonus chapter
Integrated Strategy Guide
Stunning wallpapers
Fascinating Concept art
Game System Requirements:
OS:

Windows XP/Windows Vista/Windows 7/Windows 8

CPU:

2.5 GHz

RAM:

1024 MB

DirectX:

9.0

Hard Drive:

1056 MB
Game Manager System Requirements:
Browser:

Internet Explorer 7 or later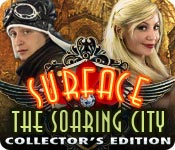 The Big Fish Guarantee:
Quality tested and virus free.
No ads, no adware, no spyware.

Reviews at a Glance

Surface: The Soaring City Collector's Edition
0
out of
5 (
0
Reviews
Review
)
Customer Reviews
Surface: The Soaring City Collector's Edition
139
139
I WISH....
This game was almost perfect and has so much potential. I love these developers, BUT, when will they realize the use of real peoples in the games just doesn't work. In this one the main character cast looked like an overgrown boy playing inventor dressup. Had animation been used throughout, all the characters would have had the grace and ease that winged peoples should have. The characters were miscast, the expressions were unrealistic and then there's the big one, none of the speech synched up with the words. I was embarrassed for the developers. This could have been such a lovely game and again, I just love these developers, but I wish they'd take a hint.
February 8, 2013
Fun game to play
This is a fun game with wonderful art work. I don't think it deserves the raves it has been getting, but it is one of the better ones. The plot is quite silly and involves a man finding his brother. He gets help from a hamster and an android that turns into a butterfly. I will admit if he had to use that butterfly more than once I would of quit the game. There is a character named Chester who is as useless as can be. The four stars for the CE is because the bonus game is much better than usual. Most CEs offer a lame chapter making me wonder why I spent the extra money on it. All in all a fun game with good visuals.
August 9, 2013
fun game
I thought this game was really run. I love the surface games.The artwork was fantastic. I found the mini games interesting with some hard and some real easy. Not to many HO games. The story was cute but found the voice overs funny and silly...Other than that this game was a good one. Not to long and not to short. Extra bonus play was fun too. I am glad I bought this one.
January 28, 2013
Lovely game, but not quite as good as the others
As with the previous Surface games, and as is usual from Elephant, this one has stunning graphics. Everything is bright and clear, and even the detailing around the screen is beautiful, like an antique brooch. You still have the basic journal with the option to replay cinematic journal entries, and the jump map. The game is broken up into three smaller areas, so you don't get lost, or have to make notes. The flowers you collect are used as currency to repair the various areas, and there are achievements. The latter were fairly basic though, mainly handed out for things you have to do anyway, and extras for not using hints/ships and 'philanthropy', ie restoring the ares. This is still a lovely game to play, but I did feel there wasn't quite as much challenge as the previous two games. The puzzles and mini games are fun, and all a bit different to the norm, but all pretty easy. Working out what needed doing and where was all very straightforward too, not much thinking required. I think the main was only around 3 1/2 hours game play, maybe 4, so not the longest game out there but still a fairly decent length. I also found the story a bit far fetched, yes I know it's fantasy, and I'm a big fantasy fan, but some things were still a bit of a stretch or made little sense. I was left with a few unanswered questions, but I shan't put them here so I'll put them on the forum where I can white them out, so people can look if they want to. I guess it's just my bug bare, but I didn't feel the story flowed quite as well as the first two games. The bonus chapter was a good hour long for me, and is a proper bonus with extra story content. I think the quality was just the same as the main game, not stuck on as an afterthought to qualify it as a CE. So all in all, still a lovely game, but just not quite as challenging as the others. I hope Elephant is going to start to sacrifice quality for quantity, as they seem to have released quite a few of late. Please devs, take note!
February 1, 2013
Good game, not great--why the misleading rave CE reviews?
A colorful, beautifully drawn 3rd Surface game. All the bells and whistles are included--interactive map, strategy guide, colorful, well-drawn art, bonus items, achievements--that come with a Collector's Edition--however, not worth CE price. I purchase a CE when gameplay and plot are interesting and I want to know and see everything and miss nothing--artwork, music, bonus content. A really good game, not great! What is it with the Developers' cheap costumes, though? Goggles and a couple sheets sewn together atop Converse sneakers! I love Converse but not paired up with advanced technology. It is comical and takes away any believability, boom, right from the beginning--but maybe the numbers are more important. I don't get it. Everything else is done well and I love the vibrant colors! Will purchase in the future. Enjoy! -Mama Mia-
January 24, 2013
great game
I love this series but there were a few too many cut scenes. I love the achievements and I know some ppl did not like how to you had to find enough of the flowers to do the good deeds but they are pretty easy to find so its not too hard.
January 28, 2013
Another excellent Surface game!
This game is fun,very well done, loved the history and the graphics, could be a 5 star game if the mini games were more chanllenging, some of them were a easy level. Although, it is a garantee of fun! I would buy it again!
January 28, 2013
Interesting setting, plenty to do
The game kept me busy without frustration throughout. I didn't need to use the strategy guide but did skip a few of the puzzles that I particularly dislike. I liked the theme of steampunk which was a breath of fresh air. The story might have been borrowing off of the success of Bioshock Infinite - or it might be that they both came up with a similar location on their own. The story was melodramatic and unbelievable. The other characters had very little to do and their actions didn't make a lot of sense. In fact they were a bit distracting since they didn't react right to any situation and were not developed well. The map was nice and allowed jumping to location. It showed uncompleted locations but not which ones had available actions. Just enough to not spoil the game. The journal, I didn't read at all. The story did not make me want to read more into the mystery of it but this was more how it was done rather than the story itself. I am not sure if it enhanced the story or just stored information you already had. Puzzles: Most had a good amount of challenge to them or at least were interesting to do. A few I did skip because I dislike that type - flipping switches/etc that turn different things on and off or move several at a time. Not sure if there are people out there that solve these with strategy but I am not one of them. I end up flipping things and if they solve by chance pretty quickly I will get past them. Otherwise I try for a while and give up. I just don't have the patience to try to figure out too many movements. Hidden Object scenes: These were very good although a bit easy. The objects were very nice looking and weren't a hodgepodge of irrational objects. Different than most games in that many times I had to go back because I did not have the inventory item needed to solve them. I found I liked this. I was disappointed that none repeated. I am not one of those who dislikes repeating HOP. When the developers put the time in to make these nice I like going back in and doing them again. Adventure: Like: The adventure/inventory item puzzles weren't too bad on the nonsense part. Nothing brilliant like I have been searching for but enjoyable. The bizarre object locks were kept to a minimum. Unbelievable obstacles were also not really found in this game; no fences that I had to find keys for the gate that I could have easily climbed over and other such things. Floating islands probably helped out a lot with this. Dislike 1: Unfortunately this game was heavy into one of my personal greatest irritations of throwing away items immediately after using them. Occasionally I would keep one for a few puzzles but for the most part I threw away every useful tool I found immediately after its use and then 10 minutes later had to find another tool to cut something else. This more than anything takes me out of gameplay and story. There were a lot of different things to do that this wasn't as noticeable as it could have been throughout the game. Dislike 2: Although obstacles to get to new areas made sense what didn't were the few where I couldn't get an item because I would get cut or whatever. Those also take me out of gameplay because we all know in an emergency we could find anything to push the glass off, dig, or dust something - even our hand. Collector's Edition extras: The collectable was disappoint since so much more could have been done with it. They were very easy to find. They should have given options on how to spend them - different walkways, windows, roofs, etc. Not just a single set of things to purchase. The bonus chapter was a good length but again story-wise, not that interesting. Overall the play was enjoyable and I found I had plenty to do.
March 24, 2014
Good game as always
Exelent challange, good sequel of the prev chapters, but the story did not catch my interest, liked the detective of dreams and minds of the prev surface
March 11, 2013
A bit of a dissappointment
This was a long game with great graphics but rather a HO HUM kind of game. It wasn't up to scratch with the other Surface games. The bonus section was a joke. I would give this 31/2 stars. Interactive map Interactive HO'S using items in your inventory A lot of mini games Strategy guide that I did use While there were positives, the game didn't grab me. I would recommend the SE version or get the CE on sale.
March 7, 2013
The Apple logo is a trademark of Apple Computer, Inc.