Forbidden Secrets: Alien Town
Exclusive
A TV show is turning the children of Fort Nightingale into zombies - but that's not the weirdest thing going on in the city! Enter this mystifying maelstrom as Clarrisa, a government agent that investigates unexplained phenomenon. Are you afraid? Or will you step bravely toward the unknown? Find out in Forbidden Secrets: Alien Town!
Game System Requirements:
OS:

Windows XP/Windows Vista/Windows 7/Windows 8

CPU:

1.4 GHz

RAM:

512 MB

DirectX:

9.0

Hard Drive:

520 MB
Game Manager System Requirements:
Browser:

Internet Explorer 7 or later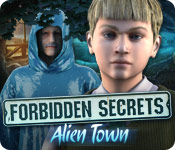 NEW299
The Big Fish Guarantee:
Quality tested and virus free.
No ads, no adware, no spyware.

Reviews at a Glance

Forbidden Secrets: Alien Town
0
out of
5 (
0
Reviews
Review
)
Customer Reviews
Forbidden Secrets: Alien Town
58
58
Extraordinary - A Guy's Review
*review based on completing the full CE version of the game in expert mode + bonus content, re-posted here in the interest of the release of the SE version, slightly modified* This game is right up my alley. I'm mostly talking about the storyline. A sci-fi alien conspiracy mixed in with religion and Indian culture, and it is really well written. Now, this might not be for everybody, but for me it is perfect. Beware if you are extra sensitive about your religion, or find alien conspiracy theories blatantly stupid. You might get offended. If not, then there is nothing to think about, buy it as soon as you can and join a spectacular ride. The graphics in this game are high quality on the most part. Like many others, it has mostly dark and dreary locations, but they are highly detailed and interesting sites. The cinematic cut-scenes might be the best I've seen so far in the casual game scene. It's dramatic, moves smoothly and basically looks similar to what you would expect in a movie. There are no live actors though, but the characters are well drawn. I tend to like drawn characters better anyway. Animations are not that smooth elsewhere in the game though. They feel somewhat stiff and they have not spent much time on the lip-sync. The voice-overs are mostly nicely done, but there is a few exceptions. It sounded like the same kid voiced all the children, and wasn't that believable. A funny note is that all the kids growing up with American adoptive parents in North America from birth had a very British accent. Unlikely. The music ranged from OK to terrible. Something sounding like a orchestra warming up made a very intrusive sound in many scenes. Sound effects are perfectly fine though. If ratings were separate I would give Visual Quality 5 (excellent) and sound 2 or 3, so ended up with 4. The game had quite a bit of adventure elements. Some typical and some quite creative. I usually enjoy the adventure elements the most and this game kept me happy all the way through. Puzzles were varied with some easy and some quite hard. Some we've all seen before, but also a few that had some originality to it (at least for me). I like when a game mixes the difficulty levels on their puzzles, so a nice fit to me here. The hidden object scenes were quite cluttered clutter scenes, but were highly detailed and nice and colorful. There was a few objects that were hard to find in dark areas and rather small, but nothing that got too frustrating. All HO scenes were mildly interactive and had at least one smaller scene within it. You have to visit all of them (I think) twice, but once for finding items listed and another time to place (reverse HO) objects on/in/next to matching ones. That kept all scenes fresh and interesting, and it didn't feel repetitive. The game mechanics functioned well as far as I can tell. The interface was easy to use. You have a journal and a map. The journal felt almost completely necessary a couple of times and the map is your best friend. The map is interactive and you can use it for fast-traveling. You can also opt for highlighted active zones and morphing object locations right on the map itself. Hook it on or off and own leisure. Brilliant. You can choose between two difficulty settings: Casual: -Sparkles on interactive zones -30 second recharge of hint/skip function Expert: -No sparkles -1 minute recharge of hint/skip function I played it in expert mode and found the game moderately difficult. There was one or two times I had to use skip/hint. The map is of course very helpful to find out which locations you have stuff to do. What's in the Collector's Edition?: The CE version of the game also has a nice bonus chapter. Not lasting especially long, but was highly interesting and beautiful made as well. It also adds new locations and it is nicely connected to the main story. It does not ruin the conclusion of the main game, so in the SE you will not miss out on any essentials. It adds 40 morphing objects to find, a strategy guide and the typical wallpaper/art. It has no achievements or trophies The main game seemed quite lengthy so you feel you get your money's worth. The CE doesn't add any essentials, but as far as CE's goes this one might be worth considering. I recommend this game to everyone who likes these types of games, and especially if you like alien/government conspiracies and such. If you are a strict religious person, you might want to try it out before buying to be on the safe side. But for most people this should be pure enjoyment. I classify it as moderately difficult and it would suit mediocre and seasoned players. That does not mean that you should avoid it as a beginner. I think this game would be an excellent introduction game as well. For the guys: You play as a female character, but it is not very apparent. The story should suit both genders, so you don't want to miss this one. TJ
December 8, 2012
just a great fun adventure game
Happened across this one and boy is it good. The graphics are great and so is the music. Has voice over. Has a map that really is the best ever. Not that many HOS but the ones they have are good and interactive. The puzzles are good and some challenging. More of an adventure and a good one at that. Not that much running around so when you find an item you use it fast. Collectibles to find which adds to the game and makes it fun.
June 19, 2013
Great Game, The Best Map I?ve Seen
GAME COMPLETED SEVERAL TIMES Story: A TV show is turning the children of Fort Nightingale into zombies - but that's not the weirdest thing going on in the city! Enter this mystifying maelstrom as Clarrisa, a government agent that investigates unexplained phenomenon Developer: **** Release Date: Dec 2012 Extras: Morphing Collectibles, Interactive Jump Map with Toggles This is a top notch game, offering an interesting and unusual story with an action packed finish. Great graphics, interesting puzzles, a few arcade games, and enough HOs to keep me interested. The iHOs were of both the list and return items styles. The characters were fun, with well done voiceovers and definitely different. Music was creepy and very alien. The weather changed partway through the game, which was a nice touch. On all counts, excellent. But the best feature by far is its map. It is a jump map, necessary as there are a lot of locations and a fair amount of traipsing. It gives you active areas and even where the morphing collectibles are and can be more use than hint (which I never used, because I had the map). I say ?can be? because you can switch that feature off! Then toggle it back any time. Brilliant!
February 22, 2013
Save the world!
I liked the story, real sci-fi! There are 2 game modes; I played in Expert mode. - The graphics are crisp. - The HOS are partly interactive and also clear. There are no sparkles in this mode. - The mini-games are quite easy but still interesting. - There are 40 morphing objects to find. - You have a helpful journal, containing the clues you found. - The map is really good: you can decide if you want it to show you the active locations as well as the locations where there are morphing objects. And it allows you to jump to a location. I needed 3 1/2 hours to finish. It's a good length and I loved the final cut-scene!
December 8, 2012
WOW!! GOOD GAME
Loved it!! I was totally hooked by the demo..the graphics are amazing, the story is compelling, the HOs are interactive and different and the mini games are fun. You get to find morphing objects and use an interactive map, which is a must because there are tons of places to go! This really has a lot to offer for a SE. True, the scenes are a little dark, but it only adds to the overall spookiness of the story. Some strange disease has rendered most people in the village into a frozen state, while the children seem to be turned into shining eyed zombies....scared the cheese right out of me the first time I encountered one! A lot of fun!
December 8, 2012
Outstanding si fi
Just wonderful si fi game. I wish there were many more like it. The beginning is brilliant! The story is absolutely fantastic and it grabed me from the start. I was intrigued by the plot due to the amazing start and was hooked on the game from then. Lots of different puzzles and many different areas that you have to work on. The game made you think about what you had to do. It wasn't just straight forward. This added value to the game. Most importantly for me anyway, it was a si fi and as I am a si fi nut, I reckon it has been the best game of the year. Lots and lots of gaming fun which is what it's all about. To the game designers Alaware - please make more for next year. I can't wait!!!
December 14, 2012
OMG Where do I start ?!
This is a review of a finished game... There are 40 beyond (morphing) items to find. If you move your mouse around on the screen eventually your cursor hand will open up and grab the beyond object. The items listed in red in your HO's are your interactive to do's. The map is a BIG helpful tool for backtracking. The ambiance of this game is the best. Just play and you will see. game on gamers...
August 14, 2013
A fine game, yes a very game!
Loved this game. I have played the CE twice already. The Bonus Chapter in the CE version is quite good. Answers who on this earth placed the critters on the porch of the orphanage. Now if you choose to play only the SE you will not feel slighted in play. Play it! Perhaps it will become an all time favorite as it has for me.
December 10, 2012
Surprised Me! Great Game!!
This game was great, I just loved the storyline and it was challenging, had great puzzles and interesting Hidden Object screens. I hope they make a sequel to this game as it was really fun! I have been wanting to play a hidden object game associated with Outer Space, Aliens..and this was perfect! This is how Hidden Object games were when they first came out! Enjoyed!
December 25, 2012
A superb game to spend a coupon on!
This is such a great game, although one has to play it quite awhile before you get into the "meat of the story" and care enough to keep going.Little guessing about going back and forth. It's a great SE. Graphics are a bit computer appearing but not bad. Best part is the map will jump you anywhere.There is no need for an SG and it's great because the map tells you if there's a morphing object in a location that you might have missed. Objects obtained from HOGS are used fairly soon although the journal helps a lot with some later needed clues. . The music is not great but not obnoxious. Nice HOG mixes of search as well as put the object in the right place. Also has achievements such as find 40 morphing objects which the map tells you there's one in that location if you've missed one. Not a lot of puzzles but they're decent. Tend to be on the "arcade side" which is not my preference but not too tough. The later stages of the game are the most fun so don't get put off by the early stuff. A great buy for an SE and well worth the value of those coupons! Has nice longevity for those who want to play a bit after work to "decompress." Very enjoyable.
December 18, 2012