Forbidden Secrets: Alien Town
Exclusive
A TV show is turning the children of Fort Nightingale into zombies - but that's not the weirdest thing going on in the city! Enter this mystifying maelstrom as Clarrisa, a government agent that investigates unexplained phenomenon. Are you afraid? Or will you step bravely toward the unknown? Find out in Forbidden Secrets: Alien Town!
Game System Requirements:
OS:

Windows XP/Windows Vista/Windows 7/Windows 8

CPU:

1.4 GHz

RAM:

512 MB

DirectX:

9.0

Hard Drive:

520 MB
Game Manager System Requirements:
Browser:

Internet Explorer 7 or later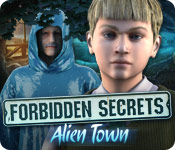 NEW299
The Big Fish Guarantee:
Quality tested and virus free.
No ads, no adware, no spyware.

Reviews at a Glance

Forbidden Secrets: Alien Town
0
out of
5 (
0
Reviews
Review
)
Customer Reviews
Forbidden Secrets: Alien Town
55
55
Awwwwesome!!!1
This game is so much fun. It also has a great twist for the active scenes. It takes a few days to finish it. This games makes you want to find out what happens at the end. I would recommend this game to every one.
December 13, 2012
Forbiden Secrets: Alien Town.
It's one of the best. It has a very good plot and a good end.
December 11, 2012
FORBIDDEN SECRETS: ALIEN TOWN (AND COUNTRY-SIDE AND CARNIVAL AND OUTER SPACE)
Wow! I was hooked from the start. And it took quite a while to finish, I like long games. There were a lot of places to explore, starting with the train station. Then there was the country-side, a carnival, the large town area and even outer space. A great map helped you know where there were places of action to be completed. And every place on the map let you know where a morphing object was and after the object was found the map let you know it was found. There was some objects carried for a while in your inventory, but most objects were found and used quickly, sometimes in the same room. The puzzles were fun with a good variety. HOS were mostly easy. Fun game and different than a lot of others I have played. Story was good and had a nice ending.
February 26, 2014
Excellent Game, interesting storyline
Most of the games on this site typically have the same idea behind the story. This game is somewhat different in the story. You are investigating the mysterious phenomena in Fort Nightingale. There are a few twists in the story that makes you say, "Oh wow!" but overall the story kept my attention and I wanted to keep playing to see 'what happens next?!' >>>>The length of the game is moderate- it doesn't drag on and it isn't over before you get intrigued. It took me about 3 maybe 4 hours to complete the game, playing on Casual Mode.<<<< The HOS are the right amount of easy, tricky and hard. Some items are in plain sight but you don't realize they are there because they blend so seamlessly into the scene. The game isn't overloaded with them and each scene produces an item to which you need to continue with the task. I did have to use the hint button a few times only because I wasn't sure what should or needed to be done next. In the scheme of it, it didn't matter ( just me being a little OCD). There is quite a bit of back and forth in the game but I like that since it keeps my mind sharp and forces me to pay attention to detail. The flow of the game is quite connected and there isn't hardly any (if at all) jumping around from one task to the next- they all work their way into the next one. You don't have to stop one task, start another, then another then finish the second task and third just to finish the first. You pretty much finish one thing before the story and game moves you on to the next task. I never like having to hold on to (lets say) a screwdriver that I need to use 20 scenes later. The developers did a magnificent job at keeping that consistent and together. Overall, I definitely encourage you to play this game! I enjoyed it very very much =)
February 12, 2014
Excellent game
Nice graphics, well done and varied HOS, interesting puzzles, good length, backtracking and morphing objects. One of the best in my BF library. Too bad there's no sequel to this game.
February 8, 2014
Unexpectedly fun
I got this on a Daily Deal, and there's no way I would have purchased it otherwise, between the cheesy-looking picture and even cheesier name. Maybe if you're really into alien stuff you'll like this, I thought. But for whatever reason, maybe the reviews, I got it anyway to help fill up my punchcard and my time. I was surprised by this one - I actually really enjoyed it from beginning to end! It was very well put-together, managed to get your attention from the very start, and was about as "believable" as an alien story might actually be in this kind of game. Not too many HOS, good puzzles, music fine...yeah, some of the scenes were drab to go along with the theme of this abandoned town, but it didn't detract from it for me because it was well-done and not "flat" #e.g., even the streets with the frozen people still had movement of some sort#. There was also a lot of attention to detail. For instance, the heroine notices early on that an animated bunny rabbit wasn't affected by the "disease". In a later scene, I personally noticed that a man who was walking his dog had become "frozen", and his dog was frozen as well. I thought "well, that's strange, but they can't catch everything" but then - the heroine actually recalls that later on and references that she thought that was weird, too! It makes it easier to enjoy a game if the emotions and thoughts about the ridiculous of particular situations is similar to what you'd actually be feeling yourself. They even found a way to explain her high immunity to diseases! Anyway, even if this isn't a genre you normally love, I think you'll be pleasantly surprised as you play this game. Despite not feeling particularly emotionally involved #which I often prefer in order to enjoy a game#, I actually still enjoyed it because it was exciting enough, had enough animation and cut-scenes, and just kept me engaged!
January 23, 2014
Outstanding Story
Had this game been a novel, I would have given it top marks for its plot. It starts out sounding like the typical game "save the town or world" story, but the outstanding protagonist leads to a powerful conclusion. The hidden object scenes were all bright enough to allow the player to find the objects. Character movement was natural enough to provide some hints to the character's personality and attitude. The map was outstanding.
December 28, 2013
Great Brain Game
This is really great.. One has to really pay attention or get lost..
December 15, 2013
LOVED this one....but no bonus for hidden objects
I've already played this one 3 times. It is just FUN! Great graphics, great storyline....and the biggest bonus? The MAP!! There may be more like this, but I don't have them. This is the first interactive map I've come across that has a little square on the spot if there is a hidden object there....and when you find it, it's not there. Saved me a LOT of time hunting around for the objects AND not wasting time looking in scenes I've already been to. The only thing I wish the games SE or CE would do is give is a BONUS for finding all the hidden objects (Morphing Objects). Come on guys....I went back to play the game twice to get all of them....didn't know the map showed them until I read it in the forum or a review....and I have to say it's very disappointing when you go to all that time, trouble and hunting and there's no bonus game at the end. Other than that, this is a great, fun game to play.
October 1, 2013
Simply Fabulous
This is one of the best games I have played to date. Others will tell you the plot so I will just give my impressions of the game. Great storyline, great HOS, lots are interactive, great puzzles, great map that shows where things are to be done and will transport you there. Also it?s a long game. That is value for money. With the SE you don?t extras like wallpapers and all that jazz but I have never looked at it so I don?t really care. I would have liked the bonus chapter but as I really enjoyed the SE version I am happy. Sitting here trying to find a single fault in this game but the truth is I can?t!
September 4, 2013