Forbidden Secrets: Alien Town
Exclusive
A TV show is turning the children of Fort Nightingale into zombies - but that's not the weirdest thing going on in the city! Enter this mystifying maelstrom as Clarrisa, a government agent that investigates unexplained phenomenon. Are you afraid? Or will you step bravely toward the unknown? Find out in Forbidden Secrets: Alien Town!
Game System Requirements:
OS:

Windows XP/Windows Vista/Windows 7/Windows 8

CPU:

1.4 GHz

RAM:

512 MB

DirectX:

9.0

Hard Drive:

520 MB
Game Manager System Requirements:
Browser:

Internet Explorer 7 or later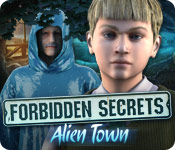 NEW299
The Big Fish Guarantee:
Quality tested and virus free.
No ads, no adware, no spyware.

Reviews at a Glance

Forbidden Secrets: Alien Town
0
out of
5 (
0
Reviews
Review
)
Customer Reviews
Forbidden Secrets: Alien Town
58
58
Alien, Spaceships, and Conspiracies--oh my!
This is one crazy ride. You're an investigator sent to a small town, supposedly overcome by some strange disease. Not everything is at it appears however, and you quickly find yourself faced with something that is clearly not of this world. Strange, creepy orphans, frozen townsfolk, and paranoid adults hiding behind barricades--what could possibly be causing all of this mayhem? And what is with the freak alien-themed carnival that came to town and never left? The plot of this game is really bizarre, but not in a bad way. Science fiction games are pretty rare on this site, so I was pleasantly surprised with this one. The gameplay was pretty average--nothing too mind-bendingly hard, and nothing too easy either. Some of the morphing objects were pleasantly hard to find, and I actually enjoyed collecting all of them. The map lets you jump from location to location, which really helps when you need to backtrack. The voice acting isn't bad, though the children are all strangely British. It didn't bother me too much however, because it actually helped the story in that it made the children stand out even more--which in turn made them more suspicious. There were a few things in the story that didn't quite hold-up to scrutiny, and it could have been a longer game--I think it took me a little over four hours to complete this, but It wasn't a bad length, I just feel like it personally could have been a bit longer. If you're looking for a game with a different story, look no further. This game is one big, crazy, fun ride.
November 13, 2014
I enjoyed this game.
I found the game enjoyable. The map certainly makes it easy to determine where to go to make progress. I probably used it more than I should have. The puzzles were entertaining. My one criticism is that the HO scenes seemed to be a bit "muddy".
October 6, 2013
fascinating game!
The idea of saving the world from aliens is quite fun. the SE was perfect, great map and hint button, did not get nor need CE. only reason it got four not five stars is the end, I felt like it needed something more at the end to finalize saving the world. I believe I lived even though I crashed but even that was not totally clear. I don't use sound so can't rate that but over all a great game.
June 9, 2013
MIDDLE-OF-THE-ROAD
An interesting story about people afflicted with a disease causing them to be in a state of stupor. Voiceovers are okay, as are the actors. It?s usually easy to figure out what has to be done next, but if you become stumped, the interactive map, showing where current activities are available, is most helpful. Physical environments are somewhat drab. HOS are not crowded; in fact, there was a most efficient use of HOS scenes. There would be a small amount of objects to find and interact with, followed by another short list. They were a pleasure to do. Also had to put objects back where they belong. Some were obvious; other were not ? moderately challenging. Nice game ? though not as compelling as some others. About 3 1/2 stars rounded down for the overly drab locations.
December 8, 2012
Plot and length is good but that was about it for me (SE does have morphs)
I finished the CE and the bonus wasn't worth it IMO and was just a backstory so the ending in the SE is the same. I should have stuck with my first instincts of this game, that the graphics are dreary and thought the puzzles were boring and the HOS was mostly junkpile. The plot was good and it?s a good length game but that was about it. I bought the CE on sale before I realised the SE had morphs! I love collectables and morphs but the morphs were not well done. The icon changed when it went over a morph and mostly it was in dark shadows so it was really hard to see. I like collectables/morphs to be a challenge but I prefer it not to solely rely on darkness to do this. I thought it was great that the transporter map had two different choices on it, one for morph tips and one for things to do in a scene. You can turn both on or off during the game and I wish every DEV would do this. I know a lot of people like their challenge to be purely memory and don?t mind loads of backtracking. If you like that then this game delivers. I prefer my gameplay and puzzles to be more of a challenge. The backtracking in this was HUGE even with a map, backtrack for one thing then go somewhere else. This makes it more bitty for me and just didn?t have a good flow for my taste. This game just did not keep my attention due to this. I feel this developer has done better graphics in the past, and this is apart from the dreary look. 29 PUZZLES (has a skip button) The puzzles by the end I wanted to scream if I saw one more puzzle ?you?ve seen this combination before.? They were so easy it was boring and also kept repeating a certain type ? swap tiles/rings etc. At the beginning there was hardly any ?puzzles? and I don?t class looking up a combination in your journal as a puzzle and there were LOADS of ?puzzles? like that. There were about 3 or 4 arcade type. I prefer logical, work out puzzles rather than guess the right sequence etc. Apart from 1 or 2 puzzles I did not like them at all. You also have auto tips on hard mode which you should have an info button to bring up this info without it automatically being given. 19 HOS 9 reverse (put an item back in a scene) 10 list type Most were repeated, do one list then it?s repeated as a reverse scene. There is no random click penalty on the hard mode (choice of two modes you have). A lot was in the junk pile realm, some very small items. I personally didn?t like the look of most of them even though the reverse kind is my favourite kind of HOS. TIME main game over 5 hrs (hard mode) I have no problem recommending the SE due to it having morphs but I just thought overall it was a bit boring and I did not like the graphics, puzzles or HOS. But again your taste may be different.
January 12, 2013
Had it's good points
Graphics were either great or mediocre. Good graphics had nice perspectives. Interactive mini-games interesting. HO scenes had misnamed items. Disordered story line, some scenes not necessary to story. Story didn't flow. Lag between inventory item and use. Need good memory as some journal item pages barely readable. Nice length, has map, unreasonable end (to me).
January 7, 2013
home
the game seems boring the first 7 mins. does nothing for me
December 8, 2012
Boring
I was totally bored and unexcited by this game - I finished it, but already deleted it off my machine - something about it I just didn't enjoy at all.
March 20, 2013