Dark Mysteries: The Soul Keeper Collector's Edition
Charles Dexter Ward has summoned you to the island of Pawtuxet to stop a renegade spirit that is murdering the townspeople. The spirit is using human souls to become immortal, and you will be next if you can't stop him. Based on the novel by H.P. Lovecraft, this Hidden-Object Puzzle Adventure game will test your investigative skills as you solve the mysteries of Ward's family and complete the ritual that will banish this evil spirit once and for all!

This is a special Collector's Edition release full of exclusive extras you won't find in the standard version. As a bonus, Collector's Edition purchases count toward three stamps on your Monthly Game Club Punch Card!

The Collector's Edition includes:
Downloadable H.P. Lovecraft novel
Revive the lost souls in the bonus chapter!
In-game strategy guide
Exclusive behind-the-scenes video
Concept art gallery
Game System Requirements:
OS:

Windows XP/Windows Vista/Windows 7/Windows 8

CPU:

1.0 GHz

RAM:

1024 MB

DirectX:

7.0

Hard Drive:

459 MB
Game Manager System Requirements:
Browser:

Internet Explorer 7 or later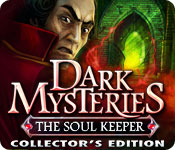 The Big Fish Guarantee:
Quality tested and virus free.
No ads, no adware, no spyware.

Reviews at a Glance

Dark Mysteries: The Soul Keeper Collector's Edition
0
out of
5 (
0
Reviews
Review
)
Customer Reviews
Dark Mysteries: The Soul Keeper Collector's Edition
58
58
An entertaining game, but it doesn't keep you hooked.
This game was really beautiful to look at, and the hidden objects scenes were mildly entertaining, but it doesn't draw you in. Pros: - Really beautiful graphics and artwork, a pleasure to look at. - Equally beautiful character artwork; - Nice music. The one that played whenever a ghost showed up was really eerie; - The hidden objects artwork was beautiful and crisp, so I enjoyed playing them; - Curwen's voice-over was nice; - The development video in the extras was nice and really interesting to see; - Fun puzzles as well as nice gameplay; Cons: - Uninteresting storyline. The story, although the main focus of the game, feels very thin. I never cared about what was going on. The characters didn't help, too. I never cared about them, either. Not even the ghosts...; - All the characters' voice-overs (except for the revenant's) were awful to listen to, especially Ward's; - The bonus chapter was just like the main game. The only good thing was the artwork; This is a game I probably won't play again. It had high-production, no doubt about it. I feel bad for the developers who clearly loved what they were doing, but I couldn't appreciate this game. Uninteresting game, overall. Except for the artwork, that is. However, it still can provide you with some fun since the puzzles, as well as the HO are fun to play.
May 27, 2013
Beware the Revenant
The best thing about this game may be the inclusion of the entire Lovecraft sci-fi novel. That and the other CE extras except for the bonus chapter are available from the start. The next best thing might be the artwork. Appreciated even more if you watch the "Behind the Scenes" and view the Concept Art extras. The presentation is in Widescreen. The voice overs are animated and lip sync is on target. Not sure you can label the rest of it Best of anything. The story has been done before in some way. You are the detective on the case to help C. D. Ward reign in the Soul Keeper he inadvertently unleashed into the world and is now killing people and sucking out their souls. There is nothing new at all about the game play except for an innovation in the journal which provides progressive hints. Objectives are also listed there. There are 3 modes of play -- only the hardest has no sparkles but it also has no puzzle skips. All modes provide too much guidance to say the tasks are at all challenging. HO scenes (interactive) outnumber puzzles and you will revisit them each several times. There is no alternative way to get through them. There is no map. You will be going back and forth on foot quite a bit. There are no collectibles, morphing objects, or achievements. Is this a terrible game -- no. Anyone new to the genre would find it interesting, if a bit morbid. Seasoned players, I'm afraid, would say same old, as I was wont to do rather quickly during the demo. Too bad since parts of it are quite well done. 6 Chapters plus the bonus chapter which would appear to make all right again for the residents of Pawtuxit. I have no idea how the real novel ends up, but reading it might be a better use of time for me. 3.5 stars.
April 23, 2013
Average
Based only on the Demo: Overall, your average HO game. Pretty easy to figure out where the items you collect are needed. HO scenes aren't bad. There was not enough in the Demo to make me want to continue however. If you are a beginniner to these types of games then this game would be a good one to build up your skill level. Storyline was good as wel.
February 28, 2013
Disappointed
This game does not feature anything new but total frustration. It is very slow, puzzles are dull. Storyline is not engaging. You should really avoid this game.
February 11, 2013
OK Game
If you can ignore the dumb story, this is an enjoyable game. The production is good, and game play is well designed. The HOS and puzzles are pretty standard. The HINT works well during game play, so you don't need an SG. The main game ends well, but the bonus chapter adds to that. One of the extras is a film clip showing the developers at work - interesting. Another extra is a copy of the story on which the game is based in three different formats.
January 16, 2013
Crashed 4 times..but I kept at it!
The game was fun..to a point. It had a lot of bells and whistles...good voice-overs, great colors and environments, a good creepy factor, and fun puzzles that weren't too difficult, but didn't send me searching for the available skip button, either. However, as some have mentioned in the forum review pages at Big Fish, there were technical problems that I thought I wasn't going to have. About 2/3 of the way through the game, I got the old familiar access violation, and the game crashed. I uninstalled it, went to the forum pages, found it had a new build, and I reinstalled the game. Shortly thereafter, it happened again. All in all, in a period of about 15 minutes, the game seized up and issued the access violation 4 times. Each time it happened, the game manager would come up, I'd click on play, and off I'd go...until it happened again...I did that 4 times. After the last time it happened, the game played beautifully through the rest of the main game and all the way through the bonus chapter, so, don't assume that, should you get that error, that the game won't play. I just decided to keep going with dogged determination, and I wasn't disappointed, once I persevered through 4 access violations...lol. The game play made sense..things happened in the proper order. The hint system worked well and refilled fairly quickly. I did rely on the strategy guide a bit, as I got turned around a few times, as there is lots of back and forth, so put on your walking shoes. It's a good game, and I liked the ending, so try it out, and be patient if the glitches show up...I was, and had a nice evening's game play.
January 3, 2013
Nothing Too Special
The title and bright colours attracted me, but I was a little disappointed after I played the demo. Good Parts: Best thing about the game was the HOS. They were great and a breeze to play. Also included extra step objects. Graphics were good, but a little work is required. Hint and skip recharge fast. It was easy to figure out what to do. Objectives were great. You could click on a picture to get a hint and it would tell you exactly what to do. A unique feature to this game that I hope to see in a lot more. Extra content is great. Ranges from bonus chapter to an e-book of the novel which the game is based on. Great value for money. OK Parts: Puzzles. Some were ok, but some were annoying. Bad Parts: Storyline was kind of boring. Same old ghost story, nothing new. Intro was boring and the rest of the story wasn't much better. The whole character of CD Ward was terrible. Bad voice-over and just odd. Character wasn't protrayed very well Demo only lasted me 29 minutes.. Nothing really special. I was happy with just the trial. This game will either be loved or hated, so take your pick.
January 1, 2013
Another "Mystery"
I wouldn't normally post a review on a demo, but I just wanted the opportunity to say how weary I am of the same old thing. You're a detective (surprise), called to help out a friend who has resurrected a relative in search of immortality (another surprise). I'm afraid it's the usual fare, like all the developers have the same game engine and just plug in a dreary plot. HOs, a little adventure. Find the needed items. Throw in a few puzzles and I'm sorry, but I'm yawning. I think I still haven't gotten over the latest Mystery Case Files. What a disappointment. I don't care about achievements or morphing objects, and there aren't any here, but I do care about a cohesive plot that hasn't been done to death, about a worthy adventure and a mystery to solve. You truly may enjoy it if you haven't yet tired of the formulaic CEs of late. Me? I'm looking for something different.
December 9, 2012
Just Ordinary
There was nothing special about this game. I didn't feel that the graphics were beautifully done, or sharp or crisp, just ordinary. I thought the voice overs were not done very well. Someone said they had no emotion in them. I disagree, they had too much and sounded exaggerated and forced, almost like the actor was reading them instead of acting them. The puzzles were quite easy and the HOS were no real challenge. I found the music to be not very appealing and was put off by it the moment the game opened to allow me to select my settings. Overall, this game did not pull me in. For me, it seemed like a chore and was irritating. I keep waiting for the game that just sweeps me away. I am going to be very old before that happens at this rate.
December 9, 2012
Boring beyond belief
How I wish I hadn't bought this game. At first I was enjoying it, good graphics and the sound was good also, gameplay was quite gripping until my demo session ran out and not at the end of an hour, oh no it was just a slice of the game at the beginning, However I still bought it and as soon as the full version started to play it was nothing but H.O.s one after another and hardly anything else at all apart from some voice-overs needless to say the gameplay was terrible and so boring, After buying a collectors edition I am determined to finish it but I have to do it in small sessions because I start to loose the will to live.
December 10, 2012
The Apple logo is a trademark of Apple Computer, Inc.