Zoom Book - The Temple of the Sun
When a mysterious package arrives at the local university, two of the most renowned anthropology professors join forces to discover hidden clues and solve mind-boggling riddles. Time travel with them to the great Mayan culture of South America in search of the magic relic, ZoomBook, but beware of the mysterious villain that follows your every move. Ancient Mayan adventure full of rich artwork, mind-boggling puzzles and a spellbinding, mystery-driven storyline full of suspense!
Mystery-driven storyline.
88 action-packed levels.
5 modes of game play.
Game System Requirements:
OS:

Windows 2000/XP/VISTA/7/8

CPU:

600MHz or faster Processor

RAM:

128 MB
Game Manager System Requirements:
Browser:

Internet Explorer 7 or later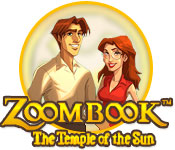 NEW299
The Big Fish Guarantee:
Quality tested and virus free.
No ads, no adware, no spyware.

Reviews at a Glance

Zoom Book - The Temple of the Sun
0
out of
5 (
0
Reviews
Review
)
Customer Reviews
Zoom Book - The Temple of the Sun
9
9
A different type of puzzle game
This game involves swapping tiles and starts off very easy, but it lulls you in and becomes muck more challenging. Mny levels I found myself having to start again, but i really wanted to keep going. Graphics are good, and it is nice to play something different.
November 10, 2012
Frustrating at First - But Keep Playing!!!
This game became a lot of fun, although I was very frustrated at first, especially when I reached the first chaos level. What I didn't realize was that it is possible to move a larger square into areas that had smaller squares. For example, say you look at a rectangle of small squares 2x3 and say you have been able to match 4 of the squares into one large square. It is now possible to first click on the large square and then into one of the remaining 2 small squares to move the large square. Experiment with this idea. It will make all the difference. You will not be able to move a smaller square into a larger area, however. This game has a great story line and I really appreciate the ability to play in either Puzzle mode, Timed mode or Chaos mode (once you get far enough in the story to unlock them). I also like the fact that you can keep repeating a level until you've solved it. Overall a wonderfully different game to add to my library.
April 12, 2013
Give it a chance!
I almost gave up on this game. It was too frustrating. But once I got the hang of it, Zoom Book became one of my favorite puzzle games of all time. The trick is to start on "easy" (You have to set it each time you log in.), and remember that you can put the larger pieces into the smaller spots. Also, after you advance a couple of levels, you can set the game for "Puzzle" mode only. Don't give up! It's worth it! Once you get the hang of it, it's not really that hard at all. It becomes so much fun.
September 28, 2013
Awesome Puzzle Game!
This is a jigsaw puzzle game unlike anything you have ever played before. The storyline consists of twp professors who meet, one goes off to the jungle, the other stays behind to do research. Unknowing to them both, they are being followed. As you play, the story continues bit by frustrating bit - lol. The graphics look hand-drawn by are bright and colorful, The background music wasn't annoying or I would have turned it down. I don't recall any sound effects. There are 5 levels of play but 3 modes of difficulty. I played adventure to get the story. But, even in that mode I had to race against a clock or only having "x" number of moves and more. What you have is a picture on the screen. In the beginning, the picture flip-flops into only several pieces. You then have to put then back together by swapping pieces, . AMAZING! As you level up (I got to 18) it definitely gets harder, time is against you, and the picture flips into many more squares. This is the most amazing puzzle game I've come across. I definitely got my personal "wow" factor when the demo was over. If my reaction is "NO!! NOT YET!" it's a definite buy for me. PLEASE try this amazing game. The demo is a very quick hour long and it's FREE to try. Happy Gaming!
June 29, 2014
Fun brain training game
It was awsome I loved it best game ever not another game like it
September 6, 2013
when 2 becomes 4 and 4 becomes 8 ad infinitum!
This is a strange one as it is a slightly different from other puzzle games. It can best be described as a cross between a jigsaw and a tile puzzle game. The basis of the game (though as usual the story line in anything other than HOPA games are not particular strong, this one however surprised in that there was a storyline there and a fairly strong one (for this game genre). It was about some missing artifacts that had gone missing and two professors, a man and women, with obvious repressed love interests, tackle how to get the artifacts back. The narrator has a rather deadpan tone, which actually works for the game (don't know whether this was intentional or not), and he guides through the voiceover of the game. Each scenario is picture of the scene chopped into squares and swapped, the idea in essence is to rebuild the picture. The game is easy to start with (no matter which level you choose), but it starts to get harder, with more squares and different modes, such as time and puzzle. The music is nothing special but helps chug the game along. Overall this is a fairly unique game which does have a few things going for it, and if you are wanting to try a different innovative game then it maybe worth giving it a shot. I certainly would not have paid for it, but if you can get it on a deal or with a BFC then it maybe worth a punt.
October 20, 2013
so-so
this is average if ur into the swapping of tiles tiles type games then u will like this but not for me...swapping is swapping no matter how u slice it.
April 8, 2013
It was okay.
Tried it on a whim. But this whim lead me to bland fun. I would like to think it gets better, but I doubt it. As far as game play it is okay if you like doing the same thing over and over again and having timed modes (and other modes) doesn't really break up that monotony. The sound is okay it doesn't really keep you excited , but it doesn't get to the point of grating on one's nerves either, so yes it is a tad bland but fine for background music. The graphic's are fine as far as these type of puzzle games go. The story-line was okay, but not enough to keep me wanting to keep going. I personally would not recommend it, but if one is interested in trying definitely demo it first.
March 7, 2014
seriously annoying
This game is seriously annoying. I had to start over again and again. It was extremely frustrating. The graphics were good, the music was kind of tropical with flute and drums, very pleasant. The story seemed interesting and the characters likable. HOWEVER.....I could not make very much progress. Never got out of the Introduction section before I just gave up in frustration. Granted, each time I redid the puzzles, I finished them more quickly, but I hated doing them over and over and over, and then the game ended and I had to start over at the very beginning! Not relaxing, in the least! I play games to relax, not to huff and puff and swear in annoyance!
April 8, 2013