Twilight School
Prepare yourself to enter the magical world of Twilight School! When Lily was young, her mother and father left her without reason or explanation. Years later a stranger named Hovenheim gives her a box with a letter from her mother. Lily discovers that her mother has been enslaved in the Dark World. Make your way to the Twilight School to save your mother. Explore the classrooms and garden while speaking with the students and teachers to uncover the truth about the school's sinister past!
Mysterious locations
Tons of Hidden Objects
Save your mother!
Game System Requirements:
OS:

Windows XP/Windows Vista/Windows 7/Windows 8

CPU:

1.0 GHz

RAM:

512 MB

DirectX:

9.0

Hard Drive:

630 MB
Game Manager System Requirements:
Browser:

Internet Explorer 7 or later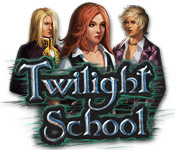 NEW299
The Big Fish Guarantee:
Quality tested and virus free.
No ads, no adware, no spyware.

Reviews at a Glance

Twilight School
0
out of
5 (
0
Reviews
Review
)
Customer Reviews
REVIEW OF COMPLETED GAME
I liked this game. It's light and easy with good graphics and doable puzzles. The story is full of werewolves, vampires and demons. The music is good. The HOS are uncluttered, sharp and clear, so while there are a lot of them, I rather enjoyed them The hint button recharges really fast. There is a transporter-type addition onscreen, so no foot slogging and no having to refer to a map. There are no voice overs and no wide screen, but it's a SE, so I do not see how people are complaining about that. I found the cut scenes very simplistic but acceptable. If you are looking for something exceptional and challenging, you will not like it. But for those who enjoy a nice easy, relaxed stroll through an interesting game and story, it's a rewarding one. They are saying it looks old, but it makes no difference to me. I rate games on how much fun I had and I had lots of fun with this. It will never win a prize, but at 4 hrs long, and with a pcc, it was a steal. Thanks, devs. TIP: Next time, be more careful with the names of the items in the HOS. You slipped up a few times and had me looking for the wrong things. But, no biggie.
December 11, 2012
Getting back to basics
I love these games that take us back in time when games were simpler. For me, I really enjoyed the game with lots of HO's. The graphics were good, storyline simple but enjoyable. Music was calming. Cartoon type characters. I was relaxed and enjoying this game when trying it out. Bought it!! and got a free mousepad!
December 11, 2012
Being fair to a nice game
I agree with mspaws. This is not Ravenhurst. No, not even a CE. It is a nice, fairly easy HOS/adventure game. The graphics are of an easy on eye type, very clear and has some simple silliness but still fun. This is not a challanging game, but a good story and very clear graphics. The HOS are not cluttered and fit the scene. Not sure why some reviews reference "cashing in on Twilight" there is no trying to cash in, it is just a name, and thankfully nothing to do (at this point) with vampires, just an unknow evil. EVIL !!! So I used a coupon, and will enjoy a relaxing time with this game. and my family loves me even if I play easy, fun games thank you very much...
December 11, 2012
It's a good rainy day game
I already have the mousepad so I won't be buying this game today. It's a good enough game to relax with. The "expert" level provides enough hand-holding with sparkles that I don't even need to try the regular mode. The dialog is corny and English is not the first language of the developers of this game. There are mislabeled items that you have to search for such as a "whisk" that's not the kind to cook with, and a "clock" that is not the kind on the wall or a desk. Other than those things, the graphics are good and well drawn. The sound effects and music are a bit annoying but with those off, the game is playable. This game definitely has the feel of a novice project for a new developer just getting their feet wet and, indeed, resorting to the basics for storyline and HOS's. There are many repeat items to look for in the HOS's. I would recommend this game for a beginner in HOG's or someone who just wants to sit back with an easy game.
December 11, 2012
not for me, maybe for tweens?
I beta tested this game, and wasn't really impressed, but I don't think I'm the target market, I think it's for tweens. I like dark macabre games, this is a teenage adventure. I only played the demo. There are easy HOS scenes but not much else. Adventures like putting on makeup and catching frogs just don't do it for me. The teen conversation was boring to me. There are plenty of odd unexplained holes in the story, such as why is the biology professor dressed like a 18th century prince?
December 11, 2012
Ok for Beginners
Game is good, I started at the harder level. HOS are good, you can see/find the items easily. The level of challenge at the harder level is still pretty basic, only had to use hint 2 times to find out where to go next. There is a "map" to move between places. Overall it is a good game for starters. The more experienced my not find it challenging. I would recommend the game for something to do but if you want a higher level of difficulty this game may not be for you. A little too much clicking to skip chat scenes.
December 11, 2012
Should be in teen category
Previous reviews state the game is boring, easy etc., and they are right, for a seasoned player. However, it would be a good game for a younger, novice player around a teen's age. The HOGS are very easy but not so easy to bore a child in that game bracket. So, I give it a 3 for that age bracket only. For seasoned adults, I would give it a 1 star rating.
December 11, 2012
Keep it in the dark
After 10 minutes I turned off the light and left. Just so basic and sorry, very boring.
December 11, 2012
A Bribe Needed To Buy This Game??
Since Bigfish has seen fit to try and bribe us into buying this game, it seems obvious that BF knows how lousy this game is. Well - hate to tell you this BF - but a mousepad is NOT enough of a bribe to buy this game. In fact, if you tried to give it to me free, I wouldn't keep it. It's not challenging. The story line is lame - like how many times do we have to go rescue our mom/dad/son/daughter/spouse before it gets too old to handle? This is definately one time too many. I found the background music irritating.But most disappointing of all is the obvious bribe of the mousepad to buy the game. Sorry BF, I don't need a new mouse pad enough to do that.
December 11, 2012
Yawn
Games with this poor quality still exist? Not worth the demo. Boring
December 11, 2012