Twilight School
Prepare yourself to enter the magical world of Twilight School! When Lily was young, her mother and father left her without reason or explanation. Years later a stranger named Hovenheim gives her a box with a letter from her mother. Lily discovers that her mother has been enslaved in the Dark World. Make your way to the Twilight School to save your mother. Explore the classrooms and garden while speaking with the students and teachers to uncover the truth about the school's sinister past!
Mysterious locations
Tons of Hidden Objects
Save your mother!
Game System Requirements:
OS:

Windows XP/Windows Vista/Windows 7/Windows 8

CPU:

1.0 GHz

RAM:

512 MB

DirectX:

9.0

Hard Drive:

630 MB
Game Manager System Requirements:
Browser:

Internet Explorer 7 or later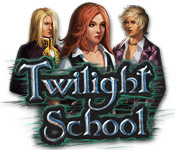 NEW299
The Big Fish Guarantee:
Quality tested and virus free.
No ads, no adware, no spyware.

Reviews at a Glance

Twilight School
0
out of
5 (
0
Reviews
Review
)
Customer Reviews
Getting back to basics
I love these games that take us back in time when games were simpler. For me, I really enjoyed the game with lots of HO's. The graphics were good, storyline simple but enjoyable. Music was calming. Cartoon type characters. I was relaxed and enjoying this game when trying it out. Bought it!! and got a free mousepad!
December 11, 2012
Cheesy and Fun.
I agree with some of the other reviews...the graphics are not all that great. That being said, I loved it anyway! It seems to be one of those games that is just SO cheesy and absurd so that is the appeal. I don't understand why, but it is what it is. I do not think many will like this game as to the factor of absurd may irriatate some, while others, like myself & Sheerija, get enjoyment out of it. I URGE anyone to try before you buy! The gameplay is very nice. ~There is not a map, but there are "bubble locations"(I cannot figure a better discription for this part) above the hint area that you click on to transport from one area to another. Big bonus for me, as I get tired of spending a good portion of my games clicking/walking everywhere. ~The hint recharges quickly. ~Standard inventory at bottom with Journal to the left. ~Pretty straightforward of where to go or what to do. Very nice when your brain is overworked and you just need something goofy and relaxing to ease the stress. ~ Careful with the HOS: some items are mislabled and slightly confusing. ie: a feather duster was listed as a Whisk, etc... another scene was a safe with jewelry in it. One of the items you are to find is a necklace. I clicked on all of the necklaces until I got the right one. All in All, I bought it with the 30% off deal. I like it.
December 12, 2012
My kind of game
I actually enjoy these kinds of games.. Interesting story line, (didnt say this one was perfect), some useful Hidden Object scenes, pretty graphics, I just like the games that have something to work up to.. solving problems, saving someone, murder mysteries, etc.. just never know if its like that til' you play it. This one has some Demons, werewolfs and vamps...no major repeat scenes, puzzles/putting things together for use in the game, etc.. Its not as long as I thought it was going to be. All in all I enjoyed it! For hardcore players..you might think it not challenging enough.
December 31, 2012
A very good game
I was wondering if this is related to the movie Twilight. Either way the graphics and sound are good. The story is about helping someone. You have to go to the Dark World. The game is fun. I would recommend this game. I think it is suited for adults.
December 12, 2012
REVIEW OF COMPLETED GAME
I liked this game. It's light and easy with good graphics and doable puzzles. The story is full of werewolves, vampires and demons. The music is good. The HOS are uncluttered, sharp and clear, so while there are a lot of them, I rather enjoyed them The hint button recharges really fast. There is a transporter-type addition onscreen, so no foot slogging and no having to refer to a map. There are no voice overs and no wide screen, but it's a SE, so I do not see how people are complaining about that. I found the cut scenes very simplistic but acceptable. If you are looking for something exceptional and challenging, you will not like it. But for those who enjoy a nice easy, relaxed stroll through an interesting game and story, it's a rewarding one. They are saying it looks old, but it makes no difference to me. I rate games on how much fun I had and I had lots of fun with this. It will never win a prize, but at 4 hrs long, and with a pcc, it was a steal. Thanks, devs. TIP: Next time, be more careful with the names of the items in the HOS. You slipped up a few times and had me looking for the wrong things. But, no biggie.
December 11, 2012
Being fair to a nice game
I agree with mspaws. This is not Ravenhurst. No, not even a CE. It is a nice, fairly easy HOS/adventure game. The graphics are of an easy on eye type, very clear and has some simple silliness but still fun. This is not a challanging game, but a good story and very clear graphics. The HOS are not cluttered and fit the scene. Not sure why some reviews reference "cashing in on Twilight" there is no trying to cash in, it is just a name, and thankfully nothing to do (at this point) with vampires, just an unknow evil. EVIL !!! So I used a coupon, and will enjoy a relaxing time with this game. and my family loves me even if I play easy, fun games thank you very much...
December 11, 2012
It's really not that bad. Um, I bought it. :o)
I found it incredibly campy and retro - it's kind of a parody of all the old-style HOGs, with bits reminiscent of many of them! And a send-up of Harry Potter, Twilight, and all the werewolf games. And, (censored), it's actually pretty much fun! Certainly worth the PCC I spent on it. Yes, there are bits and pieces... The locomotive going to the school, like HP. Also names, Bella (Twilight? or Bella LeStrange from HP?), Lily (HP's mother), and the bully boy is certainly reminiscent of the Malfoy kid, LOL. I think if you keep your eyes open for the "easter eggs", there are plenty. I was astonished when the screen went blank - trial over! The hour flew by. And the storyline had drawn me in. Yes, it sounds like all the rest, but I keep thinking there may be a surprise somewhere here. I played on hard, which wasn't very. But I did notice that the puzzles got a little harder, and maybe as I get further, they will get more challenging. At any rate, they were fun, if a little on the easy side. The HOS are not bad - there are not a lot of objects to find, and they are pretty easy to spot. Not overly junkpiley - or not most of them. It's a good mix of adventure, HOS, and puzzles. The adventuring is pretty intuitive, and it's very linear, so you won't get confused. No sneakers needed - there is a kind of teleporter device that you use to get around. No voiceovers, just text. I liked the music, myself, but then, I am an oddball when it comes to music. It's kind of jazzy, actually, but pleasant. All in all, a perfect game for beginners in the genre, or for old-timers looking for a relaxing play and some tongue-in-cheek humor - whether or not it was intentional.
December 12, 2012
Worth another look
When I first saw the title of this hidden object mystery, I had a feeling that AnnGames was using the current pop culture obsession with the Twilight movies and books as a marketing ploy. One of the secondary characters is even named Bella, but Bella is not the focus of this game. It has more of Harry Potter kind of a feel, yet it is set in North America. This story involves a young woman whose parents went missing, and when a distant relative, Hovenheim, gives her a letter from her mother, she finds out that her parents are alive, but they are trapped in a parallel plane called simply, Dark World. Hovenheim has connexions at a school somewhat like Hogwarts, but it seems to be more like the school from the webcomic, Eerie Cuties, Charybdis Heights. The school is filled with magic-using, good-looking teachers and students. Hovenheim's contact at the school is Derek, a wizard that teaches several different subjects, but mostly history. He gives lily some tasks to do to help her to crossover to the Dark World, like chasing down frogs, hunting for books, which leads to logic puzzles, but herding five little frogs into a pentacle is much easier than collecting thousands of frogs into a pick-up truck like they did in the movie Cannery Row. I was a bit put off by the abrupt cut off at the end of the "demo" but I think I might go back to this one. Unlike the Stephanie Meyers series, I sort of like this game. There just as to be more to it than the eye candy, but for any teen girl looking to find that pop culture escape, you should check this out.
December 14, 2012
Perfect relaxing game
This is not as high tech as , let's say , Puppet Show, But it is still entertaining. It cannot be compared to the likes of the more involved ones, but it can be to say Brunhilda. It is entertaining and not too complex, really a nice change for the end of the day.
December 11, 2012
Nice, relaxing, stress free
Liked the graphics, simple HOS without clutter. Story line was good dealing with evil without the gore, even the music wasn't aqnnoying.
December 11, 2012