Twilight School
Prepare yourself to enter the magical world of Twilight School! When Lily was young, her mother and father left her without reason or explanation. Years later a stranger named Hovenheim gives her a box with a letter from her mother. Lily discovers that her mother has been enslaved in the Dark World. Make your way to the Twilight School to save your mother. Explore the classrooms and garden while speaking with the students and teachers to uncover the truth about the school's sinister past!
Mysterious locations
Tons of Hidden Objects
Save your mother!
Game System Requirements:
OS:

Windows XP/Windows Vista/Windows 7/Windows 8

CPU:

1.0 GHz

RAM:

512 MB

DirectX:

9.0

Hard Drive:

630 MB
Game Manager System Requirements:
Browser:

Internet Explorer 7 or later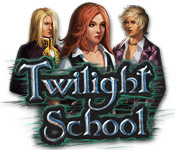 NEW299
The Big Fish Guarantee:
Quality tested and virus free.
No ads, no adware, no spyware.

Reviews at a Glance

Twilight School
0
out of
5 (
0
Reviews
Review
)
Customer Reviews
It's okay
The storyline was bad. It had a few interesting puzzles. Some of the words were spelled incorrectly. It was hard to know what items were in the puzzles. It asked for boots but only let your click on the shoes. If you are really into hidden object games, I would skip this one.
December 22, 2012
It Is What It Is
In this game you play as a teenage girl named Lilly, who has lost her mother and is taken in the middle of the night to a mysterious school... I played to the end of the demo, which did take about an hour. There is no voice acting, but no va is better than terrible va. It's clearly trying to cash in a little bit on the Twilight and Harry Potter franchises. Indeed you go to 'Twilight School' on a train. The 'cutscenes' are decent, but not really animated. The music is pretty good too, sometimes very atmospheric, but sometimes rather abrupt. Storyline is a little vague, but theres a journal which recaps a bit - the odd thing is when it says things I haven't done? something about 'reconstructed seal of red dragon with derek', well I had no idea! And then I got thrown into some dark dimension (and possibly out again) suddenly. I also had some issues with how they described items in the hidden object scenes... for example, what they described as a 'cork' I would call a 'bottletop', and the weirdest one... referring to a duster as a 'whisk'?? The puzzles are very easy but that doesn't mean they can't be fun - I enjoyed the circuitry one and chasing the frogs. Sometimes items in the HO scenes are hard to see. This game isn't terrible, really, it just isn't good either. But I will recommend this game, particularly for young girls.
December 17, 2012
Good Starter Game
For People who have never played a HOG game and want to try one this is a good place to start. It was really simply put a basic HOG. It felt like I went back several years to when I first discovered HOGs. It was way too easy which for me made it too boring. I really didn't read the dialogue so I can't comment to how good the story was. The graphics and sound was ok. The control of using the mouse to point and click was easy. The inventory items it was not clear to me sometimes what to do with them. I love HOG game but this not one to add to my list of wanted games. For other people like the beginners or some one else mentioned teens might enjoy this one.
December 17, 2012
not for me, maybe for tweens?
I beta tested this game, and wasn't really impressed, but I don't think I'm the target market, I think it's for tweens. I like dark macabre games, this is a teenage adventure. I only played the demo. There are easy HOS scenes but not much else. Adventures like putting on makeup and catching frogs just don't do it for me. The teen conversation was boring to me. There are plenty of odd unexplained holes in the story, such as why is the biology professor dressed like a 18th century prince?
December 11, 2012
No!
I know I wrote several times about how difficult it was to come up with an original storyline, but seriously these developers took no shame in 'borrowing' from well know stories. What we have here is a theme that is all over the place, and we have Harry Potter meets The Twighlight gang meets an occult of satanists. Our girl's Mother's name is Bella, need I say more? The plot involves a young girl who has lost both parents and discovers that in fact her mother was taken from this world by a demon that was summond at the Twightlight School. She must travel between worlds to save her. The game looks like it came out of the vault and there are still cobwebs that need to be cleaned off. The graphics are bad with stiff cartoon characters that are drawn very crudelly set against 2D graphics. There are no voice-overs, instead the developers have used music to set the tone of each scene, reminding me of the silent movie era. This is a HOPA that offers two modes of difficulty. Casual mode had sparkles everywhere which was very frustrating. Advanced had absolutely no sparkles except for HO scenes. Game features a journal and you can travel to locations via icons that are located above the hint button. The game was more adventure and gameplay was all over the place. I had no idea what I was suppose to do or what I need to look for so I ended up clicking all over the place. Thank God the hint button refilled quickly. HO scenes were not interactive and there was a problem with translation, ie: a bucket is not a basket. Mini games were ordinary without any challenge to them. This game is a paradox, its so bad that it actually became entertaining to play. By the end of the demo, I actually wanted to continue just to find out where the storyline would take me. But in all honesty, I cannot recommend this game. Its crude and old and I think I will manage to live without knowing if Bella is rescude from the demon. This Twighlight School needs to go back to the vault and rest in peace.
December 11, 2012
Twilight School... Must have been a cloudy night!
This game was lacking in many places, but if I had to pick one, I suppose it would have to be graphics. The story line had potential, but someone didn't follow it through. The game was jumpy in places leaving the gamer to question what was happening and exactly what the creator had in mind. Mystery in a game is great, but this was a far cry from mysterious. In fact, it was just strange. As a gamer, I have to say that this game left me cold.
December 11, 2012
Unoriginal - we've seen this before
There is little potential in this game. The positive reviews are really stretching. Those reviews are more creative than the game! The spooky themes at high school. The 2D graphics. We've seen this before. The demon content glossed over with high school pinks. Its no fun especially when there are so many better games to choose from. Thumbs down.
December 12, 2012
Very Boring Game
I,am sorry to say that I did not finish the demo. The storyline is about going to the other side to talk with her deceased mother. The grafics is like watching a cartoon. It was not a fun game to me. Its boring and did not hold my interest. I will not be buying this game.... Try it and happy gaming fishies....
December 12, 2012
Glad I got a mouse pad
In spite of the reviews I bought this game because I really wanted the mouse pad. The graphics have a lot to be desired, no voice over just text, music annoying. Would not have bought except for the mouse pad offer.
December 13, 2012
not my cup of tea
i'm a beginner .and if this was my first game i wouldn't play another.to much converstation .cartooon people were poor drawings..it was like playing an old game that had been left in storage and been lost in time .and now brought out to show how good our games are now .
December 13, 2012