Dragon Crossroads
Times of great peril give rise to even greater heroes - or so the story goes in Dragon Crossroads, a time management game with a fantasy twist. A baby dragon is stolen when an evil magician invades a peaceful realm and leaves a path of destruction in his wake. Now it's up to you to help a young man as he sets out to reclaim the kingdom, rescue the newborn and save the day! Ogres, goblins and worse lie ahead, ready to stop you in your tracks, so step carefully into the fray! With more than 50 levels across five gorgeous settings and five stunning comic book-style interludes, Dragon Crossroads will captivate you for hours on end!
55 levels
comic-book style cutscenes
point-and-click controls
Game System Requirements:
OS:

Windows XP/Windows Vista/Windows 7/Windows 8

CPU:

2.0 GHz

RAM:

512 MB

DirectX:

8.0

Hard Drive:

533 MB
Game Manager System Requirements:
Browser:

Internet Explorer 7 or later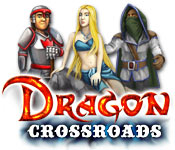 NEW299
The Big Fish Guarantee:
Quality tested and virus free.
No ads, no adware, no spyware.

Reviews at a Glance

Dragon Crossroads
0
out of
5 (
0
Reviews
Review
)
Customer Reviews
Fun but too easy
I really enjoy time management games. Roads of Rome, My Princess, etc. This one however was a little disappointing. Graphics and sound were great. Loved getting the goblins for extra time. The workers move fast and it allows for multi clicking. Everything seems great...except it is too easy! I am not an expert by any means. Some games I have never finished gold on some levels. That is part of the fun for me. You learn to get better each time. This one I finished all levels on gold first time around! I won't even replay because it was just too easy. Would have been 5 stars if there were different skill levels. Fun game for 2.99 of if you have a free game coupon or for kids.
December 18, 2012
Disappointing
I am a Time Management addict, i have purchased one way or another about 99 percent of the available ones so when i saw this i thought yay finally another Time Management game instead of another hidden object (no offence i play those too occasionally) i just prefer TM games. In the Demo i completed 14 of the levels in gold and thought it had to get harder right.....so i purchased it.....It didn't get harder, i have just completed the whole game easily in gold. The graphics and game play is not as smooth and appealing as others like Island Tribe, Northern Tale etc so that was a very disappointing. I can't comment on the sound as i always mute the sounds in all my games i find them annoying personally. This game would be good for a new TM player however i don't think the experienced TM players will like this game especially with the others already in place which are much better, you can't even change the difficulty. Overall i'm glad a new TM game has been released (wish more were) but i was disappointed in this particular one, the developers need to look at the others in place and try to develop this game more as there is definate potential. Definately play the demo first and see how you go as the game does not get much more difficult later on. Also i had no problems playing this game on my computer no sticking characters etc. Hope this helps, i've selected recommend as I personally didn't find it bad enough to not recommend but i would say this would fit with an inexperianced player better.
December 12, 2012
fun enough for a change
Marching music - sounds like a funeral, unable to quickly hover over an object to see what else is needed to remove it - i.e. more food or money, this is possible but not easy to capture, and the time stealing goblins - they don't give extra time only what you have are kind of basic. I am glad I didn't pay full price just wanted something new in the TM genre. I am always waiting for more of the GOOD ones.
December 12, 2012
A bit of a disappointment
I love TM games and this ticks quite a few of the boxes, however it is not very challenging and gets a little repetitive in the middle stages. With the likes of Northern Tale available, these type of games are really going to have to stretch themselves - the game has a few glitches in it, and locks up occasionally - it is OK to play but I would not pay real money for it (used a credit)
December 13, 2012
Pretty with not much substance
Cute graphics and smooth game play, but very poor on challenge/puzzle aspects. Very disapointing as I was hoping it would get more challenging and it just didn't. Most of TM's that are not so good have the problem of poor reaction/ chunky gameplay. Not so here. If you are a beginner to these games this might be good for you, but seasoned players will be bored I think.
December 12, 2012
Too easy
Overall this is the type of game I like to play. Anything time management is generally good. But after playing quite a few of them, this one seems far too simple. During the free trial I experienced the levels getting trickier and assumed they would progress throughout the game, but the difficulty level plateaued. I only had to retry about two levels after taking the wrong route, and got well within gold each time. And there were way too many 'cave' levels... a bonus level at best, definitely not worth wasting over 5 game levels on. If you're not experienced you could enjoy it though!
March 17, 2013
Lacking
There are so very few TM games, I went ahead and played the demo, then purchased. There are no dragons... even though the title implies dragons. The narrator stands right in the middle of the screen so it's impossible to see the screen until you press start. The graphics are, well, blahhhh. The movements of the characters are jerky and clumsy and the game is glitchy, sometimes getting stuck. Each "round" or level lasts about 2 minutes (or less) and half the time, I wasn't even sure what I was trying to accomplish by the time the level ended. I did try to like this game, if only because there are so few good TM games of late. However, it's disappointing. Challenge level was easy. Sound was off so I can't comment on that. Not even close to the quality and fun factor of games such as Roads of Rome or Island Tribe.
March 13, 2013
OK.
Not a bad game but certainly not the best. I've played games like "My Kingdom for the Princess" and this game doesn't compare in challenge or storyline. The storyline was simple and used. The levels were not challenging. Game play was very simple and didn't require much strategy. The visuals were good but could have been clearer and maybe more detail. I thought the goblins stealing time was unique. I would not recommend this game.
January 15, 2013
No challenge whatsoever
I barely paid attention to things, and just clicked whenever something was avaiable and ended up getting gold every time (with goblins). I started not clicking on goblins just to try to get some more challenging play happening. I flew through the levels, and never once had to think about my strategy or how to "manage" my time. I found the gameplay to be very fast, and I enjoyed that, I hate waiting around for sutff to happen, but I also would have preferred the option (for example) NOT to fill all the holes in the road or clear all the blockages if it wasn't necessary. In other TM games, that sort of thing is put in there to mess you up so you don't get gold unless you realize it, and I like that sort of challenge. Overall, it was amusing, and something to do when bored, but no real challenge.
January 7, 2013
Easy game...no real thinking involved.
I love games like this one. BUT, this game was not challenging at all. It was very straight forward. I received gold level on first try every time. I didn't have to repeat a level to get gold. I found it to be a relaxing game. If you're looking for a mindless "rebuild/repair" game, this is the one for you.
January 1, 2013