Weird Park: Scary Tales
Louis the Clown and Mr. Dudley are back in an all-new adventure that will take you through the dark corners of history's most famous fairytales to rescue children trapped in a frightening netherworld! Louis is up to his old tricks as he casts each child in the role of a legendary fairytale character and then creates the visually stunning but twialay out. Use your skills and intellect to find hidden objects and solve puzzles as you make your way through the stories of Cinderella, Peter Pan, Aladdin and more! With its spellbinding story, extraordinary atmosphere and stunning cinematics, Weird Park: Scary Tales is an instant hidden object classic!
59 unique locations
26 mini-games
Game System Requirements:
OS:

Windows XP/Windows Vista/Windows 7/Windows 8

CPU:

1.4 GHz

RAM:

1024 MB

DirectX:

9.0

Hard Drive:

1050 MB
Game Manager System Requirements:
Browser:

Internet Explorer 7 or later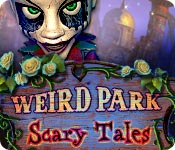 NEW299
The Big Fish Guarantee:
Quality tested and virus free.
No ads, no adware, no spyware.

Reviews at a Glance

Weird Park: Scary Tales
0
out of
5 (
0
Reviews
Review
)
Customer Reviews
Weird Park: Scary Tales
136
136
ho hummmmm
This is a great game for a beginner who loves a hogs with every turn of the corner. I didn't get far because of this reason. I had hoped, after the first one, that this would have let up on the hidden object games a bit, but it didn't.
December 12, 2012
Nothing new and exciting, just an OK game.
The story of this game is your usual scary look for somebody after your car smashes into a mysterious place. We heard it before many times. The graphics are of a good quality well defined and the cutscenes are well made . HO scenes are not to crowded which makes the work of looking for objects to easy in my opinion. The inventory list is a hit and miss when you want to open it. Something with the placing of the mouse over a certain area that makes it open it or just makes you work harder trying to. Note for the developers: fix this uncool glitch. I wasn't all that impressed with this game, though it is not so bad just another game that looks like others I will recommend this game, only reason it's OK to play if don't have expectations for it to be a challenging game.
December 12, 2012
Teddy Bears Get Me Every Time
Having received a teddy to be my hint man right at the start of the game made me melt. Teddies always do. I find I use fewer hints because I don't want him to have to blow up another balloon. The game is just ok. Tho I had planned to stop before the hour was up to buy it (free game coupon#, the time went by too fast. Maybe it's better than just ok. Maybe it's really ok. This game has no map, not much of a journal #2 entries in an hour), and it freezes a bit now and then. I can handle that for free. Pay for it? With the sale on it, I might just have done that too.
December 12, 2012
Too Many Hidden Object Scenes
I played the trial version of this game for about 30 minutes and deleted it because there were too many HOS. For me, that gets monotonous. But the graphics were great and the storyline was good. If you're into doing an HOS every 5 minutes this is the game for you. Not my cup of tea though.
December 13, 2012
Lacking Good Interaction
I played Weird Park: Broken Tunes and liked it very much. If I recall correctly it had puzzles as well as HOS. (It has been a while since I played it, so it might not have.) I have not come across any puzzles in this game, Weird Park: Scary Tales, but lots of HOS. Too many in my opinion. That takes the challenge out of it for me, and makes it more of a seek and find game. Might as well not have a storyline. I also had difficulty in getting the inventory window to open and when it did open it didn't want to stay open long enough for me to get the item I needed. If I was able to get the item, it didn't really work well unless I hit just the right spot. I don't think this is a technical issue with my computer since it is only 6 months old and has a good video card, etc. So, for me, that takes the fun out of the game and replaces it with frustration. I felt the pace of the game was slow. I wouldn't go as far as saying it was boring, but it didn't hold my attention very well. The HOS were dark and it was difficult to see/find some of the items, but overall the quality of the graphics was good. Because of the inventory bar issue, I gave up on the game after about 30 minutes, so I can't honestly say if the game gets better. Since I liked the first game in the series, this one is a real disappointment for me.
December 12, 2012
Too many hidden object scenes detract from the story.
I was excited to see this game because I loved Broken Tune, but I never got past the trial hour. For starters, the inventory was invisible unless I got out of widescreen, which I hated because I don't like seeing my desktop around the game borders. I don't feel like I'm immersed in the storyline so it takes away from the gameplay. Also, items in the HO scenes were hard to pick up unless you click below the item and not directly on it. Until I realized this, it was maddening to click on items that I knew were correct but wouldn't pick up. I don't know if this was just a glitch because it seemed to get better the longer I played, but there were just SO MANY hidden object scenes in the trial that I knew this was a no buy for me. I learned absolutely nothing more about the story because the gameplay was so slow and just dragged along. And if the trial hour is representative of the number of HO scenes there are in each hour, then prepare yourself for an onslaught. I prefer the adventuring aspect to HO scenes and don't mind a few, but this was ridiculous and really slowed down the gameplay for me. The graphics are nice and crisp enough and the imp made a couple appearances, but the trial hour was just not fun for me and I am not impressed enough to want to purchase.
December 21, 2012
Weird or What
I enjoyed the first one so much that i jumped on this one with high expectations. I was extremely let down. I won,t say the game was boring as i only played the demo, but I found the game sluggish.The inventory bar became a real pain as it took forever to come up- and then wouldn't stay long enough to get what was required.Near the end of the hour I found if you touched it on the right spot it came up nicely. The graphics were good the background music if you didn't like it -turn it off.I felt the game could use some polish but hard to say for sure without playing the whole game. Undecided as to buy or not to buy.I think I'll wait for a review on a completed game to see if it picks up any.I don't blame the game I blame myself for the high expectations.I may be wrong on this one ---I can't recommend it.If you haven't yet play Broken Tune first and see what you think.
December 13, 2012
To much busy work
I bought the game, finished playing it. It's a long, long game. Not because it's such a great game, but because it has you running around and around. I became tired and bored of the game because of this. The hints refresh quickly, however, much of the time they weren't helpful. Lots of puzzles, some of the instructions were poor. I think the developers wanted to give us a great game, but it's the quality not the quantity that counts.
December 20, 2012
lacking on several fronts
The story was too simple with no real immersion. The game is too easy, since it's basically just a bunch og HO-scenes. Furthermore, at several instances, if you click on an object, you can't use yet, the hints contain clues about stuff, you haven't even gotten to yet. The voice-acting for the child-guide didn't work well, because the lines she was given seemed way too sofisticated for a child of her apparent age - again ruining immersion. The game contained WAY too much backtracking and jumping back and forth between the same scenes over and over again. Finally the way you defeat the main enemy in the end was extremely simple and disappointing.
June 15, 2013
way to many HOS
would not buy you finish one HOS and you get another one
December 12, 2012
The Apple logo is a trademark of Apple Computer, Inc.