Christmas Stories: Nutcracker
Exclusive
A classic Christmas tale tail, with a whole new twist! Help the Nutcracker rescue the princess from the evil Rat King in this memorable hidden-object puzzle adventure game.

You might be too late for the Christmas Ball, but you're just in time for adventure! The Nutcracker needs your help, and there's an army of rats running rampant through the kingdom. Luckily, a few cute little sidekicks have got your back. Uncover the Rat King's evil plot - and find out what created the toothy little monster.
Game System Requirements:
OS:

Windows XP/Windows Vista/Windows 7/Windows 8

CPU:

2.5 GHz

RAM:

1024 MB

DirectX:

9.0

Hard Drive:

699 MB
Game Manager System Requirements:
Browser:

Internet Explorer 7 or later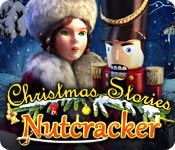 NEW299
The Big Fish Guarantee:
Quality tested and virus free.
No ads, no adware, no spyware.

Reviews at a Glance

Christmas Stories: Nutcracker
0
out of
5 (
0
Reviews
Review
)
Customer Reviews
Christmas Stories: Nutcracker
60
60
Must have game
*I finished CE game playing hardcore* Every aspect of the plot was completely 100% tied up in main game. The bonus was a pure bonus plot (not needed to finish the plot in main game), completely separate from the main plot. Apart from one of your secondary helpers (the cat) none of the other characters in the main game were in the bonus chapter. This is going to be my new Christmas tradition to play this wonderful game every Christmas. From the Tchaikovsky music, to the setting and puzzles being part of story and setting. Everything is nearly perfect apart from the length of main game but we?ll come to that later. This is a game that you can play with your family and of all the games I?ve played all year it?s the one that has the highest fun factor, it?s a joy to play. The nutcracker?s love - a doll has been kidnapped by King rat and his band of followers and you go and help him to find her aided with some truly fun companions along the way. Graphics are stunning and it?s such a beautiful game. I?d say you?d have to be the Grinch that stole Christmas games if you weren?t at least enchanted by the beginning of the game (even if you didn?t like it.) Gameplay mechanics is exactly the same with any other recent elephant game but just in case you forgot ? transporter map with hints on all levels, choice of hardness setting which you can change midgame, no hint or skip on hardcore but as usual black bar hints, no random click penalty on HOS and you never repeat them. There is a lockable inventory bar. 12 HOS (hidden object scenes) While the graphics are super sharp elsewhere, it?s like they are 95% sharp in some HOS. They are well defined but it?s like they want to go the road of some other devs and blend some in slightly. There are some tiny items but I did find them all. Some are junk, some are very cluttered. They are all list type (as usual from elephant) and no mini games in them just mildy/medium interactive. 14 PUZZLES There is an info and reset button on them. I knew as this is more a family game that there wouldn?t be any hard puzzles but on a couple they were clever as a couple were unique and took a while for me to figure out the objective. One of the achievements is not to use the hint/info button on puzzles. By doing that I was OK with the hardness of them, mostly easy to medium. They had your usual (which please I?ve had enough of) rotating rings and rotating circles (here it was squares ? put your coloured icons on different parts of the board.) They did have some twists on some ? gear puzzle and loved the ? click on things in area to accomplish a task (cardboard cutout of girl) and the flag puzzle which took me ages to work out the objective. Every aspect of the plot was completely 100% tied up in main game. The bonus was a pure bonus plot (not needed to finish the plot in main game), completely separate from the main plot. Apart from one of your secondary helpers (the cat) none of the other characters in the main game were in the bonus chapter. LENGTH I played the whole game hardcore, and playing for achievements (so no puzzle tips or hints or skips) and I just got over 4hrs on main game. I was smelling the roses, and taking my time. Shortest game from elephant at just over 4hrs but due to this being a SE and the rest is so fun and very good quality I am giving it 5 stars. If interested below is what is in the CE that is NOT in this SE CE extras Achievements Collectables 25 dolls 4 Music 5 video (some cutscenes) 9 concept art Screensaver Cat cave (opens after bonus) but it?s just a viewing cave not interactive I really do recommend the CE but SE is complete. TIME ? Main game ? Just over 4hrs Loved every minute of it.
December 22, 2012
What a wonderful game! For me: one of the best this year!!!!
This is one of the most gorgeous games this year (for me)!! Kudos to Elephant Games!! Wonderful (wellknown) story/ music, charming characters, clear and very detailed graphics! Very nice HOS, not too cluttered. Some new puzzles/ minigames, few very challenging for me (had to skip 1!!). Three modes to play; I played the 2nd. Detailed, interactive map. Gameplay/ characters reminded me of "Royal Detective: Lord of Statues"! Detailed, interactive map. And I loved those cute assistants, such as the candle (very funny), the cat and the nutcracker, waiting in your inventory for their use. If you're still hesitating and didn't purchase the CE yet (which includes achievments, collectables and an adorable bonus-chapter): Try this one!! You won't regret, I promise!
December 22, 2012
Whimsical, Magical, Holiday Fun!
Christmas Stories: The Nutcracker Game is another winner from Elephant Games. The story is a hidden-object adventure game that has you playing a detective and helping the Nutcracker reunite with his love, while defeating the evil Rat King. The storyline, graphics and music are superb in this game. The scenes are a combination of Christmas decor, winter outdoors, and the requisite creepy places. The game gives you helpers, that you pick up on the way in the form of the Nutcracker and a cute little cat. The story and music are based on Tchaikovsky's Nutcracker, which is a holiday favorite. There are three modes of gameplay, casual, advanced and hardcore. The hidden object scenes have interactive play, and the games are engaging and fun. There is a map that lets you move from scene to scene without all that tedious backtracking. The overall length and gameplay are very good. I bought the Collector's Edition, which comes with the strategy guide, collectible items to find throughout the game, achievements, the bonus game, wallpapers, music, concept art, and videos. The bonus game is absolutely not necessary to feel like you finished the main game. If you haven't already purchased the Collector's Edition, I recommend you pick up the Standard Edition for sure. I just love this game. I really put me in that holiday mood.
December 22, 2012
This is a must buy...
The graphics are great. The music is good and I like voice over. Has a good storyline. The hint button works good if you need it and the skip button is fast. The HOS are really not hard. The puzzles can be challenging at times. Has a good flow to the game with a little going back and forth. There is a lot of things to find which makes it fun. With the buy one get one free now I'd get the CE one. This was just a fun game to play. One of the best I've played in a long time.
December 22, 2012
A wondrous and magical game for the holidays!
VERSION Standard Edition full game DEVELOPER Elephant Games GENRE Hidden Object-Puzzle-Adventure Christmas Fantasy STORYLINE You're off to the Christmas Ball, but first you must help Albert rescue his love Mary from the evil Rat King. There's just one fairy tale hitch: the Rat King has turned Albert into the Nutcracker, and Mary into a doll. Fortunately, you'll have not only Albert's help, but the help of others you'll rescue along the way. But I won't spoil the fun for you! GAMEPLAY This is more an adventure game with puzzles and HO scenes along the way. The puzzles (or mini-games) range from the familiar but difficult to some that are unique. The HO scenes fit naturally into the environment rather than being strangely placed random junk piles. Sparkles indicate both areas of interaction and HO scenes. The HO scenes are of medium difficulty; I used only a couple hints. INTERFACE You have a transporter map which is beautifully done. Small candlesticks are rendered in each area. A lighted candle shows you where you are. Golden candlesticks show areas with stuff to do, while pewter ones show inactive areas. When you hover over a candlestick, a small picture of the area pops up. TECHNICAL No issues. GRAPHICS Breathtaking, both still and animated. Gorgeous colors and textures which evoked both cold and wintry as well as holiday cheer. CUTSCENES Rendered in a flashback style, with the Nutcracker narrating, the cutscenes mainly fill you in on the backstory. MUSIC Lovely, as they are selections from Tchaikovsky's Nutcracker Suite. SOUND Not only appropriate, but standout from the usual game sounds. Ambient sounds were excellent as well. VOICEOVER Quite well done, voiceovers were mainly the Nutcracker's narrations. SUMMARY Elephant Games has really stepped up on this one. I definitely recommend this game. It was a joy to play, both relaxing and challenging.
December 26, 2012
Christmas Stories: The Nutcracker
challenging, entertaining, beautiful colors and scenes
December 23, 2012
A Wonderful Gift for CHristmas
Beautiful Breathtaking Graphics, original tune from the Nutcracker Suit and wonderful game mechanics in this magical HOPA that everyone of all ages can enjoy. If you did'nt go for the CE version (which incidently I highly recommend you reconsider), then do not pass this gem up. You have three game modes, a map that follows your progress and your trusted companions that help you with your mission that include the Nutcracker himself, a cute cat and a candle. Gameplay comes with some challenges not to mention the HO scenes that are slightly interactive and wonderful mini-games that are unique in design. Definitely a game that made my list of top 10 for 2012. Who can resist the Nutcracker, an all time favorite during the Holidays.
December 22, 2012
the nutcracker was really great
Great story, flowed along really well. It was a great story to play.
December 22, 2012
Unexpected good fun
I bought this game because of the Christmas theme. Didn't get to it until after the holidays. I expected something sugary and silly. What I got was a very good game, with a story only loosely based on the Nutcracker story from the ballet. Lots of interesting puzzles. Plot twists that the ballet story never imagined. Nice graphics, good interactive map and characters, and just plain fun play. Because of the good map, I hardly needed hints except in the HOS. I played in the easiest mode and there were a few too many suggestions, but it didn't take away from the game. (I like my games to move along, so that they feel as if I'm reading a novel.) The only quibble I have is that the developers could have incorporated more of Tchaikovsky's music into the game. The snippets of the ballet music were sparse and repetitive. It would have made a richer experience to use more. Overall, though this is a small issue.
January 20, 2013
Mad Fun! LOVED IT!
For a long time, I had been a HUGE fan of HOG; however, I quickly got tired of them. I hadn't played one in about a year or so, but decided after reading some of the rave reviews this game got, I decided to give it a try, and I'M SO GLAD I DID! I renewed my joy of doing HOGS. Why, you might ask. The storyline and graphics were professionally and wonderfully done. The scenes kept me riveted. Usually I "skip" them, but not with this game. Of course the music is to go without saying. Classic! I always loved the "Nutcracker Suite." The game play was fantastic. There weren't too many hidden object scenes for my taste and there are many more puzzles vs hog scene (I like that a lot). The hog scenes that were there were quit easy. The puzzles were not too hard, yet just challenging enough for me. If you like a great storyline, graphics, a good HOG to puzzle ratio, and entertainment, I would recommend this game.
January 1, 2013
The Apple logo is a trademark of Apple Computer, Inc.