Detective Quest: The Crystal Slipper Collector's Edition
A man shows up on your doorstep asking you to track down the woman he loves. It would be just another "missing persons" case, except the only thing you have to go on is a crystal slipper... and the man is a prince from a mysterious, faraway land. Can you find the woman who captured his heart but then vanished? Or will this fantastical land push your detective skills to the limit? And do you really get to ride a unicorn? Find out in Detective Quest: The Crystal Slipper!

This is a special Collector's Edition release full of exclusive extras you won't find in the standard version. As a bonus, Collector's Edition purchases count toward three stamps on your Monthly Game Club Punch Card!

The Collector's Edition includes:
More adventures in the bonus game
Integrated strategy guide
Gorgeous wallpapers and concept art
Downloadable soundtrack
Game System Requirements:
OS:

10.8/10.7/10.6/10.5

CPU:

2.5 GHz (INTEL ONLY)

RAM:

1024 MB

Hard Drive:

988 MB
Game Manager System Requirements:
Browser:

Safari 4.0 or later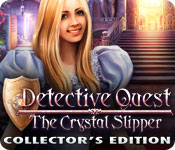 The Big Fish Guarantee:
Quality tested and virus free.
No ads, no adware, no spyware.

Reviews at a Glance

Detective Quest: The Crystal Slipper Collector's Edition
0
out of
5 (
0
Reviews
Review
)
Customer Reviews
Detective Quest: The Crystal Slipper Collector's Edition
124
124
Visually Enchanting Game But..
The story was really Lame A Great Story is one of the Main elements I want in an Adventure Game I was bored pretty early in the game I didnt enjoy too many of the puzzles and using match 3 and majong or games which match similar items these are not even challanges for a child Its Boring... And..Games too often have puzzles Unrealated to anything in the gameplay I dont get that some puzzles did relate but many did not and match 3 and the like is just not welcomed by me.. Too much going back and forth also I appreciate the map but going way back here then way over here and so on... No... I liked being able to hear Real Sounds as oppossed to constant music it made the experience more life like... I did not mind the HO scenes in this game as some other players have commented.. i prefer this type to the usual kind... I prefer None Ultimately though.. I actually liked the Generous Bonus Gameplay Better than the game itself.. go figure.. Lots of good looking male characters in this game Except for the prince who looks like a Dork.. poor Isabella... I most likely will not play this game again...
April 1, 2013
Wow. I was extremely disappointed...
When it first came out, I was really anxious to play this game since this developer usually provides great games for us, but I was seriously disappointed. The game feels flat and shallow and the storyline leans a bit on the ridiculous. The story seemed like it was only inserted in order for you to go through some nice locations, to see some "magic" and to meet fantastical creatures. It all feels really phony. I pratically didn't enjoy this game. Pros: - Beautiful artwork in most locations, though is some you could see some sloppy work; - The music wasn't annoying; - I really like the "not-so-hidden-objects-scenes" where you have to put items from the inventory in the scene, instead. So this was definitely a plus for me and it was the thing I liked most in this game; - Nice character artwork; As for the cons, they were pretty much everything else. I wrote some of them above. I am not going to waste more time in anything related to this game. The bonus chapter seemed more interesting than the main game, but I didn't have the patience to finish it. This game tasted sour, really. What a waste of a good developer... They better let go of the fairy tales theme because it's really hard to make a convincing game based on it and that feat was only achieved in the "Awakening" series. Only good looks don't make a game good. For real.
May 16, 2013
This Slipper Doesn't Fit Me.
Just because I didn't like this game, it doesn't mean you won't. This is a gentle game and the "bad guys" aren't scary at all. Your mode of transport is a UNICORN. That should tell you what you need to know. Here is the lowdown on the technical features of the game: a. The Voice Overs are OK. b. The cinematography and "set design," as I like to call it, were more than OK. Some would say it's beautiful: Bright and clear, inviting and enjoyable to look at. c. Puzzle not challenging. d. HOGs were easy (too easy for them to be considered challenging). They were very clear and do have a twist: you are given a selection of items and need to place them where they belong in the scene. Other takes on this style show silhouettes and you must find the item and then use it to help find the next item. This is not even that difficult. You are given an actual picture of the item, and only need to place it. It isn't required in order to progress to the next step. e. To Do's/accomplishments: The accomplishment is to take a picture of some of the exotic "fairy-tale" creatures you encounter. It's not much of a challenge: your cursor changes to a camera when you're supposed to take a picture. Once you've accomplished this you're done. There's nothing else to it. And, if you miss your chance, you can't go back. f. There are no achievements, something I always enjoy, like, not skipping a puzzle, or finding three items in three seconds. Of course that's not possible with the style of HOG in this game. That brings up another point: while the difference is enjoyable, its too much of a good thing. Maybe a few of this new style of HOG would be good, interspersed with the old, more familiar style. This is ALL of the one, new type and it gets old quickly. There was not sense of urgency, nor any sense of accomplishment. I played a CE and the difference, from what I can tell, is a bonus chapter along with the typical wallpapers, etc. AGAIN, MANY WILL LOVE THIS GAME as attested to by the very high ratings for it. I didn't want you to discount my review as biased because I think I have made fair and objective points about the standard parts of the game. Consequently, I will say only now that YES, I prefer darker, scarier, entries in the HO, Adventure, Puzzle world of gameplay and this isn't that. As another reviewer put it, "this is about a damsel in distress." That's just not my thing. I can't recommend this. Not because it's not "my thing," but because it really presents no challenge. It's not a stretch. And, yeah, it's unicorns and puppy dogs and it's a Julie Andrews' song.
April 23, 2013
Blonde Hair: good. Brown Hair: bad.
I guess I am going a bit against the flow here by saying that this game really really disappointed me. After playing hundreds of games and especially Elephant games, I found not one single bit of this game original in the slightest. Help blonde Cinderella defeat the evil brown-haired fairy with the help of her blonde fairy Godmother. The only thing possibly bold and original about this game was the daring mullet haircut the Prince flaunts. The graphics, of course, were stunning and crisp. The voice-overs were normal with good animations of characters and cute animals alike. The plot was yawn-inducing, an exact replica of hundreds of Cinderella and evil fairies that have marched before it. The length was average. It did not grab me in the slightest. Two big things that bothered me: The map is helpful but from the first moment when you click on it, it shows EVERY place you will be in the game. In detail. I could see instantly what future scenes would look like, and it really bugged me because it took all the suspense of traversing a game right out. The second thing is the set-up of the scenes themselves. There would be tiny spots right next to each other or on the very edge of the screen that I would overlook or miss and later would find an object that was useless. I spent so much time walking around completely frustrated and used the hint button almost constantly to point out spots that I had not seen. Now, I have played many many games, and this never happens to me. Either I was really off my Big Fish game, or the way the active locations are spread out are really weird and tiny. Overall, if you don't mind a used plot and generic good vs evil then go for it. The graphics really are beautiful, as always with Elephant games, and this would be a fun game for beginning Fishies out there or anyone who doesn't want a weird twisting storyline. The animals are adorable, the hint button is (extremely) helpful at times, the map fast-tracks, good sprinkling of puzzles, crisp HO's and the ending is satisfying. I suggest playing the demo to see if the game style is a bit frustrating like it was for me with the lack of direction, or maybe I was just having an off day. Happy gaming, Big Fishies!
June 23, 2014
Silly game
This has got to be one of the silliest games I have ever seen. The story mixes modern with fairy tales - you have a flashlight in a medieval setting where there are unicorns. How a cobra gets there from India is a real mystery. The artwork is good, but the VO stinks. The HOS are return objects to their place. I didn't like the puzzles, but the SKIP charges fast. The HINT works well during game play. I guess the game is OK if you don't get nauseated playing. I couldn't even stand to finish the demo.
December 13, 2012
One of their dullest yet
Elephant do a brilliant job of the more evil side of life than they do fairy tales. This was, like their last effort at girly games, a boring boring game. The puzzles were easy and we had the inevitable hos throughout. Why can't someone come up with an alternative to these things?
December 14, 2012
lame lame lame
I love Elephant games but this one was soooo hokey that I just could not get into it. The storyline seems like it was slapped together with no real interest. The graphics were, of course, beautiful but the game lacked any substance, any suspence and any challenge. It's a loose take on a Cinderella type fairy tale with a wicked witch and a castle etc etc. Not much to it really. I only played half of it despite having paid for it. There are just so many other much better games out there for me to spend my time with. If you are looking for a light, lame, silly, no challenge game then this is for you otherwise you may want to keep looking.
March 4, 2013
very disappointed
Usually I love Elephant games but this one was just not for me. I found it rather boring and hated the way they did the hidden objects
December 13, 2012
Way too easy and a little slow.
This was way too easy and a little boring I thought. You need a key for a treasure, and it's like in the next room. Puzzles were easy too.
December 29, 2012
No,No,No
A weak storyline basicallly of Cinderella. Hate having to place object in a HOS and then thrown in was a weak match 3. No, won't be buying.
December 13, 2012
The Apple logo is a trademark of Apple Computer, Inc.
The Windows logo is a trademark of Microsoft, Inc.