Detective Quest: The Crystal Slipper Collector's Edition
A man shows up on your doorstep asking you to track down the woman he loves. It would be just another "missing persons" case, except the only thing you have to go on is a crystal slipper... and the man is a prince from a mysterious, faraway land. Can you find the woman who captured his heart but then vanished? Or will this fantastical land push your detective skills to the limit? And do you really get to ride a unicorn? Find out in Detective Quest: The Crystal Slipper!

This is a special Collector's Edition release full of exclusive extras you won't find in the standard version. As a bonus, Collector's Edition purchases count toward three stamps on your Monthly Game Club Punch Card!

The Collector's Edition includes:
More adventures in the bonus game
Integrated strategy guide
Gorgeous wallpapers and concept art
Downloadable soundtrack
Game System Requirements:
OS:

Windows XP/Windows Vista/Windows 7/Windows 8

CPU:

2.5 GHz

RAM:

1024 MB

DirectX:

9.0

Hard Drive:

1042 MB
Game Manager System Requirements:
Browser:

Internet Explorer 7 or later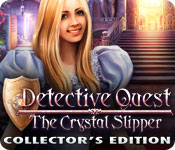 The Big Fish Guarantee:
Quality tested and virus free.
No ads, no adware, no spyware.

Reviews at a Glance

Detective Quest: The Crystal Slipper Collector's Edition
0
out of
5 (
0
Reviews
Review
)
Customer Reviews
Detective Quest: The Crystal Slipper Collector's Edition
124
124
Great game, plot a bit all over the place.
This is an extremely fun game, as Elephant Games normally are, good graphics, good gameplay although the storyline was... odd. At first, I thought it was some awesome detective story about Cinderella, but it morphed into some hideous plot creature with twenty different storylines, which doesn't detract a horrible lot from gameplay, I just thought it was odd. Overall, a good game, I recommend it highly!
February 7, 2013
Could have been much better
This is a lovely game. The story is interesting and you want to solve the quest to see how it all plays out. The people in the story that you had to interact with were interesting and the necessary conversations were kept to a minimum. The scenery is gorgeous and even the monsters were fun to look at. What I didn't like about this game though is that there is way too much back and forth between locations and most of the time it is to retrieve one item, run all the back and then have to go somewhere else all together to use that item and so on and so forth. Even tho the game has a very useful map that you can use for quick transport between areas I found it tiresome all the running back and forth. Using the map always makes me feel like I've been taken out of the adventure somehow. Still a fun game to play with plenty of puzzles, some a bit too easy, but mostly fairly well done. I would recommend it.
January 13, 2013
Lions and Tigers and Bears (Oh My!)
I didn't care for this game. I know, I know... this developer gets plenty of accolades on this site, but I honestly don't know why. They don't make bad games, but I don't think that they are the "leader in the industry" either. Insofar as this game is concerned: Graphics. The graphics in this game were ok, but they weren't incredible. This developer always seems to get an A+ rating when it comes to graphics, however, I've seen better graphics produced by other developers. Fact is, I'm never really impressed by the graphics that Elephant Games has to offer. Achievements: In this game there are none. Nada. The only thing a player can do is "take pictures" of the various critters that you encounter in this game. On Taking "Snapshots" or "Pictures": It's VERY UNFORGIVING. If you miss taking a snapshot of a critter, then you missed that respective snapshot (period). There's no going back. In other games that I've played (that have flowers, butterflies, or morphing beyond objects etc.), I've always been able to return to areas of the game that I've already explored, and "pick up" an object that I might have missed (provided that the previous areas of the game aren't "locked"). Not so in this game. In this game you have an opportunity to take a picture of a critter that you encounter, but if you miss it the first time around, you've missed it for good. I don't like when a game is that inflexible. If I miss something, than I almost feel as if the game "beat me". VO's: They were ok... nothing to write home about. HOS: I like something a bit different, and so placing objects INTO the HOS is a nice change... but it really got aggravating when I had to do that for ever HOS. I like a mix, but the approach that this developer took was a bit "overkill" in my opinion. All in all I'm leaving a point of view here, but I won't recommended the game one way or the other.
December 14, 2012
Cuter than baby bunnies in a slap fight
This game is adorable in the best possible way. You ride a unicorn in your search for a princess. The graphics are pastel perfection, the soundtrack is evocative. It's just a darling little game. I also appreciate that Elephant is trying to throw in a few new twists - replacing items in an H0 scene offers more challenge than finding them. I like that, although I preferred the mechanism in"Templar" - placing items from my inventory. I'm less thrilled with taking photos as collectibles. It's a two step process that interrupts the flow of the game and includes too much pixel hunting. As much as I love the looking at this game, I am less interested in actually playing it. Elephant is shifting the focus from challenge to story and emotion. You really can get invested in the characters who populate the game's world and that's brilliant. But I want to play, not meander through another (admittedly delightful) universe. These games don't bore me, they are too detailed for that but somehow they just don't satisfy. I'll buy this as an SE but not a CE.
December 14, 2012
All putting objects back into scenes! Love this HO type!
The game was cute. It seemed a little slow. Not much music and a little easy. I loved the color and fantasy to it though. I loved how all the HO scenes were putting the object back into the scene. I love these kinds (a little extra thinking) and have been waiting for a game to come out with only this kind. Hopefully this won't be the only one! Something different, finally! At least try the game.
December 13, 2012
cute but kind of silly
This was a twist on a fairy tale. The artwork was beautiful. I also liked the music. But the story was silly and for younger folk. I also found it to be very easy without much challenge to the game. Even though I bought this, I wish I didn't. I don't see myself playing this game again.
December 30, 2012
disappointing - bonus review at end
Review of finished game in hardmode This game should have been named ?jumble mess of every fairy tale? as it would have been more accurate. At the beginning I thought it was the tale of Cinderella with a twist but then the plot just got truly bizarre. Nearly every character in a fairy tale appeared and then throw in some weird animals and that?s your plot. Sometimes this all works out but not here, it was all over the place and I couldn?t make heads nor tails of the whole story. Especially at the beginning, I felt like they were trying to copy a few other developers which makes no sense as they are the leaders and are the best of what they do, so it ended up being subpar for my taste. Some of the early outdoor graphics reminded me of some older boomzap games, and the princess is called Isabella, then there are the animals that don?t quite make sense so that felt like an ERS game! After the gorgeous graphics of nutcracker and the 3D stunning graphics of unfinished tales comes the flat weird graphics especially outside at the beginning: The graphics did get better as it went along but didn?t understand why they didn?t stay with their usual top of the line graphics. The scrolling transporter map sometimes took 3 clicks to get into an area as you had to zoom in (being careful where you place the mouse) on a larger area then it brought up all the rooms. It does give a picture and a list of objectives that have to be completed in the area. It would be great to have a more customisable hardness setting, and on the map to be able to click on and off for map tips. All three modes of play are their usual and you can change midgame which is good. 14 HOS For the first time elephant hasn?t done straight list type and here they are all the reverse kind. You get an item in your inventory and you have to place them in the scene. This is my favourite kind of HOS and I actually take time and enjoy them rather than trying to random click my way through some scenes if they are junk pile or just don?t want to do a HOS. I think one or two were junk pile but the rest was more cluttered but some well done. You never repeat any HOS in any elephant game. 24 Puzzles I class puzzles as one that has a skip button on them as there were plenty of interactions. They all were very easy to easy maybe a couple of medium hardness in main game. We aren?t stupid so I don?t know why they are now going down the road of going easier and easier, just like everybody else. I get very bored when puzzles are so easy and frankly don?t want to do them. They did have some good twists on some of them so at least those were a bit different to play, but why so easy? There is a skip button if people find a couple to hard. I also don?t know why there have been loads of fairy tale games from elephant ? one after another. I hope that isn?t the future from them as while I don?t mind a fairy tale for a change I liked elephant games as they were neither dark nor super girly and did straightforward tales like MT or surface and they were harder and in places this felt very girly although the other fairy tale games didn?t. I didn?t like this game at all at the beginning (due to above) but the last 1-2 hrs were the best and the graphics and even the plot seem to be slightly more focused again. CE extras and bonus (spoiler as to what you take photos of) I only bought the CE as it was on sale and same price as a SE or I would have just stuck with the SE. Apart from the usual screensaver, wallpaper, music (which does nothing for me) there is only 30 photos that you take of creatures throughout the game and bonus. While this is a bit different on that alone isn?t enough for me and it needed either achievements or collectables. These photos were so obvious, every animal or creature you see take a photo, they weren?t hidden or small or harder to find. In fact your curser turns into a camera on something you can take a picture of, and that?s on hardcore! That actually through me off as once I thought I had the camera when I was trying to take a picture at the beginning and when it didn?t work I thought you couldn?t take a picture or I was trying to click on them zoomed in or you needed to click on them twice. Bonus (slight spoiler as to plot) It was all in old areas except for one scene. The good thing was that the plot had more focus and it was actually quite a good length ? it was over 1h 15mins and that wasn?t including the slider puzzle. So how long it takes you to do a slider, and I felt it was a harder one (thankfully!) add that time on. As usual the plot is completely finished in main game and tied up. It was a bit obvious and a bit rinse and repeat aspect of main game for me to like the plot but gameplay was good. 7 puzzles I did find the family tree to be completely illogical as it?s the opposite of what you normally would do. 5 HOS (all reverse kind) Yes it?s me, an avid elephant fan ? my favourite developers and I haven?t been invaded by aliens - While this has a good length for a bonus and some kind of collectable, I would have given it 4 stars for a CE and a recommendation if it had decent plot and normal graphics. But as I felt the shortcomings of this game really added up I can?t recommend the CE as it?s double the price and as well as the extras (which this doesn?t really have) it also has to have decent or logical plot and everything else. I will recommend the SE as the gameplay was OK and better at the end, but that would only get 3-4 stars from me.
December 28, 2012
Cinderella in disguise?
I just finished my hour on this game. I thought it might be a good one for a young girl. I don't really like games like this because it was too childish. The graphics were ok , but I don't like hidden objects that you have to find a place for. I won't be spending my money on this one, I'm sorry to say.
December 13, 2012
OK Adventure Game
Beautiful graphics and music. Ambient sounds hit and miss. Puzzles easy to moderately difficult. Great map that lets you teleport. Good strategy guide, with text and pix. Very good hints, both inside and outside HOS/puzzles. I have every game Elephant has ever produced for Mac's, and have played each one over and over. But I won't buy this one. The storyline is childish and insipid. The gameplay is easy to moderately difficult. I recommend this for beginners and children.
December 13, 2012
I don't know why but I don't like it a lot
I don't know why but I don't find it excited , I just finish it because i don't want to start a game without finishing unless it is soooooo bad but it doesn't so bad , but it doesn't so excited to me
April 5, 2014
The Apple logo is a trademark of Apple Computer, Inc.