Brink of Consciousness: The Lonely Hearts Murders
How far will you go to save your only daughter's life? Is there a limit? Help Owen Wright rescue his daughter from the clutches of the Lonely Hearts Killer, the mysterious figure who kidnaps and murders people who have suffered a love gone wrong. Unravel the intrigue, put a stop to the whirlwind of crime that has paralyzed this late 19th century British city. Olivia must live! The killer must be brought to justice! Only you can do it!
Game System Requirements:
OS:

Windows XP/Windows Vista/Windows 7/Windows 8

CPU:

2.0 GHz

RAM:

512 MB

DirectX:

9.0

Hard Drive:

852 MB
Game Manager System Requirements:
Browser:

Internet Explorer 7 or later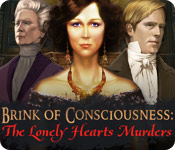 NEW299
The Big Fish Guarantee:
Quality tested and virus free.
No ads, no adware, no spyware.

Reviews at a Glance

Brink of Consciousness: The Lonely Hearts Murders
0
out of
5 (
0
Reviews
Review
)
Customer Reviews
Brink of Consciousness: The Lonely Hearts Murders
59
59
Great!
Wow, I decided to play this game in the most difficult mode and it turned out to be a challenge. Not sorry for that chose. I swear I wanted to shoot Logan. My hat is off to the development team. Great artwork, cut scenes, dialogue and programming and testing. I wore out shoe leather and I loved the HOG scenes.
December 19, 2012
Great Game
Much better than the average hidden object. Great story too.
December 19, 2012
Good story line for girl gamers
Fantastic play! Good story line for girl gamers. The hidden objects could be a little harder to find. The games are easy to decipher.
December 18, 2012
Nice enjoyable game
I usally don't write reviews but this one is different. The music was different and it was a combo of 2 games in 1. Ended up buying before the demo was finished.
December 16, 2012
Elementary my dear Watson!
This game reminds me of a kind of a Watson and Holmes scenario. The game feel has an old English world charm, and the voice acting supports this. This is born out in the fact that one of the first challenges is to make a cup of tea (I think it the world over England is synonymous with its tea-drinking. Considering this was the SE edition, the voice acting was good, as was the music both really carrying the story. The puzzles were 'different' but sometimes a bit too abstract for me (this is based purely on the free trial). One slight negative (though this may have been a fault on my computer), was that sometimes there was a delay when accessing the 'inventory' or going from scene to scene. Though I know I would get a more 'rounded' game feel in the CE I think I will use a 'punch' and get this for free. One thing I will say though is that I usually play the 'Middle' version (not casual, not expert (can be called different things in different games), this usually means no objects are highlighted for pick-up and no HO zones are highlighted, this had both and whilst other things had a greater degree of difficulty (such as limited map help), it did for me detract slightly from the game-play level I assumed I had chosen (from playing many many other HO games). Though it did detract slightly not enough to not make me want to buy it, just point I thought I ought to mention. Good game would recommend if you like the Sherlock Holmes style of game-play.
December 14, 2012
Sherlock Holmes feeling....
A very well made adventure, with lots of dialogues, which should not be skipped, as they are essential for the game... Thrilling story! I Loved the graphics: Everything?s very clear. There are lots of interactive HOS, aswell as some brandnew (but not very challenging) minigames. 3 modes to play. And we have a notebook and a map (not interactive). I recommend this standard version, as for me there are no interesting extras in the CE. A good opportunity to spend one of your coupon codes!!
December 14, 2012
great mystery hog
There is a lot of talking that slows down the game process, but if you have patience the theme of the game is very interesting.puzzles are fairly easy to figure out. Graphics are great.
December 14, 2012
I prefer the first game but this is still a good addition to series....
Brink of Consciousness: Dorian Gray Syndrome totally blew me away and was one of my favorite games of 2011, so any sequel in the series would have a lot to live up to for me. I found this sequel to be a very good game, and I enjoyed playing it, but did not find it to be as expansive or as addictive as the first game in the series. Dorian Gray Syndrome seemed like a much longer game to me (as with this game, I played the SE and not the CE, so I am basing game length on the main game), and I couldn't stop playing it. Where as the Lonely Hearts Murders did not grip me in the same way, and I spread out my playing of it over a few days. It is broken into chapters that take place in different settings so it gives you a good stopping place after each chapter, where as Dorian Gray Syndrome took place in only one setting, but it was an extremely expansive one with tons and tons of places to explore. I guess I prefer that kind of setting since it made the game feel longer to me. I also liked the villain better in Dorian Gray Syndrome. He was one of the most creepy yet charismatic villains that I have ever come across in a game, and when this sequel to the series came out, I was disappointed at first that this game was not a continuation of the first game's story, since I feel as if there is so much more that the devs could have done with that villain. Lonely Hearts Murders does not have a great villain like the first game, but the main characters, Logan and Owen, are very interesting and I enjoyed being a part of their investigation. I guess my point is, if you loved the first game, don't expect this game to be exactly like it, since it is not. The only thing that really ties these two games together is that in both you are trying to hunt down a serial killer, and stop them from murdering someone you care about. Other than that, the settings and stories are quite different from each other, and could even be seen as stand alones, since you don't have to have knowledge of the first game to enjoy this one and vice versa. As far as the game play goes, Lonely Hearts Murders felt more like an adventure game than a H0 game. H0 scenes were very spread out and there did not seem to be a lot of them, which I prefer in a game. It has been about a year since I played Dorian Gray Syndrome, so my memory on this might be a bit hazy, but I think that game had a lot more H0 scenes than Lonely Hearts Murders. I do remember Dorian Gray Syndrome having some fun and unique puzzles, and the same is true for Lonely Hearts Murders. I did most of the puzzles without skipping and enjoyed them. I was satisfied with the ending of Lonely Hearts Murders, which tied things up nicely but also left room for a sequel (and I hope there will be another game in this series since I would definitely buy it), and I do not regret missing the bonus game ending. Most bonus games that I have played do not add much to the story for me and feel like they were tacked on at the last minute, which is why I often prefer buying SE over CE. I don't really care about extras like wallpapers, and I did not need a strategy guide to help me with the game since the hint system was helpful enough. Different players have different preferences, but I don't regret buying this game as an SE and feel as if I got more than my money's worth. The only thing that I didn't like, and which also had to do with why I decided not to buy the CE, is that in the talking scenes the voices often didn't match the speaker, and sometimes those scenes would even freeze for a couple of minutes, but that might be because of my computer and might not be a problem for everybody. I was still able to get through the game despite that and it did not impede my enjoyment too much.
December 22, 2012
Interesting game play and logical sequences
Usually HOG can make you feel bizarre at how certain tools can open or repair some items but this one feels really logical so it doesn't make you wonder what one should do with each tool. The dialogues can be skipped through. Puzzles can be a little too easy. Skip button recharges at appropriate intervals. Additional steps in HOG screens are really interesting!
December 15, 2012
Good, but Less Challenging than Dorian Gray Syndrome
This is a good follow up in the Brink of Consciousness series, although less challenging than its predecessor. The storyline is again intriguing, you are in Victorian Britain chasing the lonely hearts killer, who seems to murder his broken hearted victims once they have been held prisoner for 30 days. There is another damsel in distress to save, once you find out the identity of the murderer. There are great voice overs, excellent graphics and nice music. There are also HO's and puzzles to solve. I was impressed with the HO's as they required a little more effort than before. However the puzzles were much fewer than in Dorian Gray, and unfortunately very easy to solve, apart from the final chapter where the hardness goes up a notch. I played it on the hardest of three levels, but still, the puzzles were few and way too easy, what a shame.
September 1, 2013
The Apple logo is a trademark of Apple Computer, Inc.