Fairly Twisted Tales: The Price Of A Rose
Bella vowed to stay with the beast to save her father's life, but is he truly as evil as the townspeople say? Is someone trying to hurt Bella? Who's trying to take control of the kingdom and its riches? It's up to you to discover the truth behind the town gossip. Travel across fantastic landscapes and explore the beast's magical castle to uncover why he was cursed in Fairly Twisted Tales: The Price of a Rose, an intriguing Hidden-Object Puzzle Adventure game!
Breathtaking painted backgrounds
An adult twist on the classic tale
Immersive music and character voices
Game System Requirements:
OS:

Windows XP/Windows Vista/Windows 7/Windows 8

CPU:

1.6 GHz

RAM:

1024 MB

DirectX:

9.0

Hard Drive:

964 MB
Game Manager System Requirements:
Browser:

Internet Explorer 7 or later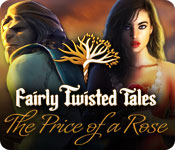 NEW299
The Big Fish Guarantee:
Quality tested and virus free.
No ads, no adware, no spyware.

Reviews at a Glance

Fairly Twisted Tales: The Price Of A Rose
0
out of
5 (
0
Reviews
Review
)
Customer Reviews
Fairly Twisted Tales: The Price Of A Rose
126
126
Used hint
I really liked this game as far as scenery, sound and even the storyline. I liked that it has a map, but even though it has a map, I had to resort to using the Hint at times to find out where to go next, as there are so many places to go. But having all the locations made it even better. The only real drawback was that some of the objects were so difficult to find, especially the fractured parts. Recommend this game.
February 5, 2013
A unique twist to a favorite fairy tale.
What a beautiful and enchanting game. I would have liked the Beast to have been more involved in the story, but ? The voice over (especially for Bella) left A LOT to be desired. The back stabbing scandals gave a fun and unique twist to a favorite fairy tale.
January 14, 2013
Fun Game
It was a fun game. Graphics are good and the story is interesting. Hope they make other games like this one.
December 20, 2012
Previous generation game
Graphics are not so bright, a bit old style, maybe? The pro is that you are able to use your memory skills. There are sparkles even in advanced more. Can be better, I think.
January 12, 2014
ANOTHER FRUSTRATING EXPERIENCE
When I first started playing this game, I was really liking it and was thinking it would get a high rating from me. But it turned into a game that sent me from place to place and back again until I had no idea what to do next or where to go. I had to use the hint button because the strategy guide was not built-in, requiring me to exit the game every time I got stuck on what to do next. I hate games like these and I think the developers of these kind of games do this just to make the game longer, This game had an interactive map, which really impressed me since it isn't a collector's edition. But the map was not much help because I couldn't figure out where the next logical place for action would be. Thankfully, the hint button was good at sending me to the right place, but it took forever to move around the game that way. At the end, I was so frustrated that I just wanted the game to be over. It is too bad that this game went down hill from its first promising play. I liked the storyline a lot, as it was sort of a Beauty and the Beast story with a prequel. But even this wasn't enough to make me rate this game any higher.
May 17, 2014
I'm not sure about this one!!?
I don't know where to begin! I always play 'hardcore' and the first thing I noticed was "sparkles"! and a hint button that works!! That upset me; too much hand holding! BUT, THANK GOODNESS THEY WERE THERE! The game is LONG, lots of back and forth; rooms and areas to go to. Graphics are beautiful, sound is great!! Storyline started off like Beauty and the Beast, but that became the background. It was confusing. I couldn't figure out where the beast fit into the story at all. It was said that he lived in the castle, but you never see him there. It was like he didn't exist! At first I thought Beauty's father was imprisoned in the castle, then I thought Beauty was. Different people were introduced with their storylines, then they became 'sitting logs' for the rest of the story. (Daddy's daughter is missing and he is sleeping on the sofa thru half of the story??) The game is so big and so many places to go. The inventory gets loaded and you don't know what to do with stuff, and when you finally get something you remember, you forget where it goes!! So you're constantly hunting down locations! You also had cursors leading you to believe that something was to be done in the area, which made you keep going back to find something, wasting time!! There is a journal with objectives. Transport map helps, but not much bc the area is so vast!! The HOs are hard, very hard to find things; several different kinds, all hard to see. The puzzles are easy; not many. The end: I was so confused, that I was trying to end the game as fast as I could; but it wasn't easy. There were last things to do but, and with all the inventory I carried around all through the game, now I didn't have anything I needed. Now I have to go find everything!!! There were many:places to go back to and HOs to find! I ENDED EXHAUSTED!!! I don't mind long games, going back and forth, but I think this one was a little over done. I still recommend it!
September 17, 2014
Gets irritating at the end.
Good storyline with nice settings. The only problem is that a by the end you are trying to find HO secenes in rooms that you already visitited,with no idea which ones It is bad enough to backtraci when you have some idea of where to go, and another, looking over scene over scene. Specially at the end when we are told that time of the essence, you are scratching your head ;where can I find a tree? where can I find soil? Since thre are too many palces to pick. Makes more sense to acquire these at the outset and carry them for "later". This makes the transporation map a bit useless.... Still, a nice take on Beauty and the Beast.. with a nice backtory as to why the Beast was curse.
April 14, 2013
Nice game. I like it.
Put the music real low so it would not be annoying. Even though on a newer computer with a big screen the game was slightly too big for my computer and had to quit while hunting parts because they were off screen. I know there is a way to adjust my resolution to play this game and it was quite a good game. I would buy this on a rainy day. Love the interaction with critters. I liked how some were regular HO's and other were find pieces of things.
March 27, 2013
Befuddled and the Beast
Beautiful Game to look at, but a nonsensical storyline and a lot of jumping from place to place made is less than enjoyable for me. Pros: Beautiful music, look, background. Puzzle challenge: low to medium. Long lasting game. Cons: Another story merged into the traditional B&theB story makes it very hard to know what everyone is talking about. Plus - the story is strung out over the entire game so half the time you really aren't sure which of the stories you're following. There is a lot of jumping around - go to the castle for one thing, go to the town for another, carry stuff forever, and the use it in a completely different place. Non-intuitive stuff. There is no clear path through this game so there are a lot of times when you need to use hint just to figure out what in the room you need to do. Also a problem, the instructions on the minigames aren't very clear so you have to kinda guess how the games are played. Overall, looks like they tried too hard. Next time a clean simply story would help everything along.
January 25, 2013
OMG: Click, click, back and forth
I don't usually review a much reviewed game but felt compelled. Loved the first half then monotonous clicking back and forth to pick up an item that you have no idea where to use it. Yes, the map is interactive but, if you don't know where to go, not of much use. Sorry developers, but, I think, you just extended game time with the need to go all the way to the beginning to find a shovel and then all the way through to find where to use it.
January 21, 2013
The Apple logo is a trademark of Apple Computer, Inc.