Haunted Legends: The Undertaker
Exclusive
Unravel the mysterious undead curse in Haunted Legends: The Undertaker! A once-ordinary fishing village has been transformed into a nightmarish landscape, as the recently buried rise from their graves! As a seasoned detective, it's up to you to find the cause of these unnatural disturbances and put an end to them for good. Take on a chilling new case in this thrilling Hidden Object adventure!
Game System Requirements:
OS:

10.8/10.7/10.6/10.5

CPU:

1.4 GHz (INTEL ONLY)

RAM:

1024 MB

Hard Drive:

695 MB
Game Manager System Requirements:
Browser:

Safari 4.0 or later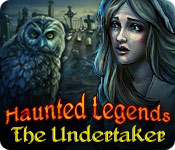 NEW299
The Big Fish Guarantee:
Quality tested and virus free.
No ads, no adware, no spyware.

Reviews at a Glance

Haunted Legends: The Undertaker
0
out of
5 (
0
Reviews
Review
)
Customer Reviews
Haunted Legends: The Undertaker
56
56
Nice long game, good value!
I usually burn through these games in one sitting, so I was really impressed with the length of this game. I like scenes that look like they are one big painting, so I liked the art in this a lot. The voice acting is quite good, which is fortunate because there are a lot of cut scenes with dialogue. There were some hidden object scenes, but they were used sparingly so the story and problem solving weren't derailed. I liked that some of the searching scenes were puzzle-like, but I was left scratching my head at some of the items and had to use hints (which is why the "level of challenge" was only four stars - it was TOO hard). Even though the world in this game is quite large, you won't have to backtrack all over the place like some other games. I felt that navigation was effortless - there wasn't a whole lot of running back and forth. A lot of these games have a rushed feeling toward the end, as if the game designers ran out of ideas. This game has this feeling, but it is barely noticeable. My only complaints about the sound/visuals was that one of the characters always breathed really loudly and wheezed constantly. I felt this was unnecessary and a little annoying. All in all, one of the best games I've played in awhile.
January 3, 2013
The walking dead!!! Great SE version!!
This review is based on playing the CE: Beta tested this one weeks ago and couldn?t wait for the release!! Loved the first 2 Haunted Legends already... Story (corpses rise from their graves), graphics (stunning, as usual for ERS-games), sounds (especially those eerie zombie noises) are causing a creepy atmosphere! There are 3 modes to play (can be changed during the game). Lots of interactive HOS and varied minigames/ puzzles! BUT: No map. Turned off the annoying music. No CE-extras of interest for me, such as collectables, achievments? All in all I expected some new features in this 3rd Haunted Legends! Bought the CE without hesitating, but should have better waited for this SE version? I highliy recommend this SE version to play!!!!
December 28, 2012
Great Game, Pity About The Ending
I did generally enjoy this game, and although I don't time my gameplay I feel as if I was at this one for hours on end. Every time I thought "surely it must be getting to the end now" there was more to do - which was great. This is a game I'm going to enjoy re-playing at some stage to look at all the little things I missed first time around. I liked the graphics, and particularly liked the raspberry-blowing monkey - what an endearingly cheeky little fella! The puzzles were all pretty straightforward, and in some instances I thought "is this all I have to do?", but I'm not complaining - some games have puzzles so head-scratchingly complex I don't have the patience to sit for ages working them out. The HOGs, although junk-piles, didn't involve having to use a microscope or sit with your nose pressed against the screen. While most of them were straight 'seek and find' #with the odd 'move the curtain to find the item', or 'open a lid to find this item'# one or two were of the newer interactive-kind #find one item, use it on another, and so on etc. etc.# The change was good now and again. If I have one gripe only #it's a biggie, and unfortunately a common theme with this developer#, it was the ridiculously ABRUPT ENDING. Everything builds up to the final confrontation and then .... BANG! It's over. Having played for hours on end, it was something of an anti-climax. If you can get beyond that #I'm sure I'll recover#, this game is a great way to while away an afternoon.
December 29, 2012
ugly ending
I thoroughly enjoyed playing this game, good storyline not all of the HO scenes are finding things, some of them are very interesting. you are asked to find just one thing which you use in the scene to reveal another thing which you use to reveal another thing it was a nice change from the norm, However the ending of the game was bad. Probably because I'm too cheap to buy the CE. Most games give you some kind of conclusion then tease you with what is to come but this one just ended with nothing resolved I was most disappointed.
January 13, 2013
Undertaker, Overworked & Underpaid
BASED ON COMPLETED GAME This is the third in the HAUNTED LEGEND series, and they?ve become a bit of a legend themselves. The EVIL DWARF, St Gervaise (SG) is once again in town bent on doing mischief. This time he has his sights set on a mirror, and nothing will stop him. Exactly WHY he needs this MAGIC MIRROR, and will go to such lengths to get it, is the MYSTERY of the STORY. The RESULT of his activities is a town OVERTAKEN by ZOMBIES. The ZOMBIES are WONDERFUL, ugly, creepy, NOISY with all their moaning, and EVERYWHERE. They give this game a DISTINCTIVELY CREEPIER atmosphere than any other by this developer. They?re also a great excuse for the artists to showcase their work in a different genre. As always, these artists do a great job at it. The GRAPHICS are EXCELLENT, with their trademark hand-drawn look. The MUSIC is apt, and the AMBIENT sound, with all that moaning and groaning, adds extra creep. The GAMEPLAY is MOSTLY HO SCENES, both INTERACTIVE LISTS & PROGRESSIVE SILHOUETTES, visited twice each. The objects are clear, though some of the scenes are a bit dark. Most of the PUZZLES are fairly EASY. HINT is DIRECTIONAL. There is a JOURNAL to keep a record of the STORY, and there is NO MAP. There is quite a LOT of TOING & FROING. Sometimes I would have to go from one end of the game to the other and back, for a single item. A map would have been nice. For the most part though, the ADVENTURE is streamlined and basically LOGICAL. Although there are some solutions to problems that are very creative! There are COLLECTIBLE fish scales, very beautifully done, but they are NECESSARY to progress, and a full set is required at the finish. For me, this game was much more enjoyable than the previous two, because the game flowed well, was a little out of the ordinary, and had an INTERESTING TALE to tell. The one I REALLY love though is the next one in the series ? it has everything. Meantime, this is still an excellent game.
June 28, 2013
Fun game
i enjoyed this game. the monkey makes the story line funny. the games are rather easy & the plot is interesting.
December 30, 2012
Excellent game, terrible ending!
Really enjoyed playing this one - just the right amount of HOS, good puzzles, and a great storyline with well-placed cut scenes. I especially loved the animations with the creepy little man! I was all set to give it 5 stars until I ran into the *terrible* ending. After hours and hours of play, I expect a more substantial conclusion. This was just a big disappointment. :( If you enjoy the journey, the SE is fine, but if you want to arrive at the destination, you'll need to get the CE.
June 9, 2013
ANOTHER GREAT GAME FROM HAUNTED LEGENDS!!!!
I LOVE ALL THE HAUNTED LEGENDS..THIS ONE WAS GREAT!!....A VERY GOOD LONG LENGTH FOR AN SE GAME!!..TOOK ME ABOUT 4 HOURS TO COMPLETE WHOLE GAME NON STOP!!..GREAT WORK DEVS!!
January 22, 2013
Bravo ERS !!
This is the best ERS game ever. For the first time I have actually both enjoyed the story, been challenged and seen new things from ERS. The hints are finally real hints. One is showed the direction to go. It's a huge improvement compared to the usual: "there is nothing you can do here". The HOS were fun, and in most of them I had to "think out of the box" to solve them - That was really fun !!! Usually ERS are eyeteasers, but way to easy for anyone with just a littel experience, but this time I actually had to consult the walkthrough a couple of times. WTG.... and at long last.... I can say, that I am looking forward to the next game from ERS. Even though I have the feeling that ERS is getting on the right track, the game lacks a little before I'll ring all the bells: I'd like to see a map. In this game a jump-map isn't nessesary as one work in areas so the backtracking is between a limited number of scenes. The scales found all over the game was a very good idea, and it really made sense in the end, but they were way to easy to find - so next time I'd like to get some collectibles that one have to use a little efford to find. If I could I would rate this game 4,7.... so... almost there :-) I can most ceratainly recommend this game
April 28, 2013
Review of Completed Game...
This is the first ERS game I have really liked in a longgggg time. I like the fact its about zombies which really hasn't been done in hidden object games, its more of a tv/comic book thing so that aspect is great. It has the silhouette and list hidden object scenes and one of the silhouette scenes is really out of the box so kudos for that. The hidden object scenes were spread out not all clumped together. The little man made sense in this game as opposed to the first 2 in this series since I could never figure out why he was there. There were many, many locations to discover. I always thought I was almost done and then there was more and more and since I liked this game so much, I was happy about that. I like that ERS gives you the option to lock the inventory so it doesn't always bob up n down and the Destiny Fish was a nice touch. However, I do have a few cons and Im being generous with the 4 star rating because I believe this game is about a 3.5 due to the ending. One of the tasks you have to do is to let the baker know who killed him BUT Im assuming thats part of the bonus game because you never get to wrap things up with him. Also, the ending is really really abrupt and thats typically how it is with ERS games however I do not think CE's by ERS are worth the extra money so its a pity this game and others are always abrupt for people who choose to buy the SE. It really kind of ruins the experience. This game was so unique for once (story) and it gets ruined by not knowing what really happens. I also thought the destiny fish could have had a better use than just matching scales against a mirror. My other issue is the puzzles. I know a lot of people like easier puzzles but if Im playing on the hardest mode, I expect it to be challenging so I don't get why ERS doesn't mix up the same games but more challenging on the harder levels. And speaking of playing on the hardest level, lately ERS games have been putting sparkles on the hidden object scenes. Isn't the point of hard to have NO help? You are removing black bar tips, sparkles of any kind should be gone too. The only other thing that bothered me was the monkey. Oh My God...he screeched during most of the game. soooo annoying. I do recommend this game however because I had lots of fun playing it and you do get some kind of ending but not one that leaves you feeling satisfied.
April 26, 2013
The Apple logo is a trademark of Apple Computer, Inc.
The Windows logo is a trademark of Microsoft, Inc.