Haunted Legends: The Undertaker
Exclusive
Unravel the mysterious undead curse in Haunted Legends: The Undertaker! A once-ordinary fishing village has been transformed into a nightmarish landscape, as the recently buried rise from their graves! As a seasoned detective, it's up to you to find the cause of these unnatural disturbances and put an end to them for good. Take on a chilling new case in this thrilling Hidden Object adventure!
Game System Requirements:
OS:

10.8/10.7/10.6/10.5

CPU:

1.4 GHz (INTEL ONLY)

RAM:

1024 MB

Hard Drive:

695 MB
Game Manager System Requirements:
Browser:

Safari 4.0 or later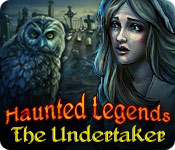 NEW299
The Big Fish Guarantee:
Quality tested and virus free.
No ads, no adware, no spyware.

Reviews at a Glance

Haunted Legends: The Undertaker
0
out of
5 (
0
Reviews
Review
)
Customer Reviews
Haunted Legends: The Undertaker
55
55
Left hanging in the end :-(
I was left hanging. Did it really end this way??? I guess it will take up with S.G. next time..evil little rogue!
January 13, 2013
Awesome Haunted Legends again
Haunted Legends - The Undertaker is a fun game with an interesting story-line.
January 7, 2013
Good Game
I thought the graphics were excelent. I have played the other game as well just as good, The only thing was it crashed a couple of times I do not not know why but in all a very good game.
January 7, 2013
Frustrating in every way
I struggled through nonsensical use of items in puzzles and several crashes to finish this game, only for it to end with my character still in peril-- I suppose the Collector's Edition has the full ending. I enjoyed a previous Haunted Legends game, Queen of Spades, because it had some unusual and original puzzles. When you've played enough HOPAs, you start to groan at the sight of a fishing hook or a broken well because you know you'll have to collect string and a stick for a fishing pole, or a crank, a rope and a bucket for the well. Queen of Spades had me hunting for a head in a jar at one point. It was different and interesting (and morbid, but I enjoy that.) There are a few unusual puzzles in The Undertaker, but there are more mainstays like the fishing pole, the boat that needs patching, etc. Worse yet, there were SO many instances where I had several tools that seemed as if they'd solve a problem, but the game required some other ridiculous item for the task. I would normally enjoy the challenge of trying to improvise solutions with unusual tools, rather than the predictability of always having to find a hammer when I need to pound a nail. But not when I have much more suitable items in my inventory for the task at hand. When the game won't let me use a rope for a task that could clearly be solved by a rope, that's just frustrating. SPOILERS ahead because to explain the problem I want to give examples... A stuck grate couldn't be lifted up with the claw hammer in my inventory, or an oar, or an oven fork, any of which should have been able to lever it up. Instead it took... a flagpole. Why is a flagpole any better for that job than an oar? Even more annoying, not long after that I needed to lift a manhole cover, and once again, none of the levers in my inventory would work-- the manhole cover could only be lifted by a harpoon. What?? I had a wire in my inventory, but when I found a pouch of sand that needed to be pierced and emptied, the wire wouldn't do it, I had to go find an awl. I also couldn't use the wire to make a hook for the end of a line to fish something out of a well: instead I needed a CHIMNEY BRUSH. WHAT. The most egregious may have been a window I was trying to climb down from. I had a rope in my inventory, but that of course wasn't the solution. Instead I needed to find and cut down a curtain elsewhere, bring it to the window and tie it to the curtain already there to get down. Why would I do that when I had a rope? The game also crashed five or six times. I only had to replay a significant amount once, but it was still annoying. The other elements of the game are fine. Nice art, good but repetitive music that you'll turn off after a while. The HO scenes are good and the minigames have a decent variety and level of interest & challenge. Just not enough to make up for the frustrations of the game. I recommend Queen of Spades but I'd say, skip this one.
December 9, 2013
The ERS Curse Strikes Again!
NOTE: Review is of completed CE. Bonus Content review at the bottom ~~~~~~~~~~~~~~~~~~~~~~~~~~~~~~~~~~~~~~~~~~~~~~~ I enjoyed this game, but it was let down by some rather idiotic and amateur mistakes that would be expected from some rookies, not experienced developers like ERS. I can't believe developers like ERS could pass through an ending like that. The story started off extremely well, which is why I was hooked on this game. It's a zombie story with a twist. There are quite a lot of twists and turns, and I especially loved S.G's backstory. It was so unique, twisted and strange. I applaud the developers for this. This is a Detective story, as all Haunted Legends games are. The story did get a little flat as I progressed, but picked itself up again about two thirds of the way through the game. You interview several witnesses, and these cutscenes added a lot more detail to the story. I thought this was clever and brilliant. I haven't seen this done before. Now, here's the bad part: I was getting myself all geared up for the ?controversial? ending, when I finally reached the last cutscene. I was watching the first part and thinking 'hey, this isn't THAT bad. What is everyone talking about?' Then, BAM! It was over. I was angry. The ending was NOT complete! This is not only the worst ending by ERS, but also, dare I say, the worst ending in any HOPA I've played (and I've played a lot). The gameplay is great. It was unique and actually challenging! I had to use the Strategy Guide quite a lot, which is something I never have to do! Applause to ERS for the extra challenge. There are 2 types of HOS in this game: Junkpile and Silhouette. Junkpile appeared more frequently than silhouette, and was much more fun for me to play. However, the silhouette HOS provided a much bigger challenge for me, especially those mini puzzles. They were HARD! I had to skip them. However, even with their difficulty, I still enjoyed the Silhouette HOS. The puzzles were also pretty hard! I could solve a few of them, but BOY were they challenging! I had to use the skip button a lot. Some puzzles even had two parts to them. Talk about extra challenge! Other than that, the gameplay is pretty much standard HOPA. Intermediate players like myself should have no trouble whatsoever navigating through this game. The game features a diary, hint and skip, but no map, which I found really odd. A unique feature of this game was the collectible fish scales. What was unique about these was that they were actually needed later in the game. All in all, there are 20 scales to collect. The graphics are standard ERS. They are well drawn and detailed, especially in the character design. ERS give us great graphics all the time, with no haziness unclear scenes. I have one complaint about the voice-overs: What's with S.G's constant groaning? All he does in the game is groan and make noises. All evidence points to him being a PERSON, so how come he never talks? S.G's groaning was incredibly annoying, and was a major turn-off for me. FEATURES 3 modes of play: Casual, Advanced and Hardcore. I played Casual. Hint and Skip- both recharge a little slow on Casual, but the hint is very helpful outside HOS. Diary to keep track of events 20 collectible fish scales. As I said before, these ARE needed to progress in the game. ~~~~~~~~~~~~~~~~~~~~~~~~~~~~~~~~~~~~~~~~~~~~~~~ BONUS CONTENT REVIEW (for those who are interested) The CE doesn't really have anything that is worthy of it being a CE. There are no achievements or collectibles (unless you count the fish scales, but they are a necessary part of the game). The Bonus Chapter picks up where we left off, with all characters still involved and the mystery still unsolved. There are 2 old locations visited, but the rest are completely new. The story has a brilliant twist, one that I SO did not see coming, but raised more questions than it answered. The Bonus Chapter features more HOS than puzzles, which I really enjoyed. The HOS in the BC are ALL junkpile. The puzzles in the BC lose none of their difficulty, however I was able to solve one. The other CE Extras are: Replay movies from main game and BC (there are 22 in total) Replay HOS from main game and BC Replay Puzzles from main game and BC Play music (music used in the game) Concept Art Wallpapers Screensavers ~~~~~~~~~~~~~~~~~~~~~~~~~~~~~~~~~~~~~~~~~~~~~~~ So, I don't see this game as CE worthy. I only got the CE because of the sale and because of the incomplete ending to the main game. I still enjoyed this game a lot. The CE of this game gets a 4, however, the SE will get a 3 because of the incomplete ending. On the game length: I felt like I was playing this for ages. I don't time my gameplay, but I estimate the main game is about 4 hours on Casual mode, which is fairly long for me.
September 27, 2013
WHY SUCH A LOW GRADE?
This is a good game but I gave this game a low grade because of the hint button: *does NOT recognize a task that you're unable to complete because you've not yet acquired the necessary inventory object and *does NOT show you where a part goes allowing you to complete a task (unless in a HOS scene# so that you can move on in the game. I also gave this game a low grade due to the fact that despite my having a widescreen monitor, there was an area that I needed to go to but didn't even know about it #until the hint button showed me) due to the fact that said area was OFF to far to the right of my screen!!!
May 4, 2013
Hmmmm
I am still trying to decide if I like this game. The graphics are good, the puzzles quite easy and the HOS gushing with sparkles to let you know what to do. Unfortunately the main areas to look barely have sparkles and I walked by quite a few. When first playing these games I would get creative and try to use a shovel to pry open a grate to be told of course that it isn't useful. Here (now that you are programmed lol) you use a weather vane for weighty item, a flagpole for a lever and who doesn't use an antenna to fix a ladder? I just don't know. I recommend the demo first. I won't buy another without checking but the MCF name was good enough for me. LOTS of running around.
September 24, 2013
Game Lagged and Storyline could have been a bit more scary
I play about 4-5 different HOG a month and this one is one of the few that I regret buying the full version. First the game lagged in several scenes (not sure if it was a downloading issue) but I have never had a problem in other games. I was getting tired of that little troll guy running from scene to scene and being one step behind. The zombies were not interactive with character only background entertainment. Some of the puzzles were good especially the silhouette ones where you need to use one hidden object to find another. I would not buy the Haunted Legend Series again.
September 2, 2014
Undertaker, Dead People Turned Into Zombies! I'm wiped out!
I completed this SE version which obviously is not really complete, thus, the CE version, which I am not buying after all is said and done folks. I'm wiped out by this game. If you want to know what the game is all about refer to those wonderful reviewers who have taken the time to explain. I'm too tired and somewhat disappointed considering you're left up in the air at the end. But this game is a SE version after all. I played the advanced mode but there was no map and I would say you're pretty much left on your own. The hint button took longer to load, no problem with that, but this game is loaded with lots to do, which piqued my interest. A very challenging game, indeed, and very clever, but Illogical in some areas and frustrating at times. Without giving out too much information, who uses a can opener to unhook a gramophone horn? Somehow it all works out though. Lots of clever puzzles in between and interactive HOS. I like those quite a bit. There should have been a map and I don't know what the developers were thinking, to be honest. You need to refer to the journal, which isn't really all that helpful either. It was not a 'flowing' game but it kept my interest so much so that I wanted to complete it. Artwork okay, synthesized music was redundant, voice overs were very good, and the artwork was dreary but pretty good. I would still recommend this game but perhaps you might want to buy the CE version, I'm not going to. The storyline is good in my opinion because there is more to come. I'll give it that much! A brain teaser to be sure, illogical or not!
June 22, 2013
Ending
worse ending ever it left the story unfinished
August 29, 2013
The Apple logo is a trademark of Apple Computer, Inc.
The Windows logo is a trademark of Microsoft, Inc.