Boutique Boulevard
Exclusive
Turn one small clothing store into a runway of fashion in Boutique Boulevard! Hire staff, pick the clothes, and decorate your store to impress your customers. Experiment with fabric and colors to discover new clothing. Train your staff to improve their skills in greeting, sales, and more. Personalize your store with hundreds of decorations. It's all up to you in this exciting clothing store simulation game!
6 boutiques with unique clothing styles
72 different outfits
Over 100 unique items to decorate your stores
Game System Requirements:
OS:

10.8/10.7/10.6/10.5

CPU:

1.0 GHz (INTEL ONLY)

RAM:

1024 MB

Hard Drive:

87 MB
Game Manager System Requirements:
Browser:

Safari 4.0 or later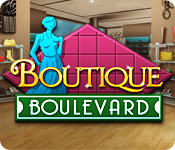 NEW299
The Big Fish Guarantee:
Quality tested and virus free.
No ads, no adware, no spyware.

Reviews at a Glance

Boutique Boulevard
0
out of
5 (
0
Reviews
Review
)
Customer Reviews
More challenging at first, then it runs smoothly
This, just as it is in real life, is a lot more challenging when you start with a little money, one employee, and a limited number of outfits. The fisrt day you lose over half the customers because one employee cannot handle them all. So, you take your earnings and get more employees, and slowly build up your wardrobe. Sometimes you have to choose between employees and wardrobe. But the moment comes when you have all your wardrobe, and you have enough employees to put one behind the cash register (and you do not have to worry about the cash reguster again) one to help thsoe who want to try outfits, and the remainder on the floor. Thigns go smoothly then. You can then worry about training the staff so that they will be pleasant to the customes and not irritate them, and start thinking about decoration. Some decoration help towards the goal, and some, like wallpaper and flooring is just fun to do (I had a great time putting stripes of differnet wallpaper next to each other). After you have done all your tasks, and decorated until tehre is no more room for it, you can concentare of having perfect days in each boutique. A perfect day is when all custoerms find what they want, and are attended promptly, and leave with a happy face over their heads. And then you are done.
September 26, 2013
Loved It!!!!!!
If you liked Bistro Boulevard, then you'll like this!! I just wish it had more levels. Game seemed short. I hope I see more Boulevard games in the future!!
September 19, 2012
Fun if you're a fan of Bistro Boulevard
I agree with the other reviewers that Bistro Boulevard is a better game, in general, but I enjoyed playing through this game, though it felt short. For the cons: The graphics are pretty mediocre. Buying the higher level build objects required 30-45 seconds of solid clicking until you scrolled far enough over to get the item you wanted (and heaven forbid if you're trying to find a specific item for a task and it doesn't look like what you're expecting!). I didn't mind having to move around the staff - I found it added a level of interaction and challenge to the "days" that was missing in Bistro Boulevard. With a little experimentation, I found a good way of specializing the staff for each store. I will admit that moving around the staff was sometimes hampered by the poor graphics. Overall, definitely give the game the full 60 minute trial to see if you like it.
September 14, 2012
Just like Bistro Blvd. - Good time mgmt game
A 4 star game, because its difficult to get the hang of having to move your people around in the beginning. I am enjoying matching up the clothes, and rushing around to please all the people. This games moves at my own pace, which I like the best.
September 12, 2012
Like Bistro Blvd. I like it.
This is a fun game. If you like Bistro Blvd. then you will like htis. Do wish that the workers would go on htere own like Bistro, you have to drag these around.
September 12, 2012
Cute game for TM fans
A definite buy for TM fans. The story line about saving the local shopping center is cute, but not very developed. The levels get progressively more challenging, but I would have liked to see unlocking of new features as levels progressed. If you like TM games, you'll enjoy it, but it wasn't the best one out there.
September 12, 2012
Viva Bistro Boulevard; but not this one
This developer is one of my favourites when it comes to relaxing, cute games with nice graphics. The moment I saw it was Boutique Boulevard I knew I'd have to have it because I really enjoy Bistro Boulevard. The gameplay is very similar, but obviously it's a fashion store (not my favourite kind of TM theme at all). The characters are nowhere near as appealing as those of the Bistro and I really can't get too excited about putting clothes together or placing them on a shelf. The other drag is, quite literally, that you have to drag an assistant to serve a customer, even when you have all staff in play. It would have been better to 'click' them there. As with the Bistro game, you need to hit targets, complete tasks, train staff and make your store as appealing as possible. I'll keep going, but it's not a patch on Bistro Boulevard and I'd rather they'd made the sequel to that than this so-and-so half offering. A bit disappointing.
September 11, 2012
O.K is just not good enough.
This is meant to be just like Bistro Boulevard but unfortunately it's just not as good. Having to move your staff around so they do their jobs is annoying and makes skill training almost useless. More choice of decoration, flooring and wallpaper helps but doesn't make up for the poor game play.
September 12, 2012
Takes awhile to get the hang of...
This game takes quite a bit to get into. I had to play it for the full hour before I really got into it. The beginning is confusing. There's a lot to do and not a lot of money to do it with. Trying to figure out the strategy behind successful "days" or levels takes time and patience. I recommend giving it time. Don't turn it off and delete it after 10 minutes, and you might actually decide to purchase it. Pro tip: Invest in extra staff and training early, it's the best way to generate more money to upgrade everything else.
September 11, 2012
The Second Time Around
As with many others addressing this game. I REALLY REALLY wanted to like it. In books and movies somehow the sequal is never quite as good as the original. In video games the reverse is true, generally a developer will listen to player/fan feedback and correct from there. I am among those that loved Bistro Blvd. which was definitely superior to this latest offering. Playing the full version which I purchased, I loved the premise of unlocking the outfits, designing the shops et al. I would have enjoyed it more if my employes could have been assigned duties ie ...floor, greeter, fitting room and register. rather than having to drag them all over. What especially spoiled this game for me and made it way less than fun was the difficulty of the build/sell/buy interface. Having to chase down the dollar sign to sell when things are built so tightly I found that I was alway encountering every item than the one that I wanted before finally getting the item that I did want to sell so that I could upscale. Having to click out to the item I wanted to buy was also annoying. A page of items of like type would have been better, overall I would have to say that I was disappointed.
September 13, 2012