Boutique Boulevard
Exclusive
Turn one small clothing store into a runway of fashion in Boutique Boulevard! Hire staff, pick the clothes, and decorate your store to impress your customers. Experiment with fabric and colors to discover new clothing. Train your staff to improve their skills in greeting, sales, and more. Personalize your store with hundreds of decorations. It's all up to you in this exciting clothing store simulation game!
6 boutiques with unique clothing styles
72 different outfits
Over 100 unique items to decorate your stores
Game System Requirements:
OS:

10.8/10.7/10.6/10.5

CPU:

1.0 GHz (INTEL ONLY)

RAM:

1024 MB

Hard Drive:

87 MB
Game Manager System Requirements:
Browser:

Safari 4.0 or later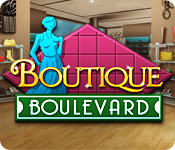 NEW299
The Big Fish Guarantee:
Quality tested and virus free.
No ads, no adware, no spyware.

Reviews at a Glance

Boutique Boulevard
0
out of
5 (
0
Reviews
Review
)
Customer Reviews
Takes awhile to get the hang of...
This game takes quite a bit to get into. I had to play it for the full hour before I really got into it. The beginning is confusing. There's a lot to do and not a lot of money to do it with. Trying to figure out the strategy behind successful "days" or levels takes time and patience. I recommend giving it time. Don't turn it off and delete it after 10 minutes, and you might actually decide to purchase it. Pro tip: Invest in extra staff and training early, it's the best way to generate more money to upgrade everything else.
September 11, 2012
Good follow-up to Bistro Boulevard
If you enjoyed Bistro Boulevard, then you'll enjoy this. It plays the same way, with a unique twist on time management games. You set-up a clothing shop and upgrade your store to unlock other shops, completing tasks, training your staff, unlocking outfits, and decorating. At the beginning of the day, you choose the clothing you want to display and then start. You drag your staff around to help the clients, and at the end of the day, you get a rating and your cash to spend upgrading the store. It did seem to drag in spots, especially when it took so long to restock the shelves and I stood looking at my little people going, "Put that on there faster!" Another thing that bothered me is that the outfit choices of the customers didn't correspond to their gender--A bodybuilder man asking for a cocktail dress and earrings and then going into the dressing room to try it on seemed odd. (I'm not going to judge him! I'm just saying, it seemed sloppy game design, not cuteness.) In the next Boulevard game, I'd love to see more options for decorating the store. Most of the stores seemed cramped, with awkward wall angles. The London store layout is atrocious: As a shop owner, I don't know why I'm leasing that space! All my shelves are shoved into corners and the decorations are just thrown around the store so I can meet my minimum appeal. I don't get any enjoyment out of "decorating," I'm just meeting the game requirement. It doesn't have to be like that. All in all, a cute game to spend some time on. I look forward to the next Boulevard game, and I hope the developers read some of the comments on BFG and make some improvements to make it a really stellar game.
April 19, 2013
Try it for the full hour
I get annoyed when I have to drag, rather than just click, in a TM game. But that's just my preference, overall I liked the idea and the theme of it. I played the full demo just to give it a chance and it seems like this is a game you could play for a long time. There are options to customize the look of your game which is neat and there are different ways to successfully complete each level. I would buy it, if it wasn't for the whole click/drag thing.
December 23, 2012
It's Alright
I did buy it, and I played it and I enjoyed it, but I would have hoped that the second installment by the creators of Bistro Boulevard would have drastically improved the amount of skill and thinking needed to complete. I enjoyed it, but wish that it could have been MORE.
September 19, 2012
The Second Time Around
As with many others addressing this game. I REALLY REALLY wanted to like it. In books and movies somehow the sequal is never quite as good as the original. In video games the reverse is true, generally a developer will listen to player/fan feedback and correct from there. I am among those that loved Bistro Blvd. which was definitely superior to this latest offering. Playing the full version which I purchased, I loved the premise of unlocking the outfits, designing the shops et al. I would have enjoyed it more if my employes could have been assigned duties ie ...floor, greeter, fitting room and register. rather than having to drag them all over. What especially spoiled this game for me and made it way less than fun was the difficulty of the build/sell/buy interface. Having to chase down the dollar sign to sell when things are built so tightly I found that I was alway encountering every item than the one that I wanted before finally getting the item that I did want to sell so that I could upscale. Having to click out to the item I wanted to buy was also annoying. A page of items of like type would have been better, overall I would have to say that I was disappointed.
September 13, 2012
Way to short a game for full credit price!
I've been with BFG for years and I never write reviews - there are so many great folks on here that do so well with them, I never feel I have more to contribute as they have already said it all and I usually agree 100%. This graphics were clear, the idea was cute and as someone else said, just a fun, general, slower paced game. Which is fine. Except - the game ended MUCH too quickly for paying full price. For a Daily Deal, I say great - but I am very sorry that I wasted a full price credit on this. Fun, relaxing in that there wasn't any stress or strategy involved but having finished it so quickly, angry that I spent a full credit for it. I would wait to purchase this on a Daily Deal and knowing it is a short game, just enjoy it for the fun game break it is.
September 14, 2012
Kinda Boring
I'm sorry to say this, but this game bored me to tears. I have played it's counterpart, bistro boulevard, and I liked that one, that's why I thought i would like this one. You are basically opening stores, designing stores and putting together different outfits for customers. By the time I got to the third store, I just stopped playing. It became repetitive. The graphics are decent and the actual game play was ok, but it needed more variety.
October 21, 2012
Idk how people are giving it 3 stars for story
The game is amusing, but the graphics are only so-so in an age when most people have high definition computer monitors capable of so much more, its awful. The game may cause some challenge to master in the very beginning but thats what the tutorial is for, and since it is impossible to lose there is absolutely no challenge. The first couple levels are the only ones that pose a challenge. Those challenging levels overall add up to about 30 mins of challenging game time, and I am being generous in my estimation. You could refuse to help a single person and watch them all storm out angerly and nothing would change. There is absolutely no storyline in a place where a little backstory could make the game more intriguing. I would not purchase this game, honestly you can beat the whole game in one sitting, maybe 5 hours. So if you play on the computer for only an hour each night you only have 5 days of play time. So its too short, too easy, iffy graphics. I would not pay money. If they were giving it away for free it would be worth playing.
October 15, 2012
Okay Time Management Game
Boutique Boulevard was fun to play; however, upon completing all the clothing stores on the boulevard, it just ends--nothing to let you know that you have finished everything. No fire works, bells, whistle, nothing. You are no9t even sure if you are finished. I found myself clicking on building behind, the trees, street, etc. Nothing here here to look forward to--no conclusion. A really poor storyline. I think that this game would be better in a collector's edition, since collector's edition give you more of a developed game.
September 15, 2012
Too Short
Once you conquer the 5 shops there is nothing left to do. I beat the game in 2 days. What a bummer. I like that it wasn't too hard but I wish there were more different shops to play that would be even harder.
January 5, 2013
The Apple logo is a trademark of Apple Computer, Inc.
The Windows logo is a trademark of Microsoft, Inc.