The Beast of Lycan Isle
Luna has been summoned by Tara, her best friend, to an ancient village on a remote island. Tara needs Lunas expertise on a newly unearthed artifact that might prove the existence of the legendary cult of the Madra Alta or Wolf Man. But when she arrives the locals are acting very strangely, her friend has disappeared, and terrible clues reveal a situation beyond her worst nightmare. She must rely on her fearless wit and trusted allies to find her friend. She must dig deep into the instincts and courage of her own inner animal to defeat the Wolf King himself.
Incredible Hidden Object scenes
Challenging Puzzles
Gorgeous Graphics
For a more in depth experience, check out the Collector's Edition
Game System Requirements:
OS:

Windows XP/Windows Vista/Windows 7/Windows 8

CPU:

1.0 GHz

RAM:

512 MB

DirectX:

9.0

Hard Drive:

898 MB
Game Manager System Requirements:
Browser:

Internet Explorer 7 or later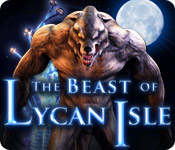 NEW299
The Big Fish Guarantee:
Quality tested and virus free.
No ads, no adware, no spyware.

Reviews at a Glance

The Beast of Lycan Isle
0
out of
5 (
0
Reviews
Review
)
Customer Reviews
The Beast of Lycan Isle
24
24
Way Different Than Other Games & Totally Awesome!
Purchased and played the CE and definitely wanted to leave a high rated review. The Beast of Lycan Isle is a step in a new direction mixing present day with old folklore with science fiction---and done with excellence. Puzzles are fun and not mind-bending so you can get on with the task of finding Luna's friend in a very strange land--Lycan isle!! Colorful, crisp, intriguing, you explore Lycan Isle with the help of a map that I referred to time and again while exploring the island. Everything I like in a game is here as well as a game fun enough to replay! Enjoy! -Mama Mia-
December 26, 2012
Brilliant Point & Click Adventure
Brilliant Point & Click Adventure. For those who are expecting a HOG game let me say this game is a pure point & click adventure. I played the full hour and being a gripping game, the hour disappeared. I cannot wait to buy it to finish the game. I played in Expert Mode and still found it easy. Storyline is not unique, but a good story nonetheless. You have a Journal and a Map (Map in no transporter). Voiceover is good and clear. Graphics are slightly dark (being night time, but should be lighter in daytime). There is a Hint button, but I have not used it so I don't know how quickly it refills in expert mode. There is no penalty for rapid clicking, you have to click on everything and everyone to find what you need, but like I said, there is plenty of help. Please give the game a try before you review. I recommend this game.
December 26, 2012
TRY IT YOU'LL LIKE IT
I think I was hooked right at the opening. I liked the visuals and the music. It does play different than the norm hos noted here already. I have only played the free trial as of yet. the puzzles are on the easy side which I like, and there is alot of hand holding on casual level. Hint refills quick. The part that stands out is the scenery and the creatures. I just wanted to look at everything versus getting right to the task.
December 26, 2012
Fun and Different
Instead of a traditional scene and list of objects to find, the objects are a part of the story line. This game is more immersive than most HO games. You have to pay attention to the story and your environment to determine what to do. I think it's fun!
December 26, 2012
Am loving it!
Lycan Beast is so much more than a Beauty who's out to defeat the Beast! :) I almost didn't download this because of the several negative reviews. Boy, am I glad I played the demo because I love it! It may not be to everyone's taste but I'm all for Devs. who try new approaches to the same 'ol stuff. Whoever came up w/ the sketches and background scenes did a brilliant job of capturing imaginary worlds and giving a twist to a familiar storyline. Please know I'm not an avid player, so excuse the lack of techie terms and/or lack of reference to any past games (in case this game has been re-hashed). I only read reviews to find out about maps, how hints work, etc, because I have a cap on bandwidth usage and not that much time to download and try. I bought it (using a PCC) after 15 mins of demo (casual mode) because of: - Intuitive game play - HInt tells you what/where to do/go next. Recharges quickly but I've not used it since I got the hang of how to play. - Brilliant graphics even if on the darker (night time) side - Movement through game is easy even without an interactive map (it shows areas as "Quest" = tasks remaining). - No screwdrivers, saws, crowbars, magnets kind of inventory. Sure, some elements are familiar but in a diff. way. - Inventory is never overloaded - Puzzles are not mind-benders - That feeling of exploring diff. worlds/paths that's nothing like the real one (no city streets, typ. homes, etc) - A sense of humour...just LOVE the old lady's character! Brina - lol...salty 'ol lass w/ sass, eh? - Story kept my attention w/ a sense of mystery...not at all predictable. - Graphics sort of remind me of the Drawn series (magical world even though the theme draws from real characters + elements) - Travel back and forth from areas isn't too much + I liked that I could see the scenes in detail on my way back - It's easy to start playing where I left off even after a few days (this is how I tend to play; rarely finish at one sitting) Only cons: No custom cursor + it seems to be a bit sluggish, darker graphics + those white arrows that point you to where next. Awesome game, zero regret!
December 27, 2012
not challenging or interesting
I was not impressed with this one. even on the harder mode, your inventory items will glow when you can use them at that time. there was a hidden object scene with one item to find. the graphics and sound were nothing to write home about. there was too much hand holding even in the advanced mode, the storyline might have gotten my attention if the gameplay wasn't so rudimentary and obviously for beginners. if you don't have a lot of experience in this genre it might be a decent starting point to see where you might use different inventory items without getting frustrated, but the rest of us gamers are probably going to be a little put off by the Big Bird level of challenge here.
December 26, 2012
Nope
Sorry, but I have to agree with the other negative reviews of this one. Each scene has a nice look to it and I would have liked to explore each one, but as soon as I had completed the task and before I could look at anything else, I was moved quickly on to the next scenario. Some scenes have nothing to do in them; you just walk through them, which I found disappointing. I also hated the quest tab thing which kept popping up to tell you that the task was completed and telling you what the next task would be....really annoying!! I muted the sound almost immediately, and had to skip through the dialogues whenever possible, although sometimes you cannot do this...you have to let the lines run (really slowly) before you can investigate something. Also, I found it way too slow when I went to pick up items....just let me have the darn thing, so I can go on to the next item! Also, it has a lot of back tracking...there is a map but it is not helpful, as it only shows where you have been in segments...you can't see the whole thing as you just collect pieces of it along the way. There is also a side bar where you can look at notes and so forth, but I also found this to be puffy embellishment without a real purpose. I felt, overall, that this game could have been developed in more detail...a lot of nice art work goes to waste as backdrops. It has the feeling of being rushed in development rather than taking the time to expand the possibilities....really disappointing!
December 27, 2012
Not bad!
I really didn't think I'd like this game. Immediately the old school graphics were a turn off. I found myself sticking with it and was surprised that 30 minutes into it I was enjoying the game.
December 31, 2012
Very Artistic and Creative Game
I liked the game when I did the trial and made a note to get it. I got it and played the whole game. I really enjoyed the beautiful art work in the various scenes throughout the game. There was also a great deal of variety - I am sure I will play it many times.
December 30, 2012
Loved it! One Of My Top Favorites
I thought this game was excellent. So many puzzles to solve and spectacular artwork. The shadows and lights reflected off of surfaces and floors pulled me deeper into the scene. The voice overs were done well. There were so many scenes and so much to do in each one of them. A beautifully crafted game. I liked that the hidden objects were all items you had to use to progress in the game instead of a list of useless items that do not have anything to do with the game except add time to it. The only reason I gave this game four stars instead of five was that I felt: 1. a jump map would have been helpful 2. the puzzle information could have been better written. 3. the hints could have been clearer..."there is an item on the wall next to the stairs"....well, there are stairs all over the island, does that mean I have to visit each scene to find the correct stairs? I was on the other side of the island and I got that as a hint. I look forward to more games of this caliber from the developer. Except for a few hiccups, The Beast of Lycan Island is now one of my top favorites. I will be replaying this game again very soon.
January 11, 2013
The Apple logo is a trademark of Apple Computer, Inc.