The Beast of Lycan Isle
Luna has been summoned by Tara, her best friend, to an ancient village on a remote island. Tara needs Luna's expertise on a newly unearthed artifact that might prove the existence of the legendary cult of the Madra Alta or Wolf Man. But when she arrives the locals are acting very strangely, her friend has disappeared, and terrible clues reveal a situation beyond her worst nightmare. She must rely on her fearless wit and trusted allies to find her friend. She must dig deep into the instincts and courage of her own inner animal to defeat the Wolf King himself.
Incredible Hidden Object scenes
Challenging Puzzles
Gorgeous Graphics
For a more in depth experience, check out the Collector's Edition
Game System Requirements:
OS:

Windows XP/Windows Vista/Windows 7/Windows 8

CPU:

1.0 GHz

RAM:

512 MB

DirectX:

9.0

Hard Drive:

898 MB
Game Manager System Requirements:
Browser:

Internet Explorer 7 or later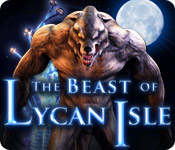 NEW299
The Big Fish Guarantee:
Quality tested and virus free.
No ads, no adware, no spyware.

Reviews at a Glance

The Beast of Lycan Isle
0
out of
5 (
0
Reviews
Review
)
Customer Reviews
The Beast of Lycan Isle
30
30
TRY IT YOU'LL LIKE IT
I think I was hooked right at the opening. I liked the visuals and the music. It does play different than the norm hos noted here already. I have only played the free trial as of yet. the puzzles are on the easy side which I like, and there is alot of hand holding on casual level. Hint refills quick. The part that stands out is the scenery and the creatures. I just wanted to look at everything versus getting right to the task.
December 26, 2012
Loved it! One Of My Top Favorites
I thought this game was excellent. So many puzzles to solve and spectacular artwork. The shadows and lights reflected off of surfaces and floors pulled me deeper into the scene. The voice overs were done well. There were so many scenes and so much to do in each one of them. A beautifully crafted game. I liked that the hidden objects were all items you had to use to progress in the game instead of a list of useless items that do not have anything to do with the game except add time to it. The only reason I gave this game four stars instead of five was that I felt: 1. a jump map would have been helpful 2. the puzzle information could have been better written. 3. the hints could have been clearer..."there is an item on the wall next to the stairs"....well, there are stairs all over the island, does that mean I have to visit each scene to find the correct stairs? I was on the other side of the island and I got that as a hint. I look forward to more games of this caliber from the developer. Except for a few hiccups, The Beast of Lycan Island is now one of my top favorites. I will be replaying this game again very soon.
January 11, 2013
Not bad!
I really didn't think I'd like this game. Immediately the old school graphics were a turn off. I found myself sticking with it and was surprised that 30 minutes into it I was enjoying the game.
December 31, 2012
Pleasantly surprised
I was going to ditch this about 10 minutes into the demo, I wasn't all that thrilled to begin with, but I stuck with it, and I'm glad I did, not a bad little game. It did improve, and my curiosity did get the better of me - it usually does lol. Although I've only played the demo, I will be purchasing this, it's a little different than the usual stuff we get offered, and that's pretty good for me. I do recommend playing the demo though, this game is really going to be about personal choice. And give it more than 10-15 minutes, because you may be pleasantly surprised, just as I was...it grew on me.
February 18, 2013
different but good more of an adventure game
Played it long time ago but did not review. Has voice over and good graphics. game is more of an adventure than HOG but still gives you a good game play. Has a map but does not take you to the area needed to go. With the new games out there this one is older but good. Give it a try. Game not all that hard.
June 22, 2013
Good game
I liked this game, although I wished I could travel using the map. Backtracking was a pain.
January 3, 2013
Interesting
Demo Review: It's more of a adventure hidden game that gives the normal hidden game a new meaning. It's rather fun and kind of spooky especially playing this game at midnight. The negative part is that it doesn't have much direction as to what to do next after the initial quest given to you. Somethings may be obvious but not everything. I give it a four star since it's interesting throughout the game. It have some twist and the graphics is decent. It have it's charms for the most part. I would give this game a chance if you are looking for something different to play instead of the standard HOS games.
May 23, 2013
A decent way to kill a few hours
I had a coupon to burn and this looked interesting, so I bought it without doing the trial. I don't regret it. Pros: Playthrough was glitch-free and flowed nicely. Vivid and well-rendered visuals. Nice music. The voice acting was pretty good. The story kept my interest and the puzzles, while not the most challenging I've completed, were innovative and unusual. I particularly appreciated the fact that the HOG scenes weren't your standard junk-pile fare. I also want to express my appreciation for the fact that all of the written dialogue on my screen was spelled correctly! Many times I have complained about blatant misspellings and poor grammar in these games, so it's always a plus with me when I don't encounter that particular problem. I especially enjoyed the sequence of puzzles that Luna had to solve in order to make her way through the castle. Con: Maybe I missed it, but I didn't see where it was explained that Tara was researching this cult. Since I'd forgotten that from the game's description, I found the opening letter ("all those things we talked about") to be somewhat jarring and confusing. What things did they talk about, exactly? I also thought that the ending left something to be desired, since it there was no explanation offered for how the Wolf King came to be in his predicament, or where the cult came from, or why anyone would want to live in that place. I thought the machine with the discs that Luna found and played as she went along was a clever idea, but I was baffled as to how Brina was able to make them so quickly. And how did Brina know Luna's name? As interesting as the story was, it contained a number of logic holes. I'm also thinking the replay value is probably pretty low. On the whole, I would give this 3.5 out of 5 stars.
January 8, 2013
Had To Warm Up To It ... Again
Initially, when I played the demo, I was more so intrigued by the storyline. So I knew I would buy it. But it wasn't enough to make me buy it right away. So I waited for a deal to come along. Since purchasing it, I had to warm myself up to it and re-discover why I wanted to get it. There's quite a bit to say about the game. But I will keep it brief. A map is available, but you have to piece it together throughout the game. It is NOT interactive, but it very well should be! The character you are looking for in the game is a friend of yours. She leaves hints along the way for you to find her. There are times in the game where you turn into some type of beast yourself to help you defeat the evildoers. The graphics were sharp. The challenges were challenging at times. It was ok as far as the fun factor. I definitely recommend playing the trial version FIRST. Depending on your tastes, it could go either way as far as the actual purchasing of the game. But do so with caution. Use a deal or game credit to be on the safe side.
February 3, 2013
Lycan Isle
This game has no HO's only search for... 6 symbols, or shapes find a diamond/heart/spade/club for example. This is a game with hazy dark graphics making it difficult to identify any of the objects, and you will travel through area after area without doing or finding anything. You get a toolbar on the side with a map that isn't very helpful and a journal as well. The hint button (which I used several times due to confusion of what to do next) is slow to recharge and the puzzles weren't difficult but not interesting either. The character is commenting, annoyingly, throught the game saying "it's locked, or I need to find the parts." I didn't like this game.
January 27, 2013