The Sparkle 2: Evo
Control evolution with the touch of your finger in The Sparkle 2: Evo! Help make a tiny aquatic creature evolve into a full-grown, magnificent being. Take control over your Sparkle's development and well-being as you climb your way through the evolutionary ladder. Explore the abyss in search of nutritional elements. Attack other species whenever you run out of other food sources. Enjoy beautiful surreal visuals and relax with minimalistic ambient soundtrack. Can you grow the biggest Sparkle in the world?
Subtle, captivating, addictive gameplay
Relaxing ambient soundtrack
Become a magnificent aquatic being!
Game System Requirements:
OS:

Windows XP/Windows Vista/Windows 7

CPU:

2.0 GHz

RAM:

2048 MB

DirectX:

9.0

Hard Drive:

136 MB
Game Manager System Requirements:
Browser:

Internet Explorer 7 or later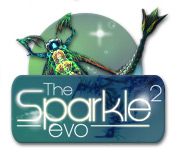 NEW299
The Big Fish Guarantee:
Quality tested and virus free.
No ads, no adware, no spyware.

Reviews at a Glance

The Sparkle 2: Evo
0
out of
5 (
0
Reviews
Review
)
Customer Reviews
Try It, You Might Like It!!!
I really enjoy games that are different and unusual. Once you figure out the game mechanics, this game really grows on you. Before playing, click on the little "i" in the upper left corner of the screen. The 3 tabs will explain controls and basic objectives #mainly to grow as big as you can# #and exit the game by clicking on the exit sign in the bottom left of the screen#. Once into the game, follow the expanding circles to find your next meal. If you can't find anything to eat, move up or down #moving the mouse wheel# to explore another depth. When you have completely eaten your quota of a color # kept track of at the bottom of the screen#, you may advance to the next stage. The background music is eerie and perfect for the primordial sea. I absolutely love the otherwordly, colorful graphics. It takes a little while to get used to moving and the kelp does have to be navigated, but it does get much easier with practice. I have only played the demo, but it is a definite buy for me. I have yet to find the "Genlab" where you can monitor your evolution and I'm not sure do what else #can anybody help here?#. Overall this is a wonderful change of pace from the typical Big Fish style of game. Highly recommend you give it a try.
February 20, 2013
Love This!
At first I was a little frustrated with the controls but once I caught on it was easy as pie! The music is soothing. and watching your little guy change as you munch away on different colors and amounts of colors is fun. And just think...you can do so many color combinations to do different critters to change his DNA! Later in the game there's a lab to show you more info on it.This game is easy, relaxing and colorful. Love the corals! Maybe one day they'll come out with a game even more complex to play because this is fun.
February 26, 2014
Evolve!
I tried this game and At first I was alittle lost , but once i got the hang of it I loved it! Its a game like feeding frenzy but with a cool scientific angle. Very Cosmic! Also the music is beautiful and relaxing. Great game !
April 29, 2014
Enthralling
I really enjoyed this game, which is surprising since I almost always choose hidden object games. But I was looking for something different and this filled the bill. Yes, it's fairly simple, but the music is pleasant and the game is highly interactive. Occasionally, the directional signals seemed to be a bit sluggish, but it didn't really detract from the gameplay and I suspect that the sluggishness might actually have been part of the game - a challenge to overcome. I actually made it through a fair number of levels in the first hour (end of trial and temporary end of play for me, but I'll be back). I thought the graphics were beautiful!
August 31, 2012
Addictive and Unique Time Absorber!
Interesting, seemingly endless game of sea creature that you evolve by eating other creatures. The evolution is in "your" creature and everything around you, transforming into ever more beautiful and intricate shapes. I played the demo and would have purchased if it hadn't activated my tendonitis. This is one addictive game!
August 23, 2012
Screensaver
This is a visually appealing game, but I'm using the word "game" very loosely. The instructions are relatively simple, if not intuitive, but they're pretty sketchy besides "up" and "down" and directional. You can watch your little creature change appearance by eating other organisms, but that's all I was able to determine was the point of the game after playing half the demo. For those of us old enough to remember when screensavers were a really big deal, this game reminded me of the aquarium one, where you could choose the number and kinds of fish, change the aquarium background, and just sit and watch the complete randomness of the whole thing. This game reminds me of that screensaver. Beyond that, I really didn't see much point of it, but maybe I've missed something?
August 24, 2012
Hypnotic
I'm still thinking about buying or leaving the game. The visual quality was good. Sometimes hard to find the food in the extremely colorful background. The colors are fluorescent, painful and almost hypnotic. The music is calming and relaxing. Also quite hypnotic. When leaving the game, the world looks gray and deserted by color. You can still see the lifeforms flow by though. I couldn't find where I could adjust the colors and the brightness of the game. I would like it to tone down a bit, maybe half ... All in all a nice game, if you love the first life-period of Spore. In this game, you can swim endlessly around in a pool of chemicals :-)
February 24, 2013
SUPRISINGLY ADDICTIVE!
It took me awhile to figure out the controls such as zooming in and out, but once I did I somehow became addicted to try to find more red blobs to eat. It's a simple game, a little on the stupid side, the goal is to go from a single cell to evolve according to what you eat, red for aggresive meat eater, green for a passive herbavore, or blue for somewhere inbetween. Give it a try, but use the tutorial feature.
March 2, 2013
It literally hurt my eyes
After years of playing and loving Big Fish games, this experience finally prompted me to write a review. I am familiar with the concept of this game and have played the original title, on which "evolution" games are based, on my home gaming system. I'm not against inexpensive spinoffs of a cool game idea - look at the Match 3 genre. However, this is a very badly made ? as in, badly designed and programmed - game. Full disclosure: yes, I am in fact a professional software tester - but no, these are NOT merely "technical issues." My experience was not a matter of a few bugs. My computer is a very standard MacBook Pro that I also use for my work, as well as to play the many other Big Fish games I love; there is no problem with my individual setup. First I was challenged for my screen resolution. Kind of surprising in this day and age. This alone would stop some players dead in their tracks. The interface seems to have been designed for old CRT screens, because on my LCD the white saturation was blinding. Again - this is actually happening in 2012? Thanks to the nonsensical iconic menus, I couldn't find any settings to adjust the graphics (besides the resolution choices before the game started) - or else these options don't exist. Colors were washed out and the white literally hurt my eyes with my screen brightness turned all the way down; beyond the tutorial I was not able to play the game because it was extremely difficult to distinguish elements of gameplay (i.e., targets from the background.) A tremendous amount of text exists in this game. All of it was obviously written in the designers' original language and then passed through something like Google Translate. It was not charming. It was distractingly bad. I did not expect my trackpad to be the ideal controller but the user character was sluggish even when controlled by keystrokes. When I finally gave up and hit Esc to quit, some other game function popped up. Seriously? I understand that to rapidly release new, inexpensive games to their customers, BFG often needs to move ahead when minor problems exist in a game. I'm willing to play through a few little problems to enjoy cheap fun games. This game, however, is far below BFG?s usual quality standards.
August 24, 2012
Aimless Swimming ain't fun
This bizarre litte game tries to make the screen into microcosm that your little flagella organism is supposed to explore. As you wander through flashing colors, you hear cosmic chords that are really pointless and uninteresting. You are supposed to run your little critter over blob-like single celled things that are red, green, or blue, and what ever color you run over the most will determine how you will evolve. But it takes an eternity and I have better things to do with my life. GL little Sparkle!
August 25, 2012
The Apple logo is a trademark of Apple Computer, Inc.