Cursed House 2
Exclusive
Find a way out of the Cursed House once again in Cursed House 2! The mighty King of Demons has imprisoned you! You must use your Match 3 skills to finish countless levels and unlock all the doors on your way to freedom. Gather magical powers for your amulet to help banish the evils spirits, ghosts and demons from the house!
Awesome gameplay
Gorgeous graphics
Escape the Cursed House!
Game System Requirements:
OS:

10.8/10.7/10.6

CPU:

1.2 GHz (INTEL ONLY)

RAM:

512 MB

Hard Drive:

83 MB
Game Manager System Requirements:
Browser:

Safari 4.0 or later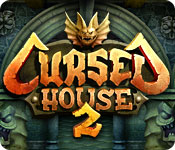 NEW299
The Big Fish Guarantee:
Quality tested and virus free.
No ads, no adware, no spyware.

Reviews at a Glance

Cursed House 2
0
out of
5 (
0
Reviews
Review
)
Customer Reviews
Poor Sequel
What made the first game fun was it was full screen and you could see the little demons you were matching. Also the explosions for various matches were big and lit up the screen. This 2nd version is just like any other match 3. Little areas for matching itty bitty demons and the explosion are very small also. The premiss is good but did not deliver the same quality.
November 2, 2012
The Original Cursed House is better.
Cursed House 2 is monotonous opening the locked doors that appear to look the same, have the same chains and mechanisms and amount of plays to get through, yet again, another same door. The ending was disappointing and I was expecting a bigger payoff. At least with the original version you could mark your progress with the restoration, in parts, of the old mansion. This had the same characters but the sound effects in the original are better and the characters had better roles.
November 3, 2012
Mediocre puzzle, no addiction here.
I had downloaded this game awhile back, but just now had the opportunity to test it out. I played just the hour trial, and even though the hour went by quickly, this is not a match 3 game that is going to keep you up all weekend like Heroes of Kalevala or Imperial Island: Birth of an Empire. You have been locked in some kind of manor house by a demon king, and you have to get through many different locks to find your way out. Unlike some of the bizarre locks we might find in many HOM games, these are broken by using a match 3 puzzle grid. You match up icon using the switch method. Matching up ice blue gems on the grid gives you powerups. The upgrades can be used on a small scale, or you can hold out and get one thousand gems to just solve the puzzle, but it will take about three puzzle grids to get that many, maybe more. You might find the lower cost powerups to be more efficient, depending on the theme of the puzzle. With each room you get out of, you get bonus gems to add to your stash, but then the puzzles change, and what worked for the last lock is completely different from the previous one. This game was pretty average, and it had a background music track that is best used when it is turned off, so that droning elevator music won?t distract you from the puzzles. In my game, I shut off the music, and cranked some 80s alternative rock. Swing Out Sister might not be what the demon king had in mind for me to work with, but I got by fine with it. There are many match 3 games out there, made by many casual game developers all over Europe for an international market. If you want a mediocre experience, give Cursed House 2 a try. There are better and worse puzzles to play, so enjoy your hunt.
September 6, 2013
A medicore Match 3
I'm new to the Match 3 genre, so my review is based on what I like. I appreciated that there was an untimed version. Other than that, very very repetitive. You break yourself out of a room in the cursed house, only to go on and do the same with another room. Yes, there are different power ups available. Other than that, ehhh. Bored me before the demo was over.
January 19, 2014
Nothing Scary About This One
Match Three Games come in all variations and some are great for zoning out and some present you with challenging gameplay. This paticular game is somewhere between the two. There really isn't much to the story; you are trapped in a house with a series of locked doors with deadbolts that need to be openned. Each level will unlock a deadbolt and after several games, your door opens up giving way to yet another locked door. Graphics do not get high points from me; they are very simple with no ambient sounds, no animations or voice-overs and the music is on a constant loop. There isnt any thing intersting to see other than a series of locked doors and the background is covered by the gameboards. Nothing remotely scary about this game which is a major disappointment on Halloween. You have two play options; timed or relaxed mode and gameplay is a swap three tiles of the same kind only. The one thing I did like about the game was that your icons are large so there is no squinting and game play moves fast. Each level comes with different challenges such as breaking walls with exploding bombs, collecting coins and one of my favorite was setting all torches on fire. Every door brings on new obstacles and offers a more challenging gameplay as you progress. There are power-ups to get when you match your jewels and that really is about it. No building anything, no achievement or trophies and no scores. This is really a very basic Match 3 game that may just offer some interesting boards to play. I found some a bit tricky at first, and if you are playing relaxed mode, the game does became a bit tedious after a while. I am not sure how many levels there are untill all the doors are unlocked and I assume once they are all open, you are free to leave the manor. I expect that many will find this game rather dull and may prefer the timed mode to add some sort of challenge to the game. There is not much of a halloween theme here and personally I completed three levels within the hour trial and had my fill of the game. Unlocking a series of deadbolts just did not excite me at all and I guess I am doomed to remain in this house forever.
October 31, 2012
Hate this one, Love first one
I hate this game. I've tried many times to play it and I did get all the way to the last level but something in this game has always been missing. The first in this series is one of my all time FAVORITE match 3 games. I love the noises it makes, love the atmosphere and all the spooky rooms. But in that one, at least you were helping rebuild a spooky house and it had some storyline and some rebuilding aspect to it. In this one, there is none of that. There are doors in a house that are sealed up and each time you complete a level in that chapter, you get to fill in a mark on the door and eventually the door will open and let you into the next room. However, after the first couple times you do this, it becomes repetitive. It becomes boring. There was nothing to look forward to doing. And the rooms, although they have great ideas, some of them were just so tedious or so boring. I felt like there was no inbetween here. I have been playing this game on and off for almost a year and Im finally to the last level and instead of using my 6440 gem points to just skip every level to have completion after realizing I hate the last room creatures, I just had to dex it completely. To be fair, I never demoed this. I loved the first one so much, I just thought Id love this one as much but unfortunately it isn't so. I won't recommend or not recommend this game as its to each their own. I personally don't like it but I do imagine others will love it. I'll replay the first millions of times before I ever give this another go.
September 7, 2013
No tChallenging Enough
I like Match 3s but this one was too easy & therefore boring. Power ups took away most of the challenge. The music was very annoying. I did like the concept of having to get through the locked door to progress but it wasn't enough to keep me interested. I deleted after about 15 minutes into the demo.
January 6, 2013
Boring
I should have tried it before buying. I really love Match 3 games, but this one has nothing to offer except repetition. The "sameness" of the boards was almost hypnotic. I got sleepy. You don't even get a photo or drawing of the rooms you are escaping - just a map. I wasted my money. Sorry.
November 3, 2012
terrible directions
Played on the timed and was through each level in half the time or less. The third level, fire, I could not get through. The directions are terrible. Could not figure out after playing several times. Uninstalled and will not buy.
August 18, 2014
save your money
The most boring game I ever played. One door after another door after another door etc. First game much better!
November 14, 2012
The Apple logo is a trademark of Apple Computer, Inc.
The Windows logo is a trademark of Microsoft, Inc.