Fallen: The Flowers of Evil
You've seen a lot as a doctor, but after making a simple house call, you stumble into a supernatural investigation. A little girl is suffering a high fever after being attacked by a monster, and she's not the only one. The city is quarantined as mysterious flowers begin to sprout all over Blackburn. Who's behind this? How are all the clues connected? There's only one way to find out, in Fallen: The Flowers of Evil, a mysterious Hidden Object Puzzle Adventure game.
Play as a doctor and search for clues!
Use your wits to solve puzzles
Explore the town of Blackburn
Gather clues and question suspects
Game System Requirements:
OS:

Windows XP/Windows Vista/Windows 7/Windows 8

CPU:

1.0 GHz

RAM:

1024 MB

DirectX:

9.0

Hard Drive:

957 MB
Game Manager System Requirements:
Browser:

Internet Explorer 7 or later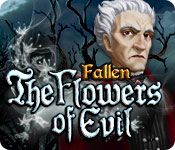 NEW299
The Big Fish Guarantee:
Quality tested and virus free.
No ads, no adware, no spyware.

Reviews at a Glance

Fallen: The Flowers of Evil
0
out of
5 (
0
Reviews
Review
)
Customer Reviews
Fallen: The Flowers of Evil
83
83
Nice HO Game
BASED ON COMPLETED GAME FIRST IMPRESSIONS I surprised myself by really enjoying this game. I bought it on a whim, and didn?t expect much, but it is really quite fun. As long as you like HOPs. SIGHTS & SOUNDS The graphics are a bit rough at times, but I don?t think they were bad. Instead, it?s more that the game?s looks suffered from a lack of animation. Had there been more of it, I think the impression the game made would have been much better. As it was, it was a bit flat. The music was very much in the background, but sometimes the ambient sound would become distracting. The voiceovers were excellent. WHAT?S HAPPENING? As a doctor you come to the home of a man whose daughter is suffering some unknown ailment, but which seems pretty obvious (to us as players), when we notice the bite marks. The rest of the story is about following clues about the origin of this illness, which means, of course, who exactly has attacked her. In the process, the young patient disappears, so then you must also look to find her. What makes this a bit of a weird kind of vamp story is the beautiful though deadly flowers that seem to be taking over. GAMEPLAY There are a lot of HOPs, all of them simple word lists, all of them visited three times. I know, it?s a lot, particularly seeing there are not, by comparison all that many puzzles. But the scenes are well drawn, the items easy enough to find, and you do not come back to the same scene too soon ? in most cases. The puzzles are mostly familiar, but some were new and fun. As an alternative to HOPs, you could play an old-style brick and paddle game, with the games getting harder as you progressed through the game. There is a large amount of adventure gameplay, with loads of locks to be opened, inventory items to find and use, and exploring. The hint is directional, and you also have a note book. The map is a jump map, but doesn?t indicate active areas. And it is inside the notebook, which is a pain. Further, each time, it is laboriously unfolded before you can look at it, and refolded before you can leave. It was often easier just to traipse around without it. Which brings me to one objection I have with this game. Every action is done slowly, whether it is unscrewing a light bulb, or opening a crate with a crowbar, or simply turning a key in a lock. It slowed the game down, and artificially lengthened it, without actual content. COMBINED IMPACT I enjoyed this game. As a standalone SE, I believe it rates far better than most. It is a game for HOP lovers, but there?s still plenty of us out there, and many will love this game.
January 18, 2014
Too Much Running Around
This game seemed a little short and I did not like having to Run all over the place Its a lot of going back and forth There is a map but that didn't lessen the aggravation for me..
February 19, 2013
DIFFICULT TO REVIEW
Review based on completed game in casual mode. Animation/VOS - Good but not as much as I would have hoped for. Characters beautifully drawn. Pity their mouths and bodies didn't move much. HOS - Repeated junk piles. You can switch to a puzzle if you'd rather not do the HOS. Great deal of backing tracking. Puzzles/Mini-Games - Usual fare of easy to difficult. More HOS than puzzles. Misclick Penalty - None Hint - Quick recharge and acts as a guide. Map - Does transport but I found it easier to use the hint. Inventory - Objects used quickly in other locations. Expected to see a slew of vampires. Was rather disappointing in that aspect. All in all, not a bad game.
January 16, 2013
It was okay.
For me this game was okay. I found it to short and for some reason the last few puzzles were very difficult compared to the rest. Also the were no actual HOG games. I did however like the fact that you didn't have to go back and forth and back and forth a lot, and you never really got stuck on what to do next.
January 21, 2013
Slow March to Obviousness
This game moves slowly. The hour demo seemed much longer. The cut scenes are no where near as good as the HO's, which are gorgeous. Between bite marks on the neck and pallor I knew in the first couple minutes that the *wild beast* was a SPOILER ALERT, for the slow witted, VAMPIRE. Such a hackneed plot. This game is not worth paying money for, but, if you are still tired from New Year's Eve, & have a free game coupon, get it. Otherwise, forget it.
January 2, 2013
More For a First Time Player
This game is just "OK" -- too much of the same HO. However, if someone is new to games, this would be a good one to start.
January 19, 2013
Cliche Game
This game is in the running for two annual awards: 1) The game with the most back-tracking, and 2) The game with the most cliche puzzles and tasks. 1. I can deal with back-tracking; in fact, in some cases, in can be fun and rewarding. However, there is so much of it in this game that it becomes hard to remember where you are to use an inventory item once you find it. Within the first hour of play, I can remember four locations that you need to return to over and over and over again because you find only one piece of the puzzle at a time. There is just way too much back-tracking in this game. 2. Within the first hour of play, I did not encounter one single original puzzle. Every puzzle you and I have ever solved in previous games is repeated here, not just once, but many times. The developers merely copied puzzles from other games. Let me give you just some examples: upholstered furniture that needs to be cut to get something inside, drawer or door without a handle (multiple times), statue that holds an item you need but won't release it until you give it something (2 times so far), an animal that has something you need but won't give it up until you feed it (3 times so far), dark places that you can't explore until you place a light source (2 times so far), something rusty that needs oil, locks without keys (many times), an item you need but can't take until you find another piece such as a hammer without its head or handle, thread without a needle, half a pruner, etc. (many times), a spider web that needs to be swept away, a pile of leaves that needs a rake, something stuck in a crack but you can't take without a tool (several times so far), a plant that needs water that instantly grows and blooms once you water it, something to be dug up, slider puzzles (which I detest), blah, blah, blah, blah, blah. This game doesn't have an ounce of originality. I, for one, am not supporting these kind of games with a purchase. A lot of you are going to like this game because of the graphics, but I buy games for the adventure, the challenge, and the discovery. This game has none of that.
January 2, 2013
Has anyone seen the storyline? It went missing after the intro.
TITLE?Fallen: The Flowers of Evil VERSION?Standard Edition (demo) DEVELOPER?Taba Games GENRE?Hidden Object Puzzle Adventure (supernatural) STORYLINE?You play a physician who is treating a young woman who claims to have been bitten by a red-eyed monster. Only the flower she holds keeps her from excruciating pain. Meanwhile, the City of Blackburn is under quarantine and it's up to you to figure out what's going on. OVERVIEW?There is a LOT to do in this game and a LOT to keep track of. Almost too much. The storyline started out fairly well, but came to a screeching halt for the rest of the demo, that is to say, it didn't advance at all. No more bitten patients. No more flowers. No more red-eyed monsters lurking in the shadows. Yawn. GAMEPLAY?Standard point 'n' click adventure sprinkled with HO scenes and puzzles. Nothing at all innovative or original, I'm sorry to say. HO scenes are repeated (and with the items you already found magically back in place). Puzzles are all too familiar; none break new ground. INTERFACE?Journal: There is one, but I didn't even open it. Map: No idea. This game would be helped by a jump map, because there's a LOT of backtracking. Hints: In HO scenes, the hint points to an object on the list. In adventure mode, the hint guides you to where you can do something. Specials: None. Strategy Guide: N/A. TECHNICAL?Where to start? This game did NOT like my trackpad at all. Often, I had to click multiple times to get it to recognize the click. It wouldn't recognize my tap setting at all; I actually had to click. There were numerous bad translations in the HO scenes. "Knife" on the list was actually a cleaver. "Needle" on the list was a hatpin. GRAPHICS?Hand-drawn in very monotone pastels, which made the HO scenes difficult, as they were junkpiles. CUTSCENES?Cartoonish stills; no animation. Strange, because there was action animation during the game (key into lock, and such). MUSIC?I didn't even notice it. SOUND?Again, I didn't notice it. VOICEOVER?Not badly done, but not brilliant. SUMMARY?The major fault of this game is that the devs didn't do a great job integrating the storyline into the game. I felt like I was running around Blackburn finding items here and using them there for no real reason, as I didn't seem to be getting anywhere new or finding out anything new. There was no impetus to keep going?no glimpses of red-eyed creatures or bizarre flowers. No new victims or strange events. The storyline seemed to just drop off right after the intro. And, thus, so did my interest.
March 19, 2013
Boring
I was pretty happy during demo-and I read other reviews. So, I decided to buy it. I can't even finish this game-the further I get into it, the slower it seems to move along. It's so unbelievably boring! I dread playing it at all now.
January 9, 2013
Nothing To Get Excited Over
Well, I had high hopes for this game after seeing the reviews, but I played the trial and I ws REALLY disappointed! Good Parts: Graphics. They were animated well, and everything was clear. Journal is included. Good voice-overs. OK Parts: Storyline. It was the same old thing, some girl gets attacked and you need to find out what happened. If you're going to use the same storyline, at least make it better! Bad Parts: Hint took forever to recharge. Some things took longer than necessary. For example, when I was unscrewing the wrenches in the fountain, you had to click on all 4 bolts. I could go on and on with these examples. HOS are WAY too easy. DIdn't take me long at all to complete. The objects were really easy to spot, and I didn't even have to look at the list, I just had to click around randomly and I would find an object. When I found a puzzle, they were WAY too hard. This game got great reviews, but it's not so great at all. Skip this and find something else.
January 5, 2013